L

ifeWave Patches – Alternative Medicine using Acupuncture Meridian
This LifeWave patch page belongs to an independent LifeWave distributor and is not an official LifeWave website.   Marilyn Vine is a distributor with LifeWave and my Independent Distributor Number is 655296.
Disclaimer
That it is understood that I am not a health practitioner but an individual who is passionate about living a healthy lifestyle and sharing health information with other like-minded people.
Any information, opinions or medical advice shown on this patch page is for information purpose only and not intended as medical advice.  I cannot guarantee the accuracy or the efficacy and safety of the information being given.  I do not dispense medical advice or prescribe the use of or the discontinuance of any medication, as a form of treatment without the advice of an attending physician/health care practitioner, either directly or indirectly.  The information contained on this page is not intended as a replacement for sound medical advice from a physician/health care practitioner.
Some of the information that may be shown on this page will be third-party sourced and may not have been evaluated by the Food and Drug Administration or Therapeutic Goods Administration.  Marilyn Vine's intention is not in any way to diagnose, treat, cure or prevent any disease.  This page is for information purposes only.
On the contrary, sharing of the information contained on this page with attending physician/health care practitioner is highly desirable.  Application of information and recommendations described herein are undertaken at the individual's own risk.  The adoption of information should be in strict compliance with one's physician/health care practitioner.  Very sick persons with past history of major disease and under professional supervision, particularly those with severe renal disease, should not make use of the information contained herein without the supervision of their attending physician/health care professional.
Marilyn Vine as an Independent LifeWave distributor would like to make it clear that LifeWave the Company does not endorse any of the information contained on this page.   
The above being understood and accepted then Marilyn Vine would like to share with you some of the exciting information that she receives.    If you are interested in joining LifeWave with me then my enrolment ID is 655296 and you can enrol through this link  My LifeWave ID is 655296 in the name of Marilyn Vine.  Accessing this link it will provide you with many options to use as an enrolment package.   I know from personal experience that you will not regret this decision and I will be more than happy to share some of the patching knowledge that I have been fortunate enough to be provided with over the years.  It is important to know that these patches are non-transdermal, i.e. nothing passes through the skin and that they can even be worn attached to clothing.
Please bookmark this page as new information will be provided as it comes to hand underneath.

LifeWave is an International Company


Now to the exciting part of the website!!!
Bookmark this page to see new information as it comes to hand.


Energy Enhancer Testimonials
Please click this link to read the testimonials.

Y-Age System


LifeWave have produced a system referred to as the Y-Age System.   This system comprises three different patches:
Y-Age Aeon
Clinically proven to decrease inflammation in the body

Promotes relaxation
Y-Age Glutathione
Glutathione is the body's master antioxidant

Improves overall health
Y-Age Carnosine
Clinically shown to increase stamina by up to 125%*

Improves overall health

Improves bioelectrical properties

of organs
*After 3 weeks of use.
To learn more about this system or to purchase the products to try for yourself please click this link.

 
Patching for Pain
3 November 2017:  Click this link to see more about this announcement "Pain Management with No Drugs or Chemicals".


Patches and the benefits to Athletes and Others
Below is a YouTube speaking on how the LifeWave patches have assisted the Stamford Women's Swimming Team and many others.   Scientists speaking on what they have found when they researched the effects of the products, for example this thermal imaging showing the effect of the patch on inflammation.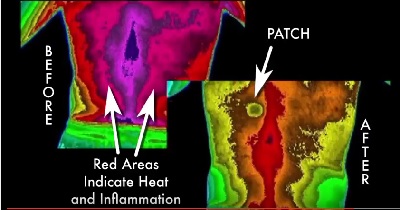 Then we have David Schmidt the Founder of LifeWave International advising that the USDA has confirmed that the LifeWave Patches contain no substances on the prohibited list for athletes.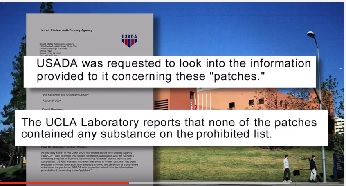 Take the time and listen to this short YouTube and hear what the scientists and doctors have to say and then be like me and join with LifeWave to use these life enhancing patches.   By clicking this link you can join with me to obtain these patches.  My LifeWave Distributor ID is 655296 in the name of Marilyn Vine and I would love to share with you some of the amazing documents that I have received over the years.   You can contact me at healthymoneyvine@gmail.com or in the email box at the bottom of this page.     Look forward to hearing from you and sharing my excitement.


David Schmidt interviewed
Published on 10 Mar 2016:  Following a report on nano medical research in Israel, we feature LifeWave. A health technology company that is researching and introducing new health products, offering proprietary health technologies that maximize human potential.   LifeWave was founded by inventor and entrepreneur, David Schmidt who are interviewed on this program along with Thomas Burke, by producer/host Cheryl Martin.
David's interview starts at 4.37 minutes.


Protocol for Back Pain Patch Placement
Published on 4 Dec 2013:  Back Pain Protocol Dr. Karen Kan teaches you how to use the Lifewave IceWave patches to treat your own back pain. She personally demonstrates the Haltiwanger Clock Protocol.



Y-Age Aeon Study now published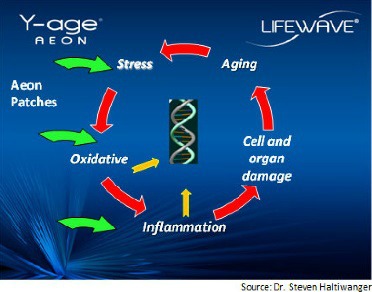 In a LifeWave Newsletter dated 8 February 2011 we were advised that:
AEON is a completely new anti-aging product because the mechanism by which it fights aging has never before been tapped into.   AEON is capable of interrupting the aging process by immediately reducing stress on the body.  We've proven this with our eight clinical studies.  We've shown that AEON can reduce stress on the nervous system, reduce the level of oxidative chemicals in the body, reduce inflammation and even reduce damage to the cells and organs.  So, AEON combats the process of aging on all of these levels and gives you an anti-aging benefit that you cannot find in any other product.
LifeWave on 12 March 2015 advise that a successful study on the Aeon Patch has now been completed.  Click here to learn about the study and click here to purchase the Aeon Patch.

Making vibrant health simple using a patch

Take a few minutes and listen to the information on a product called Corsentials.   Doesn't the name say it all – core essentials – this is an exclusive technology that will assist in transforming health.


David Schmidt
David Schmidt is the founder and the inspiration behind the LifeWave Patches and I would like to share with you what he has to say about bursts of energy and balancing the microcosmic orbit in the body. 
On the YouTubes below David answers specific questions that he has received:
Keith Smith asked, "What protocol and which patches would work best to lower blood pressure?"
*The LifeWave patches are intended for healthy adults, age eighteen and over. The guidelines stated here are solely for educational and informational purposes. This information is in no way intended to be medical advice. Please consult a medical or health professional before you begin any new diet, exercise or nutrition program, or if you have any questions or concerns about your health. LifeWave does not assume any responsibility for your use of information on this website. LifeWave patches are not intended to be used in the cure, treatment or prevention of disease in man or animals."
Kay Fountain asked, "What protocol is best for Energy Enhancer for a male who has been told has lazy sperm? Obviously, he and his wife are trying to get pregnant."
Andrea Hardy asked, "I have a customer who has suffered from severe headaches every day for more then ten years. Which protocol would you recommend, David?"
Karen Lawhon Runia asked, "What could be the reason IceWave patches work on most parts of someone's body but not others? For instance, it works on the feet and lower back...but not on pain/tightness by the shoulder blade.I tried basic and advance placements. Thank you."
Angie Lau asked,"Hi there, I was trying to demo strength by putting Energy Enhancer on a person's foot,  tan-left and white-right. The method failed. What did I do wrong?"


Cellphones and Radiation Emissions
Such a controversial subject!   Cellphone and cellphone tower providers denying any links to harm being caused to mobile phone users who place receivers directly next to their heads.  But there is so much information out in the public arena with regards to electromagnetic frequency (EMF) and radiation.  Click here for additional information on EMF and here for Radiation.
Just take a look at this thermographic imaging on five-year-olds and ten-year-olds and then make up your own mind.   Look below the pictures for a possible solution.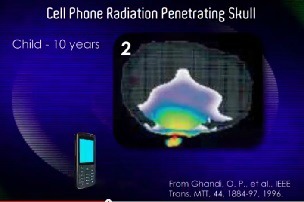 Carnosine Patch
Research continues to shed light on the powerful antioxidant carnosine, particularly its disease-fighting potential and ability to protect the body from free radical damage. Its benefits are thought to be substantial, including providing healthful results in the realm of heart disease and neurodegenerative disease.  Other studies indicate that carnosine may also combat the aging process.    Click this link to read more about this.
Information is coming through that L-Carnosine might be the anti aging ingredient to help stop telomeres from shortening.  Click the link to learn more about the telomere shortening.
Carnosine has been found to have amazing powers.   On 28 May 2012, NaturalNews brings important information on the power of Carnosine both in helping to fight vascular injury, extending lifespan and helping to prevent injury to tissues and organ structures.
My husband and I both wear Y-Age Glutathione during the day and Y-Age Carnosine of a night.  On 9 September 2011 I read an article from NaturalNews on how carnosine has the ability to improve cellular antioxidant reserves to help in the everyday battle against stress and that it may help with improving cognitive function.
If you would like more information on the LifeWave products please use the email form below and let me know what information you are seeking and I will get back to you as soon as possible.

Interested in improving the functionality of your organs?
Click on this link and read more about improving functionality and also on AGEs

Do you play sport?

Several players on the German World Cup 2014 Soccer Tteam were spotted wearing LifeWave's Energy Enhancer patches throughout the World Cup matches (see photo below), including their victory against Argentina on Sunday, July 13.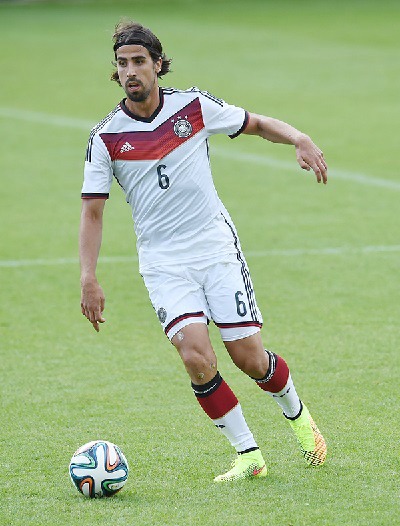 Musculoskeletal Pain Relief in Horses

Do you own animals?    IceWave® was used in a study on horses using infrared thermal imaging to ascertain the efficacy for musculoskeletal pain relief in horses.   The results were published in Journal of the American Holistic Veterinary Medical Association. 2011;30 (1):17-25.DeRock L, Clark D, Nazeran H.

Pain levels reduced using IceWave®

A testimonial written by a doctor, who is not a LifeWave distributer with regards to the relief that one of his patients received by using the IceWave® after an accident.   If you would like further information on IceWave or the other products available please use the email form below letting me know what information you require.

New Era of Wellbeing


Listen to this man who suffered a stroke in February 2011 and see his amazing results! Who would have thought that a non-transdermal product would produce such a result!
Now watch Dr Karen Kan patching for brain balancing and relaxation – just a short 3.42 minutes!
The YouTube features various people plus Suzanne Somers.  Suzanne will speak about her involvement with LifeWave and how she has featured LifeWave in the books she has written.   will give you some insight into how the LifeWave products can make a difference in a person's life.    It really is a new era in wellbeing. 
After watching the YouTube if you would like more information please contact me in the form below.  

LifeWave Patches being used in Afghanistan

Here we have Petty Officer Mark Shultz explaining how he has been using acupuncture to treat soldier's ailments.   Just a mere 2.47 minutes to hear what he has to say.

Amazing Testimonial

This would have to be one of the most amazing testimonies that I have read!  
On 3 June 2011 I received a LifeWave newsletter from Dean Clark.   He told us the story of a 32-year-old man who was is an auto mechanic.   He had a condition that left him debilitated with pain throughout his body.   He rated the pain as being 12 out of 10!    He said it was like a knife stuck in his back and radiated pain from this area.    Nothing he had tried worked for him and he had been wheelchair bound for two years.
This was a difficult and complex case to work on.  David Schmidt had taught me [Dean Clark] the Dragon Method and I applied Glutathione to the centre of the pain and surrounded it with other glutathione patches in a circular fashion.   I used six patches around the centre glutathione one.   Within seconds his pain reduction went from a 9 to a 2!    It gave him both immediate and lasting relief and he now has parts of his life back which he never thought he would have again.  
For information on glutathione click this link or click on this link. and check out the Products button and see Y-Age Glutathione.  If you would like more information or to purchase this product my Independent LifeWave Distributor Information is Marilyn Vine – ID 655296 or use the email form below for assistance.


Do you suffer from jet lag?

I am sure there would be many people around the world who would suffer from jet lag.   I would like to share a testimonial on a family that flew from Sydney to Los Angeles and who used the LifeWave products to stop their jet lag.  Read the testimonial and if you would like to avail yourself of these products then click this link to see more information and what your options are.

Radiation disaster in Japan
NaturalNews on 31 March 2011 brings information on new research presented to the 36th Annual Meeting of the Society of Interventional Radiology in Chicago, Illinois where the incredible power of antioxidants has been found to protect the body against the damaging effects of radiation.  
Glutathione is the master antioxidant produced by the human body and the LifeWave Glutathione stimulates the body's own mechanisms to make more of this powerful master antioxidant.   Many of us wear Glutathione every day of our lives to protect ourselves from free radical damage, but today this is even more important with the radiation disaster that has befallen on Japan and is also starting to affect other countries in the world.   I have just been reading about milk in the US now showing signs of radiation and I believe that many more countries will start and feel the effect.
Protect yourself now!  Click on the link to contact me so that I may send you information for you to:
Read about Y-Age Glutathione by clicking on the Product button and selecting the Y-Age Information

Order the product by clicking on "Buy Now" button

Click on the Sign up button and be able to purchase the products wholesale

Alternatively click on the "contact me" button at the top of the page and I will answer any questions that you may have with regard to these fantastic products
If you don't know what is happening in Fukushima then click on this link and read the up-to-date information that is not coming through mainstream media.

LifeWave AEON

The new AEON product was released on 7 January 2011 and information is already beginning to filter back.   LifeWave have done rigorous research and testing over the past year and know that AEON produces dramatic and powerful results.   Below is a testimonial from a user provided to LifeWave on 22 March 2011:
"I have used Aeon for six weeks only. From day two, it was apparent that something different was happening. I felt really great, far less stressed. Within three days I was sleeping really well, falling asleep quicker, deeper and more refreshed. My partner Audrey was experiencing the same which to me was amazing as she has been a poor sleeper for many years. Both of us sleep like babies! Two of my family members who have only been on the patches for two weeks again are sleeping and feeling really well."
It has been found through the research and testing that this AEON product balances the autonomic nervous system which is the result of a calm, stress-free state.    
I find the Y-Age LifeWave Patches of particular interest as they comprise three different patches – AEON, Glutathione and Carnosine.   Our bodies naturally make Glutathione and as we age our production decreases.  Glutathione is one of the most powerful antioxidants available and to think that to prompt our body to make more of this powerful antioxidant that all you have to do is wear a patch is an incredible testimony to the power of the patches!
I have been reading a book called Orthomolecular Medicine for Everyone and have learned that Glutathione is a major anti-HIV antagonist.  I have also read in this book that the trace element selenium, and the amino acids cysteine, tryptophan, and glutamine are necessary for the body to produce the enzyme glutathione peroxidase and to think that one little patch can actually stimulate the body to do this on its own!
The late Dr Robert Atkins in his book Dr Atkins' Vita-Nutrient Solutions tells us:
"One of the best antioxidants is an amino acid called glutathione.  I'm not alone in considering it one of the most powerful cancer-curbing, age-slowing nutrients ever discovered."
Y-Age can also be used in conjunction with Energy Enhancer to do a five-day detoxification.
Is it any wonder that I find Y-Age to be a fantastic product!
Hear Dr Mark Hyman speak on Glutathione the "Mother" of all antixoidants and why it is so important to keep your levels high.
Return Patch page to Main Page