Immunization Information – Safe and Effective now under scrutiny
Marilyn Vine in Immunization Page is bringing vaccination information to many people who do not wish to participate in the vaccination process by having their children receive vaccinations like MMR.
As can be seen by the bulleted list there are now a great many pages on vaccination.   I wish there weren't that many pages as this would mean that authorities are backing off but sadly this is not the case and I Australia's case for example, the Australian Federal Government are vamping up the vaccination scene with their "No Jab No Pay" meant to commence in January 2016 and will cover children from birth to age 19.
Marilyn Vine is grateful as more whistleblowers are appearing and advising of Centre for Disease Control (CDC) cover-ups and, of course, Dr Andrew Wakefield was cleared by the courts even though he lost the right to practice medicine from the medical fraternity!    Check out Dr William Thompson blowing the cover-up on the 2004 study clearly indicating autism involved with MMR and the CDC covering it up until the whistle was blown in 2014!      Then check out this Holistic Medicine page to see what happens when holistic doctors discover the nagalese molecule contained in vaccines.
I trust that you will find this Immunization Page beneficial reading.


Robert Kennedy on Epidemics
NaturalNews dated 25 July 2018 published this article "World Mercury Project video BANNED by Facebook now available at REAL.video – see "Epidemic – The Science".   The article went on to say:
"A video that has been censored by Facebook is now available at this REAL.video link. The video, featuring Robert F. Kennedy, Jr. of the World Mercury Project, warns about the epidemic of vaccine-induced degenerative disease that's sweeping across developed nations.
In the verboten video, he names ADHD, autism, auto-immune diseases, rheumatoid arthritis, juvenile diabetes, asthma and food allergies. "We know from the science that all of these diseases can be caused by ingredients in vaccines," he warns. "And we know that the epidemic of these diseases exploded after the dramatic expansion of the vaccine schedule that took place in 1989."
And now Dr Suzanne Humphries Sydney Australia 2017
Of particular concern to me as an Australian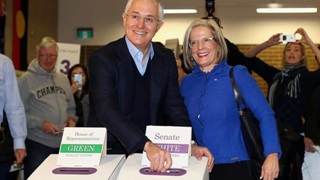 LucyTurnbull with husband and PM Malcolm Turnbull. Pic: Getty
Lucy Turnbull has stepped down as chair of cancer drug maker Prima Biomed.
The biotech, which this week changed its name to Immutep (ASX: PRR), is now led by Dr Russell Howard, the current chair of NeuClone which makes cheaper biologic drugs.
Ms Turnbull's final interest notice came in late on Wednesday. The former Lord Mayor of Sydney and wife of PM Malcolm Turnbull owns or controls 20.4 million shares in the company.
And according to a comment made by Dr Suzanne Humphries in her video around the 58-minute mark:
"My wife is Chair of Biotechnology company Prima BioMed who are in product collaborations with Novartis & GSK.  I'm a multi-millionaire who invests in (Pfizer Inc) with a chairman of pharma corporation (who works with Novartis and GlaxoSmithKline) for a wife. "
Wouldn't this be considered a conflict of interest when pushing "No Jab No Pay!!!
Especially when it means
"No PLAY" for our kids if not FULLY vaccinated!


Robert Kennedy blows the whistle on HHS not complying with 1986 Legislation
Click this link to listen to Robert Kennedy speak about what he has uncovered through FOI.   This is the legislation that he refers to in the video.
"…mandate for safe childhood vaccines
(a) General Rule
In the administration of this and other pertinent laws under the jurisdiction of the Secretary shall
(1) promote the development of childhood vaccines that result in fewer and less serious adverse reactions than those vaccines on the market on December 22, 1987, and promote the refinement of such vaccines, and
(2) make or assure improvements in, and otherwise use the authorities of the Secretary with respect to the licensing, manufacturing, processing, testing, labeling, warning, use instructions, distribution, storage, administration, field surveillance, adverse reaction reporting and recall of reactogenic lots or batches, of vaccines, and research on vaccines in order to reduce the risks of adverse reactions to vaccines.
(c) Report
Within 2 years after 22 December 1987, and periodically thereafter, the Secretary shall prepare and transmit to the Committee on Energy and Commerce of the House of Representatives and the Committee on Labour and Human Resources of the Senate, a report describing the actions taken pursuant to subsection (a) during the preceding 2-year period."
Then we read on 14 July 2018 "California's CRAZY Immunization Policy: No Medical Exemptions".     Make sure you click this link as it contains important information and legislation.
Is your DNA being genetically modified?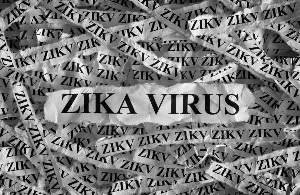 NaturalNews dated 1 April 2017 provides this immunization article "Zika virus vaccine will genetically re-engineer your DNA".    The article goes on to say:
"Touted as "the next great epidemic," just the words "Zika virus" are enough to strike fear into the hearts of millions. With every pregnant woman on high alert and female athletes bailing out of the Rio Olympics in terror last year, the mainstream media created an epidemic of hysteria far greater than the danger posed by the disease itself. With conditions like microcephaly (babies born with abnormally small heads) and Guillain-Barré syndrome (an autoimmune disorder in which the body attacks its own peripheral nervous system) being blamed on Zika, fear spread like a contagious disease – quickly and without reason.
But, stop and think: When was the last time you saw a Zika headline? How many babies actually ended up being born with microcephaly? How many people have you heard of that contracted Guillain-Barré after being infected with Zika? (RELATED: Learn more about the real story behind Zika, here.)

Italian Study reveals vaccines contaminated with toxins and linked to side effects
The mantra "safe and effective" now under scrutiny!
Health Impact news dated 10 February 2017 brings incredible immunization information on what the Italian study uncovered.  For example:
What did the new Italian study find?  Examining 30 vaccines — representing 44 samples in total — the researchers found particulate matter, in aggregates and clusters, of micro- and nano-sized particulate matter in 43 of the 44 samples - the presence of which was not declared in the leaflets delivered in the package of the product. The scientists were "baffled" by their findings of Lead, Tungsten, Gold, Chromium, Stainless Steel, Gold-Zinc aggregate, Platinum, Silver, Bismuth, Iron, Silicon and many others. The investigations revealed that some particles are embedded in a biological substrate... As soon as a particle comes in contact with proteic fluids, an interaction occurs and a bigger-sized compound is created that is not biodegradable and can induce adverse effects, since it is not recognised 'as self' by the body.
And
When Dr. Gatti was asked what he was most surprised to find, he answered: 'We had never questioned the purity of vaccines before. In fact, for us the problem did not even exist. All injectable solutions had to be perfectly pure and that was an act of faith on which it sounded impossible to have doubts. For that reason, we repeated our analyses several times to be certain. In the end, we accepted the evidence.'
Please make sure you click this link to read the full article and share it with parents or even adults who may be considering immunization so that they are fully informed before they make their decision.
Also now obtained is the CDC vaccine excipients schedule.

Irrational Argument and Knowledge

Dr Mercola on 2 February 2016 in his comments on first glance at this immunization subject says:
Vaccine orthodoxy dictates that everyone must believe vaccines are safe and effective, and that government-recommended vaccines must be used by everyone

Vaccine risks are increased for some people because of biological and environmental differences and one-size-fits-all vaccination policies lacking flexible medical and personal belief exemptions are dangerous and oppressive

There needs to be an open, rational discussion about vaccination, infectious diseases and health
He also provides a video with Barbara Loe Fisher on immunization which is more than worth your time to listen to

6 Month-old DEAD
13 vaccinations in 3 shots

NaturalNews on 13 May 2015 bring this horrifying immunization story.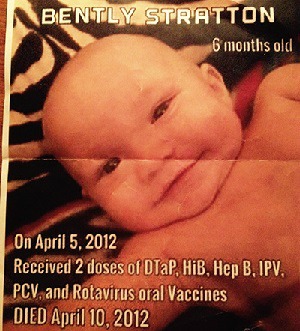 Here is an excerpt:
"Totally unbeknownst to his mother, Bently received a staggering 13 vaccinations that day, including two triple doses of DTap, Hepatitis B, a polio shot, three oral rotavirus doses, and a pneumococcal pneumonia vaccine. It was all compressed into three shots and one oral dose. It took the nurses half an hour to prepare all the shots Bently received. The pediatrician told Alisa that her boy perfectly healthy—that he showed above average strength in his stomach and legs.
Five days later, he was dead."
Click this link to read the full article.
Confirmation
Fully Vaccinated Woman caused New York Measles Outbreak in 2011

NaturalNews dated 16 October 2015 provide information from the Clinical Infectious Diseases journal: 
"The 2011 measles outbreak in New York has been confirmed to have originated from a fully vaccinated woman, according to a study conducted by the New York City Department of Health and Mental Hygiene, the Westchester County Department of Health and the U.S. Centers for Disease Control and Prevention (CDC).
In more recent times the Disneyland Measles outbreak was also caused by vaccinated and sometimes fully vaccinated people.
ARE WE ACTUALLY DRIVING THESE EPIDEMICS RATHER THAN ERADICATING THEM?
Click this link to read the article.
Guillain-Barre syndrome

13 June 2014:   A flu vaccination claims yet another victim – now aged 24 – with Guillain-Barre syndrome.  Click this link to learn more.  Receives $11 million for treatment.
Pushing flu vaccinations in pregnant women

Prevent Disease on 1 October 2015 speaks out about the campaigns pushing to vaccinate pregnant women with flu shots.    Please take the time to watch the YouTube and read this immunization article.
"The rush to vaccinate pregnant mothers is on and from commercials, to TV shows and bill boards, you can't miss the propaganda--it's everywhere. Not only does the CDC admit flu shots don't work, but there is absolutely no evidence that any influenza vaccine prevents the flu for pregnant women (or others) any more than a placebo."
Australia's No Jab no Pay Legislation

No Jab no Pay Immunization Legislation to come into force in January 2016.    This immunization legislation is forcing low economic parents to mandatorily have their children fully vaccinated from birth to 19 years of age otherwise they will lose any family payment government assistance.
Could these statistics have anything to do with what is behind this extraordinary move by the Australian Government and would be in line with the Bill Gates YouTube which I have shown below.  This is such an important YouTube that I am putting it here as well so that people understand the depopulation theory behind vaccines.
Dementia
Research has been undertaken at Bournemouth University in England which has been published in Surgical Neurology International.     It has been found that dementia is striking people in their 40's and the researchers believe that it has almost become epidemic and that it has to being driven silently by some environmental factors and it is pointing to mercury contained in immunization vaccines.
Frightening Statistics
If you are a caring person and are working hard to maintain good health and do all the things that Health Authorities recommend that you do, then these statistics may make you reconsider:
Comparison of neurological brain diseases in 21 Western countries from 1989 to 2010 reveal that as of 2010 the average rate for onset dementia was 10 years earlier than it was in 1989.

Additionally deaths from neurological disease had increased significantly in people aged 55-74 years and had nearly doubled in people aged 75 and older.

The changes were found in all 21 countries but the US was by far the worst.   Neurological deaths in men older than 74 tripled from 1989 to 2010 and they increased nearly 5-fold in women of the same age.

More US elderly women are now dying from brain disease than from cancer for the first time in recorded history.
Vaccine Connection
The researchers ask "could there be a vaccine connection?   The article goes on to say:
"In a study published in the Journal of Alzheimer's Disease in 2010, researchers reviewed 100 prior experimental and clinical studies looking at the effects of mercury on cells, animals and humans. They found that long-term mercury exposure produced many of the same changes seen in Alzheimer's disease, including confusion and impairments to memory and cognitive function.

"Mercury is clearly contributing to neurological problems, whose rate is increasing in parallel with rising levels of mercury," researcher Richard Deth said. "It seems that the two are tied together."
This NaturalNews article is such an important one to read and I have only briefly covered what has been found.   Please find the time to click this link and understand for yourself and Australians take the time to write to Prime Minister Abbott, email the following 2 and find the email for your local Member:
Australia has Federal Elections coming up and now is the time to TELL THESE PEOPLE that unless they rescind this draconian legislation that WE THE PEOPLE will RESCIND them from being required to administer our government.
Immunization Page apologizes to anyone who may suddenly have their faith shaken in our medical authorities.  This was not the intention.   The intention is for people to take off the blinkers and start looking themselves and find out what is happening to the people around us and then ask the big question WHY!
Whooping Cough Vaccine may be spreading the disease

NaturalNews on 17 July 2015 provides immunization information on a new study published on 24 June 2015 in the BMC Medicine Journal on research conducted at the Santa Fe Institute. 
 "In the new study, the researchers combined pertussis infection data, a detailed pertussis epidemiological model and genetic data on the pertussis bacterium. They concluded that the new vaccine has probably created an entire category of asymptomatic spreaders, directly fueling rising disease rates."

Click this link to read the full article.
Underweight Newborns at risk when vaccinated

NaturalNews on 6 July 2015 brings conflicting immunization information coming from medical authorities:
"A recent study published in the journal JAMA Pediatrics found that extremely low-birth-weight infants (ELBW) -- that is, babies who are born with a birth weight of less than two pounds, three ounces -- have a significantly higher risk of suffering severe adverse events or dying after being vaccinated. But curiously, the same paper that admits this also claims that it doesn't admit this, encouraging doctors to jab underweight babies as normal!"
There is an old adage:
WHEN IN DOUBT LEAVE IT OUT!
Click this link and read more about this.
Please make sure you do your immunization research before vaccinating anyone!

Former Salesman Speaks Out



Polio Vaccine

Global Research on 22 June 2015 have given me permission to circulate and include on this website their very revealing document on "Polio Vaccine a Global Scourge still Threatening Humanity".    This reveals the history of just a few of the vaccines and the immunization information flies in the face of governments still pushing these vaccines.  Please take the time and click this link and read their article.
Ebola
Contracting
NaturalNews on 8 October 2014 advise:
"The World Health Organization has issued a bulletin which confirms what Natural News has been asserting for weeks: that Ebola can spread via indirect contact with contaminated surfaces and aerosolized droplets produced from coughing or sneezing.


"...wet and bigger droplets from a heavily infected individual, who has respiratory symptoms caused by other conditions or who vomits violently, could transmit the virus -- over a short distance -- to another nearby person," says a W.H.O. bulletin released this week. [1] "This could happen when virus-laden heavy droplets are directly propelled, by coughing or sneezing..."
Read the article as this is different to what the CDC is telling you.
CDC owns patent on Ebola Virus
Why would the CDC own a patent on such a virulent virus as Ebola?    NaturalNews on 19 September 2014 reports that nearly ten years ago a vaccine was being developed for Ebola.  The article goes on to say that Centre for Disease Control and Prevention (CDC), the US Department of Defense and Monsanto – aha – could Bill Gates be involved in this – all stand to gain benefits from this manufactured Ebola crisis.
Please take the time to read and perhaps it will provide more understanding for you.  Then click this link to learn how you may protect yourself.
Dengue Fever Vaccine                   
Could it cause a 700% increase in this disease?
NaturalNews on 14 September 2014 brings an alarming article saying that:
"A vaccine for dengue fever would actually increase rates of dengue infection over the first few years, according to a study conducted by researchers from Oregon State University and Clemson University, and published in the journal Epidemiology & Infection.


"Our analysis suggests that if we develop and widely use a vaccine for dengue fever, there may later be spikes in the incidence of the disease that are two to three times higher than its normal level," researcher Jan Medlock said.


At times, use of a vaccine could cause infection levels to increase as much as sevenfold, the study found."
Look down the page and you will see a similar story on measles.   Also if you check it out you will find a similar story on the Polio vaccine.   Whooping cough – they are vaccinated for one thing – and a mutated form of whooping cough has shown up!
Warning on vaccines that should not be administered to children
Prevent Disease on 28 August 2014 provided very disturbing information on three vaccines that should never be administered to children.    This is very important information and I hope will be read by any parent considering immunization.    Click this link to read the article.
Scientific Fraud
NaturalNews on 25 June 2014 advises that Dong-Pyou Han from Iowa State University in furthering his research had taken $5 M in grant money from NIH.   The article goes on to say:
"Scientific fraud is so common in the vaccine industry, it's practically the default business model. The truth is that most vaccines don't work, so in order to make them appear to work, researchers routinely spike blood samples of vaccinated test subjects with antibodies, making it appear the vaccine caused the body to produce those antibodies.


This is exactly what Merck does with MMR vaccines, according to the company's own former virologists who filed a False Claims Act with the federal government. It's also why up to 97% of children who contract measles or mumps were already vaccinated against measles and mumps."
Now he is finally facing four felony charges.  Click the link to read the article.

Immunization Page asks   
Has the Establishment got it Wrong?
GreenMedia on 5 April 2014 in their article on "herd immunity" state:
"Although the evidence for vaccination-based herd immunity is yet to materialize, there is plenty of evidence to the contrary.  Just a single publication by Poland & Jacobson (1994) reports on 18 different measles outbreaks throughout North America, occurring in school populations with very-high vaccination coverage for measles (71% to 99.8%).  In these outbreaks, vaccinated children constituted 30% to 100% of measles cases.  Many more similar outbreaks, occurring after 1994, can be found by searching epidemiologic literature."
Click this link to read the complete article.
Narcolepsy in children under 19 years of age!
On 20 July 2011 Dr Mercola wrote an article on what the European countries were finding in children after immunization for the flu vaccines.   This is an excerpt from this report:
"New data has added more evidence supporting a link between the 2009 H1N1 influenza vaccine and narcolepsy in children and adolescents. The findings suggest that those who were vaccinated had a close to 660 percent increase in risk for the condition."
What is the real truth behind childhood measles immunization?
On 22 August 2011 NaturalNews has an article on the real truth behind measles outbreaks.  Part of the article reports:
" In 1984, the Morbidity and Mortality Weekly Report (MMRW) of the CDC reported a late 1983 early 1984 Illinois high school/junior high measles outbreak. The total student population was around 400, and ALL of them (100%) had complied with Illinois State Law requiring the complete MMR schedule. (1)


In 1987, Pub Med Central reported another public school measles outbreak among a 98% MMR vaccinated population. This happened in another high school, this one in Massachusetts early in 1984. Another population with over 90% vaccinated again. (2)


University of Helsinki Department of Public Health reported an "explosive outbreak" of measles in a rural community during 1989. Most of the infected had been vaccinated with the MMR vaccine. Those vaccinated who became infected anyway also managed to spread the measles to their siblings. So much for herd protection. (4)"
Rupert Murdoch's Newspapers implicated in phone tapping
BUT is this all he has done?
On 20 July 2011 NaturalNews brings us an article about Rupert Murdoch which goes beyond the phone tapping undertaken by his company in the United Kingdom (and who knows where else!).   It is well known that Rupert Murdoch has an affiliation with pharmaceutical companies, particularly ones that manufacture the MMR immunization.  Read just an excerpt on what is being said:
"And just who was responsible for the annihilation campaign against Dr. Wakefield?  None other than Rupert Murdoch's News Corp., which literally fabricated lies about Dr. Wakefield and disseminated them around the world via its multinational media network. News Corp.'s <b>London Times,</b> for instance, falsely accused Dr. Wakefield of being "callous, unethical and dishonest," and published numerous articles saying he was a fraud, and that he "abused his position of trust."
UK Ceases Pneumonia Vaccines for the Elderly
28,000 US infants die before the age of one year!
On 20 June 2011 Dr Mercola posted an article on immunization bringing to our attention the fact that the United Kingdom was ceasing to vaccinate elderly people for pneumonia.  The vaccine supposedly was to protect them for the next ten years.  It was scrapped because it was found to make no difference.
Dr Mercola then goes on to speak about the high number of vaccines that the infants receive in the United States and the high death rate of infants under the age of one year.   Parents can I urge you to read this document and do extensive research before allowing your child to be vaccinated.  
HIV tests lack credibility
Immunization page brings an article from Mike Adams of NaturalNews dated 20 July 2010 that there could be up to a 50% false positive rate in HIV tests.
Mike goes on to say:
It may come as a big surprise to most people, but HIV tests given to people today don't actually test for the presence of the HIV virus. Rather, they test for the presence of HIV antibodies that the immune system creates to defend itself against HIV. And just because you have HIV antibodies doesn't mean you actually carry HIV. In some circumstances, up to 50 percent of HIV positives are false, causing havoc with the lives of those patients who are falsely accused of being "HIV positive.""
This startling fact was revealed in a recent study that's being published in the July 21 issue of the Journal of the American Medical Association. It shows that patients who are recruited for HIV vaccine trials often end up testing positive for HIV even though they were only exposed to the vaccine, not the virus.
"Almost half of HIV-negative people who participate in clinical trials for HIV vaccines end up testing positive on routine HIV tests -- even though they're not actually infected" reports US News & World Report."
Listen to the doctor speak out on cancer and other viruses and vaccines 


Listen to a parent speak out about how her son has been affected and the lack of research that is being done to help these children that have been harmed.   
Click this link for information on the lies of Brian Deer, Vacines and Autism and the Lancet.
Before proceeding I feel we should all watch this YouTube and reflect on the agonies that we are inflicting on our children!
About the YouTube
The vaccine industry has damaged countless children, leaving them suffering from extreme bowel disorders, neurological problems and lifelong pain. This public service announcement from Cryshame.org and Cryshame.co.uk shows you the human cost of vaccines that the pharmaceutical industry simply ignores.
This is a much watch video.   It is heart breaking and please do not let this happen to your child!   Click the link and watch – just 9 minutes of your time! 
Here is Harriet's mum speaking about her daughter
Bill Gates at it again!!!
Once again I bring you news dated 5 July 2011 with regard to Bill Gates pushing vaccination of the children of the world.    In 2010 he was shown on a YouTube blatantly telling the world that vaccination would reduce the world population by 10-15 percent!!    Of course the YouTube went around the world like wild fire and the next thing it was removed.   I could not believe the audacity of the man to stand there unashamedly and tell the world this and now he is planning to help the world become more widely vaccinated!!!  Read the article!
Thanks to NaturalNews we now have the YouTube again!

Link between vaccines and higher infant mortality
Immunization page brings you another article from NaturalNews also dated 5 July 2011 regarding a recent study which is finding a connection between vaccines and higher infant mortality.    How can Bill Gates sleep at night???   
WARNING
Australian Scientists working on putting vaccine in food!!!!
It is fast getting to the point that unless you grow your own food that you have absolutely no control over what the government and agencies are doing to our food!!!    In my opinion this is criminal.   I DO NOT WANT TO BE VACCINATED!!!!    I WANT MY IMMUNE SYSTEM TO FUNCTION AS IT IS MEANT TO AND THUS PROTECT ME!!!
We all need to speak to our local and federal members of parliament and express our wishes in this regard and tell them to STOP MESSING AROUND WITH OUR FOOD!
Under our current Australian Legislation it is illegal for ANYONE to medicate any INDIVIDUAL without their informed consent.
Even when I go and buy vegetable plants from the garden shop I am never sure whether I am buying original plants or genetically modified plants and I know that if was to ask the nursery they would not even know the answer!
All the food I grow and purchase from the supermarkets, etc I soak in a product that is designed to help draw the pesticides and herbicides from it.   I even soak the organic meat that I buy by the half or whole animal and always soak the chicken breasts purchased from the supermarket.   I soak the dried vegetables that I use in my soup.   I soak everything.  Contact me in the email form below to learn more. 

SV40 and the early polio vaccine
Immunization:   Is the truth finally starting to emerge with regard to SV40 the virus contained in the rhesus monkey kidneys used in the early polio immunization?    Read the article and draw your own conclusion. 
Pakistan
Are the children being targeted?
Immunization page brings an article from NaturalNews dated 2 June 2011 with regard to children in Pakistan contracting polio after being vaccinated.   It appears that around seventy-eight percent of the children who have been vaccinated, sometimes with multiple polio vaccines, are the current victims of polio.
What I found really disturbing in the article was the following :
Despite the fact that it was not widely disseminated in the US, possibly because of the dangers associated with its use, OPV is the vaccine of choice in countries like Pakistan because, soon after vaccination, weakened virus can be found in children's fecal matter. Immunity can then spread to communal water sources and increase immunity for greater portions of the population. So even if parents refuse OPV treatment, their children may still receive it indirectly through the drinking water."
Read the entire article to see what is being said.
Court rules that Hepatitis B Vaccine led to plaintiff's systemic lupus erythematosus
2 June 2011 we receive a report from NaturalNews with regard to Hepatitis B vaccines and links being found to sudden death syndrome (SIDS), multiple sclerosis, and numerous chronic autoimmune disorders.  The court ruled:
"Tambra Harris ... filed a petition for compensation alleging that she suffered certain injuries as a result of receiving a vaccination. Among the injuries petitioner alleged that she had suffered as a result of receiving a hepatitis B vaccination was systemic lupus erythematosus (SLE) ... A lump sum of $475,000.00 in the form of a check payable to petitioner as Administratrix of the Estate of Tambra Harris."
And Dr Jane Orient, Association of American Physicians and Surgeons testified to Congress regarding severe health dangers associated with the hepatitis B inoculations saying that <b></i>"For most children the risk of a serious vaccine reaction may be ONE HUNDRED TIMES greater than the risk of hepatitis B."
Center for Disease Control admits Flu Vaccine's Effects "Wear off"!
Immunization page brings information from NaturalNews dated 29 May 2011 with regard to the annual flu vaccine.   The vaccine industry tells us that when you get vaccinated it helps to promote in your own body the same immunization effect as if your own immune system were doing its job.   If this is the case then why is it necessary to be vaccinated year in and year out with the flu vaccine if the first flu shot actually did its job in protecting you from getting the flu?      Is it because the vaccines do not work in the same way as our own immune systems do?    Are you aware that the vaccines over-ride our own natural immune system function and then don't do as good a job?     So why are you getting vaccinated?    Click the link and read the full article.
Unnecessary Vaccine for infants linked to sudden death
On 19 May 2011 Dr Mercola brings more news on immunization.   Here is an excerpt from the report:
"The hepatitis B vaccine is given to U.S. infants at birth. But there is impressive evidence that for a preventive measure, hepatitis B vaccine is remarkable for the frequency, variety, and severity of complications from its use.
Hepatitis B vaccine has been shown in many peer-reviewed research papers to be associated with numerous infant deaths in the U.S. and Europe, multiple sclerosis and numerous chronic autoimmune disorders."
Click on the link to read the full story.
Is the CDC more concerned about mis-use of study funds than fraudulent research papers?
On 14 April 2011 we learn that US Prosecutors are seeking extradition of Poul Thorson who was given a grant by the CDC for research into autism and exposure to vaccines.   Apparently some of the money was used to buy a home in Atlanta, a Harley Davidson motorcycle and two cars!
The article goes on to say:
" The real question is when will US prosecutors investigate the fraudulent commissioning and funding by CDC officials of studies they knew would produce the result they wanted.  An example is the Tozzi paper reported by CHS?"
Read the article and see just some of the studies that this man was involved in and ask yourself how many children have been harmed through the continued use of thimoseral in vaccines?
Medicines containing mercury
On 28 March 2011 Dr Mercola posted an article with regard to some recent studies which have linked mercury to serious harm in children.  Dr Joachim Mutter, author of one of the newest mercury studies, has identified that mercury can be a trigger for autism in children.   Read the immunization article.   
Brain damage linked to mercury in flu shots
Immunization Page brings information from NaturalNews dated 28 March 2011 with regard to a study undertaken by Dr Jose Dorea and colleagues.   An excerpt from the article below:
"Mercury is known to cause serious harm, especially to fetuses and children because of their smaller size," said Lisa Sykes, president of the Coalition for Mercury-free Drugs (CoMeD), a non-profit group dedicated to removing mercury from medicine. "Why remove Thimerosal from pediatric vaccines only to inject it into pregnant women and children with recommended flu shots? They removed Thimerosal from other vaccines, so it should also be removed from flu shots."
Read the article to learn more.
Bill Gates and his decade of vaccines!
Immunization Page: On 15 March 2011 Dr Sanjay Gupta – the spokesperson for big Pharma – advised that Bill Gates implored 2010 to be the "decade of vaccines".    Above is a YouTube where Bill Gates blatantly stood up and said that
Vaccination will hopefully reduce the world population by 10-15 percent!
NaturalNews advised that the focus of Bill Gates's 10-year program will be on vaccines for AIDS, tuberculosis, rotavirus and pneumonia. In an effort to make his dream of a vaccine infused third world a reality, Gates has pledged $10 billion to the development and distribution of vaccines through the Bill and Melinda Gates Foundation. This is the largest contribution to a single cause ever made.
Bill Gates is an open advocate for global population reduction. He has spoken frankly regarding this issue on numerous occasions. So why would someone have his two most important issues be in direct conflict with each other? Is it because the resolution of one issue inherently lies in the opposing issue's realization? In other words, an aggressive vaccine program would actually cause infertility, death and disease.
Autism and Mercury
Immunization page brings further information from NaturalNews dated 12 March 2011 relating to flu vaccines and the fact that they still contain Thimerosal.  Thimerosal is a mercury based preservative.   In 1999 the Centers for Disease Control (CDC) recommended that this be removed from vaccines and yet vaccine manufacturers continue to use it.  
Please read this article as it may just help  you make your decision as to whether or not to get the flu vaccine this coming flu season.
Neurological Problems and Nerve Damage
Immunization page brings an article dated 14 February 2011 with regard to neurological problems due to nerve damage after vaccination.   
Guillain-Barre syndrome was reported after vaccinations of Swine Flu were received.   Read the full article to learn more. 
Voices being heard right across the world!
Immunization page:  NaturalNews on 8 February 2011 advise that an Italian Vaccine Awareness Group is confronting the World Health Organization's pandemic vaccination policy.
Consider some of the events from around the world regarding vaccines:
February 2009, two girls are hospitalized in Spain after Gardasil injections, prompting a recall of 76,000 doses of Merck's 'cervical cancer' vaccine.

April 2010, India halts HPV vaccine demonstration projects as a result of health advocates' concerns about HPV vaccine safety and ethical violations by the organizations conducting the 'projects.'

April 2010, Bhutan calls an immediate halt to their HPV vaccination program, scheduled to begin in May, in response to the investigation in India.

August 2010, French authorities ban advertising Gardasil as a preventive measure for cervical cancer.


September 2010, Scottish health authorities come under fire from vaccine safety advocates for failure to disclose potential risks involved with HPV vaccines.

October 2010, Irish mothers unite to get the truth out about potential risk of GardasilR.

October 2010, in the United States, SaneVax Inc. requests the FDA rescind the approval of GardasilR until it is proven safe and effective.

January 2011, British Society for Ecological Medicine organizes a medical conference entitled, 'The Health Hazards of Prevention, Vaccinations and Pharmacoprophylaxis.'
These are but a few of the significant developments in the vaccine safety advocate community during the last year.
Febrile Seizures in Toddlers
Immunization Page brings an article from NaturalNews dated 7 February 2011 that a high incidence of febrile seizures is being found in toddler vaccinated with the flu vaccine. 
MMR Vaccines
is it dangerous for children
Immunization page brings an interview with Dr Suzanne Humphries dated 2 February 2011.  Dr Humphries is urging parents to become better informed before consenting to receive immunizations. Some of the points raised in Dr Suzanne Humphries' interview.
Why she became concerned about vaccines after noticing kidney failure in patients who recently received vaccines.

Why vaccines are often contaminated with unknown viral strains, and why the vaccine industry has covered up known vaccine contamination (and knowingly sold contaminated vaccines to be used on the public).
Why the entire vaccine industry needs to be questioned, and why a new effort is needed to scientifically assess whether vaccines are really safe or effective.

Why the fairy tale that "vaccines eradicated polio" is a false mythology -- here's what really happened.
These are but a few of the questions raised, please read the article and listen to the interview – the information may save your child's health if not their life!  
Dr Sherri Tenpenny speaks out!
Immunization page brings you another article from NaturalNews with an interview with Dr Sherri Tenpenny who says:
"It seems as though the pharmaceutical industry looks at children as nothing more than a repository of their products, whatever those products are... whether they are a vaccine, an artificial coloring from the food industry, something in a pill such as a medication, and we see these kids, they're not healthy, they're pale, they just don't look healthy. And then the pharmaceutical industry paints these happy pictures that we have to keep vaccinating these kids to keep them healthy. And the pediatricians say because these kids are sick, we need to vaccinate them more!
I trust that Immunization Page has given you a bit more of an insight into vaccination information and that this page and other Vaccination Pages on this website will give you a greater understanding of what is actually occurring.
Return Immunization Page to Home Page
Your first paragraph ...