World News – 9/11 and Deep State
Marilyn Vine in World News page will bring a variety of topics that come through to me.
When I started this page on 4 May 2010 I was aware of some pretty upsetting information coming through.    At times I feel overwhelmed with the amount of information coming through which impacts on individuals' ability to keep them healthy.    If you are a regular reader of this website you will understand that my passion in life is to maintain my own health, the health of my family and friends and anyone else who is prepared to take control of their own lives.   I find it distressing when I read articles that is literally pulling the rug out from under people's feet and the really sad part is that the majority of the people of the world are totally unaware of it!     This is one of the driving forces behind Marilyn Vine building World News and other pages.    I wish I had other avenues open to me as well!    All I can ask of my readers is "Please pass this world news information on to those who may be interested in their own welfare and that of their country"

Beirut
Medley of links

12 August 2020 – an update from Information Clearing House - Putin and Russia are facing a very serious crisis in Belarus
This is a very comprehensive report on the situation and it appears that the West and NATO could be involved.
7 August 2020:  What Does It Mean published this world news article "Trump Warns "This May Be The Last Time You See Me For A While" As Lebanon Admits Beirut Hit By Bomb" by Sorcha Faal
A mind-blowing new Security Council (SC) report circulating in the Kremlin today noting the Emergencies Ministry having established an airmobile hospital in Beirut able to receive 200 patients a day, says the shocking damage caused by the massive explosion crippling this city now sees Lebanon having reached a critical point that challenges its survival as a sovereign state—a grave situation discussed between President Putin and Lebanese President Michel Aoun—a discussion followed by Russia warning Israel it could face "dangerous consequences" if it continues targeting Syria with airstrikes—a first ever warning to Israel, as Russia's military involvement in Syria is a declared "Holy War" to protect Christian peoples, not the Syrian regime, and is why no such warning has ever been issued before—but is now justified due to the facts showing that Israeli Prime Minister Benjamin Netanyahu pointed out to the United Nations General Assembly forum the warehouse that exploded on 4 August 2020 as a Hezbollah arms depot on 27 September 2018—a fact followed this past January, which was when Israel struck the Syrian countryside with a new missile having a tactical nuclear component in its warhead that causes a smoke mushroom characteristic of nuclear weapons—an explosion the likes of which have never been before until 4 August when the exact Beirut warehouse Netanyahu pointed out in the UN exploded and took the city of Beirut down with it—a reality being gravely acknowledged by Lebanese President Aoun, who has just declared to the world: "There is a possibility of external interference through a rocket or bomb or other act"—and after being briefed on these facts and realities yesterday, saw President Donald Trump addressing a gathering of his top Republican Party officials and cryptically telling them: "I Have a Lot of Enemies…This May Be the Last Time You'll See Me for a While". [Watch video HERE at 1:15:30 time mark]  [Note: Some words and/or phrases appearing in quotes in this report are English language approximations of Russian words/phrases having no exact counterpart.]
Please look at the world news photos and also read the latter part of the article.
Aplanetruth Mirrored - TR3B's Caught Bombing Beruit
World News:  5 August 2020 - Beirut Bombing Destroyed Half the City & Especially lebanon's Primary Port
5 August 2020 - "Israel caused the massive explosion at the Beirut port" — Confidential and highly-informed Israeli source | SOTN: Alternative News, Analysis & Commentary
On the same day and just before the Beirut terrorist bombing,, Israel was pushing to sell its biggest port at Haifa.  My my…what a lucky coincidence!

The people of Berlin end the lockdown
Not the Government but THE PEOPLE
Click this link to see the short world news video clip    Australia's ABC News on Sunday morning 2 August 2020 labelled these people "neo nazis".   Do they look like this to you or do they look like everyday people just letting their deep-state-controlled-government know that they will not go along with the farce that is being perpetrated?
It is all a matter of acquiescence.   Are you prepared to give up your rights as an individual by just following the dictates by acquiescening?
This is World news!    I wonder whether people in other countries will follow suit.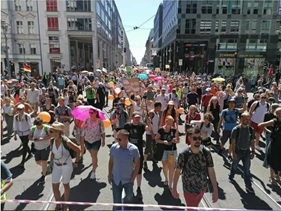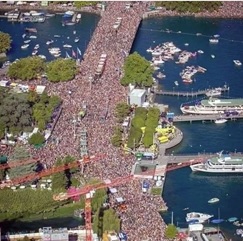 High Alert
Deeply disturbing new technology
They would control not only what we hear and what gets communicated, but also what we think and everything the people, are doing and saying!  In other words…total slaves of the owners/controllers of this kind of powerful technology!
Perhaps, the covert chemtrail operation (ionising the atmosphere for surveillance) is part of this agenda.  Also, the mandated vaccinations for all kids (& eventually adults), so that they can chip everyone for even more control of every aspect of people's lives!
Profound world news!  
Maybe this is why we as individuals are all being brought into line with the massive censorship unfolding all around us.
Click this link to see what they are planning.

Polly explains how we are all fooled!
Public Intelligence Blog dated 8 December 2019 published this World News link"Amazing Polly: Fake News Industry — PSYOP Goes Mainstream — CENSORED by #GoogleGestapo, Now Up at BitChute".  Make sure you listen to Polly's video by clicking this link – she makes a great deal of sense!.


53 Count Federal Criminal Indictment
Tuesday, December 3, 2019
California CEO and Seven Others Charged in Multi-Million Dollar Conduit Campaign Contribution Case
Earlier today, an indictment was unsealed against the CEO of an online payment processing company, and seven others, charging them with conspiring to make and conceal conduit and excessive campaign contributions, and related offenses, during the U.S. presidential election in 2016 and thereafter.
Assistant Attorney General Brian A. Benczkowski of the Justice Department's Criminal Division and Assistant Director in Charge Timothy R. Slater of the FBI's Washington Field Office made the announcement.
A federal grand jury in the District of Columbia indicted Ahmad "Andy" Khawaja, 48, of Los Angeles, California, on Nov. 7, 2019, along with George Nader, Roy Boulos, Rudy Dekermenjian, Mohammad "Moe" Diab, Rani El-Saadi, Stevan Hill and Thayne Whipple. The 53 count indictment charges Khawaja with two counts of conspiracy, three counts of making conduit contributions, three counts of causing excessive contributions, 13 counts of making false statements, 13 counts of causing false records to be filed, and one count of obstruction of a federal grand jury investigation. Nader is charged with conspiring with Khawaja to make conduit campaign contributions, and related offenses. Boulos, Dekermenjian, Diab, El-Saadi, Hill, and Whipple are charged with conspiring with Khawaja and each other to make conduit campaign contributions and conceal excessive contributions, and related offenses.
Click the world news link above to read the full indictment.
Then click this What Does it Mean link to read a very interesting article covering many aspects.

Bill Gates Again!
This time threatening our personal identification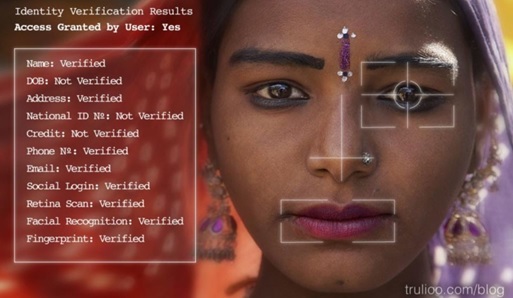 JUST LOOK AT ALL THE THINGS THEY CAN VERIFY JUST BY SCANNING YOUR FACE!
ABSOLUTELY INCREDIBLE!
Activist Post dated 6 December 2019 published this World News article "Bill Gates Wants to Export India's National ID System Around the Globe"
It's not just a social credit score system spreading around the world from China that threatens the free people of the world; India's Aadhaar National ID program has the full support of Bill Gates and the World Bank as a model for other countries to follow.
Gates said in a 2018 CNBC interview that it was "too bad" if someone thought that Aadhaar was a privacy issue:

NATO
Should it be abolished
NATO has come under scrutiny again with the latest meeting in December 2019.   Here is an excerpt from a recent posting on NATO.
In 1999, NATO engaged in military operations without UN approval in Yugoslavia. Its illegal airstrikes during the Kosovo War left hundreds of civilians dead. And far from the "North Atlantic," NATO joined the United States in invading Afghanistan in 2001, where it is still bogged down two decades later. In 2011, NATO forces illegally invaded Libya, creating a failed state that caused masses of people to flee. 
In an age where people around the world want to avoid war and to focus instead on the climate chaos that threatens future life on earth, NATO is an anachronism. It now accounts for about three-quarters of military spending and weapons dealing around the globe. Instead of preventing war, it promotes militarism, exacerbates global tensions and makes war more likely.
CounterPunch document dated 3 December 2019 on world news: 

France & US Generals ignored
Strategic Culture dated 9 November 2019 published this world news article "Douglas Macgregor: America's De Gaulle, Unheeded Prophet of Houthi Victory and Saudi Fall". 
Their article goes on to say how De Gaulle's book was never read by the French Generals and it appears that Douglas Macgregor's book has not been read by the US Generals.   Read the article and see what the Houthi's achieved.   It was quite an interesting read.

Why America is a Threat?
New Eastern Outlook dated 9 November 2019 published this world news article "Why America is a Threat".
The announcement in October 2019 that the United States was "keeping" Syria's oil for itself, opened the eyes of millions of Americans blinded by 20 years of absolute censorship, total propaganda and political turmoil."
Here is an excerpt and it is suggested that you read the entire article.
"But what was Epstein about, his death, the allegations of child sex trafficking and less publicly of a blackmail ring that compromised politicians?
Access to insider information not available to the public, using contacts inside the nuclear weapons industry, a very different story evolves, one more sinister than that which the conspiracy theorists allege, one that, in fact, may well prove most conspiracy bloggers to be as most long suspect, paid elements of intelligence agency disinformation programs.
Here is where things become frightening."
Please read!

New World is Emerging Before Us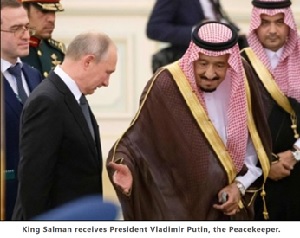 Thierry Meyssan underlines the extreme gravity, not of the US withdrawal from Syria, but of the collapse of the world's current landmarks. According to him, we are entering a short transition period, during which the current masters of the game, the "financial capitalists" - and those he refers to here have nothing to do with either original capitalism or the original bank - will be rejected in favour of the rules of law laid down by Russia in 1899.
Click this link to read the article and pray that it is correct and that Putin can achieve world peace and that NATO will be taken down.

Make of it what you will
The following are links to various world news articles published by Mongoose on 1 November 2019 – "The Russian Submarine Fleet — Real Threat or US Navy Budget-Building Gambit?".
Daily Mail (UK), 31 October 2019: Russian nuclear submarines sailed past UK waters on secret mission into the Atlantic to prove they can strike the United States in largest operation since the Cold War
Mirror (UK), 30 October 2019: Putin deploys 10 heavily armed submarines for secretive mission to the US
Business Insider, 14 October 2019: Russia's submarines are getting harder to find, and the Navy is sending more people to keep an eye on them
The Barrents Observer, 14 October 2019: Russia announces massive trans-Arctic nuclear war games
RELATED:
U.S. Navy Submarines Are Losing Their Stealth Coatings. Who's to Blame?
Whistleblower says Navy shipbuilders ignored nuclear submarine testing procedures for years
China's stealth drones and hypersonic missiles surpass — and threaten — the U.S.


Donald Trump Actions
World News:  Sept. 12, 2019  (UPI) -- President Donald Trump established a task force Thursday to prevent atrocities in the United States and around the world, accompanied by a report that lays out framework to stop human rights violations before they start.
Trump ordered the creation of an Atrocity Early Warning Task Force, and directed that it coordinate with federal agencies and enhance accountability for violators. The report is named after of Jewish Holocaust survivor Elie Wiesel, who was taken taken to the Auschwitz Nazi concentration camp as a teenager during World War II.
To learn more about the Khazarian Mafia click this link.

The Truth on Aleppo Syria being exposed



Iran



Of high importance – Help Iran make the call
I have read a document, which I believe is of high importance.   I felt it was very well written and contained, what I believe, to be so much truth that again I have copied and pasted into my own pdf and then URL which I will share.  Here is an excerpt:
Europe is a Dead Man Walking
In the USA we refer to a prisoner on Death Row as a "dead man walking."  Europe is dead. Macron, Merkel, and May are each a "dead man walking." The false flag attack on Notre Dame, the ignominious depravity of May with respect to Brexit, and the exposure of Merkel for the traitor to Germany that she has been, welcoming unemployed Muslim men many of them rapists as part of a globalist agenda, have all been noted by the public.  The Yellow Vest movement is spreading, and very few people seem to be aware of the Savoy Case that will lead to the fall of Macron and the unconstitutional government he leads while redefining boundaries both within and outside of France – Monaco will expand to become a new buffer state between France and Italy.  Spain and Portugal will muddle through, Switzerland will recover from the death of the Deep State, and Eastern Europe will leave the North Atlantic Treaty Organization (NATO) when the US departs and closes all its bases overseas, something I expect to happen during President Trump's second term.
In short, the only serious people that matter in the Middle East are Iran, Turkey, Egypt, Russia, and China. Europe is relevant only in terms of diplomatic protocol. It is however important that Russia agree with the USA – at the Presidential level, no one else matters – that NATO's presence in the Middle East is anathema to peace and all US-funded endeavors in the Middle East should cease at once. This includes US financial and military support to the Saudi regime that is, along with Qatar and Israel, the primary source of instability.

Who is targeting Iran?   
America or who….
23 July 2019:   "Israel-born Treasury official is at the center of U.S. policies on Iran".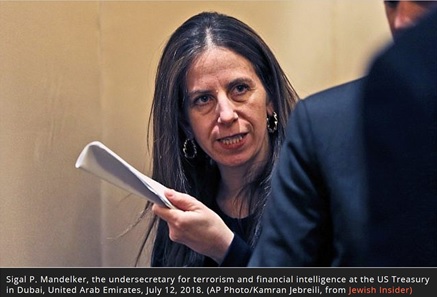 At the Center of U.S. Iran policies is an Israel-born Treasury official named Sigal Mandelker. The Atlantic writes that her 'hand is on the lever' of crippling economic sanctions meant to force Iran's 'capitulation or demise'… meanwhile the Treasury Department refuses to divulge whether Mandelker is still an Israeli citizen… (Iran has long been in Israeli crosshairs)
Is there some truth in this article.   Please read and decide for yourself.

Jeffrey Eptstein
Are we about to see things happen in America?
Activist Post dated 9 August 2019 published this world news article "Lead US Prosecutor in Epstein Plea Deal Unexpectedly Quits Justice Department".    
Something big is about to hit in the Jeffrey Epstein drama, which in recent days has quietly slipped to the last page in the local media.
Moments ago, the Miami Herald whose reporting in 2018 reincarnated the Epstein pedogate scandal, reported that Marie Villafaña, the lead federal prosecutor who helped negotiate the controversial plea deal for accused sex trafficker Jeffrey Epstein, has submitted her resignation to the Justice Department.
Villafaña's lawyer, Jonathan Biran, confirmed her resignation to the Miami Herald, saying that she has long planned to transition to a legal career in healthcare, and now plans to join the federal Department of Health and Human Services, because allegedly, she handled a number of healthcare fraud cases in South Florida in recent years.
Her shocking departure comes amid a sprawling federal probe into the role she and other federal prosecutors, including her former boss, Alexander Acosta, had in sidelining the 53-page indictment against the wealthy New York schmoozer and convicted pedophile in favor of a state plea to minor prostitution charges in 2008. Epstein, 66, was accused of molesting dozens of underage girls, most of them 14 to 16 years old, at his Palm Beach mansion more than a decade ago. He is now facing federal sex trafficking charges involving minors brought against him last month by prosecutors in the Southern District of New York.



David Horowitz




The War to Destroy America





The War in Washington
World News: God's Kingdom Ministries
On 30 July 2019 published this world news article "The War in Washington".      It is a very interesting read and worth the few minutes to do so.

David Icke
World News asks "were you able to attend the Renegade Film Premier – 2 May 2019 in New York?  I believe they learned the following at this event:
David Icke has said that 'physical' reality is an illusion and what we think is the 'world' is a holographic simulation or 'Matrix' created by a non-human force to entrap human perception in ongoing servitude.
Today David's books are read all over the world and his speaking events are watched by thousands on every continent. Why? Because what he has been so derided for saying is now happening in world events and even mainstream scientists are concluding that reality is indeed a simulation.
Almost every day something that David Icke said long ago is supported by happenings and evidence. As Mahatma Gandhi said: 'First they ignore you, then they laugh at you, then they fight you, then you win.' David Icke's time has come.
The following is the 2-minute trailer advertising the event.   Did you know the Australian Government banned him just as he was about to board the plane to come to Australia without any warning early in 2019!   They obviously feared the truth being exposed!

"The Envelope Affair" at the Bush funeral
This link is to a world news document, which to my mind explained a lot.   Why there is no such thing as a mass of indictments and why the Bush Family, Clinton Family and Obama and maybe even George Soros will never be brought to account.  Why Trump spoke the way he did on 5G.   Click the link and read for yourself and begin to understand why the swamp will never be drained and whether Trump will even run for a 2nd term.   Then listen to the following YouTubes
World News:  Attorney General William Barr will never — EVER — drain the swamp

Is Trump being blackmailed to start WW111?
Benjamin Fulford on 25 February 2019 in his weekly report has written a very interesting world news article entitled "Khazarian mafia play Trump blackmail card in final bid to avoid extermination".   This article contains some rings of truth and explanations as to why no military tribunals are in play and indictments being activated.   Read his article by clicking the link above and you my interested in read the history of the Khazarian Mafia by clicking here.

More UK and US Collusion    
Seems that Russia is the target
Anonymous blows lid off huge psyop in Europe funded by UK and US --The Institute for Statecraft is affiliated with the NATO HQ Public Diplomacy Division and the Home Office-funded 'Prevent' program. | 23 Nov 2018 | Anonymous has published documents which it claims have unearthed a massive UK-led psyop to create a "large-scale information secret service" in Europe - all under the guise of countering "Russian propaganda." In a document dump on November 5, the group exposed the UK-based 'Integrity Initiative', said to have been established by the ominously titled Institute for Statecraft in 2015. The main objective is "to provide a coordinated Western response to Russian disinformation and other elements of hybrid warfare." Operating on a budget of 1.9 million pounds (US2.4 million), the secretive Integrity Initiative consists of "clusters" of local politicians, journalists, military personnel, scientists and academics. The team is dedicated to searching for and publishing "evidence" of Russian interference in European affairs, while themselves influencing leadership behind the scenes, the documents claim. 

US Bases    
I thought there was talk of shutting them down?
'Obvious threat': Russian officials warn Poland not to proceed with permanent US military base | 21 Nov 2018 | Moscow will have to respond if Warsaw pushes through a plan to build a permanent US base on its soil, top Russian officials have warned, as the Polish defense chief said construction of the so-called Fort Trump was a done deal. Poland's Defense Minister Mariusz Blaszczak confirmed that a permanent US military installation will be "undoubtedly" created on the country's territory. While bolstering US military presence is not a matter for negotiation, the exact mechanism and select units to be deployed are still being discussed, Blaszczak told Polish Radio on Tuesday.

International Law and the United States
Activist Post dated 13 November 2018 published this World news article "Is United States Breaking International Law?"   Here is an excerpt and the article contains videos and tells you where the appropriate information is.
MSNBC news media panel members were stunned speechless by a "talking head" professor from Columbia University, Jeffrey Sacks, spilling the beans about the U.S. breaking international law, going in and bombing countries.
Jimmy Dore, of The Jimmy Dore Show, [circa April 18, 2018] features a discussion around American imperialism. How about this politically-correct term: "Middle East fatigue"!
Or this
"This is a U.S. mistake that started seven years ago…they sent in the CIA to
overthrow Assad…what we should do now is to get out."
"We started a war to get rid of a regime."
"…signed by President Obama…"

Saudi Arabia and war crimes in Yemen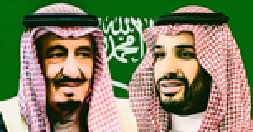 Activist Post dated 30 August 2018 published this world news article "Furious Saudi Arabia Condemns UN Report on Yemen War Crimes".    Here is an excerpt
A Tuesday report released by the UN confirmed in considerable detail misdeeds by the Saudi-"led coalition in Yemen, killing thousands of civilians in Yemen, raping and torturing detainees, and using child soldiers. The report warned these may amount to war crimes.
While they didn't specifically dispute any of this, Saudi Arabia was predictably furious about the report, angrily condemning it as having "misconstrued the facts of the conflict… ignoring the true reasons for the conflict," while saying that it was an Iranian coup against the "legitimate government in Yemen."

Killer Robots
Activist Post dated 29 August 2018 published this world news article "Experts Gather For UN-Hosted Meeting On "Killer Robots".   I, Marilyn Vine, believes that this meeting has huge implications for the whole world.  I already read about the capability of drones to target individuals and kill them and if this sort of technology exists already then what might these inventors come up with to dispose of masses of people and not just individuals.    Please read the entire article by clicking this link and I suggest that you keep an eye on what is unfolding.

Clinton followers now being exposed
Public Intelligence Blog dated 30 June 2018 published this article "FBI – Clinton Campaign Official Arrested On Child Rape Charges".    Click this link to read more.

Israeli Lobbyists being exposed in the UK
Counter Punch in this article dated 14 November 2017 "Israel Lobby is Slowly Being Dragged Into the Light".  Here is a world news excerpt but make sure to click the link to read the full report:
"The scandal surrounding Priti Patel, who was forced to resign as Britain's international aid minister last week after secret meetings with Israeli officials during a "family holiday", offers a small, opaque window on the UK's powerful Israel lobby."

John F Kennedy – Gaddafi was right!


Public Intelligence Blog 8 November 2017 published this world news: "Mongoose: Gaddafi on Zionist Assassination of JFK over Dimona Nuclear Program"  An excerpt from this article:
"Phi Beta Iota: JFK was killed because he fired Allen Dulles and was taking on the Deep State including the Zionists. Yitzhak Rabin was Israel's official representative, in Dallas on the day, but Israel was a collaborator, not the instigator. Lyndon Baines Johnson, may God sentence him to Hades in eternity, blessed the assassination plan by Allen Dulles, recently fired Director of Central Intelligence (a Wall Street front), and ensured that the assassination was covered up, in part by assigning Allen Dulles, the lead assassin, to the Warren Commission to ensure the official narrative, all lies, was pursued. The Zionists (not to be confused with decent Jews world-wide) have much to pay for, but in this instance Gaddafi is wrong — Americans assassinated Kennedy, the Zionists were merely spectators cheering from the sidelines."

Saudi Arabia in November 2017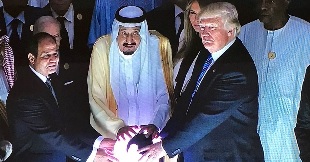 Activist Post dated 5 November 2017 published this World News article "Saudi Purge: Royal Arrests and Helicopter Crash Killing High Ranking Officials Shocks the World" 
Marilyn Vine wonders what this means for the world.   Does it signify the end of relationships with Israel and the United States?     It will be interesting to follow what unfolds.

Declassified - France – LSD – CIA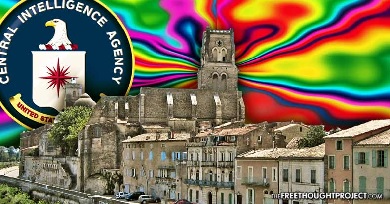 Activist Post dated 6 November 2017 has published this article "Declassified Docs Show CIA Poisoned Entire Town with LSD in Massive Mind Control Experiment".   The article goes on to say:
"For decades after a French village was struck by mass insanity and hallucinations in 1951, it was widely believed that a local bakery's flour had become contaminated by ergot, a poisonous fungus that occurs naturally on rye and causes hallucinations. However, a discovery by an investigative journalist doing research for a book about the incident uncovered damning evidence that the village's food was intentionally contaminated with LSD as part of a secret CIA mind control experiment.
On August 16, 1951, numerous locals were suddenly stricken with horrifying hallucinations of fire, dragons, and snakes, with dozens being committed to asylums and hundreds left with varying degrees of madness. The incident was known locally as the mystery of Le Pain Maudit (Cursed Bread)."

What a surveyed group of Americans feared the most in 2017
Click this link to see the graph compiled from a survey undertaken by Chapman University.  To read the full World News article click this link.

Multiple Arrests
84 kids freed
Activist Post dated 18 October 2017 published "Nationwide Human Trafficking Stings Ensnare Multiple Cops—84 Kids as Young as 3 Months Freed".  
Marilyn Vine prays that they key up their "stings" and helps more kids.


NSA Whistle Blower
Published on 11 October 2017:
NSA Whistleblower William Binney joins the program to discuss how the NSA cares more about ensuring the money keeps flowing than to stop terror attacks and bad guys. He also discusses the movie about his time at the NSA, "A Good American". The film is Oliver Stone's latest work on the nefarious activities of our government.

World Beyond War
World Beyond War has produced a video which can be viewed by clicking this link.

More Memorandums for President Trump
Press release dated 29 August 2017 "#UNRIG Leadership Offered to President Donald Trump by EIN CEO Robert Steele".  An excerpt:
"In an Open Letter also delivered to the White House yesterday, the founder of #UNRIG offered its leadership to President Donald Trump.
Washington DC (PRUnderground) August 29th, 2017
At 2 pm on 28 August 2017 a formal communication from Earth Intelligence Network (EIN) Chief Enabling Officer (CeO) Robert David Steele was delivered to President Donald Trump via various channels including direct facsimile from trusted friends of the President. Alternative means were necessary because of past experience with staff filtering the President's communications."
It is important that the people get in behind Robert Steele and Cynthia McKinney who along with their organization are offering support to President Trump.   Click this world news  link to learn more.
Also this world news link dated 28 August 2017 which contains the open letter to President Trump.

400 or 500 children killed by Human Trafficker
In a YouTube a ruthless Libyan human trafficker has admitted to trafficking over 2,000 desperate migrants into Europe, selling thousands of girls into child sex slavery, and killing somewhere between 400 and 500 kids he kidnapped but whose deals failed to materialize.

Mind blowing YouTube     
Interested in the truth then listen to this
World News encourages you to listen to this and help these people free America and then maybe other countries around the world will also obtain their countries back.



Is President Trump allowing the "Roll back Civil Rights Protections"?
See what Cynthia McKinney on 18 June 2017 has to say in this regard by clicking this link.

Memorandum #4 for President Trump
Please help spread the information contained in this link and support President Donald Trump in setting up "The Trump Channel" right now before things start to unravel in July!   I am an Australian and I would love to see the recommendations from this memorandum put in place.  I know that if Trump is successful in implementing this strategy that it can only have a roll-on effect here in Australia.
TAKE THE TIME AND CONTACT THE WHITE HOUSE PRESS SECRETARY AND TELL THEM YOU ARE RIGHT BEHIND MEMORANDUM #4'S RECOMMENTDATIONS INCLUDING SHUTTING DOWN THE NSA AND UTILISING THE DATA THAT THEY HAVE HAD FOR THE PAST 15 YEARS.
You might also like to click this link and read Robert Steele's article on "Beyond the Paris Climate Deal – And can Russia lead the way?

Memorandum for the American People
Robert Steele and Cynthia McKinney have published an article entitled "Beyond Trump & Sanders".   I would urge all Americans and Australians and New Zealanders to read this document in full.   If the organizers can unite all the various factions and do what they have envisaged doing then the "Deep State" will be no more and governance should be restored to the people and maybe President Trump will achieve his goal of "making America great again"!   If they can achieve a victory in America then there is hope for reclaiming Australia and New Zealand back again for the people.

Memorandum for President Donald Trump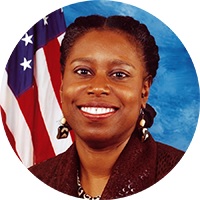 Received via email on 27 May 2017 is:
Cynthia McKinney: Memorandum for the President 3.1
Robert Steele's original Memorandum for the President, read by four million people world-wide, has been updated by Cynthia McKinney, co-founder of We the People – Unity for Integrity.
BELOW is the revised Memorandum, translated by an Adoring Fan into Trump-Speak. Thank you, all who support our President and the efforts of Cynthia McKinney and I to help him be the Greatest President Ever
Cynthia McKinney's Memorandum for the President 3.0Will you support Cynthia in her endeavor to assist President Donald Trump be the President that those who voted for him believed he would be??   Then please circulate her memorandum wide and far and become vocal in support of President Trump and remove the power that the Deep State is holding over him.

Syria's President Assad's perception of the American Presidency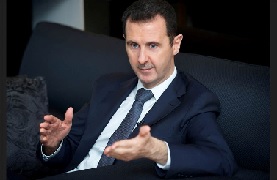 World News provides an Activist Post article dated 23 May 2017 on  President Assad's comments.  Please make sure you click this link to read the entire article.
"The American President has no policies. There are policies drawn by the American institutions which control the American regime which are the intelligence agencies, the Pentagon, the big arms and oil companies, and financial institutions, in addition to some other lobbies which influence American decision-making. The American President merely implements these policies, and the evidence is that when Trump tried to move on a different track, during and after his election campaign, he couldn't. He came under a ferocious attack. As we have seen in the past few week, he changed his rhetoric completely and subjected himself to the terms of the deep American state, or the deep American regime. That's why it is unrealistic and a complete waste of time to make an assessment of the American President's foreign policy, for he might say something; but he ultimately does what these institutions dictate to him. This is not new. This has been ongoing American policy for decades."
I doubt that anyone who is thinking for themselves would disagree with President Assad's comments!    We need to pray and give support to President Trump to help him extricate himself from the current situation that he has found himself in and to enable him to do the things that he really wants to do – i.e. Make America great again!



We the people of the World can stop WW111 by revealing the truth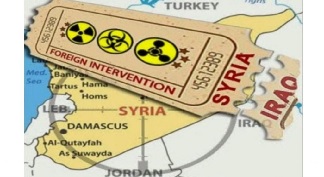 World News believes that when enough people around the world start revealing the truth of what is REALLY unfolding then all the false flags will be revealed and perhaps this will be enough to prevent WW111 from actually occurring.  On 12 April 2017 Activist Post published this article "5 Major Stories That Blow The "Official" Narrative On Syria Out Of The Water".   This is an important read to provide you with an understanding of what is unfolding.
Please take the time to read this world news article and share with as many people as you can to stop the false flag narratives that are being released in an endeavor to push this war.

Afghanistan Bombing
Activist Post dated 15 April 2017 printed this article "WikiLeaks: The Afghan Tunnels The US Just Bombed — "They Were Built By The CIA"
The World News article goes on to say:
As the Trump administration is flexing its military muscle, having stood up to Syria and its ally Russia, and while it's now relishing in the news it has dropped the nation's largest most-powerful non-nuclear bomb on a cave complex in eastern Afghanistan, one critic was quick to point out a little-known fact. WikiLeaks tweeted a simple but true statement concerning the origin of the cave complex the Americans are so proud to have reportedly destroyed. "Those tunnels the U.S is bombing in Afghanistan? They were built by the CIA," WikiLeaks tweeted.
You should also take the time out to read this article "ISIS Script Shifts To Caves In Afghanistan – Longevity Now Guaranteed" which may provide an understanding to you of why this "Mother of all Bombs" was dropped on this cave.   Click this link to read
Fox News video released in article dated 2 May 2017

Syria's Poison-Gas Attack under question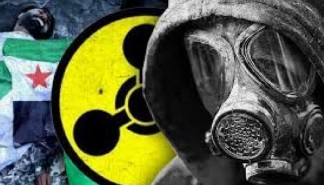 Activist Post dated 14 April 2017 brings this article "Top Ten Reasons To Doubt Official Story On Assad Poison-Gas Attack".  The World News article goes on to say:
"The sarin-gas attack story prompted the US missile strike on a Syrian runway. Here are the top ten reasons for doubting that story, and instead calling it a convenient pretext:
ONE: Photos show rescue workers treating/decontaminating people injured or killed in the gas attack. The workers aren't wearing gloves or protective gear. Only the clueless or crazy would expose themselves to sarin residue, which can be fatal.
TWO: MIT professor Thomas Postol told RT, "I believe it can be shown, without doubt, that the [US intelligence] document does not provide any evidence whatsoever that the US government has concrete knowledge that the government of Syria was the source of the chemical attack in Khan Shaykhun…Any competent analyst would have had questions about whether the debris in the crater was staged or real. No competent analyst would miss the fact that the alleged sarin canister was forcefully crushed from above, rather than exploded by a munition within it." How would a canister purportedly dropped from an Assad-ordered plane incur "crushing from above?"

Corporate Media – False Flags revealed
Finally World News has found someone telling the truth of what is happening!

Timeline of False Flags and Lies
Published on Apr 7, 2017
Josh Sigurdson breaks down a 4 year timeline of false flags and destruction following the false flag chemical attack in Syria.     Make sure you read the timeline shown under the YouTube to understand what has been unfolding over a number of years and finally culminating in the missile attack.
Is WW111 imminent?
Activist Post dated 7 April 2017 brings a YouTube on the US striking Syria.   Let us pray that President Putin does not respond to this American aggression and thus stop a WW111 from occurring!
and now listen to this YouTube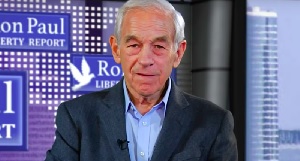 Ron Paul on 6 April 2017 said:
Ron Paul: 'Zero chance' Assad is behind the 'false flag' chemical attack in Syria
Former U.S. Rep. Ron Paul (R-TX) does not believe that Syria's Pres. Bashir al Assad launched a chemical weapons attack on a rebel held village on Tuesday.
On his "Ron Paul Liberty Report" broadcast on Wednesday, the Libertarian-leaning Republican proclaimed that the chemical weapon attack on Tuesday was a "false flag" operation designed to smear Assad and involve the world in a global war.
"Before this episode of possible gas exposure and who did what, things were going along reasonably well for the conditions," said Paul. "Trump said let the Syrians decide who should run their country, and peace talks were making out, and Al Qaeda and ISIS were on the run."
"It looks like, maybe, somebody didn't like that so there had to be an episode, and the blame now is we can't let that happen because it looks like it might benefit Assad," he said.
Click this World News link to read the article.
One wonders whether President Trump was premature in his actions against Syria before learning the real truth of who was behind the chemical massacre.   Who has managed to assert such an influence over Trump that he would act so prematurely and put the whole world in jeopardy?
Disturbing report on our earth
Paul Craig Roberts on 24 March 2017 has issued a document entitled "The Day the Earth was Murdered".     Please click this World News link to see what Paul has to say.   World News believes that this report is something that whatever country we live in - that we all should be concerned with what is unfolding.
Bill Clinton Exposẻ
YouTube dated 11 December 2015 is a real-eye opener on Bill's past and particularly his involvement with cocaine.  This YouTube now removed!   World News asks "I wonder why?"

How the World is being duped with false flag events

World News:  Truth and Art TV on 4 November 2016 provides the following story.  A story that seems to be manifesting across so many countries and so many fronts to frighten people to achieve the aims of the people who are collaborating in presenting these false flags.  The article goes on to say this:
"A recent video released by a Live Leak source shows a staged car bomb explosion followed by what I call must-watch jaw-dropping crisis actor fakery. The video is said to be in Iraq. The video shows a man busy doing something by the car. He then walks away from the car, gets into another car where at least one person is waiting for him before they drive off. Seconds after driving off, the car is seen to explode violently. That's not the important part. What follows is however. Immediately following the explosion crisis actors are seen quickly running into position, finding well spread out spots on the floor to lie down and pretend to be injured from the explosion. The video gets better though as coaches are seen guiding the crisis actors into position and waving in the "suddenly appeared" emergency medical workers. The crisis actors are seen pretending to be in agony and unable to carry their own weight. The video leaves one wondering if you should laugh, cry or get angry."
Click this link and to see the video described above unfold.

Trump Video Calling for America to be returned to the American People

World News:  What Donald Trump says in the video below also pertains to the majority of countries around the world!
Australia
We have a small number of people in Australia who I refer to as "awakened".   In other words the blinkers have come off their eyes and they are aware of the crimes being perpetrated in the name of governance and 'looking for the Australian people's welfare'.  These people are endeavoring to awaken more people so that action can be taken to restore:
The Australian Constitution of 1901, and not the (illegal?) Corporate structure that was registered in Washington, DC in the 70's.  

(

A corporate structure that was never put to the Australian people under a referendum. A referendum is the only way in which the Australian Constitution can legally be changed and be binding.)

For Australia to be governed by Australia for Australia, and not for the world conglomerates, pharmaceuticals,  or any schemes that harm the health and well being of our people and our land.
In addition:
To withdraw from Agenda 2030 with its "sustainable" depopulation agenda to "depopulate" Australia and the rest of the world!

To withdraw from Codex Alimentarius, which controls people's ability to purchase natural supplements in quantities that are required to maintain the body's nutritional system.  Not the RDI (recommended daily intake) set by Codex and WHO, which is way below the minimum requirement to enable this maintenance to occur.

To withdraw from the TPP, which will enable outside corporations to over-ride Australian Legislation, sue the Australian Government if they don't dance to the corporation's tunes, and force our supposedly "legal" governance to do the bidding of these international entities.

Forced fluoridation against people's will.

Forced vaccination against people's will.
Julie Bishop
This World News information didn't even make the headlines here in Australia!  
Were you aware that we are now part of the "New World Order? 

Were you part of a Referendum asking if you wished to become part of this New World Order?  

Wouldn't  a commitment of this magnitude need to have gone before the people as a Referendum as surely it would be a massive change to our Australian Constitution dated 1901?
Media Release dated 25 September 2015:
"During Minister Bishop's recent speech at the United Nations she stated unambiguously that she, Turnbull, and the new Liberal government would embrace "Sustainable Development" Agenda 2030.  And, she signed Australia on to become part of the New World Order – Global Government."

This youtube has now been removed

US Executive Order 13603

Via an email dated 12 October 2016 I received the following World News:
Here's what the Washington Times warned:

"Executive Order 13603 (National Defense Resources Preparedness) states that, in case of a war or national emergency, the federal government has the authority to take over almost every aspect of American society. Food, livestock, farming equipment, manufacturing, industry, energy, transportation, hospitals, health care facilities, water resources, defense and construction - all of it could fall under the full control of Mr. Obama. The order empowers the president to dispense these vast resources as he sees fit during a national crisis."

That sure sounds like martial law.

The worst part? Obama can choose when and where to use this new power... it's not restricted by Congress in any way... so he could decide to use it whenever it suits his fancy.

And not to be a fear monger, but can you imagine what could happen if Hillary gets elected? She'll be able to use Executive Order 13603 too.

Americans can sue Saudi Arabia over 9/11

World News:  Activist Post dated 4 October 2016 provides information on the Senate, passed a bill allowing Americans to sue Saudi Arabia over 9/11.   Click this link to read the article and understand the Pandora's box that this has opened for action to now be taken against the US.  An excerpt from this article follows:
"Former Sen. Larry Pressler, defendant in a U.S. court on charges of terrorism in Vietnam, fear mongered last week that this bill could make him vulnerable for the illegal and murderous Vietnam war. Pressler explained his concern in an op-ed at The Hill.
As a Vietnam combat veteran, I could almost certainly be sued by the Vietnamese government or by a Vietnamese citizen. The Gulf War, Iraq War and Afghanistan War veterans are more protected by constitutional congressional actions, but we Vietnam veterans will be raw targets if Americans can sue Saudi Arabia.
Instead of questioning the nature of illegal wars themselves, this former senator, and many like him, want to hide behind the protection of the very state who waged that war.
If you kill innocent people — you deserve no immunity.
This notion has already been publicly debated after World War II. In 1945 and 1946, during the Nuremberg Trials, the issue of superior orders arose. Before the end of World War II, the Allies suspected such a defense might be employed and issued the London Charter of the International Military Tribunal (IMT), which explicitly stated that following an unlawful order is not a valid defense against charges of war crimes.
Again, if you killed innocent people for the state — you deserve no immunity."


Hillary Clinton – Libya – Gaddafi - Benghazi
World News:  One might ask
What do they all have in common?
Click this link to learn more.

Hillary Clinton – Julian Assange – Drone Attack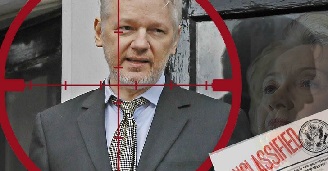 World News confirms that an unconfirmed source has revealed that Hillary Clinton asked the following question on Tuesday, November 23, 2010, at Mahogany Row at the State Department,    Click this link to read the article.


CDC and Unconstitutional Powers
World News:
Activist Post 3 September 2016:  U.S. CDC Giving Itself Unconstitutional POWERS to Round Up and Detain Citizens En Masse Anytime, Anywhere And Throw Away the Key

Syrian invasion by Turkey

Activist Post dated 26 August 2016 provides information on what other country assisted Turkey in their invasion of Syria and then you need to ask the question why would they do this?

Australia's Flinders Ranges
Proposed Nuclear Waste Dump

World News:  August 2016:    Please sign the petition to stop South Australia's Flinders Ranges from being turned into the Nation's Nuclear Waste Dump.  Click here

World Beyond War

World News Page brings exciting information with regards to the following:
World Beyond War is planning a big event in Washington, D.C., in September 2016, just after the International Day of Peace, including a conference running from 12:00 noon to 8:00 p.m. on Friday September 23, 9:00 a.m. to 7:30 p.m. on Saturday September 24, and with speakers and activist workshops from 10:00 a.m. to 2:00 p.m. on Sunday the 25th. We're also working with the National Campaign for Nonviolent Resistance (NCNR) which is planning a nonviolent activism training and planning session on the 25th and a nonviolent action in D.C. on Monday morning September 26th, with support from Campaign Nonviolence.
Join us to learn about and engage in working on viable alternatives to war and militarism.
To attend you must register here:
When you register, you can let us know which days you will attend and whether you wish to take part in the nonviolent activism on the 26th. If you would like to take part in that action only, and not the conference, please contact Malachy Kilbride. The nonviolent action will have roles for those willing and unwilling to risk arrest.

IMF History and Politics

Activist Post dated 19 July 2016 provides access to an interview with author Ernst Wolff. Wolff's latest book is called Pillaging the World: The History and Politics of the IMF which is also available in German and Arabic. This video series aims to provide context behind the International Monetary Fund (IMF) and the role it has played in world affairs since its formation up until the current period.  World News asks that you listen to the YouTube.
To read the transcript of the video, Click here.

Europe disintegrating according to George Soros

World News: Are European countries going to lose even more of their sovereignty and their individual rights after Brexit?     Click this link and read the article produced by Activist Post dated 1 July 2016 and listen to what George Soros has to say.

What is the United Nations up to??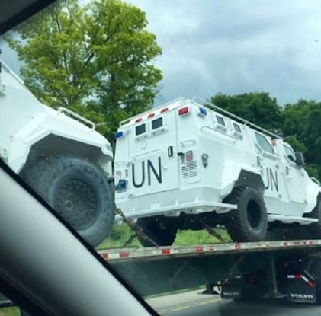 THAT IS THE QUESTION THAT THIS WORLD NEWS PAGE IS ASKING!
Activist Post on 26 June 2016 reports:
"In the midst of reports circulating around an uptick in U.S. military movement inside the United States, a recent sighting of U.N. vehicles being carried on flatbed trucks is now making its rounds on the Internet and alternative media networks.
The U.N. vehicles were spotted near I-81 near Lexington, VA and were being carried by flatbed, two to a trailer.
For the past day or so, military convoys have been witnessed traveling both North and South, with lines of equipment ranging from Humvees, troop transport trucks, and tankers to military personnel following the convoy in civilian vehicles. Interestingly enough, many of the soldiers traveling in the convoy were seen wearing helmets, an unusual procedure for a simple convoy. In addition, the convoys were carrying what appeared to be construction equipment."  
Click here to read the article.

Qatar's gas and Saudi Arabia's oil

Real Independent News dated 19 March 2016 on Soros-Obama-Merkel-Erdogan Win Control of Europe.   Please click this link to read the full article.  It appears that what is going on in Syria is purely about oil pipelines.  See the map below.   Unfortunately the link to the article is gone but we still have the map.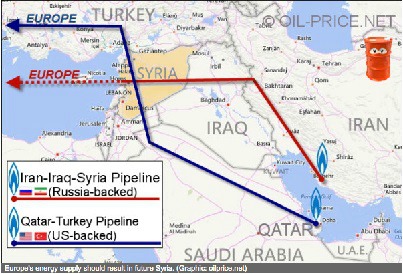 Drug prices

5 February 2016:  World News provides information on Martin Shkreli, former CEO of Turing Pharmaceuticals, invoked his Fifth Amendment rights at a Capitol Hill hearing Thursday when asked about his jacking up of drug prices.

Chronicle of World Events

World News: This is the website of "New World Order/World War 11/Conspiracy/Economics/News and an article featuring World War 111 for Dummies.
This website chronicles news events that have unfolded in an endeavor to take us down this track.

How Oil Controls the World

Dr Mercola on 16 January 2016 brings the story on how oil controls the world.   Listen to the YouTube

Controversy still surrounds President Kennedy's death

Now NaturalNews on 27 August 2015 is saying that the forensic x-rays on JFK were faked in an endeavour to fame Lee Harvey Oswald.    Click and read the article for yourself and see what you think.
What is really going on in the world today?
To read about world news I suggest that you click this link and find out.      This is another link that you should check out.

Dr. Eric R. Pianka
NaturalNews on 6 October 2014 brings some alarming comments attributed to Dr Pianka of Texas with regards to over population and using Ebola to reduce the number.    Click this link and read more about this

What is the truth behind Ebola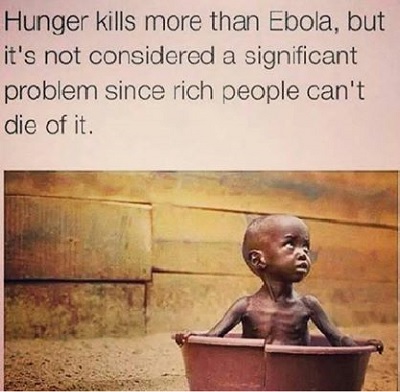 World News:  NaturalNews on 3 October 2014 is bringing to light some extraordinary happenings with regards to the Dallas man identified with Ebola and does raise questions in one's mind.   One of the points being made is with regards to the CDC and their competency/incompetency/honesty.   Here is just a short excerpt from this article and it is suggested that you read the full article by clicking here.  Mike Adams says that the information contained in this article is all verifiable.  I have no means of verifying this and can only assume that Mike Adams is being honest.
"The CDC continues to ridiculously claim that Ebola only spreads through "direct contact of body fluids." The agency continued to deny that Ebola can spread through the air for short distances and that Ebola can be acquired by touching contaminated surfaces.


The overall lie from the CDC is that Ebola is "difficult to catch." But if that's true, then why did so many doctors who are well trained in the prevention of infectious disease still manage to get infected? How did Dr. Kent Brantly get infected?


Even more, how did the NBC News cameraman now get infected even though he took extreme precautions to avoid touching anyone while also carefully washing his own skin and clothes each day?


"I am taking serious precautions and washing with chlorine regularly," said Ashoka Mukpo, the 33-year-old cameraman, in a NY Daily News article. [9] Clearly this was not an individual who ran around touching infected Ebola patients. Yet he still got infected. How is this possible unless the CDC is lying?"
Ebola     
Was the story known before the event?
World News: NaturalNews on 19 September 2014 advises that the "script" was written regarding an Ebola outbreak, a US Governmenht patented Ebola vaccine way back in 2010.   Long before the current outbreak!   So why was the US Government so well prepared?    I leave you to answer that question.  This is an excerpt from the article.  Once again GlaxoSmithKline has an involvement.
"The far more likely explanation, of course, is that all this was scripted in advance: the outbreak, the international cry for help, the skyrocketing of the stock price for Tekmira (which has received financial investments from Monsanto), the urgent call for a vaccine and now the spontaneous availability of human vaccine trials. It's all beautifully scripted from start to finish, better than a Shakespearean tragedy played out on the international stage.


The "heroes" of this theater have been pre-ordained to be drug companies and vaccines, and it is already written in the script that vaccines will be heralded as lifesaving miracles of modern science even if they infect people and cause widespread damage as has now happened to young girls in Colombia who are being hospitalized en masse after being injected with HPV vaccines."
Click this link to read the article.

Wild Sweden

A little bit of serenity and peace in this mad world we all live in!

Mosquitoes spreading virus
World News:  On 24 June 2014 Natural News brings information that nearly 4,600 people have now been affected by an untreatable virus spreading through the Carribean.    It is believed to be spread by mosquitoes.  Click this link to read the article.
Now read this NaturalNews article dated 19 November 2010 entitled "Biotech company secretly releases millions of GM mosquitoes in Cayman Islands" and ask yourself are these two events connected?
At the time of reading this article  I felt that if they could do this then they could eradicate the mosquito completely.
Karen Hudes
The Financial Armageddon brings us this mind blowing YouTube.   It is important that you listen to this YouTube to understand what is happening.  This is world news!
Karen Hudes
World Bank
In January 2013 I received an email outlining the path that Karen Hudes has travelled with regards to illegalities within the banking sector and which she has reported to the United Kingdom Parliament.     I have placed the content of the email into a pdf document available at this link which will provide all the links to the various actions that have been taken and the end results.
The World owes Karen Hude a big thank you for not only exposing this but to actually get people to listen and things to happen.  Thank you Karen.
NASA YouTube
This is a very important YouTube on NASA which was released on 26 June 2013.   This is the website link to obtain copies of the documents spoken about.
I listened to this YouTube at Christmas time and like everybody else, I fall by the wayside with some of the things I was eating!    This YouTube pulled me up immediately and I have now gone back to being the very selective person of what I put into my mouth and making sure that I am doing everything within my power to protect myself.    If you would like to know what I do then please contact me at healthymoneyvine@gmail.com
In the meantime please watch the YouTube
NASA Report:  The Future Strategy
Repercussions
On 21 October 2013 I have been reading about the repercussions from some of America's allies to the fact that NSA has been spying on them.   The information has been revealed to these countries through Snowden's leaks.
Apology to victims of experiments
Bill Clinton on YouTube apologizing to the American people for experiments conducted on them without "informed consent".    Once again the YouTubes are deleted but the documents referred to in this YouTube are still available.
World News provides access to additional information.
Here is the pdf version of the final report that he is holding.   Then go to this link and read the documents on Silent Weapons for Quiet Wars  and NASA Future of Warfare to learn more. This world news should be spread wide and far.
Hungary
Hungary is now free of their debt to the International Monetary Fund (IMF) and the international banking cartel.   It is amazing that Hungary has been able to pay off its entire debt to the IMF on 12 August 2013 and have now requested them to remove their offices from Hungary
Syngenta and Bayer CropScience
Natures News Blog dated 28 August 2013 brings news on a law suit started by Syngenta and Bayer CropScience against the EU with regards to the banning of pesticides which are believed to be killing bees.   This ban comes into force on 1 December and these two companies are trying to have it over turned.
World News asks could you please sign the petition and pass it onto your email list so that we stop the EU from back tracking

Please sign the petition!
They have also started a petition "Bayer and Syngenta: Drop your lawsuits against the European Commission immediately."
Deceit and Lies
Are they coming to an end?
Prevent Disease brings us information dated 9 September 2013 that 5 Big Signs The Global Engine of Deceit, Lies and Control Are Coming To End
World News Page would dearly love to believe that the end is coming for all the things that have been happening in our world today and that we get back a world that is good to be a part of.
Saturn's Hexagon
NASA discovered in 2007 an odd, six-sided, honeycomb-shaped feature circling the entire north pole of Saturn has captured the interest of scientists with NASA's Cassini mission.  NaturalNews on 27 July 2013 brought this to my attention.    It is obviously something that the NASA Scientists do not know what has caused it – is it a natural phenomenon or has Earth's activities caused this to happen?  What are the implications of it?  So many questions roiling around in my head!  I believe this is world news!

Internet Censorship
On 24 July 2013 I received a newsletter from Prevent Disease advising that "Internet Service Providers in the US, Canada, Australia and UK plan censorship strategies for all customers by 2014"
All people who run websites similar to this healthymoneyvine.com website should be proud of themselves.  It proves that we are getting the message out to millions of people and letting them know what is going on in the world.    Information that the world conglomerates who are trying to take us all over simply don't want us to know.
I do a great deal of research as my thoughts are "read what they are up to and stay one step ahead of them by protecting myself in whatever way I can!"
Click into the Prevent Diseases article to learn more of what has gone on and is being planned.  I am not sure that we will be able to prevent it but at least we will know that just one more form of censorship is being placed on us
World News
GMO Wheat being banned in Japan
On 31 May 2013 NaturalNews reported that Japan has just cancelled a large contract to purchase US wheat. The article goes on to say:
"We will refrained from buying western white and feed wheat effective today." Toru Hisadome, a Japanese farm ministry official in charge of wheat trading told Reuters.
How long before this self-same action is taken against Australia due our liberal GMO laws?
United States Department of Agriculture has admitted that Monsanto's GMO experiments from 1998 to 2005 were carried out in open fields and escaped into commercial wheat fields in Oregon (and possibly 15 other States) causing self-replicating genetic pollution that now taints the entire US wheat industry.
This will be a devastating blow for US wheat farmers and will decimate the Australian wheat industry if the same occurs there.
South Korea joins the ban on US wheat
On 2 June 2013 NaturalNews advised that on 2 June 2013 that South Korea joins the ban on US wheat.
Click the this link to read about Japanese prohibition and this link for South Korea. 

Everyone needs to read this!
1918 Flu Pandemic
World News is sorry that it cannot provide the date or the url for this particular information. A United Kingdom doctor under Freedom of Information Act in the United Kingdom revealed 30 years of secret official documents showing that government experts have:
Known the vaccines don't work
Known they cause the diseases they are supposed to prevent
Known they are a hazard to children
Colluded to lie to the publice
Worked to prevent safety studies
This is not just relevant to the United Kingdom. Please click on the link and read this full documentation and see how the Centre for Disease Control (CDC) is also implicated in this cover-up.
The article says:
"The exposure of the vaccine hoax is running neck and neck with the much older hoax of a deadly 1918-19 flu. It was aspirin that killed people in 1918-19, not a pandemic flu. It was the greatest industrial catastrophe in human history with 20-50 million people dying but it was blamed on a flu. The beginning of the drug industry began with that success (and Monsanto was part of it). The flu myth was used by George Bush to threaten the world with "another pandemic flu that could kill millions" – a terror tactic to get pandemic laws on the books in every state and worldwide. Then the CDC used hoax of the pandemic hoax to create terror over H1N1 and to push deadly vaccines on the public, killing thousands of unborn children and others. (CDC will not release the data and continues to push the same vaccine.)"
I clicked into the article on the 1918-19 flu pandemic to find that Bayer Aspirin was behind a huge percentage of the deaths that occurred particularly of those people who were okay in the morning and dead within a matter of hours.  Click the to read this!
Nuclear Waste leaking from Storage unit in Washington State
NaturalNews on 3 May 2013 brings information on a deadly nuclear storage waste leakage in Washington State. The article goes on to say:
"Hanford is known as the dirtiest reactor site in the world. It has 1,000 inactive dumps, 200 square miles of contaminated ground water, and 50,000 drums of plutonium wastes in temporary storage. For nearly 40 years, Hanford's eight production reactors made plutonium for hydrogen bombs for the US Military. During that process, contractors dumped plutonium, caesium, technetium, tritium, strontium and other isotopes into the air, soil, and ground water. More astonishingly, they even dumped nuclear waste directly into the Columbia River - the drinking water source for downstream cities."
If you go to the second link and scroll through the pages you will find that caesium has a half life of 30 years!
Learn more about this leakage and how it may affect the drinking water coming from the Columbia River.
Nuclear waste leak in Washington
Fukushima Information
Another Chinese food scandal!
More World News from NaturalNews dated 3 May 2013 about 900 people being arrested in China for turning rat meat into lamb to be sold in markets!
Rat into lamb
World-wide information on gun control
On 27 February 2013 NaturalNews brings world-wide statistics on the end result of countries that have imposed gun control. This article goes on to say:
"In all, more than 56 million people around the world have been murdered as a result of gun control laws imposed by rulers and despots who knew that the only way they could continue to brutalize their own people and stay in power was by disarming them."
This is not the first time I have read articles like this. I believe this is a must read for people of the world to understand the consequences of what happens when this edict is enforced.
Another important quote from this article is:
"In 1932-33, Stalin engineered a famine (by massively raising the grain quota that the peasantry had to turn over to the state); this killed between six and seven million people and broke the back of Ukrainian resistance."
I have believed for the past several years that the world is being set-up to go through a massive food shortage and when I read statistics like this I just shudder. Please take the time to read this article as it may provide enlightenment for some people.   Click the following world news link.
World-wide gun control
South Australian Member of Parliament
speaks on Agenda 21 and the Club of Rome

World-wide Health Alert
World News:  On 5 February 2013 Dr Mercola brings more disturbing world news with regards to genetically modified foods. Already on this website I have a whole page on Genetically Modified Foods and Monsanto. I will post the links beneath this story. It would be appreciated if you would let your friends know about World News Page so that they too can be informed.
These days we hear so much about One World Order/Government and yet the truth is that the individual governments of the different countries around the world are failing miserably to protect the health of its people from international conglomerates who have a different agenda!
Now we are learning that disease could be being promoted by a viral gene. The following are the bullet points from Dr Mercola's article which I found quite disturbing. Please take the time to read his full article.
The European Food Safety Authority has discovered a hidden viral gene in 54 of 84 commercially approved genetically engineered crops—a finding that highlights deep flaws in the regulatory process Plant pathologists speak out about the potential dangers of the viral gene fragment in GE plants, stating it may confer "significant potential for harm," and call for a total recall of affected crops

Plants expressing the viral gene fragment exhibit gene expression abnormalities, which indicate that the protein produced by gene functions as a toxin. The known targets of its activity are also found in human cells, so there is potential for this plant toxin to also have toxic effects on humans

At present, the only way to avoid GE foods is to eliminate processed foods from your grocery list, and buy primarily whole foods grown according to organic standards. The need for labeling of GE foods is also becoming more apparent in order to allow for health monitoring

Viral Gene
Genetically Modified Foods
Monsanto Information
Proctor and Gamble
Connecticut Massacre – December 2012
My complete and utter sympathy lies with the families who have been impacted by this tragedy and this includes the shooter's family! I have been waiting for the hype to die down and to me the most relevant question arising:
Who Was the Killer's Doctor & What Drugs Was He Taking? Phillip Day from Campaign for Truth in Medicine has done research and AND IN EVERY MASSACRE THAT HAS TAKEN PLACE THE PERPETRATOR HAS BEEN ON PSYCHIATRIC DRUGS!
Please take the time to read what Dr Marc Sircus has to say in this regard. Connecticut Massac

Google Warnings
On 5 August 2012 Dr Mercola brings a warning. The following is what he calls "the story at a glance".
" A massive data-mining virus named "Flame" has been detected in computers in the Middle East, particularly in Iran. It's the first virus found with the added ability to spread wirelessly by attaching itself to Bluetooth-enabled devices. Once there, it can trace and steal information stored on those devices. The program also contains a "microbe" command that can activate any microphone within the device and record audio files The NSA is building a massive spy center in Bluffdale, Utah, which will intercept, decipher, analyze, and store vast amounts of the world's communications—both foreign and domestic
As of the first week of June, Google will warn you when it picks up activity on your computer account that looks suspiciously like state-sponsored monitoring of your computer activities
To re-secure your account, Google recommends creating a unique password that includes a mix of capital letter, lowercase letters, punctuation marks and numbers; enable 2-step verification; and update your browser, operating system, plugins, and document editors"
Please click on the world news link to read the full article.
Google Warning
US Federal Reserve
World News on International Banking Conglomerates
Will this be an end to the frauds perpetrated on the world?
World News:  On 27 March 2012 a YouTube was released where Vladimir Putin has issued a warrant for the arrest of George Soros. Also listen to the class action that Greece is taking.
Help Remove 1,4 Dioxane from personal care products
World News brings you information on 1,4-dioxane.   I have known for many years that manufacturers could produce products that were free of 1,4-dioxane by going to a little bit more expense in their manufacturing process and stripping this toxin from the ingredient they were using.
The fact that it is still showing in personal care products comes down to an economic decision on behalf of the manufacturer – i.e. manufacturers cutting costs at the expense of your health!

Environmental Working Group (EWG) have approached Proctor and Gamble with regard to the removal of 1,4-doxane from their products and they have agreed to reduce the amount in their products by July 2010.    However, EWG are urging US and Canadian citizens to approach Proctor and Gamble to remove it entirely
World News page brought some disturbing information – if you would like to contact me with regard to these articles please use the email form below.   I would like to hear from any of my readers as to whether they have found the World News articles of interest or whether they have information that they feel is appropriate for me to publish on my web site in pages like World News Page.    For some time now I have been receiving personal emails with friends and acquaintances passing on information.  This was how I found out about the military personnel in Iraq!