Fukushima – Anti Nuclear campaigner, Dr Helen Caldicott tells it like it is!
Marilyn Vine's Fukushima Page is intended to bring breaking news as it comes to hand.   The tragedy that is unfolding in Japan will not just stop at the Japanese border but will have an impact on the whole of the world.
After reading the dialogue below – please check for new information being posted.
I am an Australian and I shudder every time I hear our Australian Government raise the issue of using nuclear power.   The devastation that is caused by even just a small accident/spill is not worth the risk of having nuclear power.
For many years I admired New Zealand and its anti-nuclear stance even when the US put pressure on them to revise their position as New Zealand would not allow US vessels into New Zealand waters if they were carrying nuclear missiles.   I believe that Prime Minister John Keyes has now given approval for these ships to come into New Zealand (April 2011).
The YouTube has now been removed


Over the years I have read many articles speaking on the cover-ups concerning both 9/11 and Fukushima.   Several years back I read that there were only 7 countries in the world that were not in the IMF.   I remember the names of three of them:
Now what do all these countries have in common?   They have all been targeted one way or the other.   Eventually the truth will emerge and the world will know how we have all been hoodwinked and what did actually happen.
Some of my anti nuclear stance was due to the nuclear disaster at Chernobyl.   I have now learned that Chernobyl was never built as a nuclear power station which would have had safety features incorporated into it.   Here is what I have learned:
"The new phoney environmentalists would point out Hiroshima, Nagasaki and even Chernobyl as proof of the dangers of nuclear energy.  But if you explain that Chernobyl was never built to be a safe nuclear power plant, but was an old Soviet bomb factory for quickly converting raw uranium into plutonium for making nuclear bombs.  And, if you further explain that it did produce electricity as a biproduct but was not designed to be a safe power plant, the average environmentalist only stares blankly.  And no nuclear reactors like Chernobyl, without any safety-sealed containtment vessel, have been built for over 50 years.  But that wasn't in any environmentalist movement handout literature they read."
This is the link to the very revealing article I read.
One can only hope that eventually the perpetrators of both 9/11 and Fukushima will be brought to account.

Radioactive wastewater now being dumped
Japan begins releasing Fukushima radioactive wastewater into Pacific Ocean --Water containing radioactive tritium being pumped into ocean via tunnel from Tepco plant, amid protests from China, South Korea and fishing communities | 24 Aug 2023 |
Japan has begun discharging more than 1m tonnes of tainted radioactive water into the Pacific Ocean from the wrecked Fukushima Daiichi nuclear power plant, news agency Kyodo has reported, a move that has sparked protests and import bans from China and Hong Kong, and anger in nearby fishing communities. The plant's operator, Tokyo Electric Power (Tepco), pumped a small quantity of water from the plant on Thursday, two days after the plan was approved by Japan's government. Tepco said the release began at 1:03pm local time (0403 GMT) and it had not identified any abnormalities with the seawater pump or surrounding facilities. Live video showed engineers behind computer screens and an official saying -- after a countdown -- that the "valves near the seawater transport pumps are opening."
China now banning seafood from Japan



China bans seafood from Japan after Tokyo begins releasing treated radioactive water

 | 24 Aug 2023 | 
China announced Thursday it was banning all seafood from Japan in response to Tokyo's decision to begin releasing treated radioactive wastewater from the Fukushima nuclear plant, dramatically escalating an already tense feud between the two neighbors. The release is part of a controversial [insane] plan that has met fierce objections from many consumers as well as some regional countries, with Beijing leading that criticism. The start of the release on Thursday afternoon sparked a fiery tirade from China which described the operation as a "selfish and irresponsible act."



Radioactive fish
Activist Post dated 5 August 2023 published this Fukushima article "Radioactive Fish Near Fukushima Renews Concerns Of Nuclear Wastewater Dumps In Ocean".
Japanese plant operator Tokyo Electric Power Company (TEPCO) studied a black rockfish in May and found that it contained levels of radioactive cesium that were 180 times over Japan's regulatory limit.
The radioactive fish was caught near drainage outlets at the TEPCO plant, where three nuclear reactors melted down amidst a tsunami in March 2011. Rainwater from areas near the reactors flows into the area where the fish was caught.
The alarming discovery reignited concerns over TEPCO's plans to start releasing 1.3 million tons of treated wastewater from the former Fukushima Daiichi nuclear power plant by August.

Australian Warning
21 June 2023 "Japan to dump Fukushima nuclear wastewater in Pacific Ocean within months".
Experts warn Japan is months away from dumping more than a million tonnes of radioactive waste on
More than a million tonnes of radioactive wastewater from the destroyed Fukushima power plant in Japan will be dumped in the Pacific Ocean, and experts warn the first release is "imminent."
In 2011, a magnitude 9.0 earthquake triggered a tsunami that crashed into the Fukushima Daiichi plant, unleashing the worst nuclear disaster since Chernobyl in 1986...
In 2021, Japan announced it planned to release 1.3 million tonnes of the wastewater into the Pacific Ocean, a move which horrified local fishing communities and our Pacific neighbours. Now, the operator of the wrecked plant has begun testing new facilities to treat and dilute the water to a point where it is [allegedly] no longer harmful, to be released into the Pacific Ocean in spring or summer next year -- Australia's autumn or winter. But University of Adelaide director of the Centre for Radiation Research, Education and Innovation Tony Hooker says the first release could come as soon as summer 2023. Since then, water has been used to keep the three damaged reactors from overheating, with the contaminated water being stored in about 1000 tanks at the site. 

Regulators give okay to discharge contaminated radioactive water
18 May 2022:   Plan to Discharge Fukushima Water Into Pacific Gets OK From Regulators      Despite outcry from local leaders and the Japanese public and warnings from environmental campaigners, Japan's Nuclear Regulation Authority on Wednesday gave its approval for a plan to discharge contaminated radioactive water from Fukushima Daiichi nuclear power plant into the Pacific Ocean, a move critics say will pose a major threat to marine life. After spending several months reviewing the plan announced by then-Prime Minister Yoshihide Suga's administration last spring, the NRA said discharging more than 1.2 million tons of treated wastewater will help the Tokyo Electric Power Company (TEPCO) secure space needed to decommission the plant, where three reactors melted down in March 2011 after a tsunami. Assuming the plan goes forward, the discharge is expected to begin in 2023, but critics including the governor of a neighboring prefecture are calling on TEPCO and the Japanese government to consider other options.
The last time that they dumped radioactive waste water into the Pacific Ocean it hit the coast of America within 3 days.
WHAT WILL IT DO THE FISH IN THE PACIFIC OCEAN THAT AUSTRALIANS EAT?

Tohoku Area hit with powerful magnitude earthquake
The Japan Times dated 14 February 2021 published this Fukushima article "Powerful magnitude 7.3 earthquake jolts Tohoku area". 
A powerful magnitude 7.3 earthquake struck late Saturday off the coast of Tohoku, leaving at least 100 people injured across six prefectures just weeks before the 10th anniversary of the March 2011 quake, tsunami and nuclear disaster.
The quake, which measured a strong 6 on the Japanese seismic intensity scale — the second-highest level — jolted Miyagi and Fukushima prefectures in the Tohoku region. No tsunami warning was issued, but the earthquake was the strongest to hit the region since April 7, 2011, the Meteorology Agency said.
People were reported hurt in Miyagi, Fukushima, Ibaraki, Tochigi, Saitama and Chiba prefectures, but no serious injuries were confirmed.
Nationwide, at least 950,000 homes temporarily lost power, but that was mostly resolved as of Sunday morning.



Fukushima's Radioactive Water

Children's Health Defence dated 3 November 2020 published this article"Japan's Unsolvable Fukushima Problem: What To Do With More Than a Million Tons of Radioactive Water".
The Japanese government has an unsolvable problem: what to do with more than a million tons of water contaminated with radioactive tritium, in store since the Fukushima disaster and growing at more than 150 tons a day.

The water, contained in a thousand giant tanks, has been steadily accumulating since the nuclear accident in 2011. It has been used to cool the three reactors that suffered a meltdown as a result of the tsunami that hit the coast.

Japan wanting to dump more radioactive waste into ocean
The Defender dated 26 October 2020 published this article "Japan to Dump Radioactive Fukushima Water Into Ocean, Could Damage Human DNA, Greenpeace Warns".
Greenpeace sounded the alarm Friday over the Japanese government's plan to release stored water from the ill-fated Fukushima nuclear plant into the Pacific Ocean. The environmental groups released a new report warning about the presence of carbon-14, which the group says "has the potential to damage human DNA."
The warning laid out in a new report says the government and plant operator TEPCO's controversial plan — which has been under consideration for some time — is founded on "a series of myths" and pursues the cheapest option to get rid of the water over what is best for human and ecological health.

Storage tanks now nearing capacity
NaturalNews dated 1 October 2019 published this Fukushima article"Fukushima: Storage tanks are full, radioactive waste to be dumped straight into the ocean".
The plant's operator, Tokyo Electric Power (Tepco), has tried everything to contain the resulting buildup of contaminated groundwater, but recent reports indicate that they have effectively lost the war.
The go-to solution has been to store 1 million tons of the toxic water in 1,000 tanks at the site, but the company has now warned that it will have run out of tank storage by mid-2022. The proposed solution? After going to such great lengths to contain the water because of its toxicity, Tepco is now insisting that it can safely be diluted by being drained into the sea.

South Korea contacts International Atomic Energy Agency
Activist Post dated 7 September 2019 published this Fukushima article"Tempers Flare Over Fukushima Plan To Dump Radioactive Water In Ocean ."  
Tokyo Electric Power Company (TEPCO), which operates the plant, is storing over 1.12 million tons of radioactive water on site, which is slated to reach capacity in 2022. The contaminated water has been treated using a system known as ALPS (multi-nuclide removal system), which removes 62 types of radioactive elements – not including tritium, before being stored in massive tanks on the Fukushima Daiichi grounds.
The Japanese government is pushing to have the water released into the sea. But based on an investigation of 890,000 tons of Fukushima Daiichi water that had undergone ALPS purification (950,000 tons total), TEPCO announced in September 2018 that 750,000 tons – more than 80% – still included radioactive material above emission standards. Fukushima-area fishers continue to oppose the release of Fukushima Daiichi water in the ocean on that basis, and the Japanese government has yet to proceed with the discharge. –Hankyoreh.kr
[Marilyn comment]  Many of you will remember that when Japan dumped radioactive waste into the Pacific Ocean with extremely high levels of cesium that in THREE days the effect of this radioactive waste was experienced on the West Coast of America with radiation being found in cow's milk!   How did it get there – on the pasture that the cows were eating.    What will happen to people who consume produce from the sea?   More importantly what will happen to sea life?  I believe if it survives at all it will end up in a mutated state.
IS THE WORLD GOING TO LET JAPAN DO THIS AGAIN?
THE FIRST DUMP BROKE INTERNATIONAL LAW AND SO WILL THIS ONE!

Running out of storage space
Fukushima Is Running Out of Space to Store Its Tons of Radioactive Water --It's expected to take another 30 to 40 years to decontaminate affected areas and complete the decommissioning of the plant. | 12 Aug 2019 |
The clean-up of the Fukushima nuclear power station is heading towards a major hurdle. Within just three years, the project will run out of space to contain its ever-increasing stores of radioactive water. As reported by Japanese newspaper Asahi Shimbun, authorities are now left struggling to know what to do with the water build-up before it's too late...There are currently over 1.15 million tons of this radioactive water being stored at the facility in 960 tanks and it's continuing to accumulate at a rate of about 150 tons a day, meaning the tanks could reach full capacity by the summer of 2022.

Cesium 137 found in the Bering Strait
Fukushima radiation found as far north as Alaska's Bering Strait | 28 March 2019 | Radioactive contamination from Japan's Fukushima Daiichi nuclear power plant hit by a tsunami in 2011 has drifted as far north as waters off a remote Alaska island in the Bering Strait, scientists said on Wednesday. Analysis of seawater collected last year near St. Lawrence Island revealed a slight elevation in levels of radioactive cesium-137 attributable to the Fukushima disaster, the University of Alaska Fairbanks Sea Grant program said. "This is the northern edge of the plume," said Gay Sheffield, a Sea Grant marine advisory agent based in the Bering Sea town of Nome, Alaska.

More radioactive waste to be dumped into ocean in October 2018
Japan plans to dump 1.09 million tons of Fukushima's radioactive water into the Pacific Ocean | 16 Oct 2018 | Water that the Japanese government is planning to release into the Pacific Ocean from the crippled Fukushima Dai-Ichi nuclear plant contains radioactive material well above legally permitted levels, according to the plant's operator and documents seen by The Telegraph...Its plan to release the approximately 1.09 million tons of water currently stored in 900 tanks into the Pacific has triggered a fierce backlash from local residents and environmental organizations, as well as groups in South Korea and Taiwan fearful that radioactivity from the second-worst nuclear disaster in history might wash up on their shores. Tokyo Electric Power Co., (Tepco) which runs the plant, has until recently claimed that the only significant contaminant in the water is safe levels [?] of tritium, which can be found in small amounts in drinking water, but is dangerous in large amounts...Documents provided to The Telegraph by a source in the Japanese government suggest, however, that the ALPS [Advanced Liquid Processing System (ALPS) operated by the nuclear arm of Hitachi Ltd.] has consistently failed to eliminate a cocktail of other radioactive elements, including iodine, ruthenium, rhodium, antimony, tellurium, cobalt and strontium.
Four Japan firms used foreign trainees to clean up at Fukushima plant after nuclear meltdowns - final report | 19 Oct 2018 | The government concluded Friday that four companies had used foreign trainees to perform work cleaning radioactive contamination after the March 2011 tsunami triggered meltdowns at the Fukushima No. 1 nuclear plant. The headline figure from the final report on a survey conducted by the Justice Ministry, the labor ministry and the Organization for Technical Intern Training was the same as that in the interim report, released in mid-July, which reflected results of surveying fewer than 200 companies with foreign trainee programs. Officials visited a total of 1,018 such companies with facilities in eight prefectures in eastern and northeastern Japan, interviewing technical interns there to confirm the situation, after the issue came to light in March.

Benjamin Fulford report 27 August 2018
Here is an excerpt on this latest report covering his comments on Fukushima.   The full report can be reached at this link.
"The rabbit hole that runs even deeper than 9/11, of course, is the March 11, 2011 (3/11) Fukushima nuclear and tsunami mass-murder event.  On this front, the removal last week of Goldman Sachs Prime Minister Malcolm Turnbull of Australia may lead to 3/11 truth coming out, according to two Australian Secret Intelligence Service agents who were involved with Fukushima.
These agents provided evidence to Australian Prime Minister Kevin Rudd in 2010 that a nuclear weapon stolen from the Russian submarine Kursk in 2000 had been smuggled into Japan and was going to be used in a terrorist attack against that country.  The day after Rudd received this evidence and tried to act on it, he was fired by the "U.S. Federal Reserve Board," the agents said.
The agents continued, together with Japanese military intelligence, to track the weapon as it was placed on board the Japanese deep-sea drilling vessel Chikyu, divided into five smaller weapons, and drilled into the seabed off Fukushima before being set off to cause an earthquake and tsunami.  Despite this, no authorities intervened to prevent this attack.  Furthermore, after the attack, former U.S. President Barack Obama contacted the White Dragon Society to claim he had no knowledge of, or involvement in, this attack against Japan.
In fact, the trail of evidence, and the NSA has all the details, leads to former "black pope" (top Jesuit) Peter Hans Kolvenbach and Israeli Prime Minister Benjamin Netanyahu.  From there the trail leads to the satanic P2 Freemason lodge, Switzerland, and the BIS.  That is why it is interesting to note that Jesuit Pope Francis is now under unprecedented attack for covering up pedophilia.  Francis, for all his talk of reform, has failed to disclose the Vatican's involvement in events like the Fukushima crime against humanity."

What will TEPCO and the Japanese Gov do when the holding tanks are full to capacity?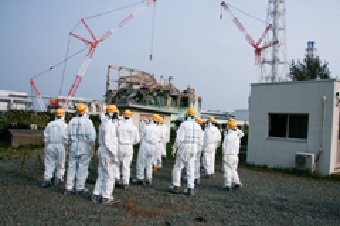 NewsTarget on 14 June 2018 published this article "Radioactive water being stored at the Fukushima power plant approaches the limit; Japanese officials still have no plan to dispose of it."
This article should be a concern to EVERYONE AND NOT JUST THE PEOPLE OF JAPAN.  The article goes on to say and I would urge you to read it and start asking questions about what is going to happen:
"There's almost no more room for anymore storage tanks at the Tokyo Electric Power Company (TEPCO) nuclear reactor site in Fukushima, Japan, which means that very soon there won't be any way to dispose of the ever-growing amount of treated water, also known as tritium water, that continues to accumulate within the disaster area.
Neither the Japanese government nor TEPCO officials have made a decision as to how they plan to proceed with cleanup at the failed nuclear plant, which was severely damaged by a major earthquake and tsunami that occurred back in 2011. Currently, the amount of groundwater that's entering the fatally damaged No. 1 nuclear plant amounts to about 160 tons per day.
Purification devices set up at the site are able to remove most of the radioactive materials from this water, except for tritium, a radioactive isotope of hydrogen that can't be removed for "technical reasons." Consequently, tritium-contaminated water continues to increase, despite the fact that there's increasingly no where to put it."


Diabetes, high blood pressure, obesity and depression
News Target dated 7 May 2018 published this article "The Fukushima legacy: More than just cancer, diabetes diagnoses have increased six-fold".   The article goes on to say:
It's not a secret that nuclear radiation is dangerous: Not only does it cause cancer, even seemingly small amounts of the stuff can be lethal. Exposure to high enough levels can be deadly in frighteningly short periods of time. But for the survivors of the Fukushima disaster, and those living in surrounding areas, radiation and cancer aren't the only health concerns. New research has shown that in communities nearest the power plant, cases of type 2 diabetes are on the rise."
Please click the link to read and understand what is unfolding for the people of Japan.

Will America experience a Fukushima?


Activist Post dated 27 May 2017 published this article "Scientists Warn Corrupt US Nuclear Industry Sitting On A Nightmare Worse Than Fukushima".
The article goes on to say:
"A catastrophe far worse than Fukushima lurks in the United States, as the Nuclear Regulatory Commission used faulty data to estimate potentially ruinous risks of a nuclear-waste fire — one which could occur at any one of dozens of sites across the country.
"Published by researchers from Princeton University and the Union of Concerned Scientists," the latter organization reports, "the article [in the May 26 issue of the journal Science] argues that NRC inaction leaves the public at high risk from fires in spent-nuclear-fuel cooling pools at reactor sites.
The pools — water-filled basins that store and cool used radioactive fuel rods — are so densely packed with nuclear waste that a fire could release enough radioactive material to contaminate an area twice the size of New Jersey. On average, radioactivity from such an accident could force approximately 8 million people to relocate and result in $2 trillion in damages."
Click this link to read the full article.

Airborne Radiation from Fukushima Wildfire


NaturalNews dated 10 May 2017 published this article "Fukushima wildfire revives worries over airborne radiation from "difficult-to-return zone"  The article goes on to say:
"On the evening of April 29, a wildfire broke out in a mountain forest near the now-disabled Fukushima No. 1 Nuclear Power Plant. In a report by the Mainichi.jp, the publication stated that the fire started on the 448-meter high Mount Juman in Namie, a town in the Fukushima Prefecture. In response to the prefecture government's request for aid, the Ground Self-Defense Force (GSDF) dispatched eight helicopters to pour water on the blaze. Far from being a normal wildfire, it raised concerns over the probability of airborne radiation spreading from the site. The area has been designated a "difficult-to-return zone" since the 2011 Fukushima Daiichi nuclear disaster. The high radiation levels originating from the power plant forced officials to bar entry into the area. It's these high radiation levels that have sparked worries among the population."

Nuclear waste to be dumped directly into the ocean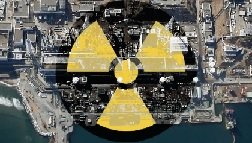 NaturalNews 8 May 2017 advises that "Japan to "drop tanks" full of Fukushima nuclear waste directly into the ocean".   The article goes on to say:
"Six years after the disaster, the three crippled reactors are still leaking water with high levels of radiation into the Pacific Ocean. Though the Pacific Ocean is a vast stretch of water, Fukushima's radiation is reaching the coast of the United States, Canada, and Mexico, contaminating the fish we eat and the water we swim in.
While these findings were first considered "fake news" and laughed away, researchers can no longer deny that Cesium-134, the so-called fingerprint of Fukushima, has been found in seawater and fish along the Western Coast of the Americas.
In TRT's daily news show "Insight," hosted by former Sky News presenter Martin Stanford, the head of international atomic energy agency has called on the world to help with the cleanup of the Fukushima site. (RELATED: Find more news about the Fukushima disaster at FukushimaWatch.com)"



Listen to Dr Helen Caldicott warning the world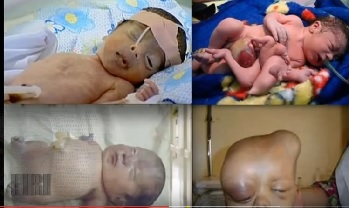 Published on Mar 7, 2017
Fukushima still leaking is the biggest threat to humanity and life on earth in recent years. Experts are baffled as robots sent to the nuclear disaster site keep dying. A Japanese company tasked with cleaning up Fukushima, the site of the worst nuclear disaster since Chernobyl, has admitted that its attempts to probe the site are failing repeatedly due to incredibly high levels of radiation.
The nuclear meltdown at Fukushima in 2011 was triggered by an earthquake and tsunami which left around 18,000 people dead and more than a million buildings destroyed.
At least 100,000 people living near the plant were forced to leave their homes. High rates of mental health problems and post-traumatic stress disorder have been observed within the displaced population.
It is estimated that around 600 tons of toxic fuel may have leaked out of the reactor during the incident.
The Tokyo Electric Power Company (Tepco), which oversees management of the site, needs to ascertain the location and size of the leakages before the clean-up can begin in earnest.
The latest attempt to harvest data on Fukushima failed after a robot designed by Toshiba to withstand high radiation levels died five times faster than expected.
The robot was supposed to be able to cope with 73 sieverts of radiation, but the radiation level inside the reactor was recently recorded at 530 sieverts.
A single dose of one sievert is enough to cause radiation sickness and nausea; 5 sieverts would kill half those exposed to it within a month, and a single dose of 10 sieverts would prove fatal within weeks.
The radiation levels on the site are far higher than any human could possibly survive, so engineers are using purpose-built "scorpion" robots with cameras attached to survey the scale of the damage.
This is the latest anonymous message from 2017. You must watch this! Important events are going to happen this year. Will 2017 be the year of the change? Everybody has to see this to find out!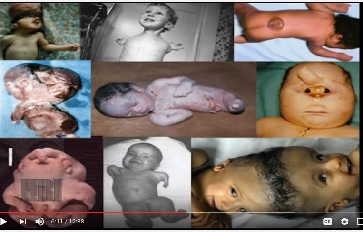 Missing Fuel
Activist Post on 17 February 2017 published an article entitled "On The Trail Of Missing Fukushima Fuel"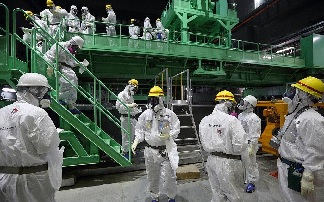 An excerpt from the article:
"The location of the melted fuel (corium) at the Fukushima nuclear power station #1, in reactors 1, 2 and 3, is historic because of the massive radioactivity of the material. Depending on its location it will emit deadly radiation into the environment for a long, long time to come.
A few days ago I commented on the high radiation reading (530 sieverts per hour) inside the unit 2 reactor that was discovered by engineers. This reading was not "new" in the sense that the radiation is increasing, indicating that Godzilla is emerging from underground hibernation, but that the radiation was "discovered" for the first time by engineers."

Truth finally emerging
Extremely high levels of radiation detected at Fukushima plant and we are going to hold the next Olympics in Tokyo??????  When you have listened to the YouTubes then click this link to read the NaturalNews dated 9 February 2017
Why the establishment lied about climate change and Fukushima
This YouTube has been removed


TEPCO Freezing Soil

Japan Times on 31 March 2016 advised that "Tepco starts freezing soil around plant reactors".  The article goes on to say:
"Tokyo Electric Power Co. said Thursday it has started freezing soil around damaged nuclear reactor buildings at the disaster-hit Fukushima plant, aiming to reduce the flow of groundwater into the highly contaminated facilities."   Click here to read the article.
Then on 29 April 2016 we learn "Fukushima No. 1 plant's ice wall won't be watertight, says chief architect".  The article goes on to say:  
"Coping with the vast amounts of groundwater flowing into the broken Fukushima No. 1 nuclear plant — which then becomes irradiated and seeps back out — has become such a problem that the country is building a ¥35 billion "ice wall" into the ground around it.
Even if the frozen barrier built with taxpayers' money works as envisioned, it will not completely block all water from reaching the damaged reactors because of gaps in the wall and rainfall, creating as much as 50 tons of tainted water each day, said Yuichi Okamura, a chief architect of the massive project."
Click here to read this article.
Radiation permeating more of the Pacific Ocean and more animals dying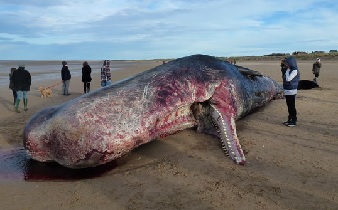 News Target on 29 August 2016 shares the sad plight of many of our ocean animals dying across a wide path of the Pacific Ocean and attributes this to the spreading of the radioactive waste being dumped from the Fukushima fallout.   Click this link to learn what and where the animals are dying.
Californian Coast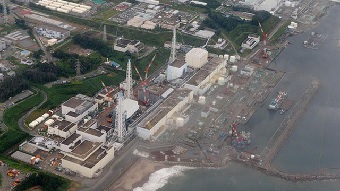 NaturalNews dated 17 August 2016 provides an article entitled "Zombie radiation: Fukushima's poisonous fallout eating entire chunks of peoples' brains away, reaching California coast".  The article reports
"The Spanish newspaper, El Pais Semanal, reported back in May that Toru Anzai, 63, a former resident of Litate, Japan, a village in the Fukushima Prefecture, suffered a major heart attack and stroke several years after the reactor meltdowns. During Anzai's stay in the hospital, doctors realized that the frontal lobe of his brain had developed a hole, which they told him may have been caused by absorbing the radioactive isotope cesium, which was prevalent at Fukushima.
The hole in Anzai's brain caused the entire left side of his body to become paralyzed – this, despite the fact that following the reactor meltdowns Anzai was told that there was no risk of radiation. As it turns out, a dosimeter reading taken on April 18, just days after the Fukushima disaster, revealed that the room where Anzai and his brothers had been sleeping saw radiation levels up to 20 times higher than the threshold level established by the Japanese government for relocating residents."

The Disaster Continues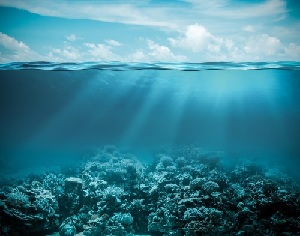 News Target on 18 August 2016 brings the story of tiny sardines to behemoth whales off the West Coast of America.
Five Years on

NaturalHealth 365 dated 24 March 2016 provides an update on Fukushima five years down the track and the levels of radiation still being emitted and radioactive waste being put into the Pacific Ocean on a daily basis.  Click this link to read the full story.
Radioactive Fish in California

Aircrap Organisation reports on 7 November 2015 reported:
"Just 1 week after this web site broke news of Fukushima radiation in fish & seafood, California officials have cancelled commercial crab season "indefinitely" citing "protection of the public health." Yet in a classic case of "if you can't dazzle them with brilliance, baffle them with bull****" California officials have offered the following absurd reason to the public for this action:
Global warming has heated the ocean to the point that a particular algae, Pseudo-Nitzchia, is blooming in great swaths along California's coast.  The algae produces a neurotoxin called domoic acid which accumulates in crab and other seafood. If consumed by humans the neurotoxin can cause memory loss, tremors or death.
However, workers in the California Fish and Game Commission have revealed to SuperStation95 that the real reason for cancelling this $60 million per year commercial seafood season is: Radiation contamination of seafood from the Fukushima nuclear disaster in Japan. "
Click this link to read the article
1 Million Cancer Deaths Estimated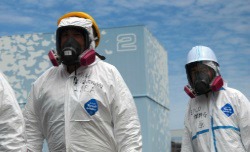 GreenMedia on 8 November 2015 brings a shocking report from Fairewinds Energy Education (FEE), "Cancer on the Rise in Post-Fukushima Japan," reveals that the ongoing multi-core nuclear meltdown at the Fukushima Daiichi plant that started in March 2011 has produced approximately 230 times higher than normal thyroid cancers in Fukushima Prefecture, and could result in as many as one million more cancers in Japan's future as a result of the meltdown.
According to the new report, data provided by a group of esteemed Japanese medical professionals and TEPCO, confirm a direct link of numerous cancers in Japan to the triple meltdown. As transcribed by Enenews.com, Arnie Gundersen, chief engineer at Fairewinds stated, Nov. 4, 2015:
"It's been almost 5 years from the Fukushima Daiichi meltdowns, and the news from Japan is still not good. Two reports recently released in Japan, one by Japanese medical professionals and the second from Tokyo Power Corporation – TEPCO – acknowledged that there will be numerous cancers in Japan, much greater than normal, due to the radioactive discharges from the triple meltdown at Fukushima Daiichi... I believe, as do many of my colleagues, that there will be at least 100,000 and as many as one million more cancers in Japan's future as a result of this meltdown... [T]he second report received from Japan proves that the incidence of thyroid cancer is approximately 230 times higher than normal in Fukushima Prefecture... So what's the bottom line? The cancers already occurring in Japan are just the tip of the iceberg. I'm sorry to say that the worst is yet to come."
Make sure you watch Arnie Gunderson's YouTube.  Click this link to read the full article.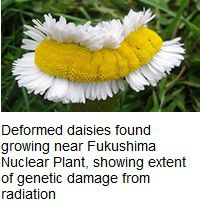 Crew of the USS Ronald Reagan

NaturalNews on 21 October 2015 is now starting to report the ill health being suffered by the crew of the USS Ronald Reagan which had been sent to Fukushima to assist in the disaster.   No mainstream coverage of this. Individuals who appear to be sick are not aware of what is happening with other members of the crew as no publicity has been given to their ill health.    TEPCO covered up the extent of the disaster until they could no longer hide the truth and it appears that the American Government is covering up the extent of the harm that has been caused to American personnel on USS Ronald Regan.   Click the link to read the article.
No safety threshold for radioactive cesium exposure
NaturalNews dated 16 October 2015 reports:
"Plants in the area around Fukushima, Japan are widely contaminated with radioactive cesium, which is producing mutation and death in local butterflies, according to a study conducted by researchers from the University of the Ryukyus, Okinawa and published in the journal Scientific Reports.

The butterflies were found to experience severe negative effects at all detectable radiation levels, even very low ones.

"We conclude that the risk of ingesting a polluted diet is realistic, at least for this butterfly, and likely for certain other organisms living in the polluted area," the researchers wrote."
All this concern for the insects and plants and YET THEY ARE STILL RELEASING RADIOACTIVE WATER INTO THE PACIFIC OCEAN CONTAINING CESIUM!
What about all the people right across to America and Australia who are eating seafood from the Pacific Ocean?
Click on the link to read the NaturalNews article.
Crumbling buildings sinking into the ground

NaturalNews on 21 August 2015 brings more information with regards to buildings sinking further into the ground.   The article goes on to say:
"TEPCO recently issued a report that highlights the depths to which the reactor turbine buildings have plummeted. The report reads that the Reactor 1 building sank by 730 mm, Reactor 2 by 725 mm, Reactor 3 by 710 mm, and Reactor 4 by 712 mm. In addition, the reference point has sunk by 709 mm. The report also admits that the company knew that the Fukushima plant has been sinking irregularly for quite some time. Nevertheless, TEPCO has yet to report the height of the turbine buildings above sea level.(1)

The company does not know how to deal with the sinking buildings because no one knows where the nuclear waste inside the reactors is located. What is known is that the radiation levels inside the plant are too high for human exposure. Engineers have developed robots in an effort to investigate the crippled reactors. Unfortunately, at least one of the robots has prematurely quit working and been left for dead inside the reactors."
In the meantime radioactive waste water is continually seeping into the Pacific Ocean poisoning everything and everyone in its path!

Marine Mammals washing up on San Francisco Beaches

NaturalNews on 11 August 2015 tells of more marine animals washing up on 7 July 2015.  The article goes on to say:
"Approximately six dead whales have washed onto Bay Area shores within a five-week period this year. In addition, for the past four years, an alarming number of starved sea lion pups have littered Southern California's shores. The National Oceanic and Atmospheric Administration (NOAA) described this stranding as an "Unusual Mortality Event," and animal shelters have reached critical capacity."
Just yesterday, 12 August 2015, I heard on Australian radio that Japan are going to start up some of there nuclear plants again!
Click this link to read the article.
More dolphins dead!
NaturalNews on 6 August 2015 reports:
"Seventeen dolphins found mysteriously beached near the site of the crippled Fukushima Daiichi nuclear power plant may have died from radiation-induced heart damage, a scientific analysis has suggested"
Click this link for more information.

Groundwater coming into contact with nuclear core

GreenMedia on 31 July 2015 provides extremely important information.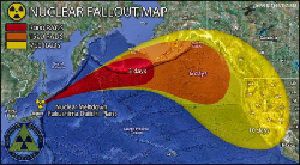 In Fairewinds' latest video, Chief Engineer and nuclear expert Arnie Gundersen updates viewers on what's going on at the Japanese nuclear meltdown site, Fukushima Daiichi.  A transcript of the Video is contained here.

Deaths from Nuclear Explosions

NaturalNews on 22 July 2015 provide some statistics on the deaths that have been attributed to the Chernobyl disaster which occurred in 1986 in the Ukraine
Scientists estimate that over the ensuing 30 years, more than one million people have died as a direct result of fallout from the disaster. Since approximately seven million people were exposed to radiation from the disaster, that makes a death rate of about one in seven (14 percent)."
The article goes on to say with regards to Fukushima:
"The Tokyo metro area has a population of approximately 38 million. If the Chernobyl death rate of one in seven holds, Fukushima's death count may eventually surpass 5.4 million. Indeed, given the greater amounts of radioactivity released, it may climb even higher.

And this does not count the ongoing contamination of ocean water and seafood caused by the constant accidental runoff and deliberate dumping of radioactive water from Fukushima into the Pacific Ocean. Exposure to contaminated seawater or seafood could push the death toll still higher."
Click the link to read the full article.
Stop Press

    
Another radioactive leak     
600 times higher than safe limit

NaturalNews on 14 May 2015 brings information on yet another part of the Fukushima plant springing a leak.  Apparently this is the second link discovered in the last few weeks.  Click this link to learn more.
First we had Chernobyl on 26 April 1986
Then we had Fukushima 11 March 2011
See  below for what is unfolding at Turkey Point Nuclear Plant
Listen to this YouTube and see how you can help yourself to counteract radiation that may come your way.   When you have listened to the YouTube click this link to contact me about 4 products that I use that contain fulvic acid.
This YouTube was recorded on 18 March 2011 and in November 2013 we know that radiation levels around the world are worse than it was thought in March 2011.  
Orthomolecular Medicine
On 11 May 2015 Orthomolecular Medicine issued an email providing links to nutrition, protocols, therapies and Youtubes to help us with our health.    Click this link to read the radiation information.
Cesium in the soil
NaturalNews on 18 April 2015 provides more information on the types of soil that are more likely to retain cesium and pass this on to the food chain.    I just feel for the people of Japan and for that matter other people around the world who are being impacted by this disaster.   Click this link to read NaturalNews article
Still spewing radioactive waste into waterways
NaturalNews on 4 April 2015 brings information from Dr Mark Sircus on radioactive waste spewing into gutters and into our oceans.    To read the NaturalNews article on what Dr Sircus has reported click here.
Turkey Point Nuclear Plant
GreenMedia on 30 December 2014 provides information on activists against the Turkey Point Nuclear Plant.
"CASE presented the following Contentions regarding the Cooling Canal System (CCS) at Turkey Point in the filing on Tuesday, October 14, 2014:
CONTENTION 1 -  THE UPRATE OF TURKEY POINT REACTORS 3 & 4 HAS BEEN CONCURRENT WITH ALARMING INCREASES IN SALINITY, TEMPERATURE, TRITIUM AND CHLORIDE IN THE CCS AREA
CONTENTION 2 -  THE EXIGENT CCS PROBLEMS STARTED YEARS BEFORE JULY, 2014 AND WERE BEING ADDRESSED IN 2013 AND EARLIER
CONTENTION 3 - THE MEASURES BEING USED TO CONTROL THE CCS CONDITIONS ARE EXTRAORDINARILY INVASIVE, ENVIRONMENTALLY USURIOUS AND SOME UNTESTED
CONTENTION 4 - THE CCS IS AGING, OLD TECHNOLOGY AND FPL HAS NO REDUNDANCY FOR UNITS 3 & 4 LIMITING CORRECTIVE ACTIONS
The entire filing was 22 pages and we will post it on the CASE website.
Click this link to read the full story.
Miami Nuclear Power Plant
GreenMedia provides us with information with regards to a steam leak in the #4 plant in South Florida's Turkey Point Nuclear Plant.     Australia was talking about going nuclear.   We now have Chernobyl and Fukushima and the possibility of Miami.    Please click the link to read what they have to say.
Data proves Fukushima worse than Cherno

byl
NaturalNews on 29 September 2014 brings information published in the journal Nature showing that radiation released from this nuclear disaster already exceeds that of the 1986 Chernobyl disaster.   As they say – the damage is still ongoing.   Click this link to read the article.
Sea Animals Dying or Failing to Breed
NaturalNews on 8 August 2014 provides information on sea animals dying along the Pacific West Coast and many other areas.  The article goes on to say
"This has the makings of a mass-level extinction event in the world's oceans appear disturbingly imminent, as marine species after marine species washes ashore on the Pacific West Coast. Ailing seals, dead fish, missing pelicans and much more are being reported in the media as scientists struggle to figure out what, exactly, is causing entire marine ecosystems to suffer and die, seemingly inexplicably."
Is this devastation being caused by the Japanese Government dumping high levels of radioactive waste into the Pacific Ocean?    Please read this article to see how wide spread the devastation is.
Monkeys living near Fukushima
Scientists have found that blood cell levels are reduced in monkeys living near Fukushima.   NaturalNews on 8 August 2014 provides the following information:
"Wild monkeys living near Fukushima, Japan, have detectable levels of radioactive cesium in their bodies, along with lowered blood cell counts that may indicate a hampered immune system, according to a study conducted by researchers from the Nippon Veterinary and Life Science University in Tokyo and published in the journal Scientific Reports on July 24."
If it is affecting monkeys then what is it doing to humans?  Click this link to read the article.
Cooling Unit needs Repair
NaturalNews on 17 July 2014 report:
"A new leak at the crippled Fukushima Daiichi nuclear power plant in Japan must be repaired within about a week, or it could trigger another meltdown."
When are TEPCO and the Japanese Government going to get their act together before more harm is done to our planet?     Read the article.
West Coast of America   
Spike in birth defects
NaturalNews on 8 July 2014 brings information on an increase in birth defects on the American West Coast since the nuclear disaster in Japan.   An excerpt from the article and it is recommended that you read the full article:
´But other effects have in fact been seen in infants along the west coast in that time period. In June 2011, epidemiologist Joseph Mangano and M.D. Janette D. Sherman, both of the Radiation and Public Health Project, noted that in eight west coast cities (Boise ID, Seattle WA, Portland OR, and the California cities of Berkeley, San Francisco, San Jose and Santa Cruz), the CDC Morbidity and Mortality Weekly Report had reported a 35 percent increase in deaths among children under one year of age between the four weeks preceding the Fukushima disaster and the 10 weeks following it. Over that same time period, the number of deaths among that same age group nationwide rose only 2.3 percent."
Corroded pipes leaking radioactive water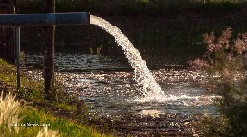 NaturalNews on 4 July 2014 brings news on corroded pipes leaking radioactive water.  Here is an excerpt from the article:
"In November 2013, TEPCO discovered that 3.2 tons per hour of radioactive water were leaking from the primary containment vessel inside the No. 1 reactor building. The containment vessels are used to hold water rendered radioactive after being used to cool the nuclear reactors. The accumulation of this water in the basement of the building made the environment too dangerous for workers to enter the area and remove the melted, radioactive fuel rods from the reactor.


Radioactive water has also been leaking into the ground, spreading radioactivity away from the plant and actually leaking into the Pacific Ocean."
Radiation Leaks
NaturalNews on 17 June 2014 advise that the Japanese Government will be spending $470 million to build a subterranean ice wall and in Mike Adam's words "take additional measures in what appears to be a desperate attempt to stop leaks of radioactive water from the crippled Fukushima Dai'ichi nuclear plant after repeated failures to staunch the flow by the plant's operator.


Many see the scheme as an attempt to demonstrate to the International Olympic Committee that the nuclear accident won't be a safety issue before the sports body chooses between Tokyo, Istanbul and Madrid to host the 2020 Olympic Games."
Please click the link to learn more.
There has been much speculation about Fukushima
Here is a link which provides information purporting that the USGS tampered with earthquake data.  I have read different articles where they are saying that the tsunamai was caused by other than nature. 
Radiation levels in Tuna have increased
On 13 May 2014 NaturalNews provides information on:
"Fish caught off the coast of Oregon have tested positive for radiation and the researchers that discovered this say Fukushima is to blame. An Oregon State University (OSU) research project found that radiation in albacore tuna has been steadily increasing ever since the nuclear disaster back in 2011, with average radiation levels now triple what they were before the consecutive meltdowns."
Click this link to learn more.
Rare diseases in children
NaturalNews on 12 March 2014 brings news of Japanese physician warns of increase in rare diseases, urges children and adults to move from radiation.
This is very distressing news but in my mind not unexpected news.   Above was a YouTube where Tom speaks about fulvic acid helping to remove radiation from the body.    Please email Marilyn Vine at siselopportunity@expandingabundance.com to learn of two products containing Fulvic Acid which may assist in removing radiation and heavy metals from your body.
An Australian's Experience sailing the Pacific Ocean
NaturalNews on 30 October 2013 brings this disturbing news:
"A report in the Newcastle Herald recently shared the story of an Australian sailor expressing concern about the state of the ocean after recently sailing from Melbourne in Australia to Osaka, Japan, and then from Osaka to San Francisco.


The sailor reports that, during the journey from Melbourne to Osaka, the lack of sea birds and fish made the journey eerie and a very different experience from the same journey ten years prior. He tells how, a decade ago, seabirds followed and roosted on his boat, their constant noise being heard as they soared overhead, swooping and diving for fish; he explains that the more recent journey was quiet, the only noises being the wind, the water and the sails.
I can't remember where but recently I read an article that reported that a Sardine Fleet had returned to port WITH NOT ONE SARDINE! 
I stopped eating fish when I learned of the massive dumping of radioactive waste that occurred roughly 18 months ago.   Governments are not telling people whether they are keeping an eye on the radioactive waste either in our seafood or foods land grown IF AND I SAY IF they are doing any checking at all!
Please click on this link to learn the rest of his experience.
Is this going to be the end of the world?
Listen to the YouTube and decide for yourself.
4 hours of exposure will be lethal!
NaturalNews dated 1 September 2013 brings devastating information for the workers who have been helping in stopping the leaks.  It has been reported that:
" Radiation levels around Japan's Fukushima nuclear plant are 18 times higher than previously thought, Japanese authorities have warned.


It now says readings taken near the leaking tank on Saturday showed radiation was high enough to prove lethal within four hours of exposure.


The new reading will have direct implications for radiation doses received by workers who spent several days trying to stop the leak last week, the BBC's Rupert Wingfield-Hayes reports from Tokyo".
Cracking Stuxnet

710 billion becquerels of radioactive materials into atmosphere
On 24 April 2013 NaturalNews brings yet more information on leaks occurring in Fukushima.   I live in Australia and I have heard nothing about this latest disaster/discovery either on our television, radio or news media!  Why is this information being downplayed/hidden from the Australia people and if you live in other parts of the world – are you hearing anything about this?
On 6 April 2011 NaturalNews advised that International Law had been broken by Japan with a mass dumping of highly radioactive water (measured at 7.5 million times the normal allowed levels) into the Pacific Ocean.  The only country in the world to speak out about this illegal dumping was Korea!
Is this a co-incidence?   Now on 6 April 2013 yes – two years to the day – we are being advised that 120 tons of water that had been contaminated with radioactive substances had leaked from an underground storage facility at the No 1 atomic power plant site.     If these storage facilities start to fail or even if they do not have sufficient storage space – are we going to see another "dumping" into the Pacific Ocean?   Who around the world is monitoring this?   Where are the World Health Organization and the United Nations who supposedly are the "guardians" of our health?   I am not hearing anything from them.  Are you?  Learn more about the current situation.

Cesium 137 equivalent to 10 million nuclear bombs!
On 25 March 2013 NaturalNews has released an article on a presentation dated 11 March 2013 (2 years after the disaster) given by Hiroaki Koidi, Master of Science in Nuclear Engineering, Assistant Professor at the Kyoto University Research Institute, Nuclear Waste Management & Safety Expert.  He believes that 10 million people are still being exposed to radiation on a daily basis and that the problem is so huge that it has become impossible for the Japanese Government to move these people to safety due to the massive number.
Please take the time and watch the YouTube presentation and then click on the link to read the full article. 
Is Plutonium the next threat to be faced? 
Mike Adams from NaturalNews on 1 November 2013 asked his good friend, Dr. Roy Dittman, a natural health expert about the dangers in and around the Daiichi nuclear power plant - this was his official response:


"At the Daiichi nuclear facility in Fukushima, Japan, the Unit 4 cooling pool continues to sink (31.5 inches to date). The floor of the cooling pool used to cool down the spent nuclear fuel rods has suffered severe structural damage in the wake of the earthquake-tsunami of 2011. At present, Unit 4 remains on the verge of complete collapse."


"Seismologists caution a magnitude 6 earthquake could lead to complete nuclear meltdown, triggering an uncontrollable fire capable of delivering plutonium-contaminated Mox fuel into the upper atmosphere, where it could deposit around the globe. If this happens, we will have three days to prepare here in the United States."

Protect yourself from radiation

Part Two
Part Three
Part Four
Radiation from Fukushima now in Californian Tuna
On 30 May 2012 NaturalNews have brought to light that radioactive elements have been found in at least 15 tuna recently caught off the Californian Coast.   It appears that the fish themselves may have carried the contamination across the Pacific Ocean faster than wind or water has been able to do.
Freedom of Information documents reveal the truth
On 12 May 2012 NaturalNews brings information with regards to what is being referred to as "Plume-gate" – i.e. the cover up that has taken place with regards to the Fukushima disaster.
I have been reading for a period of time that they are expecting more problems from the #4 reactor and that this could have disastrous effects on Japan and North America.
Now I am reading how information on this disaster has been actively kept from Americans and the world in general:
"Private emails, meeting transcripts and other key documents reveal that both the Obama White House and the United States Nuclear Regulatory Commission (NRC) were well aware of just how bad things really were with Fukushima from the early days of the disaster, but did nothing to warn the public about it. In fact, NRC and the White House purposely did not warn Americans about a massive radiation plume that struck the West Coast just days after the massive earthquake and tsunami hit Japan's eastern coast." 
How you may help yourself overcome your radioactive damage
How you may help yourself overcome your radioactive damage
On 1 February 2012 Orthomolecular Medicine released an article on the invaluable assistance Vitamin C can make to your help when exposed to radiation.  
F Children showing radioactive iodine in their thyroid glands!
On 31 August 2011 NaturalNews brings a report that nearly half the children from the Fukushima Region have radioactive iodine in their thyroid glands.   Here is an excerpt from the report:
" An anonymous official from the Japanese government recently came forward with the startling results of radiation tests conducted on children shortly after the disastrous earthquake and tsunami struck the Fukushima Daiichi nuclear facility. According to www.dawn.com the official revealed that 45 percent of children tested had radioactive iodine lodged in their thyroid glands."

Imagine the radioactivity of 168 Hiroshimas!
On 30 August 2011 NaturalNews brings information with regards to the Japanese Government recently estimating that the amount of radioactive caesium-137 released by the Fukushima nuclear disaster at the moment equals that of 168 Hiroshimas!   
CNN's John King interviews Arnie Gundersen about the Hot Particles discovered in Japan and the US.   This youtube has been removed.


Strontium levels now 240 TIMES THE LEGAL LIMIT
On 19 June 2011 we learn that TEPCO have reported that seawater and groundwater samples taken near Fukushima Daììchi have tested at 240 times the legal limit for Strontium.   This indicates a serious environmental and health threat.  
600 square miles around Fukushima now declared uninhabitable!
Read the article as the radioactive hot particles can be picked up through you car air filter system! 
Was the F Disaster Engineered!
Fukushima Page:  On 10 June 2011 NaturalNews released an article which is questioning whether HAARP played a role in the earthquake and tsunami on 11 March.   Here is an excerpt:
"Recent data released by Dimitar Ouzounov and colleagues from the NASA Goddard Space Flight Center in Maryland highlights some strange atmospheric anomalies over Japan just days before the massive earthquake and tsunami struck on March 11. Seemingly inexplicable and rapid heating of the ionosphere directly above the epicenter reached a maximum only three days prior to the quake, according to satellite observations, suggesting that directed energy emitted from transmitters used in the High Frequency Active Auroral Research Program (HAARP) may have been responsible for inducing the quake."
Read the article and see some of the reports that were issued in the 1990s with regard to the capabilities of HAARP to actually do this.
HIGH IMPORTANCE – YOUTUBE WHICH IS A MUST WATCH!!
I was absolutely shocked to the core when I listened to the first YouTube!   I had no idea whatsoever of the implication of radioactivity in relation to diabetes and autism!   I have always blamed mercury in vaccinations for the massive increase in our autism numbers.    Listen to Leuren Moret, who is a Nuclear Power whistleblower and is telling all who will listen about the dangers of Nuclear Power.
Urging readers to take note of this article and start protecting yourself NOW!


part 2
Dr Emoto's Prayer for the Earth
This prayer is not just for the people of Japan and in particular the Fukushima Nuclear Plant but for water all over the world.
"The prayer procedure is as follows.
Name of ceremony: Let's send our thoughts of love and gratitude to all water in the nuclear plants in Fukushima. Day and time: March 31st, 2011 (Thursday) 12:00 noon in each time zone. When praying, please say the following phrase:
The water of Fukushima nuclear plant, we are sorry to make you suffer. Please forgive us. We thank you, and we love you.
Please say it aloud or in your mind.  Repeat it three times as you put your hands in a prayer position. Please offer your sincere prayer.

Thank you!"
This prayer is very much like the H'oponopono Prayer whereby you repeat in a mantra either out loud or in your head
I am sorry
I forgive you
I thank you
I love you
This prayer can have the most amazing effect on people who are angry, etc.  Just by repeating the mantra with these people in mind you will find that within 10-15 minutes they are more at peace with themselves and the anger has dissipated.
IMPORTANT INFORMATION - RADIATION SYMPTOMS
This is a very important article.   It explains very clearly about symptoms of radiation disease and also offers advice on what you can do.  Once again Glutathione is shown to be an essential part of this remedy and there is information on glutathione and where you can source it further down this page.    Please take the time to read this important information.
Breaking International Law!
6 April 2011:    International Law has been put into place by world governments to protect the world.    Under the Convention on the Prevention of Marine Pollution by Dumping of Wastes and Other Matter, passed in 1972, forbids nations and companies from dumping toxic wastes into the ocean.
Japan has already done a mass dumping of highly radioactive water (measured at 7.5 million times the normal allowed levels) into the Pacific Ocean.     This will not be the last dumping by Japan unless world governments speak up about the enormous cost to the environment. 
Surprisingly the only country to speak up about this dumping is Korea and they have lodged an official complaint.   WHERE IS THE REST OF THE WORLD!    YES – somewhere has to be provided but this is just a short expedient step to take and not the answer to the problem!
What do you know about Cesium?
The information that is coming out in the mainstream media with regard to radioactivity is all about iodine-131.   Iodine-131 has a half-life of just eight days.   What we are not hearing about is cesium-137.    Cesium has a half-life of THIRTY YEARS!. 
So what does this mean?
cesium-137 RADIOACTIVITY WILL TAKE THIRTY YEARS TO JUST FALL 50 PERCENT!
As at early April 2011 radiation levels of 7.5 million were being reported by mainstream media!
Fukushima page brings you the question that Mike Adams, from NaturalNews raises:
What happens to all the radioactive cesium-137 that is being dumped into the Pacific Ocean right now?
This Fukushima website page has been put together to help keep people informed on the current situation with regard to radiation in the air, water or food sources.
I have a strong empathy for the plight that the people of Fukushima are facing and hope that they will share this Fukushima page with their friends.