Genetically Modified Food - GMO - DARPA
Marilyn Vine brings information on Genetically Modified Foods (GMO).  The more I read the more I become concerned about the effects of GMOs on both the human body and our animals.   Even though we are being told that GMO is going to help with food shortages the more you read the more you realize that GMO is actually creating the food shortages and by the time everyone wakes up to this it could be too late for very many people!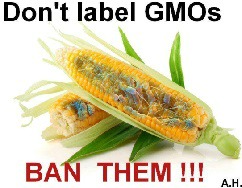 28 April 2015:  Dr. Bob DeMaria discusses genetically modified organisms. Find out why plants are modified and what that might mean to people that eat them. Dr. Bob talks about the increased number of conditions that people have and how that might be related to Genetically Modified Food.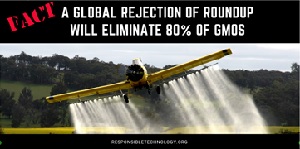 International Responsible Technology (IRT) led the global dialogue on the health dangers of GMOs leading to the tipping point already underway in the US. Help us maintain that leadership in the global discussion about Roundup so that it extends to our food supply.
Please support IRT with a generous contribution today. Contribute like our world depends on it.

Could food sources be in jeopardy around the world?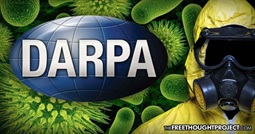 Activist Posted dated 8 October 2018 published this article "Scientists Accuse DARPA of Genetically Modifying Insects for Bioweapon to Spread Agricultural Viruses." 
I found this to be a most disturbing article especially when you read:
"DARPA plans to release swarms of genetically modified insects like leafhoppers, whiteflies, and aphids, that have been altered using CRISPR, or other gene editing systems. The swarms would be carrying an infectious virus to crops that are already established as a means of genetically modifying them on the spot.".
I suggest that when you hear of some countries' crops being hit by a plague of these insects that you reflect back on this article.


Russia halts all production and imports of GMOs
NaturalNews 17 August 2016 brings information that President Putin has called a halt to all production and imports of GMO products.   WOW – what great news!   Click this link to read the article.



Organics versus GMO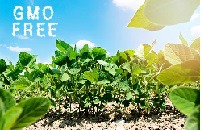 GreenMedia advise on 6 May 2015 that we appear to be winning the battle against Monsanto.     People are beginning to demand more organic foods as opposed to genetically modified foods.  Organic foods don't require non-GMO labeling.  We learn that sales of organic foods have increased dramatically.  In:
2000  $6 million

2014  $39 million
Click this link to read the full article and learn of the stores now just selling organics.  Please support these brave people going the organic way as this will surely defeat the GMO brigade and help improve the health of the people.

Fast Food Chain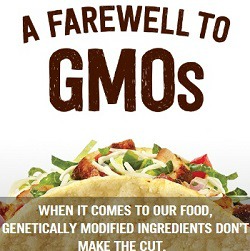 NaturalNews on 27 April 2015 that:
"Chipotle Mexican Grill has outright rejected all GMOs and, as of today, is now serving all non-GMO ingredients in its foods."
If we can get more and more chain outlets taking this stance then this combined with individuals rejecting genetically modified food will soon be hurting Monsanto and the like, but more importantly start and improve everyone's health.
Click on this link to read the story.

Soy Beans and Glyphosate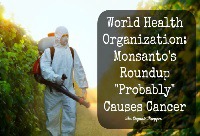 GreenMedia on 25 March 2015 advises:
"In March of this year, 17 experts from 11 countries met at the WHO's International Agency for Research on Cancer to discuss the cancer-causing effects of organophosphate pesticides including glyphosate, the active ingredient (but only one of many) in Monsanto's Roundup. Glyphosate, used in more than 750 products, and ever more so because of its role in the production of genetically modified crops such as soy, canola, and corn, is now present in our air, water, and soil.  Despite Seralini et al.'s evidence for dramatic oncologic processes manifesting after 4 months of exposure in rodents, scant trials have been done."
Monsanto, Bill & Melinda Gates Foundation and so many others ALL PAY HUGE SUMS OF MONEY to influence governments NOT TO INCLUDE ON FOOD LABELING when a food or processed food contains genetically modified food ingredients.
We should all be eating as organically possible as we can and avoiding foods like corn, soy, canola oil, just to name a few, because we know that these are genetically modified foods.
Would you be interested in using a product that may be able to reduce some of the herbicide and pesticide content of your food?    Below is a picture of what happened with the product I use when I was making pea and ham soup and soaked the split green peas and then during the cooking added some that I hadn't had time to soak.  What a massive difference.   Email me at this link to find out.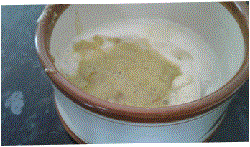 Click here to read the full story from GreenMedia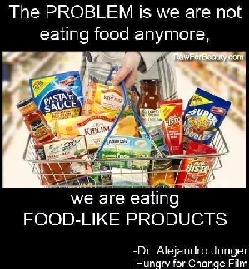 MOST IMPORTANT     
Altered Genes, Twisted Truth    
Genetically Modified Foods Exposure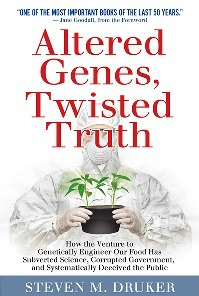 This book was written by Attorney, Steven Druker, who initiated a lawsuit that forced the FDA to divulge its internal files on Genetically Modified foods – thereby exposing how the agency had covered up the extensive warnings from its own scientists about their risks, lied about the facts, and then ushered them onto the market in blatant violation of U.S. food safety law.   
It covers How the Venture to Genetically Engineer Our Food Has Subverted Science, Corrupted Government, and Systematically Deceived the Public
This book should be a MUST READ for anyone wanting to know the truth about their food and the impacts of genetically modified food on their lives.   It can be purchased here


Non GMO Fed Poultry in German Supermarkets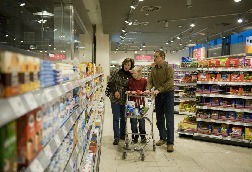 GreenMedia on 3 September 2014 advise that German Supermarkets have forced the poultry industry to stop using genetically modified food feed and return to non-genetically modified food feed.   Click this link to read the article.


Insulin Monotherapy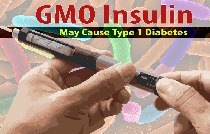 GreenMedia on 28 June 2014 reported that Insulin monotherapy resulted in:
2.0 times more myocardial infarctions.

1.7 time more major adverse cardiac events

1.4 time more strokes

3.5 times more renal complications

2.1 time more neuropathy

1.2 times more eye complications

1.4 times more cancer

2.2 times more deaths
Click this link to read the full article.

China – is it a third world country
OR    
a country proactive in protecting its people

NaturalNews on 9 March 2015 brings information on US Farmers suing Syngenta over GM Corn.  Apparently China refused entry of US corn due to the fact that they found an unapproved GM seed that had not been approved.    The seed in question was Agrisure Viptera, which has been genetically altered to contain a protein that kills corn-eating bugs such as earworms and cutworms.  Click this link to read the article.

Apples to be deregulated



Not content with soy and corn now they are going after fruit.   NaturalNews on 14 February 2015 advises that approval has been given by the USDA Regulator with regards to apples.    Because of the non-genetically modified food labeling laws now we will not be able to tell whether we are eating apples or "manufactured apples" i.e. genetically modified food!     If the apple market was to be boycotted what sort of effect do you think this would have on regulators if they realized the boycott pertained to the fact that we do not know what we are eating.   Click this link to read the NaturalNews article.

US Agriculture Department does it again!

NaturalNews on 13 February 2015 advise the following:
"Agriculture officials have once again ignored science by suggesting deregulation of two new GMO crops from Monsanto that contain built-in resistance to chemicals derived from the same family as Agent Orange. Roundup Ready 2 Xtend soybeans and Bollgard II XtendFlex cotton are now one step closer to commercial plantings after the U.S. Department of Agriculture (USDA) declared them to be safe and effective in its final Environmental Impact Statement (EIS), released December 12, 2014."
To learn more then click this link

.    This is one more reason to stay away from genetically modified foods!

Poison on the Platter

Dr Mercola on 22 November 2014 brings information on what is happening across India.  Read the article and watch the YouTube below.  They speak of the disaster of L Tryphtophan, glyphosate, DNA – this is a very good documentary and one we should all be taking notice of if we want to survive and for our children and their children not to be damaged by what we are eating today!
Dr Mercola sums the situation up:
"The documentary "Poison on the Platter" examines how multinational corporations and the Indian government have conspired to spread GE foods across India

Despite laws banning the import of GE foods, they line supermarket shelves across India

Dozens of GE crop trials are underway on Indian farmland, including okra, potatoes, and BT brinjal (eggplant), which makes its own insecticide"
This video has been removed
The power of the promoters of GMO
Must watch YouTube.  This YouTube should cause you great concern when you hear what the protectors of our food are actually doing and allowing to happen without your knowledge.

What are these foods doing to you?





China refuses biosafety certificates
NaturalNews on 3 September 2014 brings news that China won't issue biosafety certificates to research groups for GM corn and rice.   YAHOO!    The more countries taking action like this will defeat the monster Monsanto and their geoengineering.    Click this link to read the article.

Center for Food Safety
NaturalNews on 8 June 2014 brings us information from Center for Food Safety on the seven genetically modified foods that you should avoid like the plague!
This is important information with regards to your health and wellbeing.    Center for Food Safety have put out a small video celebrating 15 years of their existence which I would ask you to take time to watch.
Then click this link and make a donation to this wonderful organization so that they can continue their great work.



Russia will not import genetically modified food
On 17 April 2014 Spilling the Beans advised that Russia will not import GMO products.   Prime Miniser Dmitry Medvedev said that the nation has enough space and resources to produce organic food.  Prime Minister Medvedev went on to say:
"Moscow has no reason to encourage the production of genetically modified products or import them into the country, Medvedev told a congress of deputies from rural settlements on Saturday.
"If the Americans like to eat GMO products, let them eat it then. We don't need to do that; we have enough space and opportunities to produce organic food," he said."
Click this link to read the full article.   Sorry but this link no longer works.



Food Safety Expert




GMO products cause cancer and obesity
The Voice of Russia on 14 February 2014 has an article quoting a food safety expert saying that "GMO products cause cancer and obesity."   The article goes on to say:
"Russia is firm: no genetically modified organisms in food production, the head of Russia's Ministry of Agriculture Nikolay Fyodorov stated at the All-Russian Meeting of Agrarians. GMO-foods controversies between scientists, ecologists and producers have a long history. Russia, which is now going organic, has faced these problems just recently."
Click this link to read the article.



Food for Thought
"You cannot insert a gene you took from a bacteria into a seed and call it life.  You haven't created life, instead you have polluted it."
Vandana Shiva – GMO Free Massachusetts
Dr Mercola – 28 Jan 2014 – talks about glyphosate



They have finally succeeded!      




GM Salmon coming from Canada
Prevent Disease on 27 November 2013 brings an article telling how Canada has now approved GM eggs for salmon and the company (a US based Company unable to do this from America) has now succeeded in getting approval for the farming of these eggs.    The salmon is intended for import into America and presumably other parts of the world.  
The concern for me is not the escaping of the GM salmon and mingling with the wild salmon BUT WHAT EFFECT IS THE GM SALMON GOING TO HAVE ON PEOPLE AND ANIMALS WHO CONSUME IT?   That does not appear to be a concern to the writer of the article.    Have a look at the difference in the size of the two salmon – the GM one is enormous!    What will this do to human DNA?   Will it have an impact?   DOES ANYONE KNOW!



GMO Lies Exposed
Please listen to Jeffrey Smith on the following YouTube



Companies trying to thwart Bill 522




to stop labeling GMO's
On 29 October 2013 Dr Mercola advises us of the devious actions being taken by companies to protect their identity and thus a back lash from consumers with regards to trying to stop Bill 522 being passed to enforce labeling of all genetically modified food.   
Please click this link to read the full story of the lengths that have had to be gone to, to obtain the identity of these companies.   
THEN VOTE WITH YOUR WALLET AND DON'T BUY THEIR PRODUCTS!
If their market share plummets then they will soon comply with what we, as consumers, are seeking!  This Legislation may only apply to Washington State but it impacts on everyone all around the world.
List of the Companies:
Abbott Nutrition
Campbell Soup Co
Cargill Inc
Coca-Cola
ConAgra Foods
Dean Foods
Bush Bros & Co
Del Monte Foods
General Mills
Hershey
Hillshire Brands
Kellogg
Moody Dunbar
Nestle USA
Ocean Spray, Cranberries, Inc
PepsiCo
Sunny Delight Beverages Co



Mexico   




GMO Corn Suspended
Prevent Disease on 28 October 2013 advises that:
"After years of deliberation, a Mexico judge has placed an indefinite ban on genetically-engineered corn. Effective immediately, companies like Monsanto and DuPont/Pioneer will no longer be allowed to plant or sell their corn within the country's borders."
YAHOO!
Wake up Australia and hop on the wagon!
Here is the full article and you will see that the Big Island of Hawaii County Council Committee has also passed a GMO prohibition bill which is progressing to the full Council on October 16.

Seralini GM Corn Study
On 5 September 2013 NaturalNews advises:
"It has been almost a year now since French researcher and scientist Gilles-Eric Seralini published his groundbreaking study on the deleterious effects of eating Monsanto's genetically-modified (GM) corn, and there are still millions of people out there who are confused about its controversial findings. To help sort things out, here are ten facts about the study that you probably heard nothing about from the mainstream media:"
Please click on this link to learn what this study was all about and what the results were. 



Pigs' stomachs turned to mush!




What is it doing to human stomachs?   NaturalNews on 12 June 2013 brings information and photos of pigs stomachs turning to mash.   The article goes on to say:
"If you have stomach problems or gastrointestinal problems, a new study led by Dr. Judy Carman may help explain why: pigs fed a diet of genetically engineered soy and corn showed a 267% increase in severe stomach inflammation compared to those fed non-GMO diets. In males, the difference was even more pronounced: a 400% increase. (For the record, most autistic children are males, and nearly all of them have severe intestinal inflammation.)"
Click on the link and read more about this



Helping people understand the health of the soil
Please listen to Dr Elaine Ingham speak about her experience and what she is doing:
If you are interested in putting the nutrition back in your life to help your body take care of its own maintenance then may I suggest that you click on the link and learn about a company providing good nutritional supplements
19 September 2012 French Researchers over two years studied 200 rats fed with transgenic maize.   Watch the youtube to see the result.    I believe this makes it even more important that GMO's are clearly labeled on every product we purchase.
Animal have an innate instinct to know what not to eat and there are many animals that are refusing to eat the genetically modified foods that they are being fed and in particular GMO corn.  (second YouTube).




What will happen to your child if you consume GM wheat during pregnancy?
NaturalNews brings very disturbing information on 13 September 2012 relating to eating GM wheat, especially during pregnancy.    Here is an excerpt:
"Genetically engineered wheat contains an enzyme suppressor that, when consumed by humans, could cause permanent liver failure (and death). That's the warning issued today by molecular biologist Jack Heinemann of the University of Canterbury in Australia."
This is such important information and alerts to the ramifications of a woman eating GM wheat during pregnancy that everyone should read and pass on the information to their family and friends.



Results of blood tests on residents of Berlin, Germany
14 July 2012 brings more information from Dr Mercola with regards to blood tests carried out on the citizens of Berlin recently.  They ALL showed traces of glyphosate in their blood!    Did you know that glyphosate has been linked to decimation of:
One of the foods that I really love is sweet corn, particularly what is called the pearl variety where the kernels are both yellow and white.  I found it to be such a deliciously sweet form of corn.   Sadly I do not buy sweet corn anymore and try and avoid products that contain it as well as it has been shown to be one of the most toxic of all the genetically modified foods that we can consume.    On this page I have covered glyphosate as well.
Read what Dr Mercola has to say and keep on fighting to make our governments label all products that are GM modified and to stop hiding this information from us!      You will also read that Monsanto is trying to achieve immunity from liability by getting the United States to pass legislation to protect them.   Get hold of your Senator and tell him this is just not on.   The same protections have been afforded to the vaccinators and the fluoridators and look where this has left us all!     Damaged and unable to be compensated!



Interview on ABC Radio
This is the audio of an interview between a French Scientist and Paul Brent, Chief Scientist for Food Standards Australia New Zealand (FSANZ).   Hear how FSANZ relies on international accepted methods of research from places like World Health Organisation (WHO), OECD and the best one yet Codex Alimentarius which is renown for trying to bring in legislation the whole world over from stopping individuals having access to vitamins and minerals!   If you have been doing your own research you will know what a wonderful institution WHO is!   Let's face it when the Swine Flu scare was on WHO declared a pandemic after being visited by representatives from the pharmaceutical companies involved in providing the cure!   So they must be a pretty alright organization – don't you agree?
What is the matter with FSANZ?   Are we not capable of doing Australian research, on Australian conditions in order to protect Australian people?   Apparently not!  



Are our unborn children at risk?
Genetically Modified Foods page brings an article from NaturalNews dated 14 February 2012 with regards to deformities being found in umbilical cords of babies.   This is a very important article and one which I hope you will read and pass on to expectant mothers for the sake of their babies and our future.  



Traces of GM modifications found in pregnant women and fetuses!
On 28 May 2011 Jeffrey Smith brings us a report called "Dangerous Toxins from Genetically Modified Plants Found in Women and Fetuses"
This report goes on to say the following:
"When U.S. regulators approved Monsanto's genetically modified "Bt" corn, they knew it would add a deadly poison into our food supply. That's what it was designed to do. The corn's DNA is equipped with a gene from soil bacteria called Bt (Bacillus thuringiensis) that produces the Bt-toxin. It's a pesticide; it breaks open the stomach of certain insects and kills them.
But Monsanto and the Environmental Protection Agency (EPA) swore up and down that it was only insects that would be hurt. The Bt-toxin, they claimed, would be completely destroyed in the human digestive system and not have any impact on all of us trusting corn-eating consumers. 
Oops. A study just proved them wrong.
Doctors at Sherbrooke University Hospital in Quebec found the corn's Bt-toxin in the blood of pregnant women and their babies, as well as in non-pregnant women. (Specifically, the toxin was identified in 93% of 30 pregnant women, 80% of umbilical blood in their babies, and 67% of 39 non-pregnant women.) The study has been accepted for publication in the peer reviewed journal Reproductive Toxicology. 
According to the UK Daily Mail, this study, which "appears to blow a hole in" safety claims, "has triggered calls for a ban on imports and a total overhaul of the safety regime for genetically modified (GM) crops and food." Organizations from England to New Zealand are now calling for investigations and for GM crops to be halted due to the serious implications of this finding." 
This is an important report and covers allergies and diseases and if you are interested in your health at all, this is a must read.



UNBELIEVABLE



The Ultimate Sell out of Responsibility
On 20 May 2011 Dr Mercola brings the news that the United States Department of Agriculture (USDA) is abrogating its control over the testing of genetically modified food's impact on the environment.   Instead it is handing this control over to the very companies, e.g. Monsanto, who are the perpetrators of these GMOs to conduct quality research on the impact that these GMOs have on the environment.  When they have conducted their research they will come back to the USDA to make the final decision.
DO YOU REALLY THINK THAT AN UNBIASED AND FAIR ASSESSMENT OF THE ENVIRONMENTAL IMPACT WILL BE PRESENTED TO THE USDA?
Why would any company or contractor provide information that could get their product banned?
We just have to look back at the testing on aspartame to know the answer!
I believe that every American and even people from other countries should be reading this full article and writing to the USDA voicing their concerns that it is not doing its job in protecting both people and the environment.  



Your kidneys and your liver
What are genetically modified foods doing to our kidney and liver?
On 7 April 2011 Jeffrey Smith published a paper on "GMOs linked to organ disruption in 19 studies".  This study is on consuming GM corn or soybeans and is well worth your time to read.



Whistle blowing scientists
Genetically Modified Foods: On 18 March 2011 we have scientists who are whistle blowing: 
"Despite all the equivocating about GMOs' "potential" dangers and begging for more research, which is restricted by patent laws, the facts are in. GMOs are very problematic for human health, as indicated by whistle blowing scientists.


The whistle blowers revealed that the primary gene for promoting transgenic events in GMOs is a virus known as CaMV 35S. It remains as-is in our guts and keeps on promoting transgenic events with our intestinal flora. Intestinal flora or friendly bacteria are a very large part of our immune systems."



Malaysia releases genetically modified mosquitoes
Genetically Modified Foods Page brings yet another story on GM mosquitoes being released – this time in Malaysia. 
One of the disturbing aspects of this information is these comments: 
"But simply wiping out an entire species may cause more harm than good, say opponents. If the offending mosquitoes are completely eliminated, they may simply be replaced in the ecosystem with another harmful species. And since little is know about the chain-reaction of events that may occur as a result, the project is really nothing more than a giant, untested experiment that cannot be reversed.


Unbeknownst to most people, mosquitoes are actually very important pollinators. They are also a food source for other species like birds and bats, some of which also play a vital role in agriculture. In other words, without mosquitoes, the food chain as we know it would cease to exist." 
Read the genetically modified food article  
I hope that the information you have read in Genetically Modified Food page has given you enough insight to know what you must do to protect yourself and your family.
It would be appreciated, if you agree with the contents of this Genetically Modified Food page, if you would pass the link across to your friends so that they too may be warned on the dangers of consuming genetically modified foods.
Return Genetically Modified Food to Home Page