Immunizations – 2012 Information Onwards
Marilyn Vine in Immunizations Page provides the latest information coming to hand with regards to this barbarous practice!
European countries scrutinizing Novartis
3 November 2012, NaturalNews brings information on Novartis's flu vaccines Agrippal and Fluad where some European and Canada had found large white clumps in the solution for injection. Some countries decided to ban the vaccines to prevent any potential public healthy emergencies but Switzerland and Canada have reinstated the vaccines are they received information from a Novartis funded study to confirm the vaccines were safe!
Novartis under scrutiny

Bill Gates raises his head and opens his wallet!
3 November 2012 VacTruth brings information with regards to Bill Gates helping to fund vaccination using drones. This is a particularly well written article and raises a lot of questions. Questions we should all be asking both ourselves and our medical practitioners because it very often does not make a lot of sense.
Take Bill Gates, for instance. At the 2010 TED (Technology, Entertainment, Design) conference, he stated: "The world today has 6.8 billion people. That's headed up to about 9 billion. Now if we do a really great job on new vaccines, health care, reproductive health services, we could lower that by perhaps 10 or 15 percent."
Here's the equation he refers to in the YouTube and then read the full article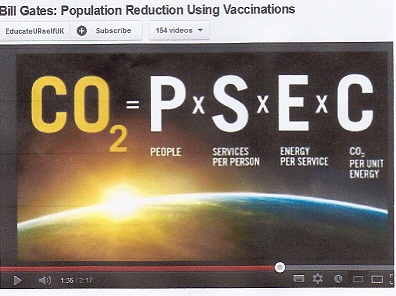 Vaccinated versus Unvaccinated Children
NaturalNews dated 18 September 2012 brings an article on the difference in health conditions of children who are vaccinated vs unvaccinated children:
"Vaccines can carry with them very serious side effects, ranging from mild complications such as fever or rash, to major issues such as seizure and death. Children who are lucky enough to evade any major difficulties, can carry with them health problems that will last the rest of their lives. According to a survey on VaccineInjury.Info, vaccinated children have a much higher rate of autism, ear infections, ADHD, asthma and allergies - in some cases even 30 percent higher than children who are not vaccinated. "
Read the article and learn more!
Vaccinated vs unvaccinated

Do you still have faith in your health care provider after reading this?
Immunizations page brings a NaturalNews article dated 1 August 2012 NaturalNews which reveals information obtained under FOI with regards to the United Kingdom and the United States. A small excerpt from this document which is a must read especially if you have young children or even contemplating get vaccinated yourself:
"Dr. Tomlijenovic explains; for instance, how JCVI has known since as early as 1981 that the measles vaccine, which is part of the government's official vaccine schedule, is linked to long-term neurological damage and death. She also outlines, with full citations, evidence showing that JCVI has long been aware that many of scheduled vaccines cause permanent brain damage in children, but have continued to promote those vaccines anyway."
Click on the link and read the full story.
Lid lifted

Australian Health Officials
Power gone to their heads!
I received the following information via an email advising that the AMA is advising its members how to deal with conscientious objectors. This email also went on to advise that unless a parent has their child vaccinated with 12 vaccines prior to 12 months of age then they forfeit a government payment of over $2,000!
Where has our freedom of choice gone? What has happened to a parent's ability to make decisions to protect their own and their family's welfare? Read the article
Conscientious Objectors

Australian YouTube
The Hidden Truth
Whistle blowing scientists file suit against Merck!
NaturalNews brings an article from Sane Vax Inc dated 26 June 2012 about a formal complaint being laid on 27 April 2012 in the Eastern Pennsylvania Federal District Court accusing Merck of a longstanding scheme to mislead and defraud government health authorities worldwide. They have accused Merck of marketing multivalent MMR vaccines under false pretences.
Merck and formal complaint

Polio and pesticide exposure!
25 June 2012 NaturalNews brings information with regards to the implications of polio being caused by pesticide exposure and how when the pesticides were banned/ceased being used how the polio epidemic declined. Read the article to learn more.
Polio and pesticides

How do they get away with it?
Blatant collusion between vaccine manufacturers and government agencies
20 June 2012 Dr Mercola provides information with regards to this "collusion". He advises that in:
In January 2010, Julie Gerberding, former director of the CDC, became the President of Merck's vaccine unit. Gerberding has admitted her "bullish" stance on vaccines, and has a long history of disregard for vaccine safety
January 2011, Elias Zerhouni, former director of the National Institutes of Health (NIH)—one of the world's foremost medical research centers, and an agency of the US Department of Health and Human Services—became the President of Sanofi-Aventis' research labs. Under his lead, the NIH became embroiled in scandal when it became apparent that the agency allowed its employees to have conflicts of interest and financial ties to industry
To read more on this subject please click on the following link.
Collusion between manufacturers and government agencies
500 Percent more disease in
vaccinated versus unvaccinated children!
Immunizations page brings you information dated 19 June 2012 how vaccinated children are more likely to have two to five times more childhood diseases than unvaccinated children. Please take the time to click into the link.

Italian Judge rules
Autism caused by MMR!
Immunizations page brings an article dated 17 June 2012 whereby Judge Lucio Ardigo adjucicated that Valentino;s autism was caused by the MMR. Read the article for yourself and incidentally have you heard about this in the Australian press?
Judge rules autism caused by MMR

Baby in Belgium killed by MMR
On 14 June 2012 NaturalNews brings the sad news of another baby killed by MMR immunizations.
Baby killed in Belgium

Thimerosal
Third UN Conference
I am a bit late in bringing you this information but it is such good news that I wanted to share it with you. The Third UN Conference does not listen to CDC or WHO representatives but listens to people who are bringing the truth of the deceptions, lies etc that have been told about this preservative.
This is such good news that I am leaving it at the top of my page and will post new listings under this!
Thimerosal and the Third UN Convention

I have read it all now!
Quite Incredible!
24 June 2012 says it all – a new vaccine – this vaccine is aimed at taking the "pig" smell away when you cook your pork! Pfizer have outdone themselves with this concept. Read what it is all about.
Removing the pig smell

When are they going to admit that
vaccines are harming our children?
Immunizations page brings an article dated 5 June 2012 asking when will they admit that vaccines are harming our children and when will they fix it? Read the article.
When will they admit and fix

17 year struggle results in
3 million Euros in compensation
On 18 May 2012 we learn of a 17 year struggle where the French State Council finally acknowledged the devastating injuries a five month old baby suffered after receiving a five in one vaccination from her doctor. Read more about it.
3 million Euros compensation

Global Alliance for Vaccines and Immunizations (GAVI)
Mission
Vaccinate every child on the planet!
On 6 May 2012 NaturalNews brings information on forcibly vaccinating every child on the planet!
Unbelievable! They can't do that! Then look at what happened in Malawi back in 2011. The Malawi children were vaccinated at gunpoint! Once again that " wonderful" organization the United Nations assisted in this exercise. Families that tried to escape were hunted down and forcibly vaccinated.
People world-wide should be on the lookout for similar things happening in their country and take proactive steps to stop it from occurring.
Forcible vaccinations

India
47,000 people left paralyzed
Immunizations Page brings you information dated 20 April 2012 from NaturalNews with regards to the Bill and Melinda Gates Foundation financially backing and publicly endorsing mass polio virus vaccinations in India.
About 18 months ago Bill Gates was recorded on YouTube stating that "vaccination would help to reduce the world population by around 15 percent."
Non-polio acute flaccid paralysis (NPAFP) - 47,000 cases of NPAFP were reported in 2011. The paralysis symptoms are practically the same as what is attributed to "eradicated" wild virus polio.
NPAFP

Soothing your baby after vaccination!
On 21 April 2012 NaturalNews brings information with regards to soothing your baby after they receive immunizations! Do you as a parent really think that wrapping your baby up warmly, rocking them or trying to pacify them will overcome the harmful effects of vaccination?
Read this article with regards to some of the potentials that can cause permanent nerve damage.
Pacifying your baby

Shame on Australian doctors!!!
Again on 21 April 2012 NaturalNews brings information that Ausralian doctors are still using a banned vaccine on children two years after it has been banned for use in children under the age of five!
Banned vaccine still being used by doctors in Australia

Bill Gates Oral Polio Vaccine Cripples 47,500 Children
Watch the YouTube and then read the article!
Is your child allergic to eggs?
What about dogs?
Immunizations page brings you new information dated 25 May 2012 where they may be slipping in a new vaccine using dog's kidneys!
Dog's kidneys 11 May 2012 the following information was received:
"Reports are indicating a bird flu strain has been engineered.
The cat is out of the bag on bird flu—a strain has been laboratory engineered, and the U.S. government did everything it could to keep the lid on that research!"
Immunizations page believe that it is important that people read and understand this article and do their own research with regards to chemtrails. The more information that people become aware of with regards to chemtrails, the more that people will speak out. When the volume is loud enough the authorities that are authorising these diabolical air sprayings will be forced to stop. Please click on the link and learn more about what is currently happening and perhaps you would like to click on the second link and learn how to try and protect yourself from these sprayings, additives contained in our food and so on. Click on the second link and in particular read about Thieves Essential Oil and ImmuPower. I personally use both of these on the soles of my feet each morning purely in a protective mode. Immunizations advise that if you would like more information there is a contact button on the second link or otherwise you can email me in the form below.
Bird flu engineered
Essential Oil Information

Absolutely incredible advice coming through to mothers to stop breast feeding your baby as it can affect the efficiency of the vaccine! Has the medical system gone mad? Am I mistaken – in my day we were encouraged to breast feed our babies to ensure that their immune systems received the best advantages! Now you are telling me that a vaccine with all those harmful additives does a better job than mother's breast milk! Come on!
Stop breast feeding your baby

Check on the menu bar on the left for information on
Gardasil vaccination
Swine Flu
H1N1
Vaccine Effects
Vaccination Information
Immunization – P1
Parents please do your own independent research first!
Immunizations page brings you a story from the Victorian Paper, Herald Sun, dated Tuesday February 7 2012 – page 19 – whereby we are told:
"Baby flu vaccines get thumbs up
FOUR flu vaccines have been approved for babies by Australia's medical watchdog.
The Therapeutic Goods Administration issued the new advice to parents and medical experts yesterday.
The TGA said the flu vaccines Aprippal, Fluarix, Influvac and Vaxigrip could now be given to babies from the age of six months.
But Fluvax, which is linked to frebrile convulsions is still only approved for children from five.
It also warned that febrile events had been observed in children aged five to nine after immunizations with Fluvax.
Therefore, in this age group, a decision to vaccinate with the 2012 Fluvax vaccine should be based on careful consideration of potential benefits and risks in the individual, a safety note said.
The TGA added two new vaccines to the list after the makers supplied more information."
The very fact that warnings are being issued in this article should raise alarm bells with parents. PLEASE DO YOUR RESEARCH BEFORE SUBJECTING YOUR CHILD TO ANY VACCINATION!
Recalls
Vaccines and Immunoglobulins
VacTruth tells us on 9 April 2012 that if you have the money you can buy a report by GBI Research which published this on 14 March 2012. Their report did an analysis of recalls on a year to year base for the years 2007 to 2010. Surely a document of this importance should be made freely available by Departments of Health so that every doctor, hospital, medical practitioner has access to this information!
Read the article
Recalls

Narcolepsy
Scientists are horrified at the massive increase!
Immunizations page brings you information from NaturalNews dated 29 March 2012 where it is reported that there is a 17-fold increase in narcolepsy from swine flu vaccines!
The article goes on to say:
"The long-term health damage caused by the great H1N1 swine flu scam "pandemic" of 2009 -- and particularly the mass vaccination campaign that accompanied it -- is already becoming apparent in the form of an autoimmune disorder. A new review published in the journal Public Library of Science ONE confirms that Pandemrix, a swine flu vaccine produced by drug giant GlaxoSmithKline (GSK), is responsible for causing an up to 1700 percent increase in narcolepsy among children and teenagers under 17 years of age."
Perhaps you should read this article before making a decision on any future "flu" scares. I believe we will soon see one with regards to the Avian Bird Flu and one wonders what the implications of this will be!
Narcolepsy massive increase

Single injection containing SEVEN vaccines
It is with incredibility that I show an article on immunizations page about a four month old infant receives a single injection containing:
DPat (3 vaccines diphtheria pertussis, tetnus)
HIB
Pneumococcal
Polio
Influenza< /li>
all on the insistence of the family pediatrician.
Is it any wonder that this baby first had a fever and then the parents noticed that the baby had ceased to coo and babble and was now silent? Read what they did to rescue their baby as it may just help you save yours if you have had them vaccinated.
Rescue remedy

Donald Trump speaking out on autism
Immunizations page brings information from NaturalNews dated 6 April 2012 with regards to Donald Trump speaking out on the association between vaccination and autism! The article goes on to say:
" Trump acknowledged that speaking out against vaccines and the vaccine schedule is very controversial. But then he went on to state: "...I couldn't care less. I've seen people where they have a perfectly healthy child, and they go for the vaccinations and a month later the child is no longer healthy."
Is this the voice that we have all been waiting to hear? A voice that carries a bit of weight and that maybe the establishment may actually sit up and listen to?
Donald Trump speaks out

Four questions to ask your doctor before vaccinating your child
On 2 April 2012 Prevent Disease published a paper on four questions to ask your doctor before vaccinating your child. If your doctor can't answer these questions then you should seriously reconsider taking their advice. Immunizations page finds this good advice and found that one of the questions relates to the article below this one.
Four questions to ask your doctor

Read with disbelief!

Immunizations page brings news dated 1 April 2012 with regards to mercury containing vaccines.
I believed and I would guess that many other parents also believed that thimoseral had been removed from most vaccines, particularly children's vaccines. BUT NO this is not the case. Here we have news of a court case and Judge Kavanaugh just simply ignored all the evidence placed in front of him stating that the Coalition for Mercury-Free Drugs (CMFD) did not have proper standing to file the lawsuit! Presumably what he meant was that they did not know what they were talking about! Read this amazing article and if you have the ability to find out how to contact Judge Kavanaugh I would suggest that you write to him particularly if you are a parent of a thimoseral damaged child.
Judge rules CMFD did not have proper standing

Whooping Cough Again!
When will they learn?
4 April 2012 NaturalNews brings information on a whooping cough outbreak and the fact that the highest number is amongst children ALREADY VACCINATED! What!
Now we hear from a Dr David Witt, who is an infectious disease specialist at the Kaiser Permanente Medical Centre in San Rafael, California:
" In early 2010, a spike in cases appeared at Kaiser Permanente in San Rafael, and it was soon determined to be an outbreak of whooping cough -- the largest seen in California in more than 50 years. Witt had expected to see the illnesses center around unvaccinated kids, knowing they are more vulnerable to the disease. "We started dissecting the data. What was very surprising was the majority of cases were in fully vaccinated children. That's what started catching our attention."
This same article also admits that these vaccines have never been tested for long-term effectiveness:
"GSK has never studied the duration of the vaccine's protection after the shot given to four- to six-year-olds, the spokesperson said. Dr. Joel Ward at the Los Angeles Biomedical Research Institute said it's still important for parents to get their kids immunized, even though it doesn't provide lasting protection from whooping cough."
Immunizations Page draws to your attention the article in the Sunday Telegraph dated 11 April 2010 on page 23 headlined "Jab lifts Swine Flu risk". This was the stark warning to Government from one of the nation's most respected experts on infectious diseases, Professor Peter Colignon.
Please take the time to read the whooping cough article.
Whooping cough outbreaks

Reason for vaccinating blown out of the water!
Immunizations page has information from NaturalNews dated 27 March 2012 that the reason given for proponents of vaccination are in fact not true. The article goes on to say:
"But the new research highlights the fact that innate immunity plays a significant role in fighting infections, and is perhaps more important than adaptive immunity at preventing or fighting infections. In tests, adaptive immune system antibodies were shown unable to fight infection by themselves, which in essence debunks the theory that vaccine-induced antibodies serve any legitimate function in preventing or fighting off infection."
So how will they justify the continuation of this propaganda now>
Innate Immunity

Unlocking Jake
The Story of a Rabies Vaccine, Autism and Recovery
Immunizations page is pleased to bring you the story behind this book. It is a moving story and one that should be read by every parent before a decision to vaccinate is made! Please take the time to read and more importantly take the time to DO YOUR OWN RESEARCH and not just take your doctor's word or advice.
Unlocking Jake

World's First
United Methodist Church passed the first global resolution
Protecting children from mercury containing drugs!
Whoo Hoo!!! Someone at long last standing up for our children and everyone else for that matter! Immunizations Page asks the following question:
How will the World Health Organisation (WHO) and vaccine manufacturers like Merck react to this global resolution? Will they actually do the right thing and help with the removal or will they put a spate of media misinformation out trying to negate what these people are trying to do? Time will tell.
A quote from this article released on 26 March 2012 and now included in Immunizations Page: " Recently a huge focus of scientific debate revolves around how aluminum is increasing thimerosal's toxicity. An essay is titled "Aluminum in vaccination-associated cognitive decline, motor neuron disease, autism" prompted an insightful comment from Boyd E. Haley, Ph.D., Professor Emeritus of chemistry, wherein he reported that vaccine-levels of aluminum exacerbate the pathologic potential of vaccinal thimerosal:
Dr. Haley explained, "Note that aluminum alone does not cause the abnormal biochemistry and production of neurofibillary tangles as does mercury (and only mercury) due to the specific interaction of mercury at specific sulfhydryl sites in specific enzymes/proteins known to be affected dramatically in Alzheimer's disease. However, in our studies on neurons in culture we found that aluminum at levels found in vaccines dramatically enhanced the toxicity of thimerosal and mercury cation thereby decreasing the level of mercury required to have the toxic effects." Importantly, some vaccines including many flu shots still contain thimerosal, and many contain one or another of the aluminum compounds used as adjuvants. Thus we repeat: aluminum at levels present in vaccines increases the toxicity of thimerosal, which is ~49.6% ethylmercury by weight. Thus when an infant, toddler, or pregnant woman is injected with a vaccine or a combination of vaccines containing aluminum compounds and thimerosal, the likelihood of adverse effects is increased."
Read the full article and see what you can do to assist this association in its endeavours on our behalf.
Global Resolution

Victory for Professor Walker-Smith
Finally has his name cleared! When will it happen for Andrew Wakefield?
Autism
VacTruth brings us information dated 13th March which shows evidence of a vaccine autism causal relationship. This document comes hard on the heels of the exoneration of Professor Walker Smith.
Evidence of vaccine autism causal relationships

Is your child autistic?
Please watch the YouTube below. Although it is speaking about mercury in dental amalgam fillings please remember that it is also contained in vaccines and in artificially fluoridated water.
Article in the British Medical Journal
VacTruth on 29 February is asking why so many members of the public are kept "in the dark" by the medical fraternity. Interesting information contained and some good questions asked.
Why are we kept in the dark

How low do the authorities have to go?
What DNA would you like to be placed into your body?
Listen to Dr Sherry Tenpenny enlighten you in this regard!
Is your child falling behind at school?
Does your child have narcolepsy?
Immunizations page brings you information from Dr Mercola dated 28 February 2012 which may help to give you an understanding for the reasons behind these questions. His story at a glance is:
A recent study on the effectiveness of the 2009-2010 season's H1N1 vaccine provides solid evidence against the effectiveness of vaccinating people, who have underlying health conditions, against the flu because it was found to offer non-significant protection against influenza-related hospital admissions
The fast-tracked pandemic 2009-2010 H1N1 swine flu vaccine used in Europe turned out to be particularly reactive, causing many cases of narcolepsy across Europe. Now, parents, whose children developed narcolepsy following their swine flu vaccination, report their children are beginning to fall behind at school
According to new research published in JAMA, the more children are exposed to per fluorinated compounds (PFCs), the less likely they are to have a good immune response to vaccinations. The finding suggests that these chemicals can affect children's immune system enough to make them more vulnerable to infectious diseases.
Read the full article to learn more
Falling behind at school


Dtap Vaccine and related seizures

Immunizations page brings you information dated 26 February 2012 on a study conducted on the combination tetanus, whooping cough vaccine being linked to seizures in babies.

The study has found that your child may be at an increased risk of having a vaccine induced seizure. This study has been published in the Journal of the Medical Association. and has identified a clear link between the vaccine and the onset of fever-related seizures.
Seizures in babies


Supreme Court Victory
Australian Vaccination Network (AV)

The AVN is a charitable organization bringing immunizations information to people without the bias of pharmaceutical companies. This organization's goal is to help educate people with regards to vaccinations. This organization has been under attack for some time because it flies in the face of the information that the pharmaceutical companies would have you believe.

The Health Care Complaints Commission (HCCC) had ruled that they were to have on their website "should not be read as medical advice" and the Supreme Court ruled on 17 February 2012 that it had no jurisdiction to do this. Read the article.
Victory for AVN


Just when you think you have read it all!
Something else pops out of the woodwork!

Immunizations page brings you information dated 24 February 2012 where they appear now to have a vaccine aimed at wild horse contraception. This vaccine has been formulated from original research used to vaccinate humans. What will be the ramifications of this type of vaccine and will it be "provided" by nano particles and what would be the repercussions if the nano particles fall on humans or other species?
Population control for wild horses


The Varied Types of Vaccines

VacTruth published an article on 16 February 2012 regarding varied types of vaccines. The type of vaccine refers to how a vaccine infects cells and the immune system responds to it.

It is a very interesting read and perhaps gives parents more of an understanding of what is occurring with the different forms of immunizations being used. According to VacTruth parents may know more about vaccines than their doctor when they have read this article and they are suggesting that you print a copy off and give to them!
Varied types


Vitamin C before and after administration of immunizations may help with adverse side effects

On 14 February 2012 there was an article from Orthomolecular Medicine with regards to using Vitamin C to help avoid or overcome any adverse reaction.
Vitamin C Before and After


SIDS (Cot Death)
Shaken Baby Syndrome
Abusive Parents!

This article received from VacTruth and written by Christine England dated 14 February 2012 is an extremely important article. Parents owe a lot to Christine for the painstaking research she is doing in uncovering the truth on the cover-ups, the outright lies, the "specialist witnesses" that have put parents in goal, caused parents to have their children removed from them and so it goes on.

Personally, I worked with a lady in 1980 who had MS. Dot told me that the only thing that the group of people she was associated with who had MS had in common was that they had all received an adverse reaction to the measles vaccination. Christine's article throws light on this.

Please take the time to read this very important immunizations information.
Cover-ups and injuries


Giving parents an understanding of what is contained in vaccines

Immunizations Page believes that this next article is of extreme importance in allowing parents to understand what is being given to their children in vaccines and what the consequences may be. It is such an important article that I will be leaving it in front of the bookmark so that it does not get buried down the page.

For the sake of your children, yourself and even your elderly parents please take the time to read this article. Then click on the YouTube below and listen to the one of the world's well-known philanthropists, Bill Gates, tell you that hopefully vaccinations will help to reduce the world population by 10 to 15 percent! So do you really think that immunizations are being put in place to ensure healthy lives? I don't think so! After you have watched the YouTube then click on the link and read how Microsoft has joined with pharmaceutical giant Merck.
Contents of vaccines and what they can do






Merck and Microsoft
All we need is Monsanto to join the equation!

Of course it is not necessary for Monsanto to join the equation as Bill Gates of Microsoft fame has a large investment in Monsanto as well! You know if you can't do it through vaccinations then you can certainly have a good go through genetically modified foods. Check out the 2nd and 3rd links to read more on this.
Merck and Microsoft
Monsanto Webpage
Gentically Modified Foods

It would be appreciated if you could pass the Immunizations Website information onto your friends and family in an endeavour to let more people have information that will help them to make informed decisions. Thank you.