Vaccine Side Effects – Children paralyzed – aluminum retained
Marilyn Vine has been following the vaccination and vaccine side effects saga for a great many years.  I hope that the information contained in Healthymoneyvine on this topic will enable more families to make better informed choices.   No one wants their child or even an elderly adult to have vaccine effects.
Currently the following pages are on this website covering this topic.
Please click this link to read about doctors who have researched and found adverse events being murdered and gone missing.  


This is a really good question
Health Impact News dated 8 December 2019 published this vaccine side effects article and asks the question
Did a Military Experimental Vaccine in 1918 Kill 50-100 Million People Blamed as "Spanish Flu"?
Here is the summary from the article and I suggest you read it and think about it and then draw your own conclusion.
The reason modern technology has not been able to pinpoint the killer influenza strain from this pandemic is because influenza was not the killer.

More soldiers died during WWI from disease than from bullets.

The pandemic was not flu. An estimated 95% (or higher) of the deaths were caused by bacterial pneumonia, not influenza/a virus.

The pandemic was not Spanish. The first cases of bacterial pneumonia in 1918 trace back to a military base in Fort Riley, Kansas.

From January 21 – June 4, 1918, an experimental bacterial meningitis vaccine cultured in horses by the Rockefeller Institute for Medical Research in New York was injected into soldiers at Fort Riley.

During the remainder of 1918 as those soldiers – often living and traveling under poor sanitary conditions – were sent to Europe to fight, they spread bacteria at every stop between Kansas and the frontline trenches in France.

One study describes soldiers "with active infections (who) were

aerosolizing the bacteria

that colonized their noses and throats, while others—often, in the same "breathing spaces"—were profoundly susceptible to invasion of and rapid spread through their lungs by their own or others' colonizing bacteria." (1)

The "Spanish Flu" attacked healthy people in their prime.  Bacterial pneumonia attacks people in their prime. Flu attacks the young, old and immunocompromised.

When WW1 ended on November 11, 1918, soldiers returned to their home countries and colonial outposts, spreading the killer bacterial pneumonia worldwide.

During WW1, the Rockefeller Institute also sent the antimeningococcic serum to England, France, Belgium, Italy and other countries, helping spread the epidemic worldwide.


2 infants die in Samoa after Vaccination with MMR
ABC News dated 10 July 2018 published this vaccine side effects article "Samoa recalls vaccines, orders full investigation after two baby deaths".
Samoa has issued an immediate recall of the vaccine for mumps, measles and rubella (MMR) following the deaths of two infants who reportedly passed away just hours after receiving their shots.
The two children, a boy and a girl, were both aged about 12 months. They were not related, came from different communities and were vaccinated on Friday using the same batch of the MMR vaccine.
NOW FAST FORWARD TO DECEMBER 2019
Childrens Health Defense tells us also in December 2019
As the Merck MMR whistle blower case proceeds toward a resolution that increasingly appears to spell doom for Merck's scandal ridden MMRII blockbuster, HHS officials are scrambling to get Glaxo's version of the MMR teed up to fill the coming vacuum.

Recap: Two senior Merck scientists, Stephen Krahling and Joan Wlochowski, filed their Federal whistleblower lawsuit in 2010 claiming Merck fraudulently added rabbit antibodies to human blood samples to gull FDA officials into believing the vaccine 95% effective and thereby win an MMR monopoly. When the scientists threatened to expose the fraud, Merck officials offered bribes, threatened them with prison and then destroyed the laboratory evidence in garbage bags.
So make sure you click the vaccine side effects link above and see what is unfolding.
Everyone should be asking the question:
The people who have died – were they vaccinated?   If so – when were they vaccinated?
6 December 2019 - Samoa arrests anti-vaxxer as immunisation drive continues
At least 140 new cases reported in the last 24 hours as death toll climbs to 63 while 20 children remain critically ill.
Samoa warned it will not tolerate anti-vaccine misinformation on Friday, after a prominent activist was arrested for opposing a mass immunisation drive launched to contain a deadly measles epidemic in the Pacific nation.
At least 63 people, most of them children, have died since the outbreak began in mid-October and the country on Friday entered a second day of lockdown as it administers compulsory vaccinations in a desperate bid to stop the virus.


Six month old dies after Vaccination
Medical Veritas dated 27 September 2019 published this vaccine side effects article "The Catie Clobes Story Drives Big Pharma's Hit-Squad Into Damage Control".    
Big Pharma's hit squad is in 'damage control' after a very brave young mother from Minnesota, Catie Clobes, who has been seeking justice after her 6-month-old daughter, Evee, passed away 36-hours after receiving six vaccines.
Catie is a true heroine, and now has a very large following of supporters after she's become a huge threat to Big Pharma's continuing agenda to depopulate by sterilization and death.
The main players in this Big Pharma protection-racket hit- squad, include Dr. Paul Offit, a sociopathic pediatrician, who is the modern day version of Josef Goebbels, or at least as heartless and insane as the Nazi propagandist. When anyone that questions his motives, or requests an interview with him from the opposing side, Offit gets volatile. Below is a video example.


Is this message highlighting what is happening in Australia
Published on February 1, 2019 by Revolution Television
This is a public service message regarding official opposition to "anti-vaxxers" courtesy of MedicalVeritas.org and its supporters, including Dr. Leonard G. Horowitz and Sherri Kane, producers of the award-winning film, UN-VAXXED: A Docu-commentary for Robert De Niro.
Please click this vaccine side effects link to listen to YouTube.  If you think this is too far fetched then I suggest you click this link and read the story behind chemtrails.

Premature baby flat-line at birth after being vaccinated
Now has autism


Vaccine side effects reports: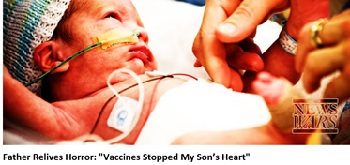 Further Information
Polio in India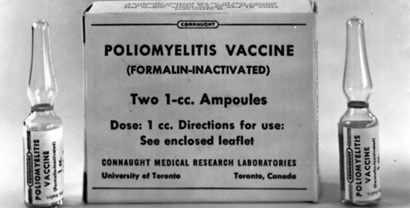 Activist Post dated 25 November 2018 published this vaccine side effects article "The Hidden History Of The Polio Vaccine And How It Impacts Today's Acute Flaccid Myelitis: An Interview With Walter Kyle, Esq., Former Vaccine Court Claimants' Attorney".
Catherine J Frompovich tells us that back on Aug. 4, 2012, I published an interview with retired Vaccine Court "Claimant" Attorney Walter Kyle titled "Exposing the FDA's Vaccine Injury Cover-up: An Interview With Walter Kyle, Esq.," then on Sept. 30, 2015, I wrote another article "Attorney Walter Kyle's Reaction to Suing the Feds and Big Pharma."  Attorney Kyle also was active in the Congressional hearings on the Salk vaccine in the 1990s.  [Kyle, W.S. 1992. Simian retroviruses, polio vaccine, and origin of AIDS. The Lancet 339: 600-601.]
However, and subsequently, many of my articles about vaccines and the 'militaristic' politics revolving around them, especially articles about 47,500 children in India who suffered "acute flaccid paralysis" after the Bill Gates & Melinda Gates Foundation oral polio vaccine campaign, cannot be found using normal Internet search engines like Google.  Google previously listed my Activist Post archives around 90,000; now Google has them sanitized down to 30,300 as of the writing of this article!  What does that tell you?
Marilyn Vine thanks Catherine for re-providing these important vaccine side effects links.
It is important that you read the rest of this article.   Throughout this website on the vaccine and immunization pages I have covered the horrific paralysis experienced by children.


Polio in India
GreenMedia on 14th September 2018 published this vaccine side effects article "491,000 Children Paralyzed Over 17 Years, Indian Polio Vaccine Program Study Suggests".  Here is an excerpt:
The WHO declared India "polio free" in May 2014, so why are close to half a million young Indians experiencing polio-like paralysis?
A new study titled Correlation between Non-Polio Acute Flaccid Paralysis Rates with Pulse Polio Frequency in India has recently been published in the Journal of Environmental Research and Public Health. Using data obtained from the National Polio Surveillance Programme (NPSP) as reported by the Government of India, the findings corroborate well over a decade of research showing a strong link between rates of non-polio acute flaccid paralysis (NPAFP) and India's oral polio vaccine (OPV) campaign. The incidence of polio acute flaccid paralysis (AFP) in India has decreased. However, the NPAFP rate has increased since 2000.
In 2005 there was a sharp increase, more than doubling, in India's national NPAFP rate which coincided with the introduction of a high-potency monovalent vaccine. The new vaccine contained five times the number of Type 1 viruses compared to the previously used one. Pulse polio immunization refers to periodically vaccinating all children under the age of five years against the polio virus. The study's authors previously showed in 2012 that the subsequent 'pulses' sharply increased the rate of NPAFP when more than six rounds of pulse polio are used in the year.
In the recent study, NPAFP rates in Indian states from 2000 to 2017 were examined and again found a high correlation between the number of pulse polio rounds conducted and the NPAFP rate in the state. The researchers state:
"For each round of pulse polio there was an increase of 1.4 cases of NPAFP per under-15 population of 100,000. The highest NPAFP rates were seen in Uttar Pradesh and Bihar, where there was an increase of 2.7 cases of NPAFP per under-15 population of 100,000 for each round of pulse polio."
In the photograph above, taken on Jan. 10th, 2010, you will observe the 14th Dalai Lama, Tenzin Gyatso, administering bivalent oral polio vaccine (bOPV) to an infant at the Mahabodhi Temple Complex in the Indian state of Bihar, Buddhism's holiest site – the very place where Guatama Buddha is believed to have attained enlightenment approximately 2500 years earlier.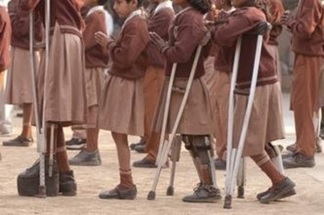 Even more disturbing is the finding that as many as 47,500 cases of polio-vaccine associated paralysis may have occurred in Indian infants and children in 2011 alone, following the launch of the "new and improved" vaccine. Adding insult to injury, the Global Polio Eradication Initiative claimed that polio was all but eradicated that year and that vaccine-induced cases of polio are exceedingly rare, if not altogether unworthy of mention.
Please read this most disturbing vaccine side effects article to learn more.


CDC says "be happy"
World Mercury Project Team published this vaccine side effects article "One in Nine Adverse Events Reported After DTaP Vaccination is Serious—But CDC Says, "Don't Worry, Be Happy".  The article goes on to say:
"There are published safety concerns about the DTP vaccine dating back to the 1930s and widespread reports of neurological damage emanating from both the United States and other countries, but it wasn't until 1991 that the Centers for Disease Control and Prevention (CDC) advised a phase-out of the original vaccine and began to promote a different version called DTaP (diphtheria, tetanus and acellular pertussis).

 
Since then, the DTaP vaccine has been plagued by problems of low effectiveness, but on the safety front, authorities regularly praise it as a safer alternative than its predecessor. Is this reputation for safety well deserved? CDC researchers writing in June 2018 in Pediatrics seem to think so—but a closer reading of their findings suggests otherwise."




Immunity and vaccine scandals reveals
Activist Posted dated 25 July 2018 published this vaccine side effects article "More Foreign Vaccine Scandals".  This post covers many stories that we should all be aware of.   Make sure you click the link "Lawsuit exposes vaccine immunity fraud by HHS" and learn how HHS were supposed to be protecting you for decades has not been doing their job.   Other foreign vaccine makers seem to have been caught in vaccine scandals.
Thailand
According to the Bangkok Post back in March of 2018, that scandal was reported in the article "Rabies vaccine scandal bites department boss."
The Agriculture and Cooperatives Ministry in Thailand set up an investigation into the alleged rabies vaccines being substandard, and they were purchased for 25 years!
Bangkok governor Aswin Kwanmuang "assured that the BMA's rabies vaccines are standard and are procured from a supplier certified by the Food and Drug Administration."  How naïve to rely upon the Food and Drug Administration's recommendations, especially if they come from the USA FDA!
China
In late May of 2010, a human rabies vaccine maker, Wuhan Institute of Biological Products in central China, voluntarily recalled its vaccine.  The batch number was 200905007-3, and involved 10,902 doses, of which 8,376 had been used.  That vaccine was found to contain an excessive amount of the bacteria endotoxin, which causes fever.
Furthermore, there were allegations of corruption being involved.
Source: Thu, May 27, 2010. China Daily/Asia News Network
To read all the scandals revealed in this vaccine side effects article click this link and don't forget Catherine's previous article "China's Serious & Breaking Vaccine Scandal: Are Your Vaccines Made In China?" to illustrate no matter where vaccines are made, safety and informed consent always must be major concerns.


WHO proposed legislation on Vaccine Adverse Events
Many people around the world believe that the World Health Organization is there to protect the peoples of the world – no matter where they live.   I have found over the years that they have demonstrated on many occasions that this is not the case.    Here is another example of them not acting in the best interests of our children.   Marilyn Vine urges you to read this vaccine side effects document in full and perhaps you would take the time to contact your Member of Parliament protesting at the action that is being suggested or you may even feel compelled to start a petition urging the WHO to rethink their actions.
Activist Post dated 7 July 2018 published this vaccine side effects article "World Health Organization Needs Its Head Examined Regarding Vaccine Adverse Events."  Here is a very small excerpt from this article:
"The above WHO proposal is so outlandishly ridiculous that one has to wonder what the heck the WHO medical advisers are thinking.  Are they influenced by Big Pharma's and vaccine makers' consensus science?
Two leading pediatricians in India have taken on the WHO's new guidelines."


Confidence waning in vaccination
Listen to Barbara Loe Fisher on vaccine side effects



Shingles and CDC Chicanery
World Mercury Project dated 9 May 2018 published this vaccine side effect article "The Varicella Vaccine, Skyrocketing Shingles and CDC Chicanery."  Here is an excerpt from this article and Marilyn suggests that you read the full article to totally understand the fraud that once again is being perpetrated.
""Collusion" is the word du jour, and the practice's very characteristics—deception, fraud, misrepresentation and secrecy—often prevent collusive acts from coming to light. In the scientific research community, would-be deceivers draw on a variety of tricks to slant their message, including manipulating data, employing other questionable research practices, not disclosing conflicts of interest, harassing whistleblowers and engaging in outright censorship."


SIDS (sudden infant death syndrome)
NaturalHealth 365 dated 24 February 2018 published this vaccine side effects article "The connection between sudden infant death, vaccines and vitamin C."   The article goes on to say:
"Sudden infant death syndrome (SIDS) is defined as the 'unexplained death' – usually during sleep – of an infant under a year old. And, although (conventionally speaking) many experts say the cause is 'a combination of physical and sleep environmental factors,' others blame this tragic event on the toxicity of vaccines.
The peak age for SIDS occurs at a time when infants are undergoing many vaccinations, giving rise to concerns that vaccines and SIDS may be linked. Of course – citing many studies – government health agencies deny this connection. But, there are still heartbreaking accounts that exist of SIDS occurring within hours or days of a vaccination.
As the controversy continues: cardiologist Thomas Levy, MD, JD points to vitamin C as a natural intervention that could potentially protect our children from a vaccine injury or premature death."

Dengue Fever Vaccine recalled


Activist Post dated 5 February 2018 published this vaccine side effects article "Dengue Vaccine Pulled After It May Be Connected To The Deaths Of 14 Children".  An except from the article:
"The Philippine Health Ministry halted Dengvaxia immunizations in November after it formed a 10-member panel of experts to determine if the immunization by the drug was directly connected to the deaths of 14 children after they were given the vaccine."
THIS IS REALLY SCARY!!!!
PLEASE READ

CDC Doctor says
Flu vaccine killing people!
WUC News dated 17 January 2018 has published this vaccine side effects article "CDC Doctor: 'Disastrous' Flu Shot Is Causing Deadly Flu Outbreak ."  I am sorry but this link has been removed probably for very obvious readings when you read the doctor's comments below.   Also contained in the article was the fact that 9 people had died and of these 9 people EIGHT OF THEM HAD BEEN VACCINATED.  Here is an excerpt from this article:
CDC doctor has warned this year's "disastrous" flu shot may be responsible for the deadly flu epidemic sweeping the country.

"Some of the patients I've administered the flu shot to this year have died," the doctor said, adding "I don't care who you are, this scares the crap out of me."
"We have seen people dying across the country of the flu, and one thing nearly all of them have in common is they got the flu shot."

Scientists were worried this year's flu season was going to be rough and their fears have been proven well founded. The flu season is off to a record-breaking start, with the CDC reporting widespread flu activity from coast to coast. Many health officials believe that 2018 will ultimately be the worst flu outbreak that we have experienced since 1918."


Flu shot – blindness and multiple sclerosis
NaturalNews dated 15 January 2018 brings this horrific vaccine side effects article "Mother claims: Flu shot caused blindness and multiple sclerosis after being forced to vaccinate by her boss."  The article goes on to say:
"A 34-year-old mother of two was rendered blind in one eye for 10 months and diagnosed with a case of multiple sclerosis following a flu shot vaccination. Jennifer Whitney was forced by her employer to get the shot, then fired for missing work after her health complications arose.
Jennifer Whitney of Mukilteo, Washington is suffering from horrible flu vaccine side effects following the flu vaccination. In addition to MS and blindness, she has also experienced hair loss, the eruption of blisters all over her body and other unpleasant symptoms."
Please click the link and read the article to learn more.


US Government Agency admits poisoning by vaccines!
Activist Post dated 21 December 2017 published this vaccine side effects article "Government Agencies ACTUALLY Admit Poisoning By Vaccines In ICD-9".   For those of you who don't know, like myself, what ICD-9 is then make sure that you click this link to learn more.   You will be amazed at just how many vaccines are listed as poisoning.


Danish study finds DTP vaccine weakens the immune system and increases the risk of infections
NaturalNews 365 dated 14 November 2017 published this article "DTP vaccine weakens the immune system and increases the risk of infections".   An excerpt from the article:
"The study was conducted by the Statens Serum Institute (SSI) and funded in part by the Danish government. SSI is one of the principal vaccine manufacturers in Denmark, and Aaby is a highly respected PRO-vaccine scientist.
In the face of a pattern of stonewalling and denial by pharmaceutical companies and health organizations, this strong statement against vaccination and vaccine side effects is refreshing. The results were published in the January 2017 issue of EBioMedicine.
Researchers have theories about why the DTP vaccine is so harmful to infant health. They believe that while the diphtheria, pertussis, and tetanus vaccine may protect against infections related to these illnesses, it also weakens the immune system significantly while doing damage to overall health. This in turn makes children more vulnerable to illness and mortality from other types of infections."

GSK's narcolepsy-inducing Pandemrix
GreenMedia dated 19 October 2017 reports on another child injured.  Click this link to read about it.

Dr Marc Sircus on Prevention and Treatment of Vaccine Damage
GreenMedia dated 18 April 2013 states that:
"Cruelty toward babies starts at birth. It really starts before birth but that is another tale. Many parents have heard horror stories, and have serious doubts about vaccinating. Even that first injection of vitamin K is not without risk and danger. This article is for parents in the situation where they are forced into a corner for one of many reasons and feel like they have to vaccinate their children."    
Click this link to read the full vaccine side effect article.

212% increase in infant mortality rate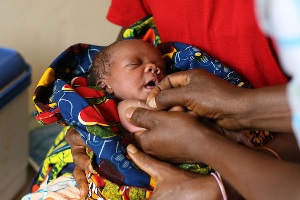 The article goes on to say:
"A study from West Africa's Guinea-Bissau discovered that all-cause infant mortality more than doubled after the introduction of the DTP vaccination."
Click here to read the full article.

SIDS
GreenMedia dated 23 January 2015 provides information on SIDS.  Click this link to read the article.

Aluminum in vaccines   
How it is affecting your health
Dr Mercola in a newsletter dated 3 April 2016 entitled "How Aluminum in Vaccines Affects Your Health".  His story at a glance states the following.  Suzanne's video is extremely important news for us to understand the insertion of aluminum into dead and live vaccines.   She believes that the most harmful ingredient in any vaccine is the aluminum.
Aluminum-containing vaccines can pose a very significant health risk — especially to infants. It's a known neurotoxin shown to play a significant role in neurological diseases

Animal research shows almost all of the aluminum is retained 28 days after intramuscular injection. Studies on adults show aluminum is still present three years after intravenous administration

Once the aluminum is injected, it's gobbled up by immune cells (macrophages), which act like Trojan horses, allowing the aluminum entry into your brain by carrying it through the blood brain barrier
Please listen to Dr Suzanne Humphries speaking on aluminum in vaccines in both live and dead vaccines and what effect it has.  The video is called Trojan Horses and Clusterboms:  Dr Suzanne Humphries.
Dr Humphries advises that the Oxford study proving that aluminum leaves the body is not correct and the rabbit studies undertaken shows that after death at 28 days the aluminum was found in the following organs.
The video being shown on vaccine side effects is a very powerful video in enabling us to understand what happens with the aluminum.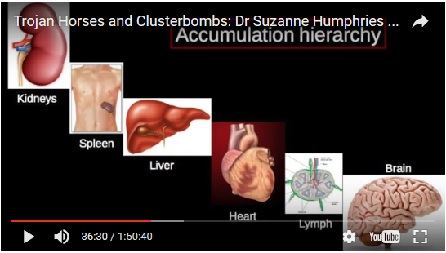 Vaccinated animals and the repercussions
A MUST READ FOR ANIMAL LOVERS
Vaccine side effects with regards to animals:

FDA reviewed the information requirements of the Animal Drug Regulations and determined that specification of ingredients other than 'active' ingredients is not needed. Under the Federal Food, Drug, and Cosmetic Act and under Authority delegated to the Commissioner of Food and Drugs and re-delegated to the Centre for Veterinary Medicine, 21 CFR part 522 is amended as follows: PART 522—IMPLANTATION OR INJECTABLE DOSAGE FORM NEW ANIMAL DRUGS 1. § 522.2100 [Amended]. Section 522.2100 Selenium, vitamin E injection is amended in paragraph (a)(1) by removing, ''250 milligrams polyoxyethylated vegetable oil, and 2.0 percent benzyl alcohol, and water for injection''; in paragraph (b)(1) by removing, ''100 milligrams of polyoxyethylated vegetable oil, 1:10,000 thimerosal, and water for injection''; and in paragraphs (c)(1), (d)(1), and (e)(1) by removing, ''250 milligrams polysorbate 80, 2 percent benzyl alcohol, water for injection q.s."   Dated: May 11, 1999.
Now click this link to read what happens to some of the animals and also that it can affect humans in the same way.

Repercussions of a flu shot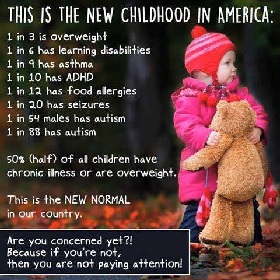 Country who has highest rate of vaccination
Also has the highest infant mortality rate
Why?




Toxic science of flu vaccines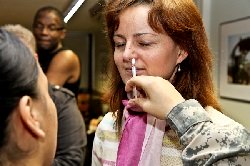 Vaccine Side Effects:   GreenMedia dated 2 November 2016 has published a very good article by Gary Null, PhD and Richard Gale entitled "The Toxic Science of Flu Vaccines"   This is an extremely informative article and should be read by everyone considering getting a flu vaccination.    It also contains a warning for those not intending to be vaccinated to stay away from people who have been vaccinated as their immunization could also contaminate you.   Please take the time to click the link above and read the information provided which has come from many sources.

Polio

Green Media on 16 October 2016 have produced an article "The Failure of Global Polio Eradication"   The article goes on to say:
"Everything you have ever been told about the power of polio vaccines to eradicate polio worldwide could be dead wrong..."
Click this link to read the vaccine side effects article.

China – America – and how many other countries?

NaturalNews dated 23 August 2016 provides an article:
"Behind the massive vaccine scandal in China: Don't think America is safe."
Please click the link and read the full story to understand how World Governments protect the safety of the people with the methodologies that they allow to happen and then do nothing to rectify the situations.

Vaccine Side Effects wonders how many people in both China and America have been affected?

My own story

My daughter was 11 in 1979 and even then I was reluctant to allow her to have the Measles inoculation.  I gave it a lot of thought and studied her quite intensely with regard to her health and decided that she was a strong, active and healthy girl and that she did not need this inoculation.   I met a lady in the 80s with Multiple Sclerosis. The group of MS people that she was associated with only had one thing in common and that was vaccine side effect2 to the measles inoculation.
You may not be aware but most of the immunizations contain mercury.  Yes mercury!  This form of mercury is called thimoseral or thiomersal and it is used as a preservative in their production.  My understanding is that thimoseral is fifty percent more powerful than mercury!
In today's world when vaccinations are so prevalent it is very difficult not to succumb to pressure to vaccinate. People regard you as a bit of a "nut" as vaccination is so readily accepted by so many people who do not read, or learn the implications of vaccine side effects or what they are doing to themselves or their families.  Despite what people think I am glad that I have done the research and maintained my position.  It takes determination to hang on to your ideals/principles in relation to vaccination and also fluoridation when the proponents of both of these causes are so prolific and outspoken.  When you are anti anything, at times you feel like a lone voice in a large sea but I know the huge amount of information that I receive in relation to vaccine side effects that I am right in the stance I have taken.    The information on vaccine side effects shown in this Healthymoneyvine website are only the tip of the iceberg in relation to information I have received and read.  Many other sites would have much more information on vaccine effects than mine.

Shingles


GreenMedia in an article dated 28 June 2013 advises of vaccine side effects:
"A new systematic review published in PLoS titled, "Herpes Zoster Risk Reduction through Exposure to Chickenpox Patients: A Systematic Multidiscplinary Review," confirms that the widespread adoption of chickenpox vaccine over the past 30 years, which has resulted in a decline in chickenpox cases associated with infection from the wild-circulating virus, has lead to a concerning increase in the incidents of herpes zoster (shingles), a far more serious expression of chickenpox virus (varicella zoster) infection.
This new review brings to the forefront a few critically important questions: are natural infectious challenges essential for establishing a healthy immune system, and is the chicken pox vaccine doing more harm than good?"

CDC fraudulent cover-up of link between vaccines and autism

Vaccine Side Effect whistleblower CDC employee, Dr William Thompson, reveals that documentation to a study that was undertaken was deliberately destroyed to conceal the truth.   NaturalNews has provided information on this in an article released 30 July 2015 where Dr Thompson says:
"All the authors and I met and decided sometime between August and September 2002, not to report any race effects from the paper. Sometime soon after the meeting, we decided to exclude reporting any race effects. The co-authors scheduled a meeting to destroy documents related to the study.

The remaining four co-authors all met and brought a big garbage can into the meeting room, and reviewed and went through all the hardcopy documents that we had thought we should discard, and put them into a huge garbage can.

However, because I assumed it was illegal and would violate both FOIA and DOJ requests, I kept hardcopies of all documents in my office, and I retain all associated computer files. I believe we intentionally withheld controversial findings from the final draft of the Pediatrics paper."
Click here to read the article.

Other Information

I read with interest the works of Phillip Day, a Medical Investigative Journalist who has written many books covering many health issues and vaccine side effects.  You can find more information out about Phillip's work by clicking the link above.
I have a new page Vaccine Information, which is covering a rather interesting article on vaccination.  All the pages on vaccination cover vaccine side effects.   Please click on the link to see the stories contained there and click this link for another page.

Is the flu vaccine advisable for everyone?

Listen to Dr. Isaac Eliaz speak on flu vaccination where he says it can be good, but for the wrong populations harmful. Find out why this is a potential problem and what he suggests instead of the flu shot. Dr. Eliaz's advice about flu shots will likely surprise you and make you think differently about getting that shot again!

Brain damage after 8 vaccines administered at 6 months-of-age


NaturalNews dated 25 April 2016 brings the traumatic story of parents being blamed for the harm to their daughter;  being coerced into more vaccinations and being lied to by the doctor over what they would administer.   Click this link and read the story.
Down towards the bottom of this Vaccine Side Effects page you will find information on "The Chip is in the Tip".   This was information that came to hand sometime ago with regard to a microchip being placed in the tip of the flu vaccine needles.    I wonder whether the people were told that they were being chipped?
Now we have a law suit being brought against Merck & Co. and implant maker Digital Angel over a cancerous tumor that formed around a HomeAgain pet ID microchip.  I thought perhaps you would be interested in what happened here and it does make me wonder if some of the people who were chipped have not experienced the same vaccine side effect reaction.  



Bill Gates
This is a most incredible YouTube!    Here we have Bill Gates of Microsoft fame telling us without any hesitation admitting that vaccines will lower the world's population between 10 and 15 percent!
How can anyone stand up there and blatantly say that I am donating money to further vaccinate people around the world and know full well that this very same vaccine could actually kill them!   Knowing full well vaccine side effects - how does he sleep of a night?



Indian Man loses 9-month-old twin daughters



15 minutes after inoculated for measles!
Vaccine Side Effects brings this absolutely shocking story and if the truth be known – not an unique one!
Please read the report that Dr Mercola has put together.  
I closely follow Dr Mercola and his newsletters in relation to this subject and many other subjects.  I find Dr Mercola's newsletters extremely interesting.  He covers so many topics and I also have pages covering some of them:
 Fluoride – several pages on fluoride on this website

New research into related diseases

Adverse reactions to pharmaceutical drugs and at times their withdrawals from the market place

and of course, vaccination.
If you would like to contact me in relation to vaccine side effects please feel free to use the email form below.

CDC immunizations
I understand the US Military have changed from using Dryvax to Milvax when vaccinating their personnel, but have not been able to find the reason for this.  For some reason when I did a google search on Milvax I found many sites, for example www.vaccines.army/mil and www.vaccines.mil/  and there were several pages with similar names but none of them would open. 
However, I did find some information on another website.
"When it comes to protecting the troops against bioweapons like anthrax and smallpox, no amount of germ-resistant clothing or chem-bio shelters can match the effectiveness of another defense mechanism—vaccination. Since 1998 more than 1.5 million DoD personnel have received the anthrax immunization, and in the past four years more than 1.1 million personnel have had smallpox vaccinations.  Click on the link below for more information:"

CDC is Under Attack for "Losing" Negative Data 
The Centers for Disease Control and Prevention (CDC) is coming under a microscope for its inept handling of vaccination data that likely showed a link between mercury in inoculation and autism. The CDC insists publicly that there is no link between mercury in inoculations and autism, based on several studies with numerous flaws in design. It appears the CDC has tampered with data to slant results to its favour – a common trick of Big Pharma when trying to hide poor results and cover its rear end.



Sad tale of a young marine
Vaccine Side Effects brings the story of a healthy young 20 year old man who just wanted to be a Marine!   Listen to the YouTube and hear his story.   To read more about this article please click on this link.

Inoculation Blamed for the Worst Flu Season in Four Years
More news from Vaccine Side Effects Page.


The current flu (2008) season is shaping up to be the worst in four years, partly because the inoculation didn't work well against the viruses that made most people sick.  The 2007-2008 season started slowly, peaked in mid-February, and now seems to be declining. Based on adult deaths from flu and pneumonia, this season is the worst since 2003-2004.  Click on the link for further information. 

Autism
Mitochondrial Dysfunction Are 1 in 50 Children at Risk?
Mitochondria, the powerhouses that fuel your body's cells, have been implicated in at least one case of regressive autism. Some researchers estimate that the number of people suffering from the mitochondrial dysfunction, which may lead to autism, is much more common than the current estimate of 1 in 4,000 people. In fact, it could be as low as 1 in 50.  If so, the potential implications for autism are staggering.  Could this be more vaccine side effects?
Autism Question Divides Parents, Scientists  
13-year old Michelle Cedillo is at the center of a court case pitting thousands of families of children with autism against the medical establishment. While a number of prestigious medical institutions say there is no link between innoculation and autism, the families believe innoculations caused their children's autism, and have taken their case to court.  Theresa and Mike Cedillo, Michelle's parents, believe the MMR vaccination, which at the time contained a mercury-based preservative, drastically altered the course of their daughter's development. Within days of receiving the injection, Michelle suffered from a high fever, persistent vomiting and problems with her digestion -- and also stopped speaking and no longer responded to her name.
If Vaccine Side Effects have caused this then it is very sad.


Tamiflu's Effects on your Brain
The FDA has been reviewing reports of abnormal behaviour and other brain effects in more than 1,800 children who had taken the flu medicine Tamiflu.  The symptoms have included convulsions, delirium or delusions, and in Japan, five deaths have been reported in children under 16 as a result of neurological or psychiatric problems. Four were fatal falls, and one was a brain infection in a patient with leukemia.   There have also been nine deaths among older teens and adults, attributed to neuropsychiatric problems or brain infections.   Vaccine Side Effects page provides more information by clicking this link.  Click on this link for further information 

Government Concludes
Vaccines Caused Autism
National Autism Association, 28 February 2008 - Published in The Earth Times
NIXA, Mo., Feb. 28 /PRNewswire-USNewswire/ -- It was announced that the U.S. Court of Federal Claims and the National Vaccine Injury Compensation Program ruled in favour of a child who regressed into autism as a result of vaccinations, several of which contained the mercury-based preservative thimerosal.
Case documents state that the vaccines administered to the claimant significantly aggravated an underlying condition that ultimately led to regressive encephalopathy and symptoms of autism.  According to official court documents, the child was developing normally until given the vaccines, and shortly after the shots, regressed into full autism. The child was diagnosed by nationally recognized autism medical specialists.
For more than a decade, thousands of parents have come forward with reports of sharp regression in their children following immunizations. The cases of autism have dramatically spiked in the past 15 years to as many as 1 in 150 children, making it the leading childhood developmental disorder today.
The National Autism Association (NAA) sees the ruling as confirmation of what so many parents have been saying for years. "This case echoes the stories of thousands of children across the country. With almost 5,000 similar cases pending in vaccine court, we are confident that this is just the first of many that will confirm what we have believed for so long, vaccines can and do cause children to regress into autism," says Wendy Fournier, parent and president of NAA. "We call on the Centers for Disease Control (CDC) to acknowledge that the current vaccine schedule is not safe for every child and as with the administration of any medicine, individual risks and susceptibilities must be considered for each patient."
While thimerosal has been phased out of many paediatric vaccines, it is still used in flu shots recommended for pregnant women and children. At a meeting of the Advisory Committee for Immunization Practices held yesterday at the CDC, the committee voted to recommend annual flu shots for all children up to the age of 18, and to date has refused to state a preference for mercury-free vaccines.
To learn more about autism, please visit  http://www.nationalautism.org/. Contacts: Wendy Fournier (Portsmouth, RI) 401-835-5828 Rita Shreffler (Nixa, MO) 401-632-6452  National Autism Association

Vaccine Companies Investigated for Manslaughter
A formal investigation has been launched by French authorities against two managers from drug companies GlaxoSmithKline and Sanofi Pasteur. A second investigation for manslaughter has also been opened against Sanofi Pasteur MSD. 

Vaccine Side Effects
How Vaccines Can Damage your Brain
Vaccines, Depression and Neurodegeneration After Age 50: Another Reason to Avoid the Recommended Vaccines.  By Russell L. Blaylock, M.D., CCN
It has been estimated that 14.8 million Americans suffer from major depressive disorder and of this number 6 million are elderly. If we include anxiety disorders, which commonly accompany depression, the number jumps to 40 million adults.   Click this link to learn more. 

New Zealand
I find it very interesting that in New Zealand that the Government issued new legislation covering epidemics and health in the middle of legislation for Tax Policy!    The website of the pdf file Law Reform (Epidemic Preparedness) – Government Bill – Explanatory Note  shows www.taxpolicy.ird.govt.nz/publications etc.    What is behind this new legislation?   Is it going to give the New Zealand Government mandatory powers in the event of a so called "epidemic" to mass vaccinate the entire population?   Will it give powers to Government Agencies to over-ride the wishes of parents with regards to their children?  I don't know the answer to these questions.  I am not a legal person but I do find it extremely interesting that this legislation is amongst tax legislation and not with health legislation.
A few pages and points you might like to reflect on:
Pag

e 5 – Nurses will be able to give death certificates.

Pages 8 and 9 – Take possession of any land or building (public or private) for the storage or disposal of bodies; take possession of any vehicle required for transport of patients, medical personnel, medicine, medical equipment or devices:  food, drink, clothes, bedding or tents or other temporary facilities or structures etc.

Section 71A on page 8 – This section gives members of the Police express power to do anything (yes anything) reasonably necessary (including the use of  force) to assist medical officers of health and health protection officers exercising or performing powers or functions under Section 70.

Page 9 Subsection 2 – Members of the Police can enter into or onto any land, building, aircraft, ship or vehicle, inspect any land building etc, to stop a ship or vehicle and prevent them from departing. 

Page 11 at the bottom of the page – They can destroy birds, insects, rodents, etc.

Page 12 – Empowers the medical officer etc – to be removed to a hospital or other suitable place and detained under surveillance until he or she is not infected with the disease

Part 2 CL19 – Powers of Medical Officers of Health on outbreak of infectious diseases:

(A) By requisitioning in writing served on its owner or occupier, take possession of, occupy, and use any land or building whether public or private that in his or her opinion is required for the accommodation and treatment of patients.

(AB) By requisition in writing served on the owner or occupier or other person for the time being in charge of it, take possession of, occupy, and use any land, building or vehicle, whether public or private, that in his or her opinion is required for storage or disposal of bodies

Part 2

CL19 and 20 -  A member of the Police does not incur any personal liability by reason of anything done by him or her in good faith in the exercise of intended exercise of power conferred by this section.

Part 2 CL20 – (E)  If you fail, or refuse to comply with, or delay complying with, a direction or requirement of a medical officer of health or health protection officer given n the exercise of powers or functions under section 70 or section 71 or does or delays ceasing to do a thing commits an offence and can be quarantined.  See (3) at the bottom of the next page.
This does not sound like the New Zealand that I lived in for 31 years from 1961 to 1993.  Click on the link to  read the legislation.    Sadly I don't have the link and I am thankful that I copied some of the information before the link has disappeared.
People in other countries – I would suggest that you start looking at your vaccination information legislation as you will more than likely find similar legislations applying in your country.   It would be interesting to hear if you do find legislation and whether it has been passed in the appropriate place, under Health Legislation.   You can contact me on healthymoneyvine@gmail.com or in the email form below and let me know what you find.
Return Vaccine Side Effects to Home Page
Your first paragraph ...