Credence Publications - Phillip Day
Phillip Day has used Credence Publications as his means of getting his message out to the world via health articles. He has written many books and produced CDEs, DVDs, etc. He travels the worlds holding meetings to bring new health information as it comes to hand, to tell people the benefits of vitamin supplements, vitamin D, alternative medicine. He has written books on cancer and co-authored books on AIDS and many other subjects. He covers subjects like vaccination, fluoridation, dangerous ingredients in personal care products to name but a few.


Latest tour in the UK information
Click this link to read Phillip Day's latest newsletter.


Credence Publications or Campaign for Truth in Medicine
Campaign for Truth in Medicine gives a wonderful service to the world for the people who are trying to live healthy lives, make healthy food choices, eat a balanced healthy diet, etc.

Your Personal Health
One of the most important videos you will ever watch!

Phillip Day has been coming to Australia on an annual basis since 2000 and he is the most amazing speaker on health issues. I have been attending his seminars every year and each year he has a new message and more up to date information on how to maintain our health and avoid the pitfalls of daily living.
He and other health professionals have put together a documentary called "Food Matters". This is some of what you will learn when you watch this documentary:
How to use food as medicine

Raw foods, superfoods and nutrition

Who needs vitamins?

Is organic better than conventional?

How safe is our food?

How the body heals itself

Foods for depression, anxiety and mental illness

Natural treatments for lowering cholesterol

Natural therapies for cancer

Which Pharma drugs might be causing more harm than good?

The best ways to detox and remove heavy metals, pesticides and chemicals from your body ... and much more.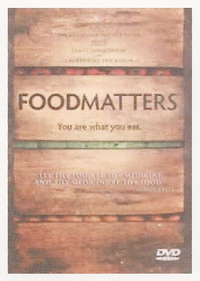 Some of the world's top nutrition and health experts have put their name to this documentary and they would not do this lightly. People like:
Mike Adams, the Health Ranger, founder of Natural News.com
Dr Joseph Mercola of Mercola.com
John Grah, PhD, NY Times Best Selling Author of Men are from Mars, Women are from Venus
Christiane Northrup, MD, author of Mother-Daughter-Wisdom, The Wiesdom of Menopause and Women's Bodies, Women's Wisdom
John Robbins,author of Diet for a New America
Jordan Rubin, NY Times Best Selling Author of the Maker's Diet
Ed Bauman, Bauman College: Holistic Nutrition and Culinary Arts
Alissa Cohen, Author of Living on Live Food
For further information on harmful ingredients in our personal care and household products contact me in the form provided below or at siselopportunity@expandingabundance.com.   I am very selective in both the nutritional, personal care and household products that I use for myself and my family.   By having multiple choices of quality products, I am able to select the "best from the best".   Click on the links below and find out more.  
I am very proud and honored to be able to recommend Credence Publications unreservedly as a "must" on your list of sites to visit.  It is an independent research organization founded by author and researcher Phillip Day. It has forged a unique place for itself in the health field over the last 11 years and has produced a catalogue of excellent books, CDs and DVDs on a variety of subjects. 
If you would like to contact Marilyn Vine and find out more about harmful ingredients in personal care or just to learn more about good quality liquid nutritionals, then please use the contact form provided below.
Return Credence Publications to Home Page
World News