GMO – European Union in conflict over glyphosate renewal
GMO is Marilyn Vine's 2nd page on genetically modified organisms.      Click this link for page 1.   

Glyphosate YouTube




40,000 lawsuits in the US alone!
Dr Mercola dated 3 March 2020 published this GMO article "Genetically Engineered Food – the Lie That Won't Die".   Here is his story at a glance.  
Biotech industry promised genetically engineered foods would reduce pesticide use, increase the nutritional content of food, boost farmers' profits and feed the world by increasing yields

In reality, GM crops have turned glyphosate into one of the most widely and recklessly used herbicides in history and monoculture has led to a loss of biodiversity

GM crops have also failed to live up to expected increases in crop yields and, nutritionally, GMOs primarily provide cheap, unhealthy ingredients for ultraprocessed ready meals, prepackaged foods and fast food restaurants

More than 40,000 people in the U.S. have filed lawsuits alleging exposure to Roundup is the cause of their cancer. Once a rare cancer, non-Hodgkin lymphoma is now the seventh most common cancer in U.S. men and women

The agricultural biotech industry continues to advance with a new suite of genetic engineering technologies known as gene editing, which includes techniques such as CRISPR as well as synthetic biology and gene drives


FDA Corruption and Food that Kills
Mongoose – 1 December 2019 - FDA Corruption — Food That Kills…
Steven M. Druker is a public interest attorney who, as executive director of the Alliance for Bio-Integrity, initiated a lawsuit that forced the FDA to divulge its files on genetically engineered foods. This revealed that politically appointed administrators had covered up the warnings of their own scientists about the unusual risks of these foods and then allowed them to be marketed illegally. In organizing the suit, he assembled an unprecedented coalition of eminent scientists and religious leaders to stand with his organization as co-plaintiffs – the first time scientists had sued a federal administrative agency on the grounds that one of its policies is scientifically unsound.
He is a prominent commentator on the risks of GE foods and has served on the food safety panels at conferences held by the National Research Council and the FDA, has given lectures at numerous universities (including the Biological Laboratories at Harvard), and has met with government officials throughout the world, including the heads of food safety for France, Ireland, and Australia. In 1998, he was invited to the White House Executive Offices to discuss risks of GE crops with a task force of the President's Council on Environmental Quality. His articles on GE food have appeared in several respected publications, including The Congressional Quarterly Researcher, The Parliament Magazine, and The Financial Times. He earned his B.A. in philosophy at the University of California, Berkeley (with high honors that included a special award for "Outstanding Accomplishment") and received his Juris Doctor from the same institution. (and was elected to both the Law Review and the legal honor society) In 2017 Steven was also awarded the Luxembourg Peace Prize for Environmental Peace.
[Marilyn comment]  This is a most important hour long YouTube to listen to and includes Australian information which has never been implemented.   Absolutely blows GMO's out of the water.

Grocery Manufacturer's Association (GMA)
Rebranding and changing track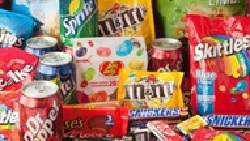 Dr Mercola dated 11 October 2019 published this GMO article "Major Junk Food Company Collapses".  Here is his story at a glance:  
The Grocery Manufacturer's Association (GMA) was the brazen trade and lobbying group for junk food makers and biotech and GMO seeds companies
In recent years, Nestlé, Kraft, Mars, Campbell Soup Co. and others have quit GMA, as it was increasingly perceived as being out of touch with consumer sentiments
GMA was influential in defeating California's GMO-labeling Proposition 37 in 2012 and Washington state's GMO-labeling bill, I-522. Its initiatives resulted in a money laundering conviction
The GMA has also tried, albeit unsuccessfully, to preempt state GMO labeling laws
As of 2020, the GMA will become the Consumer Brands Association with a different, downscaled agenda
This is a most important document letting you know which manufacturers have walked away from this association and how the association has removed personnel and changing the tack in the way that they work.    It has to be a win-win situation for the American people and the rest of the world.


Modified Mosquitoes
NaturalNews dated 18 September 2019 published this GMO article "GMO mosquito experiment goes horribly wrong: Insects adapt and overcome, transforming into super "mutant" mosquitoes that could cause mass death across South America".
As published in the journal Nature, in a study entitled, "Transgenic Aedes aegypti Mosquitoes Transfer Genes into a Natural Population," the very same modified genes we were told would never be passed to "in the wild" mosquito populations has, in fact, done exactly that.
Powered by these new genes (and combined with some behavioral adaptation explained below), the mosquito population surged back. Even worse, now the wild populations of mosquitoes in Brazil have these "mutant" genes which were combined from Cuba and Mexican mosquito populations, meaning these new gene-enhanced mosquitoes are now a kind of "super mutant" insect that may be resistant to all sorts of insecticides.


President Trump legalizes non-label GMO!
This link will take you to an article by Stop the Crime detailing how the food growing industry in America is being affected.   Mark your words this is not only happening in the US but here in Australia and other countries as well.  
It would be at least six years ago (now 2019) that I read an article by a doctor in the United Kingdom stating that GMO foods were killing his patients!
What the article does not cover is the fact that everything the article states is all part of Agenda 2030!   Check out this page for more information on this.    You could also check out these two pages for more information on what is unfolding.



How GMO's are causing worldwide famine





GM Madness using the US Navy!


News Target dated 11 December 2018 published this article "U.S. Navy to release genetically engineered organisms into the ocean, unleashing mass genetic pollution with devastating consequences".   The article goes on to say:
No longer content to tinker with the genetic design of crops and humans, scientists – at the behest of the U.S. Military – are now turning their attention to the world's oceans. As reported by Defense One, the Pentagon is looking at various ways in which to genetically engineer marine microorganisms into living surveillance equipment capable of detecting enemy submarines, divers and other suspicious underwater traffic.
The Military is also looking at using genetic engineering to create living camouflage in which creatures react to their surroundings to avoid detection, along with a host of other potentially nefarious applications.


Genetically modified potatoes
Organic Consumers published an article on "Pandora's potatoes".    Please click this link to go to the article so that you can click the various links contained therein.


WE HAVE BEEN VINDICATED


Chlorpyrifos – Banned in the US
Pesticide Action Network published this article "Court to EPA: Chlorpyrifos ban is on!".   Here is an excerpt and make sure you click the link to read the full story.
"As of Thursday morning, the U.S. Environmental Protection Agency (EPA) has 60 days to finalize its ban of the neurotoxic pesticide chlorpyrifos.
This was the ruling of the 9th Circuit Court of Appeals on August 9. The judges determined that EPA broke the law by allowing continued use of the pesticide despite scientific evidence linking it to harmful impacts on children's developing brains.
"Children, farm workers, rural families and science are all huge winners today," said PAN's executive director Kristin Schafer in a press statement responding to the court ruling. "Sadly, under this administration it takes judges to force our public agencies to stand up to corporate interests and do their jobs."
The decision was in response to years-long litigation brought by PAN, NRDC, Earthjustice and other farm worker and environmental health organizations."


European Union in Conflict over Glyphosate
Three links to check out what is unfolding in Europe in November 2017 with regards to Monsanto's products containing glyphosate:


Extremely important research
The following link is a most important link.   It relates to research that Nancy Swanson PhD and Stephanie Seneff PhD have undertaken with regards to the increase in chronic diseases in alignment with the introduction of genetically modified crops.    Anyone with any concerns for their health and that of their families should take the time to read about their research and avoid genetically modified products in their diet.   Sadly some countries do not insist on labels showing that genetically modified ingredients are contained in the product and some manufactures hide the fact that they do use GMO ingredients in their products.

GM Mosquitoes out of control


NaturalNews dated 20 October 2017 published "BOMBSHELL: Proof GMOs cannot be contained — GM mosquitoes have successfully mated with wild mosquitoes, spreading GM traits".  The article goes on to say:
"Science Daily recently reported that there has been a lot of interest in recent years in genetically modifying mosquitoes to "reduce or prevent the spread of disease." One of the challenges faced by scientists interested in pursuing this field of study is getting GM mosquitoes to mate with regular, wild bugs. However, when a research team from the NIAID recently altered the microbiota of GM mosquitoes to suppress the parasites which cause malaria in humans, they found that the GM mosquitoes actually preferred to mate with wild mosquitoes rather than their GM counterparts."


Gluten disorders
Can Genetically Engineered Foods Trigger Gluten Sensitivity?
Wheat is not a genetically modified organism (GMO). (However, it is sprayed w/GMO RoundUp). But evidence suggests that genetically modified foods, such as soy and corn, may help explain the recent explosion of gluten-related disorders, which now affect up to 18 million Americans.
New study supports link between Roundup and gluten-related disorders
Experts agree that the recent increase in gluten-related disorders cannot be explained by genetics alone and that there must be some environmental trigger. In this video, Jeffrey Smith, internationally recognized expert on genetically modified organisms (GMOs), and Tom Malterre, expert in clinical nutrition and a gluten-free lifestyle, simplify and clarify the potential connection between GMOs and gluten sensitivity.
The best way to avoid GMOs is to consult the NonGMOShoppingGuide.com.  Look for products with either the "Non-GMO Project Verified" or the "Certified Organic" seal. Avoid ingredients derived from the foods most likely to be genetically modified. These include soy, corn, cottonseed, canola, sugar, papaya from Hawaii or China, zucchini, and yellow squash.  (potatoes & apples, too.)
If you have seen improvement in a gluten-related condition after eliminating GMOs from your diet, please email healthy@responsibletechnology.org to share your story.
By Jeffrey M. Smith, Executive Director, Institute for Responsible Technology
Research support by Sayer Ji, author and founder of GreenMedInfo.com , the most widely referenced natural medicine database.greenmedinfo.com
Dr. Tom O' Bryan, thedr.com| Tom Malterre, MS CN, author, and physician educator.nourishingmeals.com Stephanie Seneff, PhD, Senior Research Scientist, MIT.


Just created!!!
NaturalNews dated 10 August 2017 published this article "GMO scientists just created "doomsday crops" containing RNA fragments that intentionally cause mass infertility".  Here is an excerpt from the article but make sure you read the full article and keep an eye on what information may end up being revealed.
"But, unfortunately, they've come up with a new type of GMO crop: fragmented RNA crops. As Ralph Bock, a director at the Max Planck Institute of Molecular Plant Physiology in Germany explains, "The objections to transgenic proteins involve concerns about their possible toxicity or allergenicity to humans, but with the RNA interference strategy there's no protein that is made, just some extra RNA." Bock also co-authored a study on the new GMO crop strategy."

Has "Organic" become a dirty word in Sherman County, Oregon, USA?


NaturalNews dated 18 May 2017 brings us this story "Sherman County, OR, considers making organic farming illegal, wants to FORCIBLY spray "rogue" organic farm with Roundup".
"While Oregon state laws used to mandate that farmers control certain noxious weeds including Canadian Thistle, Morning Glory and Whitetop, newly introduced regulations call for the total eradication of these invasive plants. Though Azure's owners have used organic farming methods to keep these weeds under control for close to two decades, it is virtually impossible to totally eradicate them without using toxic chemicals.
Sherman County has decided to take the matter into their own hands, and has warned that a court order may be issued on the 22nd of May, forcing the quarantine of Azure Farm and the spraying of toxic herbicides including Roundup (which contains cancer-causing glyphosate), Milestone and Escort on about 2,000 acres of the farm. [Related: Find out why glyphosate is so toxic to humans.]
This action by the county would destroy two decades of hard work in one fell swoop. It's not as if Azure could just spray their fields and then carry on where they left off; the farm would immediately lose its USDA organic certification. Requalifying for that certification would be a costly, lengthy and complicated process."
THIS IS ABSOLUTELY SHOCKING NEWS AND IF YOU LIVE IN OREGON YOU SHOULD BE CONTACTING SHERMAN COUNTY AND TELLING THEM TO BACK OFF!!!!
For quite a while I have been reading how glyphosate has invaded our food chain and that there is hardly a food that you can buy that does not contain this toxic substance.  The WHO believes that this substance is very likely carcinogenic.   So why would you spray an organic, i.e. a pesticide clean farm, with a substance that is very likely to cause cancer to the people working on the farm and the people eating the produce???   I have a page on Glyphosate so click this link to learn more about its harm.    Did you know it is even found in mother's breast milk and we are now feeding it directly to our newborn!!!



Applegate Farm Meat



After you read this article from NaturalNews dated 1 August 2016 Marilyn Vine through this webpage asks that if you are able to support this company by purchasing their meat, then please do.  Courageous companies like this will be victimised by the pushers of genetically modified food and it is up to us, the consumer, to help these companies by showing your support.  Click this link to read the article



What the Experts Said





EWG on 25 May 2016 released an article on "What the Experts Said".   The article goes on to say:
"After an expert panel convened by the National Academy of Sciences issued a long-awaited report on genetically engineered foods, much of the news coverage said it gave GMOs an unqualified seal of approval. In fact, the report pointed to an array of concerns and unanswered questions. Here are the top ten findings of the report that most traditional and social media missed – or got plain wrong."
Click here to read what EWG had to say.



India



NaturalNews on 19 March 2016 provides some good news
Indian state of Bihar blocks GM seed trials to protect health and environment

"In India, Bihar's Agriculture Minister, Narendra Kumar Singh, recently announced to the people at a groundbreaking Seed Festival that the state's food supply will be protected from outside companies who are looking to take over the land with GMO seeds. In fact, he said he is committed to blocking the entry of genetically modified corn, even if the central government permits it to come into the country. Singh assured the people that their seeds will be protected from contamination of genetic material drift and that rich harvests full of diverse, nutrient-dense crops will remain the standard in the state."
Click this link to read this GMO article

.



US versus Europe



Jeffrey Smith discusses the differences between how genetically modified foods are viewed in this country versus Europe. He mentions how some that have spoken out against GMOs have had their work and careers derailed. Find out more about what Jeffrey calls the conspiracy that keeps GMOs in our stores and on our plates in this country!

GMO Tomatoes and stomach lesions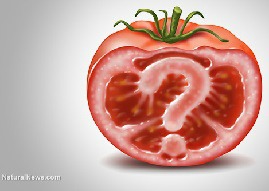 NaturalNews on 13 May 2016 brings information on FDA approval for GMO tomatoes despite studies showing that it caused stomach lesions and death in rates.  The articles provides an excerpt from the book Seeds of Deception: Exposing Industry and Government Lies About the Safety of the Genetically Engineered Foods You're Eating.
While the FDA was busily crafting their industry-friendly GMO policy in the early 1990s, Calgene [acquired by Monsanto in 1996] was preparing to introduce the world's first genetically modified food crop: the FlavrSavr Tomato. Gifted with mythical endurance, this GM wonder could remain looking fresh for weeks after being picked.
Although the FDA did not require it, Calgene voluntarily did three feeding studies with rats and sent the results to the FDA for its blessing. Internal FDA documents show that the agency scientists were concerned about the presence of stomach lesions. Among the female rats in one study, seven of the forty rats that ate the FlavrSavr had lesions; none were found in the controls that ate natural tomatoes.
FDA reviewers repeatedly asked Calgene to provide additional data in order to resolve what they regarded as outstanding safety questions. The director of the FDA's Office of Special Research Skills, wrote: ". . . the data fall short of 'a demonstration of safety' or of a 'demonstration of reasonable certainty of no harm' which is the standard we typically apply to food additives.
Pusztai, who looked at the study years later, disagreed with the Calgene's conclusions that the lesions "were considered to be of no importance," since, he said, "in humans they could lead to life-endangering hemorrhage, particularly in the elderly who use aspirin to prevent thrombosis."
Make sure you click the link above to read the full article.

Brain Deformation in Brazilian Children



Is the Zika virus a hoax asks Mike Adams from NaturalNews.
NaturalNews on 11 February 2016 brings a very disturbing article on brain deformation in Brazilian children.  A group of South American doctors are now saying that the cases of microcephaly being found in these children is linked to the mass fumigation of low-income Brazilian people and not from mosquitoes carrying the Zika Virus.
The article goes on to say:
"What we're seeing with the brain deformations of children, in other words, is more like the history of thalidomide, a prescription medicine given to pregnant women that caused children to be born with limbs missing. But the official narrative on all this is pushing a false link with Zika in order to justify more chemical fumigation, more vaccines and more genetically engineered mosquitoes."
Please click this link to read the full article.



Genetically Modified Mosquitoes



Somewhere in the myriad of pages on this website I covered the story of the release of genetically modified mosquitoes being released.   I believe the original story was to do with malaria and my own personal thoughts were that if they could genetically modify mosquitoes to stop the spread of a particular disease then surely they must have the knowledge to genetically modify mosquitoes to cause infertility and thus the end of the mosquito threat!
Now on 1 February 2016 NaturalNews provides information that the latest outbreak of a disease - Zika virus – may be related to these GMOs.
Click this link to read further on this



Why are we changing plant's natural ability?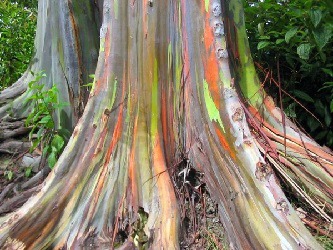 GreenMedia on 21 December 2015 provides an article about how "Research Reveals Plants Can Think, Choose & Remember".  Why do we always think we know better than nature?

Dr Mercola and Dr Latham interview on GMO



One day Marilyn Vine would like to see the whole world display this sign
and trusts that it will be soon as more people begin to understand



Eggplant failure in Bangladesh



NaturalNews on 23 November 2015 brings news about the experimental eggplant crop.  The article goes on to say:
"Thirty-five types of pesticides, including acaricide [kills ticks and mites], insecticide, and fungicide, were sprayed several times in the Bt brinjal fields," the report reads. None of these pesticides were on the list of chemicals officially recommended for eggplant cultivation in Bangladesh. Five were insecticides that are actually banned in the country.


The farmers were then given "pesticide-free" signs and told to use them to market their crops. The crops were also sold without being labeled as GM, in violation of government rules.


In spite of these measures, farmers reported low yields and losses of Tk. 15,000–30,000 (US$ 192–385). Farmers in similar regions growing non-GM eggplant reported profits of Tk. 70,000–100,000 ($898–1,280).


Part of this problem came from the fact that even under an enormous pesticide load, the GM plants were ravaged by a wide variety of pests. The GM eggplant also lost its freshness quickly, making it harder to sell. Most farmers ended up simply eating the crop themselves, but reported disliking its flavor."

Is France starting to rebel?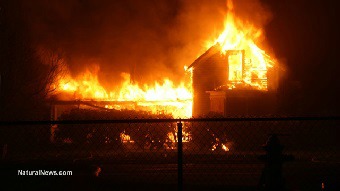 NaturalNews on 14 November 2015 brings information on a fire in one of 9 Monsanto Research Facilities located in France.    The article goes on to say:
"Although this could be the first arson of a French Monsanto facility, the action – if politically motivated – is far from that country's first radical act of resistance to Monsanto and genetically modified organisms.

While no evidence has tied the recent fire to any activists – in fact, the fire could have been started by Genetically Modified Organism scientists seeking to gain public sympathy while destroying their own failed experiments – public opinion in France is strong against Genetically Modified Organisms, and the country has a long history of anti-Genetically Modified Organism activism. French activists have regularly uprooted experimental GMO fields invading their country. For example, in 2005 a Green Party lawmaker, a French member of the European parliament and farmer-activist Jose Bove were sentenced to prison time for uprooting a corn field. On two separate occasions in 2010, activists destroyed experimental GMO grapevine plants."



44 Reasons to ban or label GMOs



GreenMedia on 6 November 2015 provides a report by Dr Gary Null on 44 Reason to Ban or Label.  Dr Null says:
"For twenty years the federal government, through the USDA and FDA, has stated unequivocally that genetically-modified organisms (GMOs) are safe and can help feed the world and save lives. However, over the last two decades independent scientists have brought forth challenges to the prevailing dogma on this important issue. The response of the Genetically Modified Organism industry to any critic–irrespective of their credentials or the scientific evidence they provide–is that they are wrong. To determine where the truth lies, we have set about reviewing all available scientific literature on the safety and efficacy of Genetically Modified Organisms. The results of our independent investigation are stated in the following 44 reasons to ban or label GMOs. All of the information is footnoted and fully referenced."
Marilyn Vine urges you to learn what Dr Null has researched.   His information could save the lives of you, your family or a friend.   Make sure you share this link with others so that the word becomes more wide-spread to counteract the mis-information we are all fed by the mainstream media.



Problems with Genetically Modified Seeds



Bill talks to scientist and philosopher Vandana Shiva, who's become a rock star in the global battle over genetically modified seeds. These seeds — considered "intellectual property" by the big companies who own the patents — are globally marketed to monopolize food production and profits.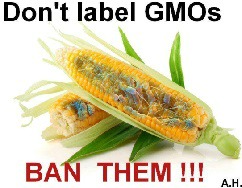 Fabulous news for Europe



Prevent Disease on 6 October 2015 advise that: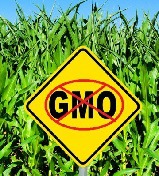 More Than Half the 28 Countries in European Union Ban Genetically Modified Crops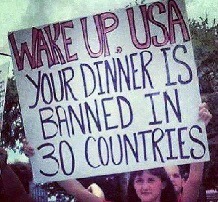 To read more about GMOs banned in 30 countries and to learn how to protect yourself by reading labels, etc



Changing DNA



<br><br><iframe width="480" height="360" src="https://www.youtube.com/embed/IGiO5KUEfcY" frameborder="0" allowfullscreen></iframe>
28 April 2015:  Dr. Bob DeMaria discusses genetically modified organisms. Find out why plants are modified and what that might mean to people that eat them. Dr. Bob talks about the increased number of conditions that people have and how that might be related to Genetically Modified Food.

Organics versus Genetically Modified Organisms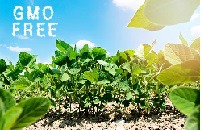 GreenMedia advise on 6 May 2015 that we appear to be winning the battle against Monsanto.     People are beginning to demand more organic foods as opposed to genetically modified foods.  Organic foods don't require labeling.  We learn that sales of organic foods have increased dramatically.  In:
2000     $6 million

2014     $39 million
Click this link to Read the full article and learn of the stores now just selling organics.  Please support these brave people going the organic way as this will surely defeat the GMO brigade and help improve the health of the people.
Please share the information you have learned with your family and friends – especially Dr Null's report.