Oral Health
A lot of people struggle with oral health problems, particularly bad breath and many do not know the exact cause.  For the majority of people who have bad breath, the single most frequent cause is associated with bacteria that live in their mouth.  Bacteria, like each one of us goes through life, consuming food and then excreting waste and some oral bacteria excrete sulphur compounds and it is this type of waste product that is generally at the root of a person's problems.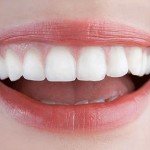 As more and more plaque builds up in a person's mouth, the bacteria that causes bad breath gains available living space and proliferate, thus increasing the odor causing compound which escapes with each breath that we exhale. 

Are you using a toxic toothpaste?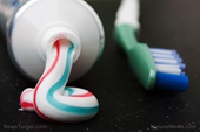 NaturalNews dated 11 August 2019 asked "Are you poisoning yourself with commercial toothpaste?".
Oral care is vital for your overall health, but not all dental hygiene products are created equal. While it is important to brush your teeth at least twice a day, the quality of the toothpaste you use has just as much of an impact on your dental health as the number of times you brush your teeth.
You might not realize it, but harmful toxins could easily be lurking in your toothpaste right now. Most commercial toothpastes are packed with dangerous compounds including fluoride, triclosan, artificial colors and sweeteners, and even propylene glycol, which is the main active ingredient in antifreeze. These questionable ingredients can be very harsh on your gums and teeth, and they can be incredibly harmful if ingested or absorbed into the bloodstream. Scientific studies indicate that all of these ingredients can have dangerous side effects. That's especially true for fluoride, a known neurotoxin. Unfortunately, fluoride can be found in around 95 percent of all toothpaste products in America.
I, Marilyn Vine, use a mouth rinse and toothpaste that are free of these toxic ingredients.  Please

email me

to find out more.


Preventing decay when you have composite fillings
NaturalHealth 365 on 17 November 2017 has published a very important article, Grape seed extract found to prevent tooth decay and extends life of dental fillings" on the prevention of decay when using composite fillings.   The articles goes on to say:
"However, research is showing that natural compounds contained within grape seed extract could be used to help strengthen the dentin within the teeth. This in turn could increase the lifespan of composite resin fillings. The current research about grape seed extract was conducted by the University of Illinois at Chicago College of Dentistry."
I personally use a product containing grapeseed extract or Resveratrol as it is more widely known.  I hold it in my mouth and, of course, in doing this I would also be coating my teeth and I have now learned just how important this is.  Resveratrol only lasts in the system for short periods of time.
If you would like more information on Resveratrol then click this link.



Oral Microbiome



Dr Mercola's article dated 27 August 2016 covers "For Optimal Health, Mind Your Oral Microbiome and Avoid Fluoride, Harsh Mouth Rinses and Amalgam Fillings".   His first glance comments are:
"Thousands of studies have linked oral disease to systemic disease, including Alzheimer's, stroke, heart disease and diabetes

To optimize your oral microbiome, stop using antibacterial mouth rinses. Also avoid fluoride-containing toothpaste and fluoridated water

Mercury is another dental-related substance that can wreak havoc with your health. About 50 percent of the amalgam filling is mercury, a neurotoxin and persistent environmental toxin "



Fluoride Supplements



Dr Griffin Cole on 11 July 2016 advises that fluoride supplements have not been approved by the FDA and is asking our assistance in the YouTube below to write to the FDA and ask for these supplements to be banned.
To sign the online petition to the FDA click this link.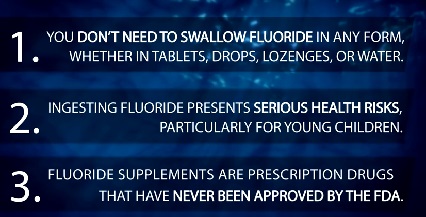 Oral Health urges you to listen to the YouTube below and hear how your nutrition plays such a large part in the health of your teeth and for that matter your overall health.  Above you will have read the amazing benefits of grapeseed extract in keeping your composite fillings healthy.   For more information on the power of Resveratrol click this link.   Email me at this link to receive information on a large number of dietary supplements, many of which contain Vitamin D, and other important nutritionals vital to your well-being and enabling your body.   Oral Health urges you to listen to the YouTube below and hear how your nutrition plays such a large part in the health of your teeth and for that matter your overall health.  

Good Nutrition not Fluoridation is the answer

My name is Marilyn Vine and I am the Public Officer of Eurobodalla Fluoride Issues Incorporated and our organization has been opposing our local council with regards to their fluoridating our public water supply.
I do not believe that fluoridation is the answer to stopping dental decay but a good diet with no sugars and getting plenty of Vitamin D which is known to inhibit the formation of decay.
I think this photo of the man from the poorest city in the world who is probably very hungry and not eating an adequate diet BUT he is also not eating the rubbish that Western societies eat, or drinking soda water or even getting fluoridated water AND JUST LOOK AT HIS BEAUTIFUL TEETH!   I think this photo says it all!

How Your Oral Health Contributes to Your General Health and Wellbeing

Dr Mercola on 30 November 2014 provides information on how your oral health impacts on your overall health.  Click this link to read the full article and in the meantime here is an excerpt.
Thousands of studies have linked oral disease to systemic disease, including Alzheimer's, stroke, heart disease, and diabetes
Advanced periodontal disease or gum disease can raise your risk of a fatal heart attack up to 10 times; there's also a 700 percent higher incidence of type 2 diabetes among those with gum disease
The oral microbiome has a protective component that protects you from deadly viruses and bacteria in the environment, provided you maintain homeostasis in your mouth
For oral health, eat an alkalizing, antioxidant-rich, and anti-inflammatory diet, and replace toothpaste and antibacterial/alcohol-based mouthwashes with an oral rinse that nourishes your oral microbiome

Dr Weston Price
NaturalNews on 5 April 2014 brings information from Dr Weston Price.   I personally have a great deal of respect for Dr Weston Price and Sally Fallon for their great work on providing information on soy and soy products.    In this article we are advised that our teeth can be strengthened without resorting to dangerous and costly dental procedures.     
In my own personal life I have regular visits with an holistic dentist and Mike and I find that it can be anything from 4 to 8 years in between requiring any attention other than the usual clean and polish. I eat a great deal of fruit and vegetables on a daily basis and have been supplementing with vitamins and minerals since 1996 and I believe that this plays a large part in both my own body's health and the health of my teeth and gums.
Please read the NaturalNews article and if you would like more information on what I do, then please click this link. 



Importance of Oral Hygiene
Dr Mercola on 5 March 2014 brings information on two new independent studies which have found a causal link between a common oral bacterium (F nucleatum) and colectoral cancer.   Apparently pathogens in your mouth can enter your bloodstream to colonize other parts of your body.
In his article he speaks about Oilpulling.   Click this oral health link to learn how to do it.   I find that the best thing is to keep yourself occupied while you do the pulling.



Vitamin D and tooth decay
Here Oral Health brings you an article on how Vitamin D Deficiency underlies tooth decay and advises that malnutrition causes much more than dental disease.
I recently read an article that advises that by countries reducing the RDI (required daily input) of vitamins and minerals that the body requires - that in a period of ten years it is estimated that 3 billion people will die from nutritionally based diseases! 
What do you think will happen to country's health systems if this information is correct?   They will never cope!  I find this quite incredible to actually contrive to do this to people of the world!  This is why it is so important that YOU take charge of your own health and make sure that YOU are doing the right thing for both yourself, your family and the environment.  Without a healthy environment we won't be able to lead healthy lives!
In case you think this is an exaggeration I suggest you click into the link and read what is happening in some of Britain's hospitals and the amount of deaths that are being attributed to malnutrition.   Personally, I don't just think that the people are dying from the malnutrition in the hospitals but I believe that the people were badly malnourished to start with otherwise they would not have been sick and ended up in hospital.   In an article above it was stated that the people most deficient in Glutathione were the people in hospital!  I believe that the hospital was just their last scenario!  So now - WHAT STEPS ARE YOU GOING TO TAKE TO PROTECT YOURSELF AND YOUR FAMILY?  
In January 2018 I read that the National Health Service in the United Kingdom are turning away people who are not critically ill or dying as their health system can no longer support other people.
Dr Russell Blaylock advises that the people he sees with Parkinson's disease are generally glutathione deficient.
I also use a Glutathione Patch – non transdermal – 3 fingers below my naval each day and this patch helps to stimulate my body to make up to 300% more glutathione and the most important aspect of this is that it is inside the cells and not on the outside of the cell where the body cannot utilise it.   If you would like to join with me to obtain this product then click this link.   My name is Marilyn Vine and my LifeWave ID is 655296 and I would love to share information with you.

Quality Toothpaste
In the mean time I have found some very good toothpastes containing an exclusive formula of all-natural, plant-derived ingredients such as vegetable glycerin and ionic trace minerals.  These toothpastes use gentle, odour-absorbing baking soda and a unique blend of essential oils that are known to be anti microbial and extremely protective of your health.
There are three different options and also dental floss and mouthwash all using essential oils and natural ingredients.  
I believe these products are extremely good oral health products.    Recently I read a testimonial from a Mom who had taken her son to get braces off his teeth.  He had the braces on for 2 ½ years.  The staff at the Orthodonist were dumbfo0und because his teeth are darker under where the braces were than the rest of his teeth.  Normally the teeth get yellower and the part under the braces stay whiter.   I guess that is a pretty good testimonial to the power of the oral health products.
I have read many times that a good tip is to put baking soda on your toothbrush every now and then to keep your teeth white well I guess the baking soda in the list of ingredients is surely doing its job!
Click on the link to learn more about these oral health products and to join with me in using these products.
I trust you have found the information in Oral Health enlightening and also giving you access to quality products to use.
If you would like additional oral health information please do not hesitate to contact me in the email form shown below or at healthymoneyvine@gmail.com