Bill Gates Info – the Saviour of the World – OR IS HE????
Bill Gates info:   For many years the World has regarded him as a philanthropist but over the years many layers have been removed and exposed the man for the individual he actually is.  He was the founder of Microsoft and the latest version Microsoft 10 has been built with a back door for access even when your computer is turned off!  Do you really want to allow this?  Well you have no option if you use Microsoft!   Together with his wife he opened up the Bill & Melinda Gates Foundation.  Throughout some of the YouTubes and articles you will see his close association with Dr Fauci – the same Dr Fauci advising the US President.   I have also heard on a YouTube how Dr Fauci assisted Tedros Adhanom Ghebreyesus in becoming the Director General of the WHO!
Bill and Melinda have been around for a very long while advocating their vaccination policies and Melinda advising that vaccines provide immunity when the health systems say that a vaccine only has a limited immunity period!  Click this March 2011 document to read what he was trying to accomplish way back then. 
In many ways this Bill Gates Info Page will also be a page on keeping people appraised of what is happening with COVID-19, the vaccine that is meant to cure us all; the chipping through the vaccine and what it will mean for your individual freedoms and so much more.


Children's Health Defense
Bill Gates Info page brings you this article from Children's Health Defense dated 26 May 2020 "Another Gates Vaccine Bites the Dust—Sick Monkeys Everywhere!"  This contains important information – please make sure you read.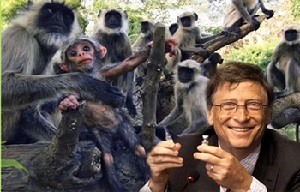 Comments from a friend and a very good link
The thoughts expressed below mirror my own thoughts and I am sure many other people.  Make sure you click the Bill Gates Info link below to read the well written article.
As an individual, I'm concerned about a fake vaccine that contains who knows what or Darpa's hydrogel that will bind with human tissue and connect us to the internet (Matrix).  As a human being, I'm highly concerned how what they are spraying in the air will affect our health as a species, planet, and individual.  It's not clear if these spraying programs are connected to COVID-19 but the funding is the same (BMGF).  In fact, if you look at the Bill Gates portfolio, there is a linear connection between COVID-19, the solutions (telework with Microsoft), food shortages because of meat factories closing (solution: Gates funded Impossible Foods), or the obvious IPO (VIR) that's working on the vaccine - all roads lead to Gates.
They are modifying the search results heavily - so we are not to rely on Google anymore.  They are messing with the wayback machine - so we should start print to PDF articles again, readers.  And if we want to know what's going to happen in the future, we should just listen to what Gates has to say. 
Here is the Bill Gates Info link


Vaccines with continuous cell lines
Bill Gates Info – 12 May 2020:  Italy Blows the Lid Off Vaccine Scam. Will No Longer Poison Citizens with Globalist Eugenics.      Here is the link to the report referred to in the video.

Law suit victory and Doctor speaking the truth




Dr Mercola Information
24 May 2020 -
Judy Mikovits Suggests Retroviruses Play a Role in COVID-19.  Story at-a-glance
Cellular and molecular biologist Judy Mikovits, Ph.D. believes COVID-19 — the disease — is not caused by SARS-CoV-2 alone, but rather that it's the result of a combination of SARS-CoV-2 and XMRVs (human gammaretroviruses)

SARS-CoV-2 also appears to have been manipulated to include components of HIV that destroys immune function along with XMRVs

Those already infected with XMRVs may end up getting serious COVID-19 infection and/or die from the disease. Mikovits's research suggests more than 30 million Americans carry XMRVs and other gammaretroviruses in their bodies from contaminated vaccines and blood supply

Mikovits believes 40 years of data suggest Type 1 interferon at very low dose would be an ideal treatment for COVID-19

RT-PCR (reverse transcription polymerase chain reaction) testing, currently used to diagnose active infection by detecting the presence of SARS-CoV-2 genetic material, overestimates infection rates. For an accurate account of COVID-19 prevalence, we need to test for antibodies
Bill Gates Info page also provides access to his 24 May 2020 document – "Why Is Protecting COVID-19 Origin Narrative so Important?" Story at-a-glance
The manufactured anthrax crisis of 2001 initiated the PATRIOT Act, one of the most severe compromises of our personal freedoms up to that point. Now, the COVID-19 pandemic is being used to take away even more freedoms

It appears influential virologists are protecting the narrative that SARS-CoV-2 arose naturally, and did not originate from a lab in China or elsewhere, even though their scientific justification for that conclusion is faulty

Strong evidence suggests SARS-CoV-2 cannot be the result of a natural mutation

The National Institutes of Allergy and Infectious Diseases (NIAID), under Dr. Anthony Fauci's leadership, has funded gain-of-function research on coronaviruses for about two decades

Efforts to develop coronavirus vaccines have failed for two decades, as the vaccines tend to cause paradoxical immune enhancement resulting in damaging and lethal cytokine storms

The fight back is beginning
At least in the US
Bill Gates Info page brings these marvellous suggestions from health freedom advocates to President Trump via a News Target publication dated 21 May 2020 in this article "APPEALS to the President: Mikovits, Adams and Kalcker lay out powerful executive strategies President Trump can use to abolish Big Pharma's death grip on America",  
Click this Bill Gates Info page to read the entire article. 
Here are Dr Judy Mikovit's suggestions which go a long way in resolving issues:   Judy Mikovits: The first thing to do is to end the 1986 Vaccine Injury Compensation act, which removes all liability. The second thing is a five-year moratorium on all vaccines until they're tested safe and that'll take a lot longer than five years. In those five years,everyone's going to realize they have natural immunity and you're going to see these diseases go away. Close the FDA. Close the CDC. Close the EPA. All of these corrupt organizations, reorganize them. Open them to give back the taxpayers their money to be able to use the medicines naturally.We'll put Dr. David Lewis in charge of the EPA. He wrote the book Science for Sale uncovering the corruption in that industry. We can have Dr. Stephanie sent up there over the FDA. No more GMO, no more Roundup so he can do all these things and reject and end the Bayh–Dole Act… which government employees who are paid with taxpayer money for Health and Human Services to patent their work. No more patents. All the drugs belong to the people. All our brains belong to the people because you paid for our education, everything. That will turn around all of medicine to give it back all doctors equal. No more health insurance. $5000 tax-free account you can spend on anything you want. Your supplement, your cannabis, your chlorine dioxide. You can take care of your health just the way we used to when I was a little kid.

Children's Health Defense
An Important timeline for your understanding
Bill Gates Info page offers this important information from Robert Kennedy Jr dated 21 May 2020:  Please make sure you read the entire article and SHARE, SHARE, SHARE!
May 21, 2020 A Timeline—Pandemic and Erosion of Freedoms Have Been Decades in the Making
Gain-of-function research:
COVID-19 has prompted renewed questioning about a long-debated branch of virology that, around 2012, scientists benignly rebranded as "gain-of-function" (GOF) research. GOF experiments seek to generate viruses "with properties that do not exist in nature" or, stated another way, "alter a pathogen to make it more transmissible or deadly." One of the leading proponents of GOF work is Dr. Ralph Baric at the University of North Carolina-Chapel Hill (UNC), a "legend in coronavirology" and "trailblazer of synthetic genomic manipulation techniques" who specializes in engineering lethal coronaviruses from "mail-order DNA." Baric and other GOF enthusiasts argue that this type of viral tinkering is "critical to the development of broad-based vaccines and therapeutics," but critics, such as Dr. Thomas Inglesby (director of the Johns Hopkins Center for Health Security), dispute this putative benefit.
Big Data and Big Telecom:
Children's Health Defense Chairman Robert F. Kennedy, Jr. and Dafna Tachover (director of  CHD's "Stop 5G and Wireless Harms Project") wrote on May 8: "5G has almost nothing to do with improving your lives; it's all about controlling your life, marketing products, and harvesting your data for Artificial Intelligence purposes. The 21st century's 'black gold' is data." They note that Bill Gates, along with a number of other players and companies, is helping set up a "microwave radiation-emitting spider web [that] will allow Big Data/Big Telecom and Big Brother to capture what happens inside and outside every person at every moment of life" using a sinister brain-machine interface and other technologies, many financed by Gates. In short, "While the lockdown is a cataclysm for the world economy, it is an opportunity for Gates" and his billionaire brotherhood, ably assisted by an unadmirable fleet of medical and scientist yes-men.
PLEASE MAKE SURE YOU CLICK THIS BILL GATES INFO LINK AND READ THE ENTIRE TIMELINE.    IF YOUR EYES ARE NOT ALREADY OPEN THEY WILL BE WHEN YOU READ THIS!   PEOPLE SHOULD BE GETTING TOGETHER IN THEIR RESPECTIVE COUNTRIES AND STARTING CLASS ACTIONS AGAINST THESE NAMED INDIVIDUALS.   IF NOT OUR RIGHT TO FREEDOM OF CHOICE WILL BE A THING OF THE PAST.
Bill Gates Info Page urges you to make sure you listen to this interview conducted with Robert Kennedy Jr - Robert Kennedy Jr. Destroys Big Pharma, Fauci & Pro-Vaccine Movement dated 2 May 2020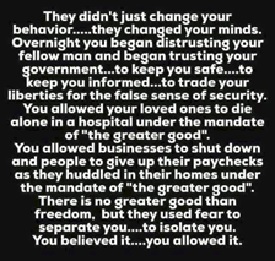 Madagascar President
Bill Gates Info Page provides this article dated 16 May 2020 - WHO Offered $20M Bribe To Poison COVID-19 Cure – Madagascar President
In a shocking development the President of Madagascar has made a sensational claim that the WHO offered $20m bribe to poison COVID-19 cure. The herbal remedy called COVID-19 Organics made from Artemisia can cure COVID-19 patients within ten days said the President. He also raised the question that if it was a European country that had actually discovered this remedy, would there be so much doubt?


Trump says Corona vaccine will be voluntary
WASHINGTON, D.C., May 19, 2020 (LifeSiteNews) – President Trump has stated that a future coronavirus vaccine will be voluntary.   
On Friday, the president introduced "Operation Warp Speed," an ambitious Manhattan Project-style initiative to fast-track the development and distribution of a coronavirus vaccine by January 2021, tapping experts and resources in science, medicine, the military, and the private sector. 
Experts have warned that the plan raises serious ethical and safety questions which are of grave importance not only to pro-life citizens, but to everyone.  
However, President Trump did allay concerns about a mandatory vaccine on Friday, saying that the new vaccine would be for those "who want to get it," adding, "Not everyone is going to want to get it."
Click this Bill Gates Info link to read


Dr Andrew Kauffman
16 May 2020 – click this link to listen.     A really good explanation – easy to understand.


Flu Vaccines and ACE Inhibitors
Dr Zach Bush gives a different perspective on COVID, which makes a lot of sense.  Quite a long video, but very interesting.  Here is the link.
Please make sure you listen to this or at least start at the link below and MAKE SURE YOU LISTEN TO THE VERY END.   His message about life, love and death is a most important message to us all.
Note towards the end he talks about how the USA ranks very low in population health for a developed country (and I think Australia's not far behind) - and reasons for people with co-morbidities dying from COVID. 
From here: (starts at 1.02.0 mnutes) he points out the risks of being on Statin drugs and ACE Inhibitors; and then of having a flu vaccine.  Hello!!!  What sorts of drugs would people in aged care facilities be on?  You could safely bet that most would be on at least one of those drugs (probably Statins), if not both; and most likely all will have had the flu jab.
Information supplied by a friend.


Dr Judy Mikevotis Interview
14 May 2020:  Charlene Bollinger Interview with Dr. Judy Mikovits (Part 1)  
Join Judy for this blockbuster interview with Charlene where she tells the truth about the "Plague of Corruption" that has permeated the vaccine industry. She names names and gives proof. We have featured her in our films and she has spoken about this corruption at our TTAC Live 2016 and TTAC Live 2019. She is a force to be reckoned with. Her voice has gone viral because people are awake and want to hear and know the truth. But there is another side working night and day to silence her voice of truth. Please share this video with everyone you know so that they can hear the truth from one that was on the inside and is blowing the whistle!  
This is a most important YouTube – especially the last 10-15 minutes.  


Supreme Court Case in USA

Bill Gates Info:  14 May 2020 - VICTORY - Bill Gates, Anthony Fauci & Big Pharma lost a Massive Supreme Court Case in USA   


COVID-19 Testing
Bill Gates Info provides:  13 May 2020 - Canadian author and long-time independent researcher, David Crowe, has written a new paper, "Antibody Testing for COVID-19."


Active Enzyme to activate tracking
Bill Gates Info page on 16 May read that this enzyme is called Luciferase!
YOU WOULD HAVE TO BE KIDDING!
LUCIFERASE???
LUCIFER!!!!!
NaturalNews published on 15 May 2020 this article "Enzyme that will make Bill Gates' vaccine microchip implant work known as LUCIFERASE".
[Marilyn comment]   Quite frankly I am not sure whether to believe this information or not.   If it is true then whoever named this enzyme is LAUGHING AT EVERYONE OF US FOR BEING SO GULLIBLE!     If they are "laughing" at us then what are you in your country going to do?  
Australia has a wonderful tracking app that our Prime Minister has said is voluntary BUT if enough of you don't download it then I will make it MANDATORY!   The US has passed HR6666 – a significant Luciferian number!  
To top this off Trump, according to this article, has just named an executive from GlaxoSmith Kline to head the mandatory US vaccination.  A company that was found guilty of fraud and fined 3 Billion Dollars.   Here is this link.
I leave it to you to decide whether there is truth in this article. 
Here are the first two paragraphs.    
Part of the plan for vaccination against the Wuhan coronavirus (COVID-19) is to inject people with syringes that contain implantable "quantum dot" tattoos, which we reported are a type of microchip that would seem to constitute the Mark of the Beast. And further proof of this comes in the form of the enzyme that Bill Gates has chosen to make it all possible, which has been ominously dubbed "luciferase."
According to reports, luciferase will activate these quantum dot "microneedles," as they are also called, effectively delivering the so-called vaccines into people's bodies. This "near infrared bioluminescence enzyme luciferase" is what will make the Gates vaccines readable through special mobile device apps that will scan the injection site and identify the "digital certificates," or proof of vaccination, that Gates and others have been publicly announcing in recent days.


Ultraviolet light and disinfectant
14 May 2020 - Dr Leonard Horowitz has written a very good opinion and I will post this on the Bill Gates Info page for you to read and judge for yourself the benefits of Ultraviolet light and using oxygen to disinfect the body.   Below is the link.
Frequencies of Energy Disinfecting Coronaviruses in People
He has also published this provocative article and from information in the past that I have read about certain vaccines harming black American children far more than white American children – there is probably a lot of truth in it.   Especially when you know Bill Gates track record in African and Dark-skinned nations and the havoc caused with the deaths, paralysis, sterilization, etc of their children.
COVID-19 Genocide: Why the Disproportionate Impact on Africans


Dr. Rashid Buttar URGENT! Full Disclosure From INSIDE| HR 6666 IS COMING!




Washington Governor Edict
YOU WILL NOT BE ALLOWED TO LEAVE HOME TO BUY GROCERIES IF YOU REFUSE TO BE TESTED!
Bill Gates Info:   Activist Post dated 13 May 2020 published this article "Washington Governor To Residents: COVID-Test-Deniers Will Not Be Allowed To Leave Home To Get Groceries
When it comes to contact tracing, how are you guys going to handle people or families who want to refuse to test or to self isolate?
If they want to leave their home to get groceries I know you've said they can't do that; how will you make sure they don't?
Below is Jay Inslee's response:
We will have attached to the families a family support person who will check in with them to see what they need on a daily basis… and help them. If they can't get a friend to do their grocery shopping, we will help get them groceries in some fashion. If they need pharmaceuticals to be picked up, we will make sure they get their pharmaceuticals… That's going to help encourage them to maintain their isolation too.
As far as refusal, it just shouldn't come to that, and it really hasn't. We've had really good success when we ask people to isolate, and they've done so in really high percentages, so we're happy about that, and we believe that will continue.



Face Masks Pose Serious Threats




Bill Gates Info says that I keep reading warnings on wearing masks.  Make sure you listen before you make the decision.


Whistleblower Information
Bill Gates Info Page brings an article from American Intelligence Media dated 11 May 2020 entitled "Whistleblower Nails Fauci, Rothschilds, Highlands Group, DARPA, DoD, Pirbright, SERCO, QinetiQ, Goldman Sachs, US Navy, US Air Force, US Army, CIA in Worldwide Bioterror"  
Too numerous to do excerpts – click the Bill Gates Info link above to read.


More on Kawasaki and children's deaths
Childrens Health Defense dated 14 May 2020 published this Bill Gates Info document "Inflammatory Syndrome Affecting Children: Kawasaki Disease, COVID-19 . . . or Something Else?"  
Please make sure you read this entire document not just the excerpt.  Robert Kennedy Jr is asking similar questions to me but from a knowledgeable base.   There has to be more behind what is happening than currently being investigated.
There are many medical uncertainties swirling around the COVID-19 story, but one widely accepted observation has been that children are among the least affected, both in number and symptom severity. At least until recently. In the United Kingdom, elsewhere in Europe and in a handful of locations in the U.S. (including New York, New Haven, Los Angeles and the San Francisco Bay Area), reports are surfacing of a pediatric inflammatory syndrome that many are rushing to blame on COVID-19. New York State has attributed the deaths of up to five children to the mystery ailment that, in some cases, has resulted in multisystem organ failure.
The potpourri of symptoms "striking newborns and teenagers alike" has prompted clinicians to draw comparisons to the rare childhood inflammatory condition called Kawasaki disease (KD) as well as to toxic shock syndrome (a condition resulting from poisoning by bacterial toxins). Years before COVID-19 came on the scene, the CDC estimated that about 5,450 children, primarily under age five, are hospitalized for KD each year in the U.S.—the equivalent of about 15 every day. While rare compared to other childhood diseases, KD attracts concern as the leading cause of pediatric acquired coronary artery disease, with life-threatening aneurysms being a possible outcome.


Judicial Watch
More Bill Gates Info: 13 May 2020 – "Judicial Watch files lawsuit against Anthony Fauci and the W.H.O. – demands records about coronavirus"  
To get to the bottom of what Anthony Fauci truly knows about the Wuhan coronavirus (COVID-19), Judicial Watch has filed a lawsuit against the National Institutes of Health (NIH) demanding the release of all communications between Fauci and the World Health Organization (WHO).
Because Fauci claims to have been "misled" by the WHO, and possibly by China as well, Judicial Watch, which is representing the Daily Caller News Foundation, "wants answers" and is seeking discovery of the full communications between Fauci and the WHO.
[Bill Gates Info Comment]   In my opinion this lawsuit is not going far enough.   They should also be investigating Bill Gates involvement/influence over what the WHO does.
Bill Gates Info page will be following the results of this lawsuit carefully.



Kawasaki Syndrome
On Channel 7 News at 6.00 p.m. on Wednesday, 13 May 2020 – it was announced that several small children had contracted what appeared to be Kawasaki disease.  One little girl recovered and other children died.   I remembered John Travolta saying that their son Jeff had Kawasaki disease. 
So I looked up what it was as I was curious with everything else going on why these children in different countries were experiencing this disease similar to Kawaski and what might be causing their illness and for it to be international.   Unfortunately a search did answer my curiosity but I do have to wonder why it is suddenly occurring right now!
What is Kawasaki syndrome?
It first presented in the late 1960s and early 1970s in Japan, with the first case studies published in 1974. It's an inflammatory, autoimmune disorder (in which the immune system attacks healthy tissue in the body), but we're not quite clear of the cause. It could be a specific reaction to a virus or some sort of infectious agent, but none has been identified. However, it has some features consistent with an infectious cause: It occurs mostly in winter and spring, it's usually among toddlers and rarely in children under three months or in adults.


Luc Montagnier – French Virologist and 2008 Nobel Prize in Medicine
13 May 2020 - Luc Montagnier is a French virologist and recipient of the 2008 Nobel Prize in Medicine for his discovery of the human immunodeficiency virus (HIV). On April 18, Professor Montagnier appeared on a French TV station (video in French with English subtitles) to comment on the origin of COVID-19, echoing what several other scientists have suggested in saying that the virus had been manipulated by researchers. He also mentioned in his appearance on the program that components of HIV had been inserted into the coronavirus sequence, perhaps in pursuit of an AIDS vaccine.


Robert Kennedy Jr
May 2020 - My Fight Against Mandatory Vaccinations, Big Pharma, And Dr. Fauci  
10 May 2020 – Robert Kennedy and Dr Mercola interview.  Click this Bill Gates Info link to listen.


The COVID-19 Tests
More Bill Gates Info:

The Washington Standard dated 7 May 2020 published this Bill Gates Info article "Suspicions Raised Over COVID-19 Tests After Fruit Reportedly Tests Positive For Virus".   Last month, the US Centers for Disease Control and Prevention made headlines with a blunder of epic proportions. According to a report by the Food and Drug Administration, two of the three CDC laboratories in Atlanta that created the coronavirus test kits violated their own manufacturing standards, resulting in the agency sending tests that did not work to nearly all of the 100 state and local public health labs. What's more, the CDC was found to be sending out tests contaminated with the actual virus.   Testing for COVID-19 has been notoriously suspect and embroiled in controversy since the beginning and the more information that comes out, the more controversial it gets.  
This week, Reuters reports that COVID-19 test kits used in Tanzania were dismissed as faulty by President John Magufuli. To check the reliability of the tests, according to Reuters, the president said he had instructed Tanzanian security forces wage a secret experiment. They had randomly obtained several non-human samples, including from a pawpaw, a goat and a sheep, but had assigned them human names and ages.
For those who may not know, the pawpaw is a plant, not an animal. Multiple studies have shown that the COVID-19 virus cannot survive on food or its packaging which means it certainly would not be inside of a fruit.
Nevertheless, the samples from the pawpaw, goat, and sheep were all submitted for testing, knowing there is no way that they could have the virus. When the results came back, the samples for the pawpaw and the goat tested positive for COVID-19, the president said, adding this meant it was likely that some people were being tested positive when in fact they were not infected by the coronavirus, according to Reuters.
"There is something happening. I said before we should not accept that every aid is meant to be good for this nation," Magufuli said, adding the kits should be investigated.
Tanzania – 20 April 2020 -
Tanzania: Authorities must end crackdown on journalists reporting on COVID-19
On 10 May 2020 I am being told that the paw paw and goat testing positive was false information.    I am not able to verify the accuracy of the original story or information to refute this.    I will have to leave it up to you to discern truth from fiction.  Marilyn
American Information – How to stop Bill Gates NOW.        Bill Gates Info page hopes that people will respond and do what has been suggested by Armstrong Economics in their article "How to stop Bill Gates – We need everyone to write now"
I have very good sources as most people know. Gates must be stopped by breaking up his monopoly on Health. How do we do that? You must get out your damn pen, get off your locked-downed butt, and write to your Congress representative, Senator, and the White House. Why? Because they were bribed to eliminate ALL human and Civil Rights to sue for the personal injury or death caused by a vaccine. Remove that 100% freedom of liability and you will disarm Gates. He is pushing his vaccine which DOES NOT have to be tested because there is no liability if they get it wrong or inject some other substance with ID2020 to track us and the press will protect Gates and NEVER reveal what is even in such a vaccine.
Bill Gates Info:

There is a serious behind-the-curtain push in Europe to prevent people from getting on an airplane again without a health certificate that you are free from the COVID-19 which is  1/10th of the flu in real impact. Germany has come out and stated it will NOT mandate Gates' vaccine. Meanwhile, A renowned corona researcher has been murdered in the United States. He was on the brink of a scientific breakthrough against the corona pandemic. His killer was found dead in a car. We are crossing over into the Hillary Twilight Zone.
Gates has funded every study that predicted 2 million Americans should be dead by now and others that said 500,000 will be dead. He controls the World Health Organization, the UN Climate Change, the CDC, NIH, FDA, every medical research university around the globe – he controls them all! He has organized a Global Monopoly of the Health Industry as he did with Microsoft. That is is greatest talent – monopolization. Sure, I played the Monopoly Game – but it was just a game as a kid. It did not spark visions of grandeur to control the world as it seems to have done with Bill Gates.


Bill Gates admits 1 in every 10 thousand people will be affected from the vaccine!
Bill Gates Info Page:
With his aim of vaccinating 7 Billion People that will be 700,000 adverse reactions!   Vaccine manufacturers and others will have complete immunity from prosecution from these adverse reactions and it appears that governments may provide indemnification before Bill will release his vaccine!  SO WHO IS GOING TO FUND THE ONGOING MEDICAL ATTENTION OR EVEN BURIAL COSTS ASSOCIATED WITH THESE ADVERSE REACTIONS?  Do you want it to be you?
Armstrong Economics says: Personally, I think Gates has just proven he is a psychopath. He just admitted that 700,000 people would die from his vaccine and that's OK, its collateral damage I suppose.
He even says in this video that the flu vaccine is not really effective in older people the best benefits come from younger people!    So why is the Australian Government forcing mandatory vaccination on nursing homes???
Bill Gates Info page suggests that you click this link and listen to what Bill has to say.
Bill Gates Info page provides the following information from Armstrong Economics dated 7 May 2020
This guy is very dangerous. He has created a health Monopoly and there is no question that some people die from vaccines and has conceded that perhaps 700,000 people may die from his injections. He has absolutely no remorse and insists that his way is the MOST URGENT INVENTION IN THE WORLD! The Nephew Of President John F. Kennedy is leading a fight against mandatory vaccines.
Gates has been behind the scenes in Europe and trying to intimidate the politicians. The proposal is that NOBODY will ever be allowed to get on any public transportation again, air, water, or train, without a HEATH CERTIFICATE from this guy to force the world to take his vaccine in which he can easily slip his ID2020 and nobody would be the wiser.
Bill Gates Info Page provides some more enlightening information.
Childrens Health Defense dated 7 May 2020 produced this Bill Gates Info article COVID-19: The Spearpoint for Rolling Out a "New Era" of High-Risk, Genetically Engineered Vaccines
Planet-wide COVID-19 vaccination—the overt objective that has Gates, Fauci and the government/military salivating in anticipation—ignores a number of irrefutable obstacles. For one, the RNA virus being targeted, SARS-CoV-2, already has mutated into at least 30 different genetic variants including 19 never-before-seen variants, as well as rare changes that scientists had never imagined could happen.
Not to worry say the entities funded by Gates (and also the Pentagon). Scientists working in the burgeoning field of synthetic biology are confident that they can "outdo" and outsmart nature using next-generation vaccine technologies along with invasive new vaccine delivery and record-keeping mechanisms such as smartphone-readable quantum dot tattoos. Does it matter that the researchers who have been experimenting with these approaches have never been able to overcome nasty side effects? Apparently not.
Up to 97.2% Die on Ventilators,
Is This a Better Option?
The mortality rate ranges from 76.4% to 97.2%, so some physicians are now using alternative measures to significantly boost oxygenation, create better lung aeration and prevent ventilator-induced lung injury. Please get informed, it could save your life.  See the link below for more information.
Dr Mercola – 7 May 2020 - Prone Position in Severe Acute Respiratory Distress Syndrome
Acute respiratory distress syndrome (ARDS) is a lung condition that causes low blood oxygen and fluid buildup in the lungs; it's a common complication of severe COVID-19 cases

Lying in the prone (face down) position, in which your chest is down and your back is up, could be a simple way to improve outcomes in ARDS

Early application of prone positioning lowered mortality rates in people with severe ARDS

Oxygenation is significantly better among patients in the prone position compared to the supine (face up) position, and prone positioning may also prevent ventilator-induced lung injury

Increasing research suggests that prone positioning should be used "systematically" in the early management of severe ARDS, and not reserved as a "rescue maneuver or a last-ditch effort"

You can also try prone positioning at home if you're experiencing cough or mild shortness of breath

WHO and US removing people from their homes – 7 May 2020


THE FOLLOWING THREE HOURS OF VIEWING COULD BE THE MOST IMPORTANT THREE HOURS OF YOUR LIFE!  
PLAIN SIMPLE TRUTHS IN WORDS WE CAN ALL UNDERSTAND.   PLEASE LISTEN RIGHT TO THE END.


Fighting for our Freedom
Bill Gates Info Page: The Broadcast They Don't Want You To See… The Ideas They Don't Want You To Hear…
On May 3, 2020 at 5pm UK time, David Icke is LIVE on the DIGITAL FREEDOM PLATFORM for the largest LIVESTREAM of a conversation in human history. This single broadcast could change the course of humanity.
If we get the information now, we can act on it, we can change course.
If We Are Silenced, It Could Be The End of Humanity As We Know It.
WE NEED YOU!
Click this Bill Gates Info link to hear what is being said.


2003 film "The Dead Zone"
Bill Gates Info Page:   Sent to me by an American friend:
In 2003, an American TV series on USA Network called The Dead Zone aired an episode entitled "Plague" which features a plot line that's not only eerily similar to the present day COVID-19 crisis – it's near identical. The two stories share an incredible large number of details, from the name of the virus, its unique attributes, to its alleged origins, right down to the medication being used to treat it.
The series is set in the northeastern United States and is adapted from the famous 1979 Stephen King novel of the same title. It stars Anthony Michael Hall as Johnny Smith, a man who has developed special psychic abilities following a near death experience. In this episode, Smith has a vision of an outbreak of a deadly virus in the town.
The similarities between this plot line to the present day SARS-CoV2 pandemic are nothing short of incredible, and features the following:
•    A highly infectious novel Coronavirus, spread through airborne transmission.
•    The Coronavirus reproduces in the nasal and throat area, and symptoms including high fever and severe respiratory distress like SARS.
•    Authorities then deploy mass testing with nasal swabs, followed by mass contact tracing and quarantine for anyone who has come in contract with a symptomatic person.
•    The story also introduces the term "Lockdown" as the name of the emergency measure for quarantine.
'•   Patient zero' is believed to be an American who arrived by international flight from China.
Only it doesn't end there, as the miracle cure being deployed by medical teams is none other than Chloroquine – a medication primarily used to treat malaria, and which has recently been shown to be effective at treating COVID-19. 
The shows writers include Michael Piller (creator), Jeremy Bernstein (story), Jill E. Blotevogel (teleplay), and of course Stephen King (characters and novel adaptation).
Unquestionably, the amount of similarities between the plot line in this made-for-TV movie and the present day COVID-19 'pandemic' is extraordinary, and will no doubt pique the interest of followers and researchers into the concept of predictive programming, an area of study which has become more formalized through a number of books found here, here and here, as well as other academic papers published in recent years. Regardless of whether believes in this phenomenon or not, it's impossible to deny that the sheer number of commonalities between these two stories is nothing short of remarkable.
Watch this edited highlight reel of The Dead Zone's episode "Plague" released in 2003: 3.25 minutes
Insane,watch the entire episode. Episode 14 season 2. Free on Roku TV channel


Dr Shiva, the Vaccine Maker
Bill Gates Info Page:  Children's Health defence published this article on 28 April 2020 entitled "Critical Questions for Dr. Shiva About His Attempts to Splinter the Health Freedom Movement".  
 The article brings light on what may well be Dr Shiva's motives for discrediting many honorable people doing good things to protect us.    I am going to leave the Dr Shiva interview that I listened to – and believed – and removed Dr Rashid Buttar from this page and considered unsubscribing to Children's Health Defense.   He certainly had me fooled!     Make sure you read the entire article but here is an excerpt that may throw light on what Dr Shiva's motives are.
Shiva, the Vaccine Maker
Shiva never mentions the fact that he is a vaccine maker. Shiva owns a pharmaceutical company, Cytosolve, that partners with vaccine and drugmakers to accelerate FDA approvals for vaccines and other pharmaceutical drugs. His principal business partner is Pfizer, the world's #4 vaccine maker. Are Shiva's attacks on our Movement calculated pandering, to court affection from Pfizer and the HHS regulators––upon whose favor his financial success relies––and to win their blessings by discrediting a Movement that questions vaccine products?
About CytoSolve
CytoSolve, Inc. is a start-up founded by two MIT scientists, V.A. Shiva Ayyadurai, PhD and C Forbes Dewey, Jr., PhD   CytoSolve as developed the word's first computational platform for scalable integratin of molecular pathway models.  Our provides an important contribution to the field of Systems Biology.   Using Cytoolve™, complex molecular pathawy models have been tested and built for EGFR, nitric oxide and Interferon (FN) pathways.  Without CytoSolve™, the integration of complex molecular pathway models is largely manual, time-consuming and in many cases, not possible.
At CytoSolve, Inc. we use our platform for drug development in the fields of vaccines, liver cancer and heart disease.  We also provide opportuniti4es for commercial companies such as biotech and pharmaceutical companies to work with us to use the CytoSolve™ platform for supporting their internal drug development process.
Just so you know what fooled me I am leaving his video clip so you can see for yourself.
Please click this Bill Gates Info link to listen to what he has to say.


State of the Nation
Bill Gates Info:  By clicking this link you will find that it opens you up to a great many documents.   One of which caught my eye:
GLADIO BIOTERROR: 'Biological Attack' Against China Planned by NATO Decades Ago — UK Military Officer & Whistleblower
Posted on March 10, 2020 by State of the Nation
Who's really behind this pandemic panic? And why now?  
"It's true: March Madness 2020 is being manufactured with a VENGEANCE by the globalists.  Not only are they mad, they've been found out.  Madmen who've been outed only display more madness.  It was a top-level British military officer who exposed their genocidal scheme.  The whistleblower's own 2010 letter confirms a bioterror operation against China.  That testimony provides proof of a Zio-Anglo-American plot to paralyze China with a biological attack.  The bioweapon released in Wuhan in December of 2019 proves they pushed the biowarfare button.  That the gutsy officer had extraordinary access to ultra-classified information during highly privileged NATO intel briefings in the 1970s is without question.  So, his letter stands as solid anecdotal evidence for a series of premeditated bioterrorist attacks against China by the Western powers.  Given the virality of various truth bombs on the Internet, once this radioactive bombshell exploded in cyberspace, that was it.  The cabal really went MAD!  So mad they put March Madness 2020 on super-steroids.  That's what we're seeing right now, folks—the outworking of raging collective madness at the top of the food chain."
— Intelligence Analyst and Former U.S. Army Officer


Dr Leonard Horowitz
Bill Gates Info page believes this is of particular importance.  This document by Dr Leonard Horowitz dated 2 April 2020 entitled "Coronavirus Conspiracy Proven by 'Fake Science' implicates criminal enterprise."   Within this document he finalises by calling on the US Department of Justice to do a criminal investigation into Kristian G Anderson and Robert F Garry, Jr in the main and others are implicated as well.  To quote Dr Horowitz
"This study gives governments worldwide more than 'probable cause' to demand "further investigations" into the "conspiracy theory" best explaining the laboratory-engineered 2019 coronavirus.  Anderson and Garry et. al. have played an important role in aiding-and-abetting the biocrime and bioterrorism.   Officials, who share a public duty to protect, defend, and secure citizens against such wrongdoing, and the ongoing impositions of n-2019CoV as an expression of organized crime, have ample evidence now to serve and secure society."
He finishes the report with these comments:
"This study also evidences Anderson and Garry et. al. having published a writing knowingly concealing and misrepresenting coronavirus genetic science by omissions, and promoting this false information in the media.   These suspects knowingly recorded and circulated a scientific paper with the intent to impede, obstruct, or influence the federal investigation into the pandemic's laboratory origin.  This violation of 18 U.S. Code #1002, inter alia, occurred within the jurisdiction of the NIH and the National Academy of Sciences in response to direction by the Executive Office of the United States to investigate allegations of n-2019CoV being a lab virus.  Anderson and Garry et. al. are alleged to have written and published their article in contemplation of their writing misleading, obstructing and preventing the government's reputable investigation, and discovery of this urgent intelligence required for the urgent and competent coronavirus response.
Accordingly, President Trump and Attorney General William Barr are hereby called to act dutifully in investigating, indicting, prosecuting, and convicting Anderson and Garry et. al, under 18 U.S. Code #1002 and other laws of the United States, encouraging imprisonment by statute for "not more than 20 years."
Within this Report Horowitz believes they should be charged with genocide and mass murder.   Apart from Anderson and Garry there are many other individuals and entities named.


Dr Andrew Kauffman
Dr Andrew Kauffman educates on how the testing should be undertaken to identify a virus or an infection.   This is a most important YouTube to actually understand what is happening.  As such it will stay above the bookmark

Ex-Russian Intel Officer speaks out
It is not a pandemic it is an epidemic
Bill Gates Info 23 April 2020.  This man makes a lot of sense.  In this interview he was asked what Russia could do to protect itself.   Here is his response:
So, I'm speaking as a military doctor – epidemiologist and parasitologist.  Until we're able to get rid of our internal parasites who rule over us we won't be able to tackle other parasites.
Bill Gates Info page believes that these words apply to EVERY COUNTRY AROUND THE WORLD!   SO WHAT IS YOUR COUNTRY DOING – COMPLYING WITH THE PARASITES OR ERADICATING THEM?    THAT IS THE QUESTION!


Before its News provides some great revelations
Bill Gates Info Page: Gates - Fauci - Covid 1984, NWO Global 911. Understanding the underlying root Virus is the Vatican - Crown Corp. of London and the District of Criminals, all fronts for the Luciferian Roman cult NWO!
Part One
Part 2
Gates – Fauci – Covid 1984, NWO Global 911. Understanding the underlying root Virus is the Vatican – Crown Corp. of London and the District of Criminals, all fronts for the Luciferian Roman cult NWO!
Click this link for this YouTube
Part 3
Video Message to The Provost Marshal General of the Army, Commanding General U.S. Army Criminal Investigation Command, and the American people. If you have never been dragged through the Luciferian Cabal In-Just-US System in America. This will show you what happens when you are up against the BAR – STATE OF STATE Criminal Cabal Machine, what we call the In-JUST-US system! NOTE all BAR attorneys were banned from America since 1819! The BAR is a foreign private club that is engaged in the practice of private Crown Guild private Rules and Codes on the people of America as if they were law! Those private rules  and codes that do not apply to the American people duped through fraud, sedition and treason in to thinking they are UNITED STATES Citizens! What has been perpetuated over the American people by the BAR over decades is ongoing Genocide, crimes against humanity and International War-crimes!
Before you watch the 3rd video, please understand who has been running Commie-fornia and stuffing the Courts with banned foreign agents masquerading as netral trier of facts (Judges) over decades:
Click this link to watch the YouTube and this link


Canine Coronavirus 2001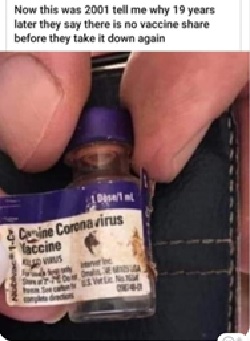 Dr Fauci is the man Donald Trump trusts to provide information
AFTER LISTENING TO THIS YOUTUBE
DO YOU THINK HE SHOULD BE TRUSTED?


Petition calling for an investigation into Bill & Melinda Gates Foundation for Medical Malpractice and Crimes Against Humanity
Help the Bill Gates Info petition reach its goal, share with others
Bookmark this Bill Gates Info page to see new links as they come to hand.

Fauci knew the benefits of Chloroquine in 2005!!!


Bill Gates Info: Brian Fischer dated 4 May 2020 wrote this Fauci revealing article "Bryan Fischer, Fauci knew about HCQ in 2005 — Nobody Needed to Die!"
Dr. Anthony Fauci, whose "expert" advice to President Trump has resulted in the complete shutdown of the greatest economic engine in world history, has known since 2005 that chloroquine is an effective inhibitor of coronaviruses.
How did he know this? Because of research done by the National Institutes of Health, of which he is the director. In connection with the SARS outbreak – caused by a coronavirus dubbed SARS- CoV – the NIH researched chloroquine and concluded that it was effective at stopping the SARS coronavirus in its tracks. The COVID-19 bug is likewise a coronavirus, labeled SARS-CoV-2. While not exactly the same virus as SARS-CoV-1, it is genetically related to it, and shares 79% of its genome, as the name SARS-CoV-2 implies. They both use the same host cell receptor, which is what viruses use to gain entry to the cell and infect the victim.
The Virology Journal – the official publication of Dr. Fauci's National Institutes of Health – published what is now a blockbuster article on August 22, 2005, under the heading – get ready for this – "Chloroquine is a potent inhibitor of SARS coronavirus infection and spread." (Emphasis mine throughout.) Write the researchers, "We report…that chloroquine has strong antiviral effects on SARS-CoV infection of primate cells. These inhibitory effects are observed when the cells are treated with the drug either before or after exposure to the virus, suggesting both prophylactic and therapeutic advantage."


Redfield and Birx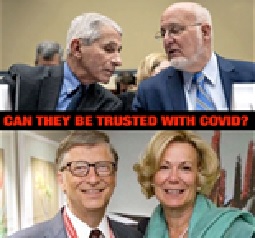 Children's Health Defense dated 5 May 2020 published this Bill Gates Info article "Redfield and Birx: Can They be Trusted With COVID?


U.S. military documents show that, in 1992, the CDC's current Director Robert Redfield and his then-assistant, Deborah Birx—both Army medical officers—knowingly falsified scientific data published in the New England Journal of Medicine fraudulently claiming that an HIV vaccine they helped develop was effective. They knew the vaccine was worthless.
Redfield now runs the agency charged with mandating COVID vaccines. Birx, a life-long protégé to both Redfield and Anthony Fauci, served on the board of Bill Gates' Global Fund. Redfield, Birx and Fauci lead the White House coronavirus task force.


DARPA
Activist Post dated 6 May 2020 published this Bill Gates Info article "Coronavirus Gives a Dangerous Boost to DARPA's Darkest Agenda".  
In January, well before the coronavirus (Covid-19) crisis would result in lockdowns, quarantines and economic devastation in the United States and beyond, the U.S. intelligence community and the Pentagon were working with the National Security Council to create still-classified plans to respond to an imminent pandemic. It has since been alleged that the intelligence and military intelligence communities knew about a likely pandemic in the United States as early as last November, and potentially even before then.
Given this foreknowledge and the numerous simulations conducted in the United States last year regarding global viral pandemic outbreaks, at least six of varying scope and size, it has often been asked – Why did the government not act or prepare if an imminent global pandemic and the shortcomings of any response to such an event were known? Though the answer to this question has frequently been written off as mere "incompetence" in mainstream media circles, it is worth entertaining the possibility that a crisis was allowed to unfold.
And a further excerpt:
For years, the Pentagon's Defense Advanced Research Projects Agency (DARPA) has remained largely out of sight and out of mind for most Americans, as their research projects are rarely covered by the mainstream media and, when they are, their projects are often praised as "bringing science fiction movies to life." However, there have been recent events that have marred DARPA's often positive portrayal by media outlets, which paint the agency as a beacon of scientific "progress" that has "changed the world" for the better.
For instance, in 2018, a group of European scientists accused the DARPA's "Insect Allies" program of actually being a dystopian bioweapons program that would see insects introduce genetically modified viruses into plants to attack and devastate a targeted nation's food supply. DARPA, of course, maintained that its intent to use these insects to genetically modify plants was instead about "protecting" the food supply. Regardless of DARPA's assertions that it is merely a "defensive" program, it should be clear to readers that such a technology could easily be used either way, depending on the wielder.


Biggest Fraud Ever Perpetrated
3 May 2020 – Activist Post – Bill Gates Info article "Dr. Tenpenny: This is The Biggest Scam Ever Perpetrated on The Human Race…"
In this explosive interview, Spiro Skouras is joined by Dr. Sherri Tenpenny. The two discuss the latest developments regarding the coronavirus situation which was declared a global health pandemic by the Gates-funded World Health Organization, as more information comes to light questioning the need for a global lockdown.
Dr. Tenpenny and Spiro examine and explore the motives of the global response by governments, global institutions and private interests, as Dr. Tenpenny exposes perhaps the most alarming aspect of the crisis yet!
No, it is not the virus, it is the blank check issued to the vaccine and drug manufacturers, which not only provides unlimited funding, but also provides blanket immunity to Big Pharma for any harm attributed with the treatments produced during the declared emergency, including all drugs and vaccines.

Tracer contacts – 3 May 2020




Mandatory Vaccination in the US?
Bill Gates Info: Mongoose – 3 May 2020 - Mongoose: Trump Mandating Vaccination? Insanity?
According to a report by Bloomberg, the Trump administration is organizing a Manhattan Project-style effort to drastically cut the time needed to develop a coronavirus vaccine, with the goal of making enough doses for most Americans by year's end. Instead of eliminating the police state and tyranny, Trump is doing the opposite.  He's now sided with Bill Gates and Anthony Fauci making him complicate in the removal of people's basic human rights.


Retroviruses part in COVID-19
3 May 2020 – Dr Mercola published this Bill Gates Info article "Could Retroviruses Play a Role in COVID-19?"
Here is his story at glance:
Cellular and molecular biologist Judy Mikovits, Ph.D. believes COVID-19 — the disease — is not caused by SARS-CoV-2 alone, but rather that it's the result of a combination of SARS-CoV-2 and XMRVs (human gammaretroviruses)

SARS-CoV-2 also appears to have been manipulated to include components of HIV that destroys immune function along with XMRVs

Those already infected with XMRVs may end up getting serious COVID-19 infection and/or die from the disease. Mikovits's research suggests more than 30 million Americans carry XMRVs and other gammaretroviruses in their bodies from contaminated vaccines and blood supply

Mikovits believes 40 years of data suggest Type 1 interferon at very low dose would be an ideal treatment for COVID-19

RT-PCR (reverse transcription polymerase chain reaction) testing, currently used to diagnose active infection by detecting the presence of SARS-CoV-2 genetic material, overestimates infection rates. For an accurate account of COVID-19 prevalence, we need to test for antibodies


Funeral Directors in the US blow the whistle
Bill Gates Info: 30 April 2020 - Funeral Directors Blow the Whistle on Deaths Falsely Attributed to Coronavirus
"They are putting COVID on a lot of death certificates because people who are going to their hospital with any kind of respiratory distress, respiratory problems, pneumonia, the flu — the flu-like symptoms lead into the COVID-19," said Joseph Antioco of Schafer Funeral Home. "To me, all you're doing is padding the statistics. You're putting people on that have COVID-19 even if they didn't have it. You're making the death rate for New York City a lot higher than it should be."
One funeral director talked about a family who is related to an unnamed Supreme Court Justice who insisted on a private autopsy that discovered their relative did not have COVID-19. "I had one that was autopsied because the sister was famous, and apparently, and I don't know who the Supreme Court Justice is, but the Supreme Court Justice was related to this family, and she says I know my sister didn't die of COVID-19," said Josephine Dimiceli of Dimiceli & Sons Funeral Home. "She said she had Alzheimer's and they didn't suction her. You have to suction because they forget how to swallow. And right away they put down COVID-19 on her death certificate, and the Supreme Court justice, whoever it is, contacted the hospital. They did an independent autopsy; bingo. No COVID-19."


Food Shortages
Make sure you listen to this Bill Gates Info YouTube – start at 4.5 minutes and wake up to what is happening


What is unfolding
Make sure you listen to this Bill Gates Info YouTube – start at 4.5 minutes and wake up to what is happening


Bill Gates and DARPA relationship
1 May 2020 – Activist Post published this Bill Gates Info article "Department of Defense For New DNA Nanotech COVID19 Vaccine!"
The fact that Bill Gates has teamed up with the Department of Defense and DARPA, which is the special project research and development arm of the Pentagon, to develop a brand new type of vaccine which is being rushed into production is alarming to say the least.
Especially considering this new kind of DNA / RNA vaccine would normally take 15-20 years to roll out, while this one is being rolled out in a matter of months and is already undergoing human clinical trials. The urgency and rolled back regulations to streamline this new vaccine is, of course, justified by the crisis.

Global Lockdown
What is behind it
Global Research dated 27 April 2020 published this Bill Gates Info article "The Farce and Diabolical Agenda of A "Universal Lockdown".  
First comes the farce, an (almost) universal government lie around the globe about a deadly virus, WHO named COVID-19. The decision for a global lockdown – literally for the collapse of the world economy – was already taken at the WEF conference in Davos, 21 – 24 January 2020. On January 30, WHO declared COVID-19 a Public Health Emergency of International Concern (PHEIC). At that time, there were only 150 known COVID-19 cases outside of China. No reason whatsoever to declare a pandemic. On March 11, Dr. Tedros, DG of WHO converted the PHEIC into a pandemic. This gave the green light for the start if implementing "The Plan".
The pandemic was needed as a pretext to halt and collapse the world economy and the underlying social fabric.
There is no coincidence. There were a number of preparatory events, all pointing into the direction of aworldwide monumental historic disaster. It started at least 10 years ago – probably considerably earlier – with the infamous 2010 Rockefeller Report, which painted the first phase of a monstrous Plan, called the "Lock Step" scenario. Among the last preparatory moves for the "pandemic" was Event 201, held in NYC on 18 October 2019.
Bill Gates Info Page urges you to please make sure you read the entire article.


Illegal Patent and Test Violations
Bill Gates Info:  27 April 2020:  David Martin reveals criminal breaches of law by the CDC, Dr Fauci and others leading up to the COVID-19 Pandemic.   This revelation could result in maybe the biggest legal actions in history.   Make sure you listen to all of what is said.  
Bill Gates Info page provides David Martin's Notes for Monday, April 27, 2020Laws that You Need to Know

Bill Gates not just content with going after human
he wants the animals as well!
Activist Post dated 29 April 2020 published this Bill Gates Info Article "Bill Gates Worked To End Livestock Production, Pushed Lab Grown Meat".  
Bill Gates and food giant Tyson heavily backed lab grown meat research.
As the United States faces unprecedented meat shortages due to processing plants going offline in response to the coronavirus, a long-standing globalist agenda to halt meat consumption is being fulfilled.
Tyson foods recently warned that the food supply chain is "breaking."
Lockdowns have created a situation in which farmers have nowhere to send their product, and in turn millions of animals are being slaughtered. Additionally, vegetables that would normally end up on store shelves are rotting in the field.
Despite this reality, Twitter has announced that talk of food shortages will be censored.
Lab grown meat producers are hoping that the COVID-19 outbreak could boost public acceptance.
As Bill Gates was working to establish a worldwide digital ID system prior to the pandemic, he was also working to end meat production and funding lab grown "meat."
DON'T FORGET THIS IS THE SAME BILL GATES WHO IS FUNDING RESEARCH BEING CONDUCTED BY HARVARD TO CHEMICALLY SPRAY OUR ENTIRE WORLD SKIES WITH A "CHALK LIKE SUBSTANCE" TO BLOT OUT THE SUN!   THE PROJECT IS CALLED ScoPEX.
NaturalNews dated 17 September 2019 published this global warming article "BOMBSHELL: Global geoengineering (chemtrails) experiment pushed by Bill Gates also funded by Nazi-linked Alfred P. Sloan Foundation, linked to eugenics and depopulation"   Now listen to this YouTube on the planned starvation of America

Kissinger: "Control oil and you control nations; control food and you control the people." US strategy deliberately destroyed family farming in the US and abroad and led to 95% of all grain reserves in the world being under the control of six multinational agribusiness corporations Source


Intravenous Vitamin C hits the headlines again!
News Target dated 28 April 2020 published this Bill Gates Info article "Medical police state: FBI and HHS raid medical spa treating coronavirus patients with intravenous vitamin C."
A health and wellness facility in Michigan that was treating potential Wuhan coronavirus (COVID-19) patients with intravenous vitamin C has been raided and shut down by the Federal Bureau of Investigation (FBI) and the United States Department of Health and Human Services (HHS) for allegedly committing "fraud."
According to Dr. Charles Mok of the Allure Medical Spa, the FBI and HHS took issue with the facility's decision to offer "high-dose, intravenous vitamin C to all essential workers who are exposed to COVID-19," even though this is exactly what China, South Korea, and other countries have been doing to treat their patients.
The two federal agencies reportedly stormed the facility on 26 Mile Road and Van Dyke in Shelby Township just before 8 am on April 23, and proceeded to haul out boxes of medical records and other "evidence," sorting it into three makeshift tents. All of those involved with the raid were seen wearing full-body protective gear, including gas mask-type face coverings.

Dr Rashid Buttar
7 Toxicities
Bill Gates Info: This graphic is being "shadow-banned" by Google. Screen shots remain an alternative to #GoogleGestapo censorship and data manipulation.


Australian Investigation into Coronavirus
Bill Gates Info Page:   Zero Hedge on 28 April 2020 published this article "China Threatens Australia Over 'Dangerous' Investigation Into Coronavirus".
China has threatened Australia with an economic hit if it doesn't stop investigating the CCP's handling of the coronavirus, according to Sky News.
Chinese Ambassador Cheng Jingye told the outlet on Monday that while China's response may not have been "perfect," Australia's inquiry was "dangerous," and could lead to Chinese consumers avoiding Chinese exports and travel.
"So what is being done by the Australia side?" asked Cheng. "The proposition is a kind of teaming up with those forces in Washington and to launch a kind of political campaign against China."
"The Chinese public is frustrated, dismayed and disappointed with what Australia is doing now," said Cheng. "I think in the long term… if the mood is going from bad to worse, people would think 'Why should we go to such a country that is not so friendly to China?' The tourists may have second thoughts."
So Bill Gates Info Page asks a question:
How vulnerable are the Australian people since our Government sold our processing and food manufacturing facilities to China, large properties, etc.?


Children's Health Defense historic information
Bill Gates Info:  April 23, 2020 - The Dengvaxia Disaster Was Twenty Years in the Making—What Will Happen With a Rushed COVID-19 Vaccine?"
In 2019, after 20 years of effort and billions of dollars spent, the dengue vaccine Dengvaxis was used widely in the Philippines. That country witnessed hundreds of hospitalizations and deaths in 9-16 year-olds, because with viruses like dengue, Zika and coronaviruses, in some individuals a subsequent infection with a different strain of the same virus can increase the risk of severe outcomes—a phenomenon known as "disease enhancement". Will the rush to create a coronavirus vaccine in 18-months produce another disaster like the dengue vaccine?
April 23, 2020 – "The Bill Gates Info Effect: WHO's DTP Vaccine Killed More Children in Africa Than the Diseases it Targeted".
Prior to 2017, girls in Guinea Bissau vaccinated with the DTP vaccine—the flagship of Bill Gates's GAVI/WHO African vaccine program—died at 10 times the rate of unvaccinated kids. While the vaccinated children were protected from Diphtheria, Tetanus and Pertussis, they were far more susceptible to other deadly diseases than unvaccinated peers. The vaccine apparently ruined their immune systems.

Medley of Links dated 21 April 2020
Knowledge Negates Fear
Please click this medley of Bill Gates Info link


Should we infect healthy people?
20 April 2020: The race for a COVID-19 vaccine: Should we infect healthy people?  
Some scientists are advocating for healthy volunteers to be exposed to COVID-19 as a way of speeding up the vaccine trial process
Bill Gates Info page suggests that you click the link and read this entire article.   It also says that 1,200 people from 44 countries have volunteered so far.    Who in their right mind would want to over-ride their own immunity system and subject themselves to a virus?   They are looking for people 20-45 – our young people – the very same people who have been receiving down graded education world wide (helping to dumb people down) and most of these people have no ability to think logically or coherently and know how to do their own research aside from any government information being provided.  Here are a few inserts.
Phase 3 is the biggest stage of a vaccine study. Here, thousands of subjects are recruited and randomized into either placebo or vaccine groups.
Generally, just this last phase alone can take between six and 12 months. This is because the researchers must recruit a cohort of subjects deemed to be at a high risk of contracting whatever disease is targeted by the vaccine, and then follow those subjects for some time as they inhabit the real world.
After a period of time the researchers can then compare the amount of infections between the vaccine and placebo groups to determine what real-world efficacy the vaccine has in protecting a person from infection.
It is Phase 3 of a vaccine trial that presents the biggest challenges for researchers working to speed things up during a global pandemic. It is unethical to test the efficacy of a vaccine by deliberately exposing a subject to a virus.
A recent paper published in The Journal of Infectious Diseases suggests there is indeed a way to speed up vaccine development utilizing what is called a "human challenge study."

Dr Rashid Buttar
Time to Wake up
Bill Gates Info Page:  19 April 2020

UK Vaccine Network
What is this organization and who are behind it?
The UK Vaccine Network appears, on the surface, to bring together industry, academia and relevant funding bodies in an impartial group, to discuss the way forward in developing a vaccine for the Covid-19 virus.
However, the grim truth is that UK Vaccine Network appears to be nothing more than a smoke screen created by The Bill and Melinda Gates Foundation, WHO, GlaxoSmithKline and the British Government to green light a deal that has already been done behind closed doors.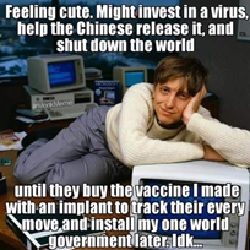 17 April 2020:  Bill Gates Info page brings you a video from Video Rebel's Blog "Bill Gates 1997 Prediction: 2020 Extinction By Lung Attacking Virus.  Please read the article by clicking this link and listening to Syrian Girl.


International Tribunal for Natural Justice
AUSTRALIANS THIS IS A MUST WATCH VIDEO IF YOU VALUE YOUR FREEDOM.  WHEN YOU HAVE LISTENED TO THE VIDEO.  BILL GATES INFO ASKS YOU ASKS TO PLEASE READ THIS ARTICLE
17 APRIL 2020 - CAIRNS NEWS - NWO puppet Morrison wants to track you with your phone
On the 7th April 2020, the ITNJ held an emergency hearing to discuss the Corona Pandemic and the Planetary Shutdown.
On the 2nd of April 2020, the ITNJ held an emergency hearing to discuss 5G and possible connection to the CoronaVirus/COVID19.
Bill Gates info:  On this YouTube at 23.29 minutes Sir John Walsh of Brannagh advises that Victoria have employed an additional 500 Police and the Federal Government has invited 2,500 US Military to help control!   He says the Victorian Police are being trained in riot management and been given riot gear.   He also says that Victorian Government has banned the sale of fire arms to individuals.   Now maybe you would like to read gun control history.
This Doctor was mentioned in the first YouTube,   Dr. Rashid Buttar BLASTS Gates, Fauci, EXPOSES Fake Pandemic Numbers As Economy Collapses


Bill Gates Investment in Crown Castle
[Marilyn comment]   2019 seems to have been a very busy year for our "friend" Bill Gates.  First 201 scenario mapping out a pandemic response, and now you learn that he has bought a large volume of shares in the 5G industry!  What a coincidence considering that more and more evidence is emerging of electromagnetic frequencies affecting human beings by stopping the body from absorbing oxygen and causing pneumonia like symptoms.  
Activist Post dated 16 April 2020 published this Bill Gates info article "Another 5G Bummer: Bill Gates Bought 5.3 MILLION Shares of Crown Castle in 2019".
Bill Gates, the second-wealthiest person in the world, has a net worth of around $90.0 billion. Along with his wife, Melinda Gates, the pair are the eponymous names behind the Bill and Melinda Gates Foundation, the largest private foundation in the U.S.
Like all philanthropic organizations, its goal is to generate wealth and share it. To do this, Bill and Melinda Gates invest in organizations that they believe will provide them with the greatest long-term gains. Bill and Melinda have seen the future, and it is 5G.
The bread and butter of that technological revolution is Crown Castle International Corp. (NYSE:CCI), a real estate investment trust (REIT) that is the largest provider of shared communication (cellular) infrastructure in the U.S.


GreenMedia campaign for you to use to restore your freedoms
Bill Gates Info dated 16 April 2020:  "GreenMedia: As promised, I have been working on a campaign over the past month with the non-profit, 501c4 organization Stand for Health Freedom I co-founded, to help empower citizens with a voice and bring rationality back into the present nationwide COVID-19 lockdown situation that is now live here and ready for you to use!
We surveyed you, and received hundreds of responses. In summary, our collective following is strongly in favor of sending the message to elected officials and key decision-makers that government orders restricting healthy citizens and keeping nonessential businesses closed are causing widespread emotional, physical and financial devastation -- far more harmful than the risk of COVID-19 itself. And that outcomes will continue to worsen, unless we use reopen our communities, letting lawful, healthy citizens go back to work, school, church, and social gatherings.
If this indeed resonates with you, we've created a powerful campaign and action for you that you can engage in only a few clicks here NOW, enabling you to email your major and governor your concerns!"


ICU Doctors knows best
Dr Marc Sircus dated 16 April 2020 published this Bill Gates info article "ICU Doctors know best."
"The ICU doctor in the video below (which has gone viral) from New York suggests that we are treating the wrong disease with the wrong measures. WebMD published, "As doctors treat more patients who are severely ill from COVID-19, they're noticing differences in how their lungs are damaged. Some patients coming to the hospital have very low oxygen levels in their blood, but you wouldn't necessarily know it from talking to them. They don't seem starved of oxygen. They may be a little confused. But they aren't struggling to breathe."
"When doctors take pictures of their lungs — either with a CT scanner or an X-ray machine — those also look fairly healthy. The lungs may have a few areas of cloudiness and crazing, indicating spots of damage from their infection, but most of the lung is black, indicating that it is filled with air."
Then go to this link and read Dr Mercola's article dated 16 April 2020 and entitled "Did This Scientist Develop a Cure for COVID-19?"   Glanville on a 31 March 2020 interview said:   " … My team has successfully taken five antibodies that back in 2002 were determined to bind and neutralize, block and stop the SARS virus … The new virus is a cousin of the old SARS.
I [Marilyn] believe that this 2002 information is what Dr Horowitz has found that Anderson and Garry both ignored.

Israel mathematician claims COVID-19 peaks after 40 days WITH OR WITHOUT LOCKDOWN


Bill Gates info; A prominent Israeli mathematician, analyst and former general claims simple statistical analysis demonstrates that the spread of COVID-19 peaks after about 40 days and declines to almost zero after 70 days — no matter where it strikes, and no matter what measures governments impose to try to thwart it.
Prof Isaac Ben-Israel, head of the Security Studies program in Tel Aviv University and the chairman of the National Council for Research and Development, told Israel's Channel 12 (Hebrew) Monday night that research he conducted with a fellow professor, analyzing the growth and decline of new cases in countries around the world, showed repeatedly that "there's a set pattern" and "the numbers speak for themselves."
While he said he supports social distancing, the widespread shuttering of economies worldwide constitutes a demonstrable error in light of those statistics. In Israel's case, he noted, about 140 people normally die every day. To have shuttered much of the economy because of a virus that is killing one or two a day is a radical error that is unnecessarily costing Israel 20% of its GDP, he charged.


Everyone Microchipped 12 May 2013
 inf0

This YouTube gives us all an in-depth understanding of what is happening worldwide and also why Bill Gates info is driving to have us all chipped with the latest vaccines.


Bill Gates being attacked on Twitter!
Waking Times dated 15 April 2020 published this Bill Gates Info article "Bill Gates Being Destroyed on Twitter is the Most Uplifting Thing You'll See Today".
Here is a excerpt and make sure you read the Bill Gates info article
This is a free world, supposedly, so if you want a Gates' sponsored vaccine, good for you, go for it. Go ask your doctor, and go spend your money on it.
Apparently, though, a LOT of people are NOT interested, and people from all over the world are absolutely destroying Gates on his Twitter account over this. To be honest, it's one of the most comforting displays of solidarity and resistance I've seen in these darkening times.
On Gates' own Twitter page, nearly every post of his is flooded with people calling him out for the damage his vaccine programs have caused, and declaring their right to refuse any vaccine about to be rolled out for this. The following Bill Gates Info post is an instant classic:
Marilyn says look how he is aged or has it been caused by worry from the backlash he is getting?
Bill Gates Info Pre March 2020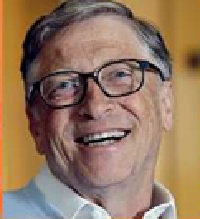 Bill Gates Info 21 March 2020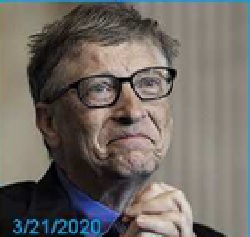 Dr Fauci admits he and Dr Birx were behind predictions!
Bill Gates Info:  Gateway Pundit published this Bill Gates Info article "WOW! Dr. Fauci Admits He and Dr. Birx Were the Two 'Experts' Who Persuaded Trump to Kill the Economy with Their Garbage Predictions of 2.2 Million Deaths!".
Dr. Fauci admitted on Monday that it was he and Dr. Birx who persuaded President Trump to kill the economy… And they did this wildly inaccurate models and predictions!
Last week President admitted that back in March "two very smart people" came into his office and urged him to lock down the economy or 2.2 million Americans would die.


But President Trump did not say who those "two very smart people" were.
Bill Gates Info Page provides some pretty horrifying pictures of children harmed by vaccines:
MMR and Flu Shot
Bill Gates Info provides this vaccination information which was posted on FaceBook 15 November 2012 – "MMR and Flu shot 2 weeks later ended him in the hospital. The doctors didn't know what he had, however he tested positive for Epstein Barr (Mono) and measles and a couple of other viruses."  
Then there were these images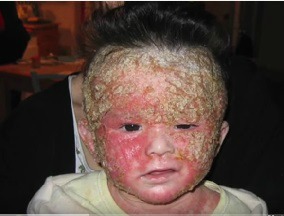 and this one from Gardasil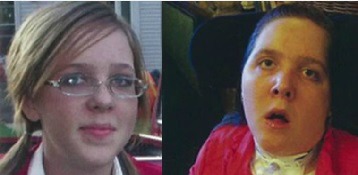 and yet another one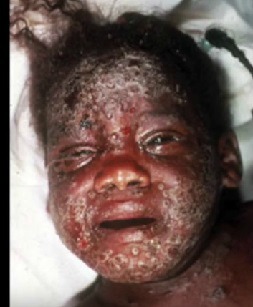 and yet another one Bill Gates Info thinks that this is possibly the same baby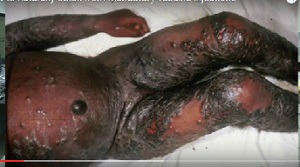 Then there were all the Indian children damaged by Bill's Polio Vaccine!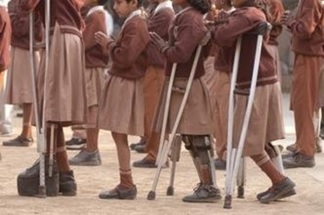 Bill Gates Info:  Promising to eradicate Polio with $1.2 billion, Bill Gates took control of India's National Advisory Board (NAB) and mandated 50 polio vaccines (up from 5) to every child before age 5. Indian doctors blame this campaign for a devastating vaccine-strain polio epidemic that paralyzed 496,000 children between 2000 and 2017. In 2017, the Indian Government dialed back the  vaccine regimen and evicted him and his cronies from the NAB. Polio paralysis rates dropped precipitously.
In 2017, the World Health Organization reluctantly admitted that the global polio explosion is predominantly vaccine strain, meaning it is coming from Bill Gates Vaccine Program. The most frightening epidemics in Congo, the Philippines, and Afghanistan are all linked to these vaccines. By 2018, three quarters of global polio cases were from these vaccines.
BILL GATES INFO PAGE ASKS:
ARE YOU PREPARED TO TAKE THIS RISK WITH YOUR BABY, YOUR CHILDREN OR YOURSELF?
12 April 2020 Bill Gates Info provides you with one video showing what Gates has done to people around the world.   THIS IS A MUST WATCH VIDEO!
Bill Gates Info: NWO (New World Order) frontman Bill Gates has suggested 1 of the 5 intrinsic, natural, human rights enumerated in the 1st Amendment to the US Constitution – the right to peacefully assemble – may disappear forever. That's right: he actually suggested overriding a fundamental and innate human right due to the fake pandemic of the coronavirus. In a recent interview on CBS, Gates again didn't miss the opportunity to push his mass vaccination 'solution' to the crisis the orchestrated. With so much evidence available linking Gates to this entire Operation Coronavirus, it is truly a wonder he is walking free and being given MSM platforms to spout his tyrannical agenda, rather than being arrested and charged for crimes against humanity. In the interview below around the 4:00 minute mark, Gates lays out the plan to entice you to get the coming coronavirus vaccine – to keep you on lockdown (i.e. house arrest) "unless you're vaccinated."
Guess what this video is unavailable to me in Australia – it may play for you - but the Bill Gates Info article did provide an excerpt
Even the issue of once you get the case numbers down, what does opening up look like? Which activities like schools have such benefits that can be done in such a way that the risk of transmission is very low, and which activities like mass gatherings may be in a certain sense more optional, so until you're widely vaccinated, those may not, uh, come back, uh, at all."
Billl Gates Info page also brings you this YouTube – Exposing the Liars – Bill Gates – 22 March 2020
Bill Gates Info:  Another MD (DR. SHERRI TENPENNY) weighs in on the PLANDEMIC.   Incidentally Australians our Government banned Dr Tenpenny from entering our country a few years back.  Says a lot about the ethics of the Government at the time.


Bill Gates wants to be protected by indemnity!!!
The Bill Gates Info page asks the big questions:
1. WHY DOES BILL GATES REQUIRE INDEMNITY FROM EVERY COUNTRY IN THE WORLD BEFORE HE WILL RELEASE THE COVID-19 VACCINE TO THEM?  
2. SURELY HE KNOWS THAT THE VACCINE IS SAFE OR DOES HE?  
3. DOES HE KNOW SOMETHING THAT WE, THE PEOPLE, DO NOT KNOW?
Bill Gates Info page provides some more information from:

By Robert F. Kennedy, Jr.  11 April 2020
In this video footage, the world's top vaccine promotors, Paul Offit, Peter Hotez and even Anthony Fauci (in an unguarded moment), warn that any new coronavirus vaccine could trigger lethal immune reactions when vaccinated people come in contact with the wild virus. Instead of proceeding with caution, Fauci has made the reckless choice to fast track vaccines, partially funded by Gates, without critical animal studies before moving into human clinical trials that could provide early warning of runaway immune response. Gates (in the video) is so worried about the danger of adverse events that he says vaccines shouldn't be distributed until governments agree to indemnity against lawsuits. On February 4th 2020, when the Centers for Disease Control (CDC) website states that there were only 11 active CV cases in the USA, the U.S. quietly pushed through Federal regulations giving coronavirus vaccine makers full immunity from liability. 
Bill Gates Info Pages asks:  are you willing to take the risk?


Bill and Melinda Gates unlimited money to microchip us all!
This is the headline for a very revealing Bill Gates Info article.  Please click here to read.
The Bill and Melinda Gates Foundation has donated more than $21 million towards developing a vaccine technology that uses a tattoo-like mechanism which injects invisible nanoparticles under the skin that is now being tested in a vaccine against the virus that causes COVID-19.
AUSTRALIANS THIS IS YOUR COUNTRY DOING THIS AS WELL!   This is an excerpt from the above link.  Today (16 April)  I read that on 1 May 2020 the Australian Government is planning to mandatorily force vaccination on pre-school children and anyone who visits a pre-school.   Sorry I don't have an official link but I am sure some clever people could find one.
* Vaxxas Pty Ltd in Brisbane, Queensland ($4.99 million in November, 2019) to develop a "microneedle array patch for measles and rubella vaccination that enables house-to-house campaigns via administration by minimally-trained personnel"
Vaxxas was created in 2011 after Mark Kendall's research group at the University of Queensland commercialized the nanotechnology under the company, UniQuest. The company has raised more than $35 million for the nanotechnology. It's partnered with vaccine manufacturer Merck – a company whose drug Vioxx caused more than 27,000 deaths by heart attack before the company revealed the risks it had hidden from the public. Merck has repeatedly been accused by judges for "egregious" ethical breaches and of  "improper testing and data falsification" on its Gardasil HPV and MMR vaccines. Merck made


Bill Gates Info and Dr Fauci involvement
Bill Gates Info Page brings you more information dated 14 April 2020 from Childrens Health Defense and entitled "Read the Fine Print: Vaccine Package Inserts Reveal Hundreds of Medical Conditions Linked to Vaccines"   Please make sure you click the link to this article and just for a quick preview here is an excerpt from the document.
Measurable and often unsafe
All pharmaceutical products come with potential side effects, and vaccines are no exception. For Dr. Fauci to describe the adverse events associated with vaccines as "almost nonmeasurable"—when they are not only described in package inserts but tracked in postmarketing surveillance systems such as the U.S. Vaccine Adverse Event Reporting System (VAERS), the European EudraVigilance system and the World Health Organization's VigiBase system—is not only disingenuous but unethical. Given that Dr. Fauci's wife is a senior NIH bioethicist, the NIAID director's ethically murky eagerness to deemphasize the prevalence and significance of vaccine adverse events is surprising.
As the COVID-19 situation has brought Fauci into the limelight as "explainer-in-chief" of the epidemic—and proponent-in-chief of patentable vaccines that will use untested technologies while leapfrogging over ordinary vaccine development protocols—we would do well to query Fauci's five-year-old throwaway remarks about vaccine safety. Dr. Fauci himself might want to take note of the fact that companies like Johnson & Johnson, one of those rushing to develop a coronavirus vaccine, have been censured by the Department of Justice for drug marketing fraud that exposed children and the elderly to "serious side effects, including death."
Much has been made of Fauci's, NIAID's and the NIH's cozy entanglements with Bill Gates, the Bill & Melinda Gates Foundation and the Gates-Foundation-created Coalition for Epidemic Preparedness Innovations (CEPI), particularly in light of the massive Gates Foundation and CEPI funding being directed toward coronavirus vaccines that the NIH is also supporting. Gates recently called for digital "certificates" showing who has received an eventual coronavirus vaccine and also made veiled statements that "you don't want people moving around the world" unless they have received a vaccine. In that context, Fauci's additional remarks in the 2015 Frontline interview take on somewhat ominous overtones. The good doctor stated that while "there's never a situation where someone is going to tie you down and vaccinate you . . . you don't want the respect for autonomy of people to get in the way of a public health mandate." 


Who was Bill Gates before Microsoft
Bill Gates Info Page provides this Nexus YouTube published this "Who was Bill Gates before Microsoft?"


Critique of Dr Shiva Ayyadurai by Peter Tocci
Bill Gates Info Page:  Peter Tocci has reviewed and commented on Dr Ayyadurai's work and one of his comments that he has not taken into account the effects of 5G are a concern to me as well.  Here is an excerpt and click this link to read the full article.
M.I.T. PhD Blows Fauci & Co Inc. Out of the Water
I offer the video linked at the end with some "reservations" of sorts. The first is that I wish there were 'sources' given for some of the assertions and 'accusations, although due to his education, experience and background, the speaker is an authority in his own right. Anyway, it should go a long way toward fathoming "CronyVirus" nonsense.

Dr. Shiva Ayyadurai (inventor of email) is an MIT PhD with 4 degrees, one in Biological Engineering, who studies the immune system nearly every day. I checked him out at the MIT website. He's the real deal.  Bill Gates Info page provides his website Here's his website:

Bill Gates Info
Gates Globalist Vaccine Agenda
Childens Health Defense dated 9 April 2020 published this Bill Gates Info article "Gates' Globalist Vaccine Agenda: A Win-Win for Pharma and Mandatory Vaccination".
Vaccines, for Bill Gates, are a strategic philanthropy that feed his many vaccine-related businesses (including Microsoft's ambition to control a global vaccination ID enterprise) and give him dictatorial control of global health policy.
Gates' obsession with vaccines seems to be fueled by a conviction to save the world with technology.
Promising his share of $450 million of $1.2 billion to eradicate Polio, Gates took control of India's National Technical Advisory Group on Immunization (NTAGI) which mandated up to 50 doses (Table 1) of polio vaccines through overlapping immunization programs to children before the age of five. Indian doctors blame the Gates campaign for a devastating non-polio acute flaccid paralysis (NPAFP) epidemic that paralyzed 490,000 children beyond expected rates between 2000 and 2017. In 2017, the Indian government dialed back Gates' vaccine regimen and asked Gates and his vaccine policies to leave India. NPAFP rates dropped precipitously.
In 2017, the World Health Organization (WHO) reluctantly admitted that the global explosion in polio is predominantly vaccine strain. The most frightening epidemics in Congo, Afghanistan, and the Philippines, are all linked to vaccines. In fact, by 2018, 70% of global polio cases were vaccine strain.
BILL GATES INFO PAGE ASKS YOU TOPLEASE MAKE SURE YOU CLICK THE LINK TO READ MORE CAMPAIGNS FUNDED BY BILL GATES


Bill Gates TED YouTube Edited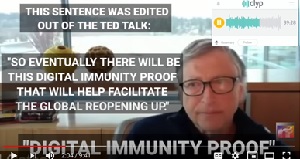 Videos of people driving medical tyranny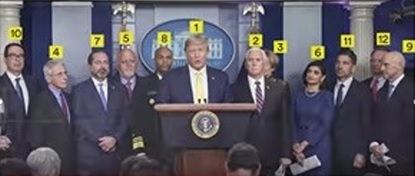 This is information from another source on who these people are:
TRANSCRIPT OF THE YOUTUBE
Anthony Fauci does not like conspiracy theories. And if the President does not fire several members of his COVID-19 response team, the books written in the future will likely be about the Bill Gates-Big Pharma takeover of America.
• Dr Fauci is on the Leadership Council for the Bill and Melinda Gates Foundation.
• Deborah Birx is a board member for the Global Fund to fight AIDS, Tuberculosis and Malaria, which was founded by the Bill and Melinda Gates Foundation.
• Robert Redfield, current director of the CDC was a founder of the Institute of Human Virology, who has received $31.8 million from the Bill and Melinda Gates Foundation.
• Seema Verma has worked with Sue Desmond-Hellman, Chief Executive Officer of the Bill and Melinda Gates Foundation.
• Alex Azar was President of Eli Lilly's US division. Under his leadership, prices for the company's top-selling insulin drug tripled, which led to a class-action lawsuit.
• Jerome Adams received a medical scholarship from Eli Lilly.
• Stephen Hahn is commissioner for the FDA who partnered with Bill and Melinda Gates in 2017.
• Stephen Mnuchin was a member of Skull and Bones at Yale University and he partnered with George Soros to create SFM Capital Management.
• Bret Giroir was the Director of DARPA.
• CDC official, Dr. Nancy Messonnier is Rod Rosenstein's sister.
Many have been concerned that President Trump has been surrounded by Deep State operatives for the past three years. 
Well, now he seems to be completely surrounded by Big Pharma and Bill Gates loyalists, all pushing vaccines as the solution and admitting that they might make things worse.
Dr Fauci – Bill Gates good friend and acquaintance


Henry Kissinger & Bill Gates Call For Mass Vaccination & Global Governance
6 April 2020 - Spiro Skouras
We are in the middle of the worst global health pandemic of our lives according to the Media, the Government and the United Nations. We are witnessing an unprecedented global lockdown in response to the Coronavirus outbreak known as COVID19. The global population living in western countries have been taught for more than a generation to live in a constant state of fear ever since 9/11. We have been encouraged to sacrifice our liberty for a false sense of security, being conditioned more and more each day to rely on the state for protection and now many of us find ourselves relying on the state to pay our bills. Despite the government's budget and deficit continuing to grow exponentially everyday... Some are beginning to see that there may be more to the official story than what we are led to believe. The very few may have seen this coming and are waiting for the next phase of what very well could be another step closer to global governance. The very men and women, the exact same individuals and government agencies, in addition to global institutions who stand to benefit the most, are the ones calling the shots... Welcome to COVID-1984 and the official rollout of the New World Order.

Dr Fauci Bill Gates friend


NaturalNews dated 7 April 2020 posted this article "It's now clear that Fauci is trying to DEPRIVE America of a coronavirus cure".
Wuhan coronavirus (COVID-19) task force head Dr. Anthony Fauci doesn't want Americans taking hydroxychloroquine, or chloroquine, to treat the virus, and many people are wondering why not?
One of them is White House economic advisor Peter Navarro, who reportedly exploded at Fauci the other day for trying to downplay the benefits of this extremely inexpensive generic drug for malaria, while emphasizing the alleged superiority of some future vaccine for the Wuhan coronavirus (COVID-19) that doesn't even exist yet.
Even though hydroxychloroquine is shaping up to be the most effective weapon in the arsenal – at least from a pharmaceutical perspective – for treating this coronavirus, Fauci
isn't having any of it
.
From Robert F Kennedy Jr's Instagram post today (Wed 8 April 2020)
Bill Gates Info Page:
"Vaccines, for Bill Gates, are a strategic philanthropy that feed his many vaccine-related businesses (including Microsoft's ambition to control a global vac ID enterprise) and give him dictatorial control over global health policy—the spear tip of corporate neo-imperialism.
Gates' obsession with vaccines seems fuelled by a messianic conviction that he is ordained to save the world with technology and a god-like willingness to experiment with the lives of lesser humans.
Promising to eradicate Polio with $1.2 billion, Gates took control of India 's National Advisory Board (NAB) and mandated 50 polio vaccines (up from 5) to every child before age 5. Indian doctors blame the Gates campaign for a devastating vaccine-strain polio epidemic that paralyzed 496,000 children between 2000 and 2017. In 2017, the Indian Government dialled back Gates' vaccine regimen and evicted Gates and his cronies from the NAB. Polio paralysis rates dropped precipitously.
In 2017, the World Health Organization reluctantly admitted that the global polio explosion is predominantly vaccine strain, meaning it is coming from Gates' Vaccine Program. The most frightening epidemics in Congo, the Philippines, and Afghanistan are all linked to Gates' vaccines. By 2018, ¾ of global polio cases were from Gates' vaccines.
In 2014, the Gates Foundation funded tests of experimental HPV vaccines, developed by GSK and Merck, on 23,000 young girls in remote Indian provinces. Approximately 1,200 suffered severe side effects, including autoimmune and fertility disorders. Seven died. Indian government investigations charged that Gates funded researchers committed pervasive ethical violations: pressuring vulnerable village girls into the trial, bullying parents, forging consent forms, and refusing medical care to the injured girls. The case is now in the country's Supreme Court.
In 2010, the Gates Foundation funded a trial of a GSK's experimental malaria vaccine, killing 151 African infants and causing serious adverse effects including paralysis, seizure, and febrile convulsions to 1,048 of the 5,049 children.
During Gates 2002 MenAfriVac Campaign in Sub-Saharan Africa, Gates operatives forcibly vaccinated thousands of African children against meningitis. Between 50-500 children developed paralysis. South African newspapers complained, "We are guinea pigs for drug makers" Nelson Mandela's former Senior Economist, Professor Patrick Bond, describes Gates' philanthropic practises as "ruthless" and immoral".
In 2010, Gates committed $ 10 billion to the WHO promising to reduce population, in part, through new vaccines. A month later Gates told a Ted Talk that new vaccines "could reduce population".
In 2014, Kenya's Catholic Doctors Association accused the WHO of chemically sterilizing millions of unwilling Kenyan women with a phony "tetanus" vaccine campaign. Independent labs found the sterility formula in every vaccine tested. After denying the charges, WHO finally admitted it had been developing the sterility vaccines for over a decade. Similar accusations came from Tanzania, Nicaragua, Mexico and the Philippines.
A 2017 study (Morgensen et.Al.2017) showed that WHO's popular DTP is killing more African than the disease it pretends to prevent. Vaccinated girls suffered 10x the death rate of unvaccinated children.
Gates and the WHO refused to recall the lethal vaccine which WHO forces upon millions of African children annually. Global public health advocates around the world accuse Gates of - hijacking WHO's agenda away from the projects that are proven to curb infectious diseases; clean water, hygiene, nutrition and economic development. They say he has diverted agency resources to serve his personal fetish - that good health only comes in a syringe.
In addition to using his philanthropy to control WHO, UNICEF, GAVI and PATH, Gates funds private pharmaceutical companies that manufacture vaccines, and a massive network of pharmaceutical -industry front groups that broadcast deceptive propaganda, develop fraudulent studies, conduct surveillance and psychological operations against vaccine hesitancy and use Gates' power and money to silence dissent and coerce compliance.
In this recent nonstop Pharmedia appearances, Gates appears gleeful that the Covid-19 crisis will give him the opportunity to force his third-world vaccine programs on American children."


Event 201 Pandemic Exercise: Segment 1, Intro and Medical Countermeasures (MCM) Discussion
Bill Gates Info Page:
Event 201 is a pandemic tabletop exercise hosted by The Johns Hopkins Center for Health Security in partnership with the World Economic Forum and the Bill and Melinda Gates Foundation on October 18, 2019, in New York, NY. The exercise illustrated the pandemic preparedness efforts needed to diminish the large-scale economic and societal consequences of a severe pandemic. Drawing from actual events, Event 201 identifies important policy issues and preparedness challenges that could be solved with sufficient political will and attention. These issues were designed in a narrative to engage and educate the participants and the audience.

Medical Martial Law


FRN Readers – remember that Bill Gates established Gavi in 1999. When you see Gavi, that's Bill Gates. Join us in our fight against slavery and elite dictatorship – J. Flores
The ID2020 Alliance has launched a new digital identity program at its annual summit in New York, in collaboration with the Government of Bangladesh, vaccine alliance Gavi, and new partners in government, academia, and humanitarian relief.
The program to leverage immunization as an opportunity to establish digital identity was unveiled by ID2020 in partnership with the Bangladesh Government's Access to Information (a2i) Program, the Directorate General of Health Services, and Gavi, according to the announcement.
Digital identity is a computerized record of who a person is, stored in a registry. It is used, in this case, to keep track of who has received vaccination.
Please click this link to read the full article
Marilyn asks that you please share this Bill Gates Info page so that more peoples eyes can be opened as to the travesty that is being played out.