Standing Rock
Dakota  Access Pipeline - Protecting Human Rights
I, Marilyn Vine, have been saving information on Standing Rock for a period of time in preparation for posting this page.    Today, 2 December 2016, I am driven to get this page up and running when I learn of the Morton County Sheriff's Department's effort to stop essential supplies from reaching these people.  This together with how bad weather is deliberately being targeted in the area and how essential supplies are being denied by the Morton County Sheriff's Department.
Does not matter where in the world you live – NONE OF US should stand back and do nothing when you see human rights violated in this way all in the name of profit for a few individuals using fracking to obtain oil.  Make sure you watch the whistleblower's video to learn how these same individuals cover up massive oil spills and harm our environment.
The YouTube has now been removed.
"Water is life. By leading a transition to energy that is powered by the sun, the wind and water, we ensure a better future for all of our people and for future generations." ~ Navajo leader Johns
Bookmark this Standing Rock page as new information comes to hand.


South Dakota Law ruled "unconstitutional"
Activist Post dated 19 September 2019 published this Standing Rock article "Applause as Federal Court Blocks "Unconstitutional" South Dakota Law That Would Hit Pipeline Protesters With Up to 25 Years in Prison".
Environmentalists celebrated Wednesday after a federal court temporarily blocked enforcement of a recently enacted South Dakota law that aims to hit pipeline protesters with fines and up to 25 years in prison.
Legal experts and green groups have decried the law, officially titled the Riot Boosting Act, as a flagrant violation of the First Amendment of the Constitution that was obviously targeted at Keystone XL opponents.
"The so-called 'Riot Boosting' Act was clearly intended to suppress constitutionally-protected, peaceful protests of the Keystone XL pipeline," said Stephen Pevar, senior staff attorney with the ACLU, which filed suit to stop the law from taking effect. "We're glad the court recognized that these vague and overbroad laws threaten the First Amendment rights of South Dakotans on every side of the issue."

Is the DAPL Oil Company behind the criminalizing protest laws?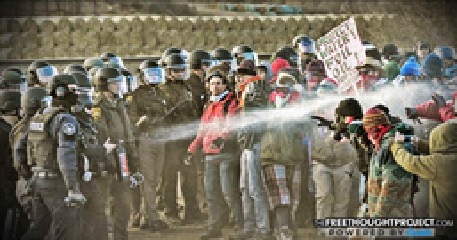 NewsTarget dated 24 June 2018 published this article "DAPL Oil Company Exposed as Lobbying Group Behind Law to Criminalize Protesting".       It certainly would not surprise me if an oil company was in a government's ear to try and stop people doing peaceful protests.   Click the link to read the article.

Oil Spills and Private Military Contractor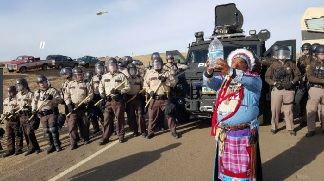 Activist Post dated 2 June 2017 advises us in this article:
"As the Dakota Access Pipeline nears operational status the project is marred with new reports of oil leaks and the presence of a private military contractor. 
While protesters and water protectors battled against the Dakota Access Pipeline throughout the second half of 2016 the public was often left aghast at the brutal tactics employed by the Morton County Sheriff's office and supporting police. LRAD sound cannons, tear gas, batons, tasers, and "less than lethal" ammunition rounds were fired at the opponents of Energy Transfer Partner's DAPL. Now, new documents obtained by The Intercept reveal the presence of TigerSwan, a private contractor with origins as a U.S. military and State Department client in the global War on Terror. TigerSwan was hired for their experience dealing with "insurgent" movements in the Middle East."

Counter terror ops used to silence protestors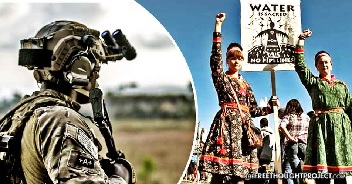 Activist Post dated 27 May 2017 brings this article "Leaked Docs Prove Counter-Terror Ops Used To Silence "Jihadist" Water Protectors At Standing Rock".  Here is an excerpt on how the protesters were viewed by the Counter Terror Ops company:
"Obtained by The Intercept, internal TigerSwan communications "describe the movement as 'an ideologically driven insurgency with a strong religious component' and compare the anti-pipeline water protectors to jihadist fighters," that outlet reports.
Worse, TigerSwan repeatedly described water protectors as "terrorists" — yes, literally.
Reports The Intercept:
One report, dated February 27, 2017, states that since the movement 'generally followed the jihadist insurgency model while active, we can expect the individuals who fought for and supported it to follow a post-insurgency model after its collapse.' Drawing comparisons with post-Soviet Afghanistan, the report warns, 'While we can expect to see the continued spread of the anti-DAPL diaspora … aggressive intelligence preparation of the battlefield and active coordination between intelligence and security elements are now a proven method of defeating pipeline insurgencies.'"
To liken Indigenous American Natives and their supporters as "Jihadists" seems incredible.  Make sure you click this link to read the article.


U.S. Army Corps to Abandon Environmental Study
Activist Post dated 7 February 2017:  The U.S. Army Corps of Engineers have indicated that they are preparing to approve the final easement for construction of the Dakota Access Pipeline.
On Tuesday,the U.S. Army Corps of Engineers announced that they have concluded their review of the Dakota Access Pipeline and plan to approve the final easement under Lake Oahe. The approval could come as early as Wednesday afternoon. The Corps will grant the easement for 30 years. The easement, which has been the center of resistance and conflict since last summer, is slated to go under Lake Oahe near the Standing Rock Sioux reservation.
Veterans returning
Activist Posted dated 4 February 2017 advises that the Veterans are returning to Standing Rock.
"A group of veterans is promising to return to Standing Rock after local law enforcement raided a newly created resistance camp and arrested 76 water protectors who continue to oppose the controversial Dakota Access Pipeline.
Cannonball, North Dakota – Morton County Sheriff's arrested 76 water protectors on Wednesday after the opponents of Energy Transfer Partners' Dakota Access Pipeline crossed onto private property to create a new camp. The "Last Child Camp" was launched on the top of a hill and marked by seven tepees representing seven tribes. The new camp was around a quarter mile from the Oceti Sakowin Camp, just north of the Cannonball River. The Sacred Stone Spirit Camp and Rosebud Camp are located south of the river.
The Last Child Camp was created by activists as an attempt to build a camp that represents the original peaceful and prayerful intentions of the Sacred Stone and Oceti camps."
Approval for Pipeline to continue
NewsMax dated 24 January 2017:  "Trump Approves Keystone XL, Dakota Access Pipelines"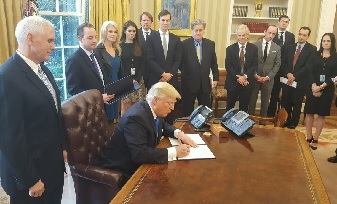 Activist Post also has a report dated 24 January 2017:
"As he signed the documents Tuesday in the Oval Office, Trump also vowed to "renegotiate some of the terms" of the Keystone bill and said he would then seek to "get that pipeline built."
Trump also issued executive actions declaring oil pipelines built in the U.S. should built with US materials, streamlining the regulatory process for pipeline construction and shortening the environmental review process.
Trump during his campaign said he would streamline the approval of the Keystone XL pipeline, which was stalled for years in the Obama administration until Obama denied approval for the pipeline's construction altogether in November 2015."
Another Native American Mine Disaster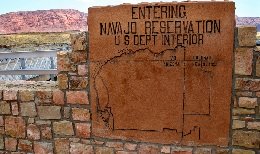 Natural News on 9 Decembers brings the story on the " Navajo Nation sues U.S. government for $160 million over toxic waste damage to their community"    Click to read the full story.
Army Corp blocks Dakota Access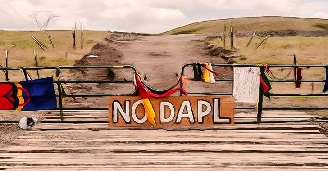 Activist Post dated 4 December 2016 brings this wonderful news:
"Today, the Army Corps of Engineers announced that it will not be granting the easement to cross Lake Oahe for the proposed Dakota Access Pipeline. Instead, the Corps will be undertaking an environmental impact statement to look at possible alternate routes. We wholeheartedly support the decision of the administration and commend with the utmost gratitude the courage it took on the part of President Obama, the Army Corps, the Department of Justice and the Department of the Interior to take steps to correct the course of history and to do the right thing.
The Standing Rock Sioux Tribe and all of Indian Country will be forever grateful to the Obama Administration for this historic decision."
Standing Rock Legal Action now being taken on behalf of Protesters
Activist Post reports on 30 November 2016
A multi-state coalition of police led by the Morton County Sheriff's Department inflicted hours of punishing violence against peaceful Standing Rock water protectors — leaving hundreds injured and traumatized — so a coalition of lawyers has now filed a class-action, excessive force lawsuit.
"The Morton County Sheriff's office not only violates the constitutional rights of peaceful protesters, but their actions highlight the long history of abuse against Indigenous peoples," said Water Protector Legal Collective (WPLC) attorney Brandy Toelupe. "From the beginning, governments have used their latest technologies to take land and resources from Native nations and oppress Indigenous peoples. Sheriff [Kyle] Kirchmeier's actions make it clear that nothing has changed."


Using the weather to wage war against the protesters
GeoEngineering Watch dated 30 November 2016 explains how they are manipulating and using the weather against protesters.
Click here to learn how it is done.


Essentials to survive winter being denied
Activist Post dated 30 November 2016 tells this story:
"As part of the Morton County Sheriff's Department's effort to quash the movement camped in opposition to construction of the Dakota Access Pipeline, national chain ACE hardware stores have been instructed by law enforcement not to sell any incendiary devices — that includes propane tanks Standing Rock Sioux water protectors partially rely on for heat in the bitter winter conditions.
In other words, law enforcement has effectively quashed the sale of potentially life-saving supplies to those encamped at Standing Rock as bitter winter conditions grip the Oceti Sakowin and other camps.
Activist and live-streamer, Kevin Gilbertt, whose video of a police offensive against water protectors on Highway 1806's Backwater Bridge went viral and exposed barbarous police tactics, received by email a letter defining ACE Hardware's sudden change in policy — with a contact phone number.
"Just wanted to check on a policy that I'd heard about, to make sure [of] the truth of this policy," he asks the ACE Hardware contact, Camillia, as he recorded the phone conversation. "I've been informed that in the area around the pipeline in North Dakota, ACE Hardware were no longer able to sell anything considered incendiary, including propane."
"Can you confirm that as being true?"
"That is true, ACE Hardware stores in the vicinity of the recent pipeline protests have been requested by law enforcement officials to refrain from selling materials that could be used as incendiary devices; so ACE's number one priority is to protect the safety of its employees, customers, and the communities each store serves — ACE will continue to cooperate with law enforcement officials. ACE's compliance is not a reflection of any corporate viewpoint on the actual pipeline project," Camillia states.
Local law enforcement officials have apparently taken it upon themselves to determine precisely how North Dakota Governor Jack Dalrymple's recent emergency, mandatory evacuation should be interpreted.
On Tuesday, the Morton County Sheriff's Department first announced plans for a blockade on incoming supplies — including food — to the Standing Rock Sioux water protectors and their thousands of supporters camped near Cannon Ball. Although the governor's office quickly reversed those plans, announcing there would be no such blockade, the sheriff's department modified blocking the delivery of supplies by stating it would issue fines of $1,000 to anyone attempting to deliver needed equipment to Standing Rock.


Things coming to a head!
Activist Post dated 29 November 2016 revealing what the government plans to unfold on the people.  Click this link to read the article.
Gov. Dalrymple's order appears to reiterate the same concerns, because, as the order states:
"[L]arge populations have chosen to stay in areas of Morton County managed by the United States Army Corps of Engineers south of the Cantapeta Creek and the Cannonball River (The areas include the confluence with Cantapeta Creek east, east of North Dakota Highway 1806, north of the Cannonball River, and west of the Missouri River) in tents, vehicles, temporary and semi-permanent structures which have not been inspected and approved by Morton County as proper dwellings suitable for winter habitation," and,
"the aforementioned areas of Morton County are not zoned for dwellings suitable for living in winter conditions, and also do not possess proper permanent sanitation infrastructure to sustain a living environment consistent with proper public health."
Army Corps Says It Won't Forcibly Evict Standing Rock Water Protectors, But Refuse To Elaborate


167 people injured by water cannons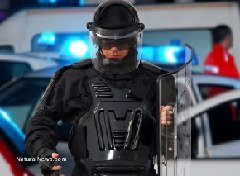 NaturalNews dated 28 November 2016 brings information on people injured at Standing Rock by water cannons, flash bang grenades and tear gas     Click this link to read the story.


Will their funding be cut?
SumofUs on 16 November 2016 reported:
 "The Chairman of the Standing Rock Sioux Tribal Council sent us this note:
We are pleased that Bank DNB is weakening its ties to DAPL. It was a wise decision, especially given Energy Transfer Partners' continuous disregard for our land, water, and sovereignty. Recent comments by Energy Transfer Partners CEO indicate the company seems intent on ramping up aggression, which is why it is of the utmost importance that other banks follow the example of DNB.
This major milestone could only happen because all around the world, people like you stood in support of the Standing Rock Sioux and the courageous water defenders on the ground right now in North Dakota. And they need our support more than ever with the incoming Trump administration. 
But our fight against the Dakota Access Pipeline is not over yet -- we have plans to force other banks to pull out of DAPL, and we promise we won't stop until we win."
Activist Post dated 10 November 2016:   "Protests are Working! Major Bank Considers Pulling Funds from DAPL if Violations Continue"
The article goes on to say:
"While election madness reached full tilt in recent days, opposition to the Dakota Access Pipeline experienced a quiet victory — Norway's largest bank, DNB, will consider pulling its hefty investment in the project if concerns from the Standing Rock Sioux Tribe are not addressed.
DNB, EcoWatch reports, has reportedly loaned around $350 million to Energy Transfer Partners for the construction of the pipeline — fully 10 percent of the total cost — but is worried the rights of Native Americans are being trampled in the process.
"DNB looks with worry at how the situation around the pipeline in North Dakota has developed," the financier said in a statement cited by Reuters. "The bank will therefore take initiative and use its position to bring about a more constructive process to find a solution to the conflict."


Tear Gas fired on protesters
Activist Post dated 8 November 2016:  Cops Fire Tear Gas on Water Protectors as They Attempt to Reclaim Sacred Land
In the video, cops are seen massing at the top of the hill. SWAT officers got in a boat and launched tear gas canisters along the shore of the creek, blanketing the protesters with burning fumes. A reporter with Unicorn Riot narrates as protesters swim and get ferried across the creek to confront the cops.
Click this link to view the video


Defending the US Constitution
Activist Post dated November 2016:  "Navy Petty Officer Joins DAPL Protest With Upside Down Flag – "Our Greatest Enemies Are Right Here".   The article goes on to say:
"U.S. Navy veteran, Petty Officer 1st Class Kash Jackson, came to North Dakota with one imperative in mind — to uphold the Constitution by protecting the American citizens he swore to defend, who are currently embroiled in a struggle with overly militarized police acting on behalf of a twisted corporate-government alliance insisting on constructing the Dakota Access Pipeline.
Hoisting an inverted American flag as he led, in uniform, a group of Native American water protectors marching defiantly against government-backed industry profiteering, Jackson had a carefully-considered message about patriotic duty everyone must hear:
"Our greatest enemies are not overseas," he told a reporter for The Young Turks, "our greatest enemies are right here."


FaceBook check in at Standing Rock Reservation
Activist Post dated 5 November 2016:  What Can The Mass "Check-in" At Standing Rock Tell Us About Online Advocacy?
"On Oct. 31, more than a million Facebook users "checked in" at Standing Rock Reservation, on the border between North and South Dakota. Since last March, the Standing Rock Sioux and other tribal communities and activists have been blocking the construction of a crude oil pipeline, which threatens sacred sites and the tribe's water supply.
All those users who checked in had not actually traveled to the encampment. Rather, they'd been prompted by a post that went viral, claiming that the local sheriff's department was monitoring online check-ins. It asked people to "overwhelm and confuse" this surveillance effort by using a Facebook feature to signal their presence at the protest.
This was the first time this check-in strategy appears to have been so successful. But as has happened other times online advocacy has gone viral, skepticism and derision followed. Snopes, a site dedicated to debunking Internet rumors, quickly posted an explanation: Police were not using Facebook check-ins to track protesters."


Peaceful protesters
Activist Post dated 5 November 2016:  Drone Restrictions Can Help Peaceful Protesters Combat Injustice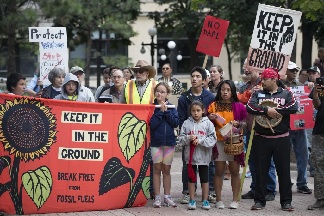 "The Dakota Access Pipeline protests have made national news, as millions of Americans are concerned with potential property rights violations and environmental damage that may be caused by the controversial project. The location of the protest and a law passed by the North Dakota legislature last year has created the specter of police using weaponized drones against protesters.
Last year, the North Dakota state legislature passed a bill that drastically limited law enforcement use of drones, requiring a warrant in most cases. The original bill introduced by Rep. Rick Becker banned all weaponized drones. But a police lobbyist named Bruce Burkett managed to push through an amendment in committee making the prohibition apply only to lethal weapons. That means "less than lethal" weapons like rubber bullets, pepper spray, tear gas, sound cannons, and Tasers now permitted on police drones.
Becker was opposed to the amendment, and testified against it during a committee hearing."


Are the Police turning in their badges?
Activist Post 4 November 2016:   Police Turn In Badges Rather Than Incite Violence Against Standing Rock Protesters: Report
"It should be evident if you're following news concerning the Standing Rock protests in North Dakota that tension continues to escalate between protesters supporting the Standing Rock Sioux Tribe and riot police. The big deal? A four-state Dakota Access Pipeline which threatens to uproot sacred burial ground, poison the Missouri river, and make null an 1881 treaty ensuring the property belongs to the Standing Rock Sioux tribe.
In addition to being maced and beaten with batons, activists have been tased and even shot with rubber bullets. Despite the violence taking place, tribal leaders continue to ask all "water protectors" to maintain peaceful relations and rely on prayer as the only weapon used to halt construction of the DAPL.
After watching videos of the mass arrests and beatings that have taken place, many have asked how those employed by the State can continue to terrorize weaponless protesters. Surely, some form of cognitive dissonance must be taking place? For some, most likely; and that's undoubtedly what inspired at least two officers to turn in their badges today. According to an activist named Redhawk, there have been reports of at least two officers turning in their badges after acknowledging that the battle against the American people is not what they signed up for.
On Facebook, the activist wrote:
You can see it in some of them, that they do not support the police actions. We must keep reminding them they are welcome to put down their weapons and badge and take a stand against this pipeline as well."


Mark Ruffalo
Wakeup World dated 3 November 2016 provides the following information:
"Since April of this year, over 500 Native American tribes have taken a stand against the desecration of their sacred ancestral sites and an important water source — the Missouri River — from the construction of the Dakota Access Pipeline (DAPL) — a $3.8 Billon dollar project — which, if successfully built, will threaten both.
Mark Ruffalo, who is an active voice against fracking and Big Oil, has joined the ranks of those fighting against this business as usual, profit over people stance that ransacks the environment without a backward glance. He arrived at the frontline of the conflict in Cannon Ball, North Dakota to report firsthand on how events have taken a surreal and frightening turn as local officers and police from seven states clash with protesters."



Special Report
GreenMedia on 28 October 2016 published a "Special Report on Standing Rock: The Environmental and Social Justice Consequences of the Dakota Access Pipeline"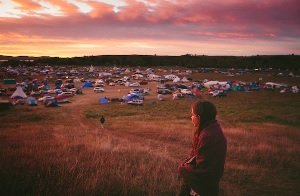 This is a very important read and one that I urge you to take the time to click into and learn what is unfolding and who is behind this access pipeline.
Marilyn Vine urges you to share this Standing Rock page with as many people worldwide as you can.   The world needs to know how the American Government treats its people.