Gardasil Vaccine Information

Internal Research being done by Scientists
This Gardasil Vaccine Information page is page 2 of information on the vaccine for cervical cancer.  Please click this link for earlier information.
When I first started reading about this vaccine it was aimed at young teenage girls.  Then over the years it was extended to teenage boys which defies any logic to me as young boys generally don't have cervixes!   Now in 2013 I am reading about newborn infants to be vaccinated!    Why would you give yet another vaccine to newborns – they are bombarded enough – and are they really likely to be sexually active and get HPV?

Merck being sued once again
Childrens Health Defence dated 22 January 2021 published this Gardasil Vaccine Information article "Eagle Scout Sues Merck, Alleges Gardasil HPV Vaccine Destroyed His Life".  
This is the fifth Gardasil lawsuit Baum Hedlund and CHD Chairman Robert F. Kennedy, Jr. filed against Merck, challenging the company's dangerous and defective HPV vaccine for causing severe and life-changing injuries

Australia – has the Gardasil vaccine really eliminated this?
Children's Health Defense dated 8 October 2019 provided this Gardasil vaccine Information "Has Gardasil Really Eliminated Cervical Cancer in Australia?"  
[CHD NOTE: Several weeks ago our Chairman, Robert F. Kennedy, Jr., participated in a debate about vaccines with Dr. Robert Riewerts from Kaiser Permanente. Last week we published "Chickenpox: The Dirty Dozen Facts You Should Know Before Vaccinating" to correct some of Dr. Riewerts erroneous statements about the varicella vaccine for chickenpox. This week, Mr. Kennedy is clearing up some of the confusion with the facts about the Gardasil vaccine for HPV. The show will air in mid-October.]
In our September 18th debate for Spectrum TV, Kaiser's Chief of Pediatrics, Dr. Robert Riewerts, parroted Pharma's popular canard that the Gardasil vaccine has eliminated cervical cancer in Australia—the first country to mandate the jab. This is false.
Slide 1: Table 17 from Merck's own clinical studies.
The table shows that Gardasil actually increases the risk of cervical cancer by a terrifying 44.6% among women who were exposed to HPV infection prior to vaccination. If anyone ever bullies you to take Gardasil, look up "Gardasil Vaccine Insert" on your cell phone to see all of the adverse events and show them this table. [From original BLA. Study 013 CSR. Table 11-88, p. 636]

What happens when a vaccine is not available and another substituted?
THE RESULTS WILL SURPRISE YOU!
This is important information and I ask that you read the entire document and not just the excerpt.
Children's Health Defense dated 22 January 2019 released this article "Merck's Recombivax Vaccine Shortage Causes Reduced Deaths In Babies – A Natural Experiment?"   The article goes on to say:
"In the summer of 2017, a malware virus mainly affecting the Ukraine, found its way onto the mainframe computer systems of Merck wreaking havoc for the company. The malware was called "NotPetya," referring to the ransomeware family Petya, which disables computer systems and demands a ransom to be paid in bitcoin before it will restore access to a company's files. It is destructive and costly, something Merck was to find out as its sales and manufacturing operations were disrupted by the June 7th attack. According to the Wall Street Journal, the incident cost the pharmaceutical giant $670 million to remediate, but more importantly, it caused disruption to the production of two of Merck's pediatric vaccines: Gardasil 9 (Human Papillomavirus) and Recombivax (Hepatitis B virus), vaccines to help prevent sexually transmitted infections.
During the crisis, Merck borrowed from a CDC vaccine stockpile, in order to meet supply commitments for Gardasil 9. However, that was not the case with Recombivax, the Hepatitis B vaccine given to all babies beginning the first day of life. There is no clear medical reason for giving every baby a vaccine against hepatitis B if its mother tests negative for the disease. Nevertheless, American babies receive three doses each, which is 12 million doses in any given year for the US alone. Following the cyber-attack, Merck was unable to meet this high demand, citing production problems.
The CDC acted quickly in asking GlaxoSmithkline to supply its Hep B vaccine Engerix-B, to meet the needs of the US market. The CDC published a notice about a shortage of Recombivax on July 28th 2017 on its website, stating that the vaccine would be unavailable as of early August 2017. GSK was able to supply a monovalent (single) vaccine for the birth dose and subsequent newborn doses. Doctors could give the pentavalent combination vaccine Pediarix to older babies, depending on supply."


25 reasons to avoid the Gardasil vaccine
GreenMedia on 22 May 2019 published this Gardasil Vaccine Information article "25 Reasons to Avoid the Gardasil Vaccine".
Robert F. Kennedy, Jr., Gardasil Science Day Presentation Video
"Many of the things I'm going to say today would be slanderous if they were not true. And if they're not true, then Merck should sue me. But Merck won't do that. And they won't do it because in the United States, truth is an absolute defense against slander." ~ RFK Jr.

Another adverse reaction
Dr Mercola dated 8 December 2018 published this Gardasil vaccine information article "Manufactured Crisis — HPV, Hype and Horror".   His story at a glance and make sure you listen to the YouTube and hear how the people affected are dealt with, the fakery behind the trials conducted especially with regards to the placebos used..
While the cervical cancer rate in the U.S. is 12 per 100,000, by Merck's own admission, Gardasil may cause 2,300 serious adverse events per 100,000
Many of the more serious side effects of Gardasil vaccination are immune-based inflammatory neurodegenerative disorders, suggesting something is causing the immune system to overreact in a detrimental way, sometimes fatally
One of the leading theories is that the aluminum adjuvant in Gardasil is causing it to be excessively reactive. Data show Gardasil is several times more reactive than any other vaccine on the market
Trial data from Merck shows Gardasil may increase your risk of cervical cancer by 44.6 percent if you have been exposed to HPV strains 16 or 18 prior to vaccination
As of 2018, about 13,240 new cases of cervical cancer will be diagnosed, and about 4,170 will die from it. If you get regular Pap smears, your chance of dying from cervical cancer is 0.00002 percent

Mass vaccination planned in the USA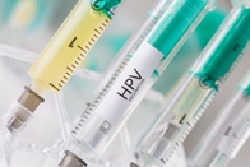 The Vaccine Reaction on 14 November 2018 published this Gardasil vaccine information article "Mass HPV Vaccination Plan for the U.S. "  Here is an excerpt:
The American Cancer Society (ACS) has set an aggressive goal to achieve an 80 percent uptake rate among American children with two doses human papillomavirus (HPV) vaccine by 2026. To gain that coverage, 14 million more preteen children would need to complete the two-dose series, for a total of 57.62 million doses above and beyond the number of vaccinations given to date.1 HPV vaccine is one of the most expensive vaccines on the CDC recommended childhood vaccine schedule, costing a pricey $168 to $204 per dose, with Merck being the sole producer of HPV vaccine (Gardasil) in the U.S.2
Now listen to a 12-year-old paralyzed by Gardasil vaccination

It is all unfolding behind the scene!


Robert Kennedy Jr in a Gardasil vaccine information article dated 11 October 2018 on his website tells us that "HPV: The Biggest Battle is Being Fought Right Now".    A couple of excerpts and this document is a MUST READ to know the full story.
"Unbeknownst to the general public, an internal war is underway regarding medical research in general and the HPV vaccine in particular."
and
"What makes this time different is that the battle is amongst the leading medical researchers in the world, and academic blood is being spilt across the pages of the top tier medical journals."

Teenager dies in her sleep
Dr Mercola on 28 September 2018 published this Gardasil Vaccine information article "Shocking Flaws in Gardasil Trial Design Prevents Safety Assessment."  His story at a glance:
A number of experts have spoken out against the HPV vaccine since its release. An eight-month investigation revealed shocking flaws in Merck's clinical trial design, which effectively prevented assessment of safety

Many of the side effects experienced during the vaccine trial were simply recorded as "medical history," and were not treated as adverse events; serious adverse events arising outside of a two-week period post-vaccination were marked down as "medical history"

More than 80 million girls, young women and boys have received the HPV vaccine, and many have paid an extraordinarily high price, coming down with nervous system disorders, chronic fatigue and autoimmune diseases

According to Merck's own research, if you have been exposed to HPV strains 16 or 18 prior and then get vaccinated, you may increase your risk of precancerous lesions by 44.6 percent

HPV infection is spread through sexual contact and research has demonstrated that using condoms can reduce risk of HPV infection by 70 percent, which is far more effective than the HPV vaccine.
Listen to Ruby's story.

19-year-old healed

Young girl gets cured and healed from HPV vaccine injury at The Holistic Sanctuary 2018.
Gardasil Vaccine Information page is pleased to at long last present a positive result that can give others hope.


Gardasil vaccine victim Brittany speaks out
Gardasil Vaccine Information page presents a Truth Matters:   A emotional video asking others to do research and look at risks
before taking vaccines promoted by T.V. Television, and pushed by doctors
to prevent pain and suffering illness caused by the HPV Gardasil vaccine
Posted without permission For Educational and Research use only
Fair Use, as allowed under Title 17 Chapter 1 Section 107 (Fair Use)
THIS IS A HEARTRENDING VIDEO AND SHOULD BE SHARED WIDELY.  NO PERSON SHOULD HAVE TO EXPERIENCE WHAT BRITTANY IS!

Are you children being brainwashed with propaganda?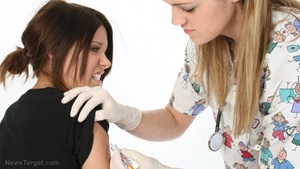 NaturalNews dated 9 August 2018 published this Gardasil vaccine information article "Get "versed" on the dangers of the highly experimental HPV vaccine before Merck brainwashes you or your children with propaganda".  Here is an excerpt:
"The manufacturers of one of the biggest vaccines scams ever created want your children and teenagers to think it's hip to get injected with genetically modified organisms that have caused over 140 deaths and more than 10,000 adverse events, including loss of muscle use, seizures, and anaphylactic shock. Yes, we're talking about Gardasil, the vaccine invented by Merck scientists and recommended for nine year old girls and boys so they won't contract sexually transmitted cancer viruses, like anal cancer and genital warts. Wait, what? It's true… Versed apparel and Merck have teamed up and are marketing a toxic, highly unnecessary injection to kids and teens like it's cool.
Once you're fully "versed" on this psychotic nonsense, you'll never want another toxic, concocted, lab-made, genetically mutated jab again, much less allow your children to be injected with some highly unnecessary chemicals like sodium borate, polysorbate 80, and a dangerous chemical aluminum adjuvant."

Dr Deirdre Little on HPV Gardasil
Gardasil Vaccine Information: Human papilloma virus, HPV Vaccine also known as Gardasil causing sterility, deaths, nurological problems.  For Educational and Research use only.  Fair Use, as allowed under Title 17 Chapter 1 Section 107 (Fair Use)

Has the Cochrane Research Centre issued flawed research?
World Mercury Project Team has issued this Gardasil Vaccine Information document "Garbage In, Garbage Out: Researchers Dress Down Cochrane for Its Flawed and Biased Review of HPV Vaccines".  This Gardasil Vaccine information article goes on to say:
"In May 2018, Cochrane, the research organization that bills itself as the "international gold standard for high quality, trusted information," released a flattering review of human papillomavirus (HPV) vaccines. Now, researchers affiliated with one of Cochrane's own regional member centers (the Nordic Cochrane Centre) and with the Oxford-based Centre for Evidence Based Medicine (OCEBM) have come out with an exhaustive, scathing critique of Cochrane's HPV review."
Click this link to read the full article.

FDA fast tracking Merck's Gardasil 9 for men and women
Green Media on 14 June 2018 published this Gardasil vaccine information article"Did The FDA Just Fast-Track Approve Fertility Harming HPV Vaccine For Adults?".  This article covers studies undertaken with regards to fertility and has this to say:
"If 100% of females in this study had received the HPV vaccine, data suggest the number of women having ever conceived would have fallen by 2 million. Further study into the influence of HPV vaccine on fertility is thus warranted."
The study analyzed information gathered in a National Health and Nutrition Examination Survey, which represented 8 million 25-to-29-year-old women residing in the United States between 2007 and 2014 as well as referencing 32 peer-reviewed research papers from well-respected journals. The study was also carried out absent pharmaceutical company monetary and ideological influence. 
Please read this Gardasil Vaccine Information before consenting to HPV vaccine for adults.

Cochrane Institute's reputation being questioned
Activist Post dated 20 May 2018 has published this Gardasil Vaccine Information article "Is There A "Cui Bono" Already Accruing From The Gates $1.15 Million Cochrane Group Donation?    The Bill and Melinda Gates Foundation has made a donation to the Cochrane Institute which is bringing its credibility into question.    Here is an excerpt from this article:
"According to an article published May 18, 2018 by James Lyons-Weiler titled "Biased Cochrane Report Ignores Flaws in HPV Vaccine Studies, and Studies of HPV Type Replacement," the Cochrane Group seemingly has lost its once-peer-review-acknowledged objectivity in science reporting!
Dr. Lyons-Weiler is a research scientist who has called Cochrane on the carpet for not exposing the flaws in the design and scope of a CDC HPV vaccine study and a Cochrane review.  That 2016 CDC study had specific input from a U.S. CDC scientist, Lauri E. Markowitz, MD, which Lyons-Weiler claims had "fatal flaws that could be interpreted as steps to obfuscate and hide type replacement."
Please click the link above and see Dr Lyons-Weiler findings and then see how Cochrane has interpreted this.

Swedish cervical cancer rates rise
Kennedy News & Views dated 15 May 2018 published this Gardasil Vaccine Information article "The HPV Vaccine's Likely Contribution to Sweden's Spike in Cervical Cancer".  The article goes on to say:
By the World Mercury Project Team
Across the world, rates of cervical cancer were declining when the HPV vaccine was introduced in 2006, with Sweden standing out as having one of the lowest. So, when Sweden's Center for Cervical Cancer Prevention reported in 2017 that the rates of incidences of invasive cervical cancer had reversed course and were climbing, an independent Swedish researcher decided to take a closer look.
 
He noticed that the increase was particularly steep (20%) over the two-year period from 2013 to 2015 and was shown to be most prominent among women 20–49 years of age. When he compared changes in invasive cervical cancer incidence in 2006 versus 2015 he again found that the increase mostly affected younger women—and especially women in their twenties. That coincided with the current age of the girls who were 13-18 years old when they received the HPV vaccine as part of a "catch-up" program from 2006-2015. He offers two explanations for the surge—disease enhancement and vaccine induced viral reactivation."

Vaccine on trial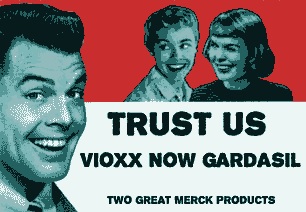 NaturalNews dated 28 February 2017 brings us this Gardasil Vaccine Information story "Japan: HPV vaccine on trial for its horrifying side effects".  The article goes on to say:
"Since last July, a total of 119 young girls and women in Japan have filed lawsuits against both the Japanese government and the two manufacturers of vaccines for human papillomavirus (HPV), GlaxoSmithKline PLC (GSK) and Merck Sharp & Dohme Corp. According to the suits, the companies' respective HPV vaccines, Cervarix and Gardasil, caused the women to suffer serious side effects, for which they are now seeking damages."
Click this link to read more Gardasil Vaccine Information

British Medical Journal
Gardasil Vaccine Information:  Activist Post dated 16 February 2017 in an article entitled "What Will The British Medical Journal Do About HPV Vaccine Misinformation?"   Here is an excerpt from this article.  I urge you to read the full article to find out what is being exposed and help protect our teenagers.
"Those vaccine adverse horrors are tracked by S.A.N.E. VAX, whose website lists the horrible side effects of HPV vaccines as reported to the CDC's VAERS reporting system.  As of December 2016, 300 deaths were reported; 14,063 emergency room visits; 4,445 hospitalizations; and the list goes on and on.
Besides the MMR vaccines and influenza vaccines, the HPV vaccine is one of the more-often reported damaging vaccines, as reported to the VAERS system.  And still, the medical profession pushes HPV vaccines like crazy: 3 shots over the course of six months costing mega bucks!  As of 2017, the three-shot series in the USA costs between $390 and $500!  In the UK, the cost is £185 per dose!"
Bill Gates and Young Girls used as guinea pigs

NaturalNews dated 3 October 2016 provides Gardasil vaccine information on Bill Gates' Philanthropy: 30,000 Indian girls used as guinea pigs to test cancer vaccine.   Click this link to read the full article and below is an excerpt.
"When health reporters and activists visited Andhra Pradesh, they met more than 100 young girls who were now having epileptic seizures, severe mood swings and migraine headaches. The toxins that had been deliberately injected into them caused additional health problems such as early menstruation, heavy bleeding and menstrual cramps – problems the tribes had not experienced before in such severity or magnitude.
The push was started by the NGO Program for Appropriate Technology in Health (PATH). The group coordinated with the Bill and Melinda Gates Foundation to test the cervical cancer vaccines on thousands of young females across India and Africa. The Gates Foundation has also coordinated with the NGO to study the effects of the Rotavirus and pneumococcal vaccines in Africa and Asia.
Whistleblowers from another NGO, Sama, witnessed the horror and spoke out about what was really going on, revealing how the young girls were being used as guinea pigs for vaccine trials all under the guise of receiving healthcare. Sama reported that the administers of the vaccine were giving no informed consent; in fact, authorities made the people give thumb prints, treating them as subjects, not intelligent human beings with human rights."
Please share this Gardasil vaccine information

Japanese girls file lawsuits

Gardasil Vaccine Information provides information from NaturalNews dated 21 July 2016 on Japanese girls suffering full-body pain who are now filing lawsuits against:
Japanese Government, and

Drug makers
An excerpt from the article:
"News broke earlier this week that at least 64 women experiencing adverse health effects from cervical cancer vaccines, are filing damages lawsuits against the Japanese government and the drug makers who produced the vaccines in the first place.

Filing in four different district courts, the Tokyo District Court, the Nagoya District Court, the Osaka District Court and the Fukuoka District Court, each victim is demanding 15 million yen.

The average age of the women involved is 18 years old, with each receiving the vaccination between the ages of 11 and 16."
Click this link to read the full article.
Canada Health finds 10% of girls injected ended up in Emergency Room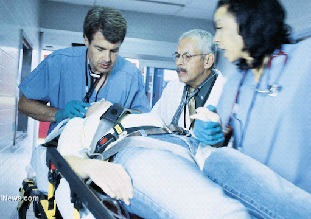 NaturalNews on 30 April 2016 brings the shocking revelation that TEN PERCENT of the girls vaccinated with Gardasil vaccine end up in the emergency room of a hospital!  The article goes on to say:
"The study is entitled Adverse events following HPV vaccination, Alberta 2006-2014 and is also found at this source.

Even more shockingly, vaccine researchers funded by the Alberta Ministry of Health declare this 10% emergency room visitation rate to be "low" and "consistent with those seen elsewhere [with vaccines]."

This shocking admission unveils a highly disturbing truth about routine vaccinations given to children and teens: They are well known to cause emergency room visits, hospitalizations and adverse effects among those receiving them. This science paper, in fact, just confirmed all that while calling the entire phenomenon safe."
American College of Pediatricians
Massive Scientific Fraud

Natural News on 12 February 2016 headlines an article "American College of Pediatricians warns about toxic effects of Gardasil vaccine; sounds alarm over massive scientific fraud that concealed toxic effects"
The article goes on to say "In the minds of many concerned parents, there is no more toxic, dangerous vaccine in the world than Gardasil. More children and teens have been maimed, hospitalized, injured and even paralyzed by HPV vaccines than any other category of vaccine interventions. And now, the American College of Pediatricians -- a strongly pro-vaccine group -- is sounding the alarm over the toxicity of Gardasil."

Over time I believe that this Gardasil vaccine information will be only one of many disclosures that will come about regarding the harm of so many of the vaccines being currently administered.
Please read the article
Dr Alleges WHO, CDC, GACVS mislead on HPV Vaccine Safety

GreenMedia on 19 January 2016 provides a great deal of information, much of which has been obtained under Freedom of Information.     When you read through what has taken place it certainly does not leave you with a feeling that the Gardasil Vaccine Information provided to the public is actually accurate and nor does it leave you with a sense that it is safe to use.
Mother's Plea    
I want my daughter's life back

NaturalNews on 20 January 2016 brings the plea from Carol's mother in wanting to get her daughter's life back the way it was before the Gardasil Vaccine was administered.
Read what has happened to her daughter since her injection in October 2012.
Gardasil Vaccine Information asks:
How many more children will be harmed before they stop administering Gardasil Vaccines?

Spain now in litigation over vaccine

NaturalNews on 5 April 2015 provides Gardasil vaccine information on litigation underway in Spain.  The article goes on to say:
"Attorney Don Manuel Saez Ochoa filed a criminal complaint against Merck-Sanofi Pasteur Laboratories, Spanish National Health authorities, and the regional health authorities of the La Rioja province on behalf of Zuriñe Jimenez Guereño and her mother Doña Maria del Carmen Jimenez Guereño for injuries and disabilities suffered by Zuriñe after the administration of Gardasil. (Story by Norma Erickson, republished from SaneVac.org)"
Click this link to read the article

and when you do you will see a familiar story unfolding.  It is the same story that I see with fluoridation in Australia.    Many, many people and scientific studies coming out about the harm that artificial fluorides are causing to people and the Australian health authorities ignoring the scientific research, the people harmed and continue to say that it is "safe and effective".
Is this a crime against children

The HPV vaccine continues to be a hotly debated issue. Robert Scott Bell, popular radio host and homeopathic practitioner, discusses the theory behind the HPV vaccine and whether or not he thinks it's safe.
FDA approves Gardasil 9

GreenMedia on 20 December 2014 advises that the FDA has approved a new Gardasil Vaccine which is to be called Gardasil 9.   The article goes on to say:
"10 December 2014: The FDA approved the use of a reportedly "new and improved" version of Gardasil, which will be marketed as Gardasil 9. According to the FDA approval letter, this action was taken without consultation with VRBPAC (the Vaccines and Related Biological Products Advisory Committee) which is responsible for reviewing and evaluating data concerning the safety, effectiveness, and appropriate use of vaccines and related biological products.
The FDA approval letter, signed by Marion Gruber, Director of Office of Vaccines Research and Review CBER, states the reason for bypassing the advice of VRBPAC writing:
"We did not refer your application to the Vaccines and Related Biological Products Advisory Committee because our review of information submitted in your BLA, including the clinical study design and trial results, did not raise concerns or controversial issues which would have benefited from an advisory committee discussion."
Gardasil Vaccine Information Page believes there are some questions you should be asking before submitting yourself or any member of your family to this new Gardasil 9 Vaccine:
Why did Merck more than double the amount of aluminum adjuvant in Gardasil 9?
Please take the time to read what has happened with this approval.
Girls left unable to conceive

NaturalNews on 21 November 2014 reports on the sad tale of two Milwaukee girls and their plight after receiving the Gardasil vaccine.
"Maddie and Olivia Meylor both suffered from pre-mature menopause as teen-agers right after receiving the Gardasil vaccine."
"It's rare at their age and it's very rare that two sisters would have premature ovarian failure," said Joen. The sisters went through the same genetic testing, looking for answers. They say all roads led back to that doctor's visit in 2007.

"I realized it was the Gardasil vaccine," said Joen."
12-year-old dies within hours of HPV vaccine
NaturalNews on 26 September 2014 advise:
"Another young girl has died from Gardasil, the infamous HPV vaccine manufactured by Merck & Co., and the medical establishment claims that it was a fluke. Twelve-year-old Meredith Prohaska from Waukesha, Wisconsin, died just a few hours after getting her Gardasil shot, and her parents are sure that the vaccine was the cause of death."
Gardasil Vaccine Information page urges you to:  Click this link to read the article.
Chemicals in your vaccines

Gardasil vaccine information    
Merck Doctor    
Biggest Scandal of all times
NaturalNews on 27 April 2014 reports that a Merck physician has blown the whistle.   Dr Bernard Dalbergue in an interview on Principes de Sante has confessed that "Gardasil is a worthless vaccine that no only fails to protect against cervical cancer but also puts individuals at risk of paralysis, encephalitis, Guillain-Barre syndrome and a host of other debilitating ailments.
Click this link to read this groundbreaking story.
Kate Couric
Dr Mercola advises us on 18 February 2014 that a smear campaign has been conducted against Kate Couric.  An excerpt:
"After giving airtime to two mothers whose daughters' health suddenly deteriorated after Gardasil shots, a smear campaign against seasoned journalist Katie Couric was unleashed"
Listen to the YouTube and read the article.
Unavoidable dangers
Green Media on 17 February 2014 brings information with regards to a study revealing "unavoidable" danger of HPV Vaccines.  The articles goes on to say:
"A new review published in Autoimmunity Reviews titled, "On the relationship between human papilloma virus vaccine and autoimmune disease," is destined to reopen the controversy surrounding numerous reports of HPV vaccine-induced harm that have surfaced ever since their widespread use, beginning with the FDA's 2006 approval of Merck & Co.'s Gardasil"
To read the article click this link.
Victory in sight for parents of children in the State of Virginia
Gardasil Vaccine Information page brings information dated 27 January 2011 on a resolution being put forward to end mandates requiring young girls to receive the human Papilloma virus (HPV).  It now has to be passed by the Senate.
Whether you agree with having your children vaccinated with the Gardasil Vaccine or whether you are against having your children vaccinated with this Gardasil Vaccine – at long last this decision is being put back in the hands of the parents of these children and not the government!      As far as I am concerned this is very important.  Governments should not be making decisions that belong to parents.   If by chance, and God forbid it does happen, something goes wrong then it is the parents who have to live with the outcome not the government!  
Right around the world too many of our democratic rights are being eroded away.
Vaccine Now approved for more than HPV!
NaturalNews brings information on 13 January 2011 with regard to Gardasil Vaccine now being approved as a preventative tool against anal cancer.   Please read this article as it contains information from Dr Harper who was involved in the initial research to produce the Gardasil vaccine information.  Read what she says about its effectiveness, etc.
Doctors still recommending Gardasil Vaccine!
Gardasil vaccine information page brings news from the Economic and Political Weekly, the investigation that led to the ban highlights how:
"... the promotional practices of drug companies, pressure from powerful international organizations, and the co-option of, and uncritical endorsement by India's medical associations are influencing the country's public health priorities."
Truth hidden in a trail of deception
Gardasil vaccine information page and NaturalNews brings information on 21 December 2010 on deceptions and Gardasil Vaccination.
"The first key deception occurred during Gardasil trials. Instead of using a saline solution as the placebo, Merck used the vaccine's carrier agent minus only the HPV virus components. In addition to sodium chloride and water, the placebo contained aluminum, polysorbate 80 and sodium borate.


Although polysorbate 80 is used as a food additive to increase the water solubility of oils, injection is quite different. According to the Polysorbate 80 Material Safety Data Sheet, it may be both carcinogenic and mutagenic. When injected into prepubescent rats, polysorbate 80 caused abnormal growth of reproductive organs and made the rats sterile. When used intravenously with vitamins it has caused anaphylactic shock."
Read the report. 
So much information to be included in the Gardasil Vaccine Information Page.
Can being vaccinated for HPV actually increase your risk of cervical cancer?
On 20 July 2010 Dr Mercola published an article alerting people to theact that Gardasil may actually increase the risk of Cervical cancer.
The article goes on to say:
"According to information the manufacturer of Gardasil, a vaccine against human papillomavirus, presented to the FDA prior to approval, if a person has already been exposed to HPV 16 or 18 prior to injection, then Gardasil increases the risk of precancerous lesions, or worse, by 44.6 percent.
his information is not advertised, and the FDA has not recommended screening for HPV prior to vaccination. The FDA did not even demand that a warning be included in the package insert."
According to Examiner.com:
"Now, Merck's research is indicating that Gardasil may also 'provide cross-protection' against other strains of HPV that are closely related to HPV 16 and 18 ... This means prior exposure to these additional strains may pose an increased risk for cervical cancer also, if combined with vaccination."
16 year-old loses her sight!
25 June 2010, Gardasil Vaccine Information page brings you information on a 16 year old girl who has lost her sight 10 days after being vaccinated.   Click on the link and read the story. 
Bribing young girls!
Gardasil Vaccine Information page brings you more news on the world front of Gardasil dated 30 April 2010 from NaturalNews.
If the Gardasil Vaccine is so good – then why is it necessary for the British National Health Service (NHS) to bribe teenage girls between the ages of 16 and 18 to get Gardasil vaccines?    Officials are giving shopping vouchers worth the equivalent of roughly $70 to girls who agree to get jabbed with the vaccine, which has been implicated in numerous cases of severe harm and death.


Officials from NHS Birmingham East and North have initiated the pilot program which is costing taxpayers the equivalent of about $35,000. No parental consent is required in order for young girls to participate in the program
Because no parental consent is required - how many of the young immature girls will be tempted to receive this vaccine purely for the money without looking at any adverse health reactions they may suffer.
Click on the link and read the article for yourself.   Personally to think that a Government would stoop so low makes me feel sick!   How do you feel?
Time for the truth!
Gardasil Vaccine Information received this on 17 April 2010.
In an important OpEd piece from the Washington Examiner, Barbara Hollingsworth sets the record straight about Gardasil:
"Cervical cancer accounts for less than 1 percent of all cancer deaths -- so it was somewhat surprising when the U.S. Food and Drug Administration fast-tracked approval of Gardasil, a Merck vaccine targeting the human papilloma virus that causes the disease.
As of the end of January 2010, 49 unexplained deaths following Gardasil injections have been reported to the Centers for Disease Control and Prevention's Vaccine Adverse Event Reporting System. By contrast, 52 deaths are attributed to unintended acceleration in Toyotas, which triggered a $2 billion recall."
Dr Mercola has commented on this article.  Click on the link to read the full story.

Article in the Heraldsun on 20 August 2009 says:
CANCER vaccine Gardasil, which has been administered to millions of Australian women has been linked to fainting and blood clots among thousands of US recipients.
A safety review of the vaccine, published in the latest Journal of the American Medical Association, says thousands of Gardasil vaccine recipients in America have suffered:
nausea

dizziness

fainting and

even death!
since June 2006 when distribution started.
Australia's CSL, the vaccine's developer, said the report backed other studies ruling Gardasil safe to use.  It doesn't make any comment on whether Gardasil caused the adverse events, spokeswoman Rachel David said."
Once again I urge you through either Gardasil Vaccine Information Page or other sources to do your own research before submitting to a Gardasil vaccine injection.  Please make up your own mind on the facts that you find.
A further article in the Heraldsun on 30 September 2009 on page 6 tells us:
Vaccine death mystery
It was too early to say what caused the death of a schoolgirl just hours after she received a cervical cancer vaccine, the Australian Medical Association says.
The girl 14, from Coventry, England, died in hospital after receiving a school administered dose of the Cervarix vaccine, which offers protection against two strains of a cancer-causing viral infection.
It would be wrong to jump to conclusions to say that this is something Australian women should be worried about, but it would be wrong to say it had nothing to do with the vaccine, AMA president Dr Andrew Pesce said.
But there have been millions of doses of the vaccine given around the world without anything like this happening before, so I would tend to err on the side of not panicking.
Cervarix is approved for use in Australian women aged 10-45 but an alternative, Gardasil is used in this nation's program of school administered cervical cancer vaccinations.
While it was possible the young woman suffered a severe adverse reaction to Cervarix, Dr Pesce said:  Unfortunately, there are rare causes of sudden death in young adults, not necessarily related to the vaccine.
Every medical process, every medical treatment, does have some small risks, but the reason it is promoted is because we know that the risks are far outweighed by the benefits."</i>
Down the page under "Is the HPV vaccine Safe" heading you will see more adverse reports and more deaths being reported as early as February 2009.
More and more information being received by Gardasil Vaccine Information.
How vaccines are used to cause cancer!
The Gardasil Vaccine (HPV) Scandal by Judy Wilyman, PhD Candidate, Murdoch University Gardasil® is a drug that has been promoted to females as a cervical cancer vaccine. In fact it is a Human Papilloma Virus (HPV) vaccine. This drug has been promoted incorrectly as a vaccine to prevent cervical cancer in females. However trials done prior to it being licensed in 2006 did not observe that this drug would prevent cervical cancer. This drug has been promoted on misinformation supported by the Australian Health Department. The trials that were done for this drug were carried out for 2-4 years in the 16 -26 year age group - a demographic that rarely gets cervical cancer. In Australia less than one percent of women will be affected by cervical cancer – that is, 99 percent of women will not be affected by cervical cancer in their lifetime. Does this risk warrant all girls taking a drug that has not been tested for long-term health effects such as chronic illnesses and other adverse reactions and death, as has occurred in young women after vaccination with Gardasil®? And for which the duration of the drug is unknown?
Is HPV vaccine safe?
I have a great deal of information on other pages of vaccination on Healthymoneyvine website.  It is pages like Gardasil Vaccine Information that allows me to share information with you.   There are many other pages which cover a great many different vaccines and stories.  Below on YouTube Katie Couric reports on serious vaccine safety issues.
New Gardasil Vaccine information has come to hand and this information is more compelling when you learn that 75,000 doses of the Gardasil vaccine have been withdrawn from the Spanish market as advised by Dr Merola's in newsletter dated 24 February 2009.
The National Vaccine Information Center (NVIC) has compared Gardasil vaccine adverse events to the meningitis vaccine; Gardasil injections resulted in three times the number of Emergency Room visits -- more than 5,000. Reports of side effects were up to 30 times higher with Gardasil.
Barbara Loe Fisher, co-founder of the NVIC, said:
"Now we know from this report that there are more reactions and deaths associated with Gardasil than with another vaccine given in the same age group. It's irresponsible not to take action."
Is the rise in male oral cancer related to HPV?
Human papillomavirus (HPV), the sexually transmitted virus that can cause cervical cancer in women, has been linked to an increase in throat, tonsil and tongue cancer in younger men.  While these diseases were once associated with older men who have smoked and drank heavily for most of their life, head and neck cancer brought on by HPV are now occurring among men in their 40s and 30s.  For further information click on the link
Preventive care or human sacrifice?
Gardasil Vaccine Information:  Reports of adverse reactions to the new HPV Gardasil Vaccine are escalating. One particularly heart-wrenching example is the story of 12-year-old Brittany who lost all feeling in her leg and collapsed two weeks after receiving the Gardasil Vaccine.  Adding insult to injury, people who are injured by the inoculation cannot even sue Merck, the maker of Gardasil, because it is part of the National Vaccine Injury Compensation Fund.  
Gardasil Vaccination page provides more information.
Thousands sick from Gardasil HPV
The irony of the situation is that even after receiving the vaccination you can still get cervical cancer!  
Well how quickly are you going to race your daughter off to receive Gardasil Vaccine after reading the Gardasil Vaccine Information Page?